Lawyer says 'Freedom Convoy' organizer Tamara Lich arrested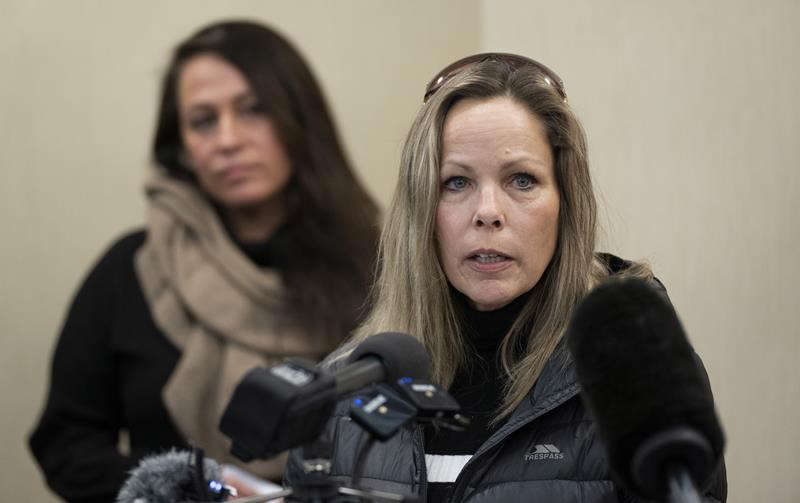 Medicine Hat
A lawyer for "Freedom Convoy" organizer Tamara Lich says the Alberta woman has been arrested.
Eric Granger confirmed in an email Monday evening that they were awaiting further details, but the arrest appeared to be related to Lich's bail conditions.
He could not confirm the location of the arrest, but another lawyer who has also represented Lich, Keith Wilson, said on Twitter that the arrest happened Monday in Medicine Hat, Alta., where Lich lives.
A judge initially denied Lich bail after her arrest during the massive protest that overtook downtown Ottawa for more than three weeks in February, but she was released in March after a review of the court decision.
Lich and fellow protest organizer Chris Barber are jointly accused of mischief, obstructing police, counselling others to commit mischief and intimidation.
She was released with a long list of conditions, including a ban from all social media and an order not to "support anything related to the Freedom Convoy."
"We are not aware of anything that could have prompted this and are surprised by this development given the recent bail review hearing in Ontario where Ms. Lich's positive record for complying with her conditions was one reason why some of her conditions were relaxed at that time," Granger wrote in an email to The Canadian Press.
Medicine Hat police did not immediately respond to a request to confirm if Lich had been arrested there.
In May, an Ontario judge ruled Lich could remain on bail until her trial after a Crown prosecutor argued she'd violated one of her bail conditions by agreeing to accept an award for her leadership during the Ottawa protest, and should be sent back behind bars to wait for her court appearance.
Ontario Superior Court Justice Kevin Phillips said he made his decision because Lich had followed her bail conditions, her surety supervised her well and she'd already had a "taste of jail," which he said lowered her risk to reoffend.
Phillips amended her release conditions to allow her to visit Ottawa, but not the downtown core. He maintained the ban on Lich's access to social media, saying that prohibiting such access remained warranted.
This report by The Canadian Press was first published June 27, 2022.
Premier Jason Kenney kicks off campaign to attract skilled workers to Alberta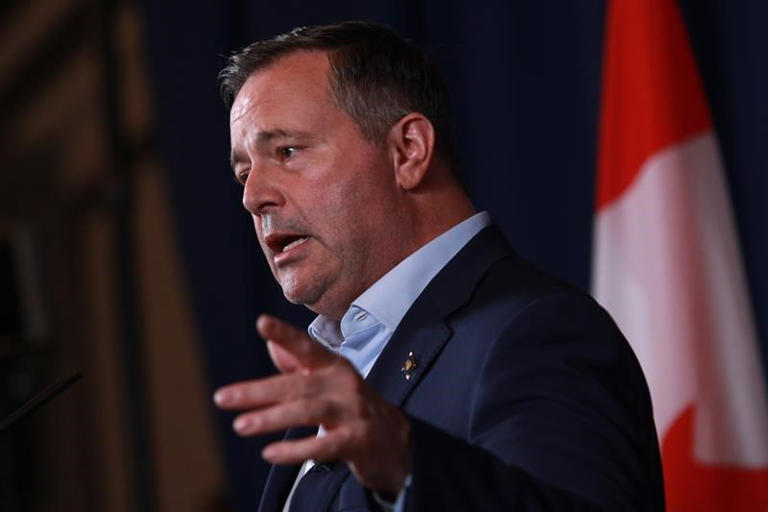 CALGARY — Premier Jason Kenney kicked off a campaign to lure skilled workers from Toronto and Vancouver as he doubled down on his criticism of a so-called Alberta sovereignty act pitched by one of the candidates running to replace him.
Kenney held a news conference Monday to announce the United Conservative government's plans to start recruiting workers to Alberta as the provincial economy grows.
"Alberta is back in a big way, but one of the biggest challenges to sustaining that amazing growth is having enough people who are filling the jobs that are being created," he said.
"As far as problems go, that's a pretty good one to have."
The campaign comes after Kenney called a key platform promise of one of the candidates to succeed him as leader and premier "nuts."
Candidate Danielle Smith has said if she wins the leadership, she would bring a bill this fall to give Alberta the power to ignore federal laws and court rulings deemed not in the province's interest.
Legal scholars say such a bill would be illegal, unenforceable and a dangerous dismissal of respect for the rule of law.
Kenney said he's certain that even if the legislature passed the law, the lieutenant-governor would refuse to give it royal assent and Alberta would become a "laughingstock."
Smith chastised Kenney in a statement Sunday for "interference" in the leadership contest, saying his comments were "ill-informed and disrespectful to a large and growing majority of UCP members that support this important initiative."
"If elected to replace him as leader and premier, I will work closely and collaboratively with our entire UCP Caucus to ensure the Sovereignty Act is drafted, passed and implemented in accordance with sound constitutional language and principles," Smith said in her statement.
Kenney said Monday that he's not interfering in the leadership campaign, but restating his position on an important public policy issue.
"This government was elected on a commitment to create jobs, grow the economy and get pipelines built," he said. "This so-called sovereignty act would be a body blow to all three of those things.
"It would massively drive away investment, it would cause people to leave the province, businesses not to come here just when our economy is experiencing fantastic economic investment."
Kenney said it could also hurt the campaign to attract people to the province.
"Here we are launching a campaign for Canadians to move to another part of Canada," he said. "If Alberta were to decide effectively to launch a separatist project, I think that would automatically exclude a lot of Canadians.
"To the contrary, instead of being able to attract people, we would start hemorrhaging people."
He said that's not theoretical because of what happened in Quebec in 1976 when René Lévesque and the Parti Québécois were elected on a separatist platform.
"Quebec overnight began to hemorrhage people, money and investment," Kenney said.
This report by The Canadian Press was first published Aug. 15, 2022.
Colette Derworiz and Bill Graveland, The Canadian Press
WEF? Capital NO: Danielle Smith replies to claims she endorses Justin Trudeau's green agenda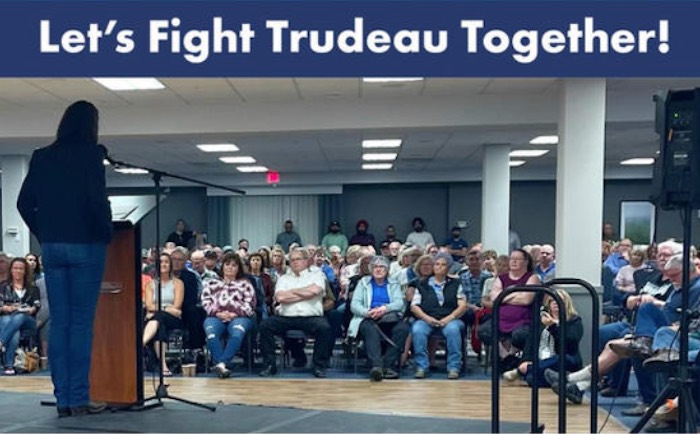 Submitted by Danielle Smith
Say No to the WEF and Trudeau Agenda!
In politics, negative attacks are still an unfortunate part of the process. I usually just tune them out.
However, I did have to do a bit of a double take on the latest attack by my friends, Travis Toews and Brian Jean, who accused me of endorsing…wait for it…Justin Trudeau's radical green agenda.
Now, that's a new one I haven't heard before! Until yesterday I was accused of being too tough on Ottawa…what changed gentlemen?
Danielle Smith and 300 friends in Grande Prairie, Alberta. August 6th.
Obviously, their accusation is absurd on many levels, but I thought this might be a good opportunity to share my thoughts with you on the dangers of Justin Trudeau's WEF-inspired radical climate agenda, and why we need to tackle environmental issues in a much different way – the Alberta way.
First off, the WEF is an anti-democratic group of woke elites that advocate for dangerous socialist policies that cause high inflation, food shortages and a lack of affordable energy, which in turn, leads to mass poverty, especially in the developing world.
There is no question what their agenda is – they want to shut down our energy and agriculture industries as fast as they can.
We need to join with allies, like Scott Moe in Saskatchewan, and stand up for our farmers and our provincial rights.
Justin Trudeau has openly adopted the WEF agenda and has instituted a wealth of policies meant to drive up the cost of energy and food production so he can meet arbitrary and aggressive WEF CO2 emissions targets.
Let me be perfectly clear – As Premier, no individual in my government or provincial agency will be permitted to associate with the WEF in any manner.
Secondly, WEF inspired policies imposed upon us by Ottawa will not be enforced by any Provincial agency under authority of the Alberta Sovereignty Act.
The fact is the Federal carbon tax, the recent announcement of a 30% reduction in fertilizer use by farmers, and the proposed arbitrary emissions cap on our energy sector are scams that do nothing to improve the environment.
You don't improve the environment or reduce emissions by destroying livelihoods and causing food shortages.
We can, however, lower emissions and pollutants the right way, the Alberta way – through Alberta technology and exporting our clean Alberta energy to the world.
We must support and recognize the work of Alberta companies working on technology that makes producing and using fossil fuels more sustainable.
Alberta is a world leader in carbon tech, carbon capture and hydrogen and we must maintain this advantage.
Our largest oilsands producers have proposed a pioneering project, called Pathways, to use carbon tech and small modular nuclear to dramatically reduce all types of emissions from oilsands production.
Further, we must get Alberta LNG and our other clean energy products to Asia, Europe and the US to replace reliance on higher polluting fuels such as coal, wood and dung.
Our forestry, ranching and farming sectors are also proud to provide nature based solutions to offset emissions, and they deserve recognition and credit for providing this service to the world.
These initiatives – advancing Alberta technology and exporting our clean energy to the world – will do more for the environment than all of the harmful virtue signaling policies of the WEF and Justin Trudeau combined – and will do so while creating jobs and wealth, rather than unemployment and poverty.
I invite my friends, Travis Toews and Brian Jean, to stop the silly attacks and join with me in fighting Justin Trudeau, Rachel Notley and their WEF Agenda together!
– Danielle Smith