Lawyer charged with lying to FBI in Russia probe faces trial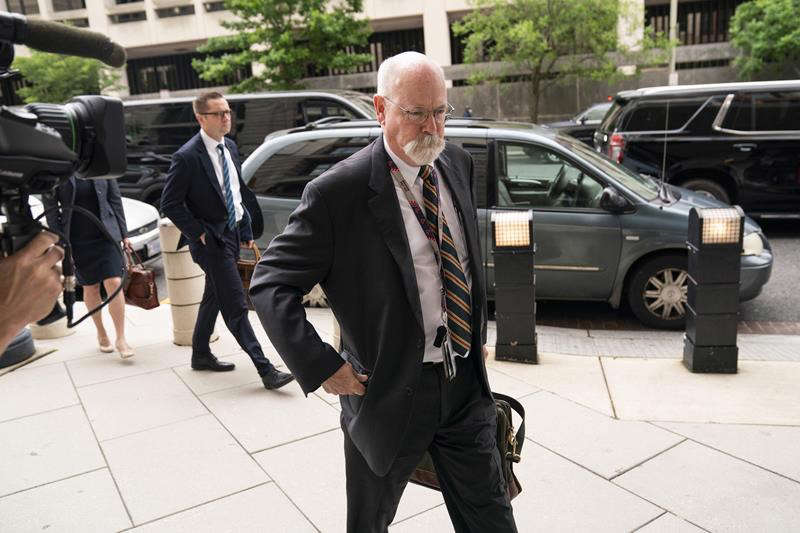 WASHINGTON (AP) — A federal trial begins Monday for a lawyer for the Hillary Clinton presidential campaign who is accused of lying to the FBI as it investigated potential ties between Donald Trump and Russia in 2016.
The case against Michael Sussmann, a cybersecurity attorney who represented the Clinton campaign in 2016, is the first trial arising from the ongoing investigation by special counsel John Durham and will test the strength of evidence he and his team have gathered while scrutinizing the early days of the Trump-Russia probe for potential misconduct.
An acquittal is likely to hasten questions about the Durham probe's purpose and cost to taxpayers while a guilty verdict will almost certainly energize Trump supporters who have long looked to Durham to expose what they see as biased mistreatment of the former president.
Sussmann is accused of misleading the FBI's then-general counsel during a September 2016 meeting in which he presented research showing what he said might be a suspicious backchannel of communications between computer servers of the Trump Organization and Russia-based Alfa Bank.
Prosecutors allege Sussmann lied by saying that he wasn't attending the meeting on behalf of any particular client when they say he was actually acting on behalf of two clients: the Clinton campaign and a technology executive who had helped assemble the computer data.
Durham's team says that had the FBI been told the truth, it would have factored into the bureau's assessment of the credibility of the Alfa Bank claims as it weighed whether to begin investigating. The FBI did look into the matter but ultimately found nothing suspicious.
Sussmann's lawyers deny he lied but say the alleged misstatement isn't relevant in any event since there's no evidence that what the FBI knew or didn't know about his political affiliations had any bearing on its decision-making.
Jurors will be selected in Washington's federal court on Monday. In a nod to the politically loaded nature of the case, prospective jurors are being asked questions such as whether they voted in 2016 and whether they or anyone they are close with was involved in investigating potential ties between the Trump campaign and Russia.
Durham was appointed in 2019 by then-Attorney General William Barr to look for any misconduct as the U.S. government was examining potential coordination between Russia and the 2016 Trump campaign to tip the outcome of the election. An investigation by an earlier special counsel, Robert Mueller, did not find a criminal conspiracy between Russia and the Trump campaign though it did find that Russia sought to aid Trump's election bid.
Durham's work has resulted in three criminal cases, but only the one against Sussmann has reached trial.
In 2020, a former FBI lawyer named Kevin Clinesmith pleaded guilty to altering an email related to secret FBI surveillance of an ex-Trump campaign adviser, Carter Page. In applying for warrants to eavesdrop on Page, the FBI relied on a dossier of anti-Trump research known colloquially as the "Steele dossier" that contained rumors and uncorroborated claims.
Last year, Durham charged a Russia analyst who was a source for that dossier with lying to the FBI about his own sources of information — among them, a longtime Hillary Clinton supporter. Igor Danchenko has pleaded not guilty. The case is pending and set for trial in October.
____
Follow Eric Tucker on http://www.twitter.com/etuckerAP.
Eric Tucker, The Associated Press
People planning to attend AIDS conference in Montreal still struggling to get visas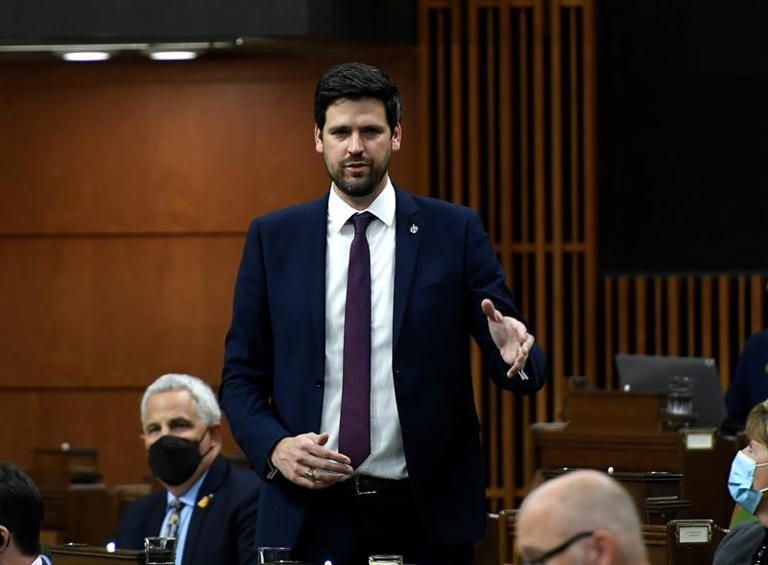 MONTREAL — International AIDS organizations say people from Africa, South America and Asia who are planning to attend a major AIDS conference in Montreal are still struggling to get visas from the Canadian government.
The groups say a growing number of activists — including some who were scheduled to speak at the conference which begins at the end of the month — are having their visa applications denied, often on the grounds that the Canadian government doesn't believe they'll return home after the event.
Tinashe Rufurwadzo, the director of programs, management and governance at Y+ Global, an international organization of HIV+ youth, said the chair of his organization's board and another of its employees, who are based in Malawi and Kenya, are among the young activists who have been denied visas to attend the conference.
He said both have travelled extensively to speak at AIDS-related events.
"Personally, I'm sick and tired of seeing young people from Africa mostly portrayed on PowerPoint slides as pictures, as photos on banners, as footnotes on case studies. Why can we not have them at conferences to share their lived experiences of what exactly is happening?" he said in an interview Friday.
Rufurwadzo said representatives of populations most at risk of HIV — such as people who inject drugs, transgender women, sex workers and gay men — need to be able to participate, as do adolescent girls, who are increasingly affected by HIV.
If people from the most affected countries aren't able to attend, he said he doesn't know how realistic the learning at the conference will be.
While those whose applications are denied will be able to attend the conference virtually, Rufurwadzo said that won't allow the same level of participation. He also said young people, especially those from rural areas, may not have consistent access to the internet.
Last week, almost 250 organizations from around the world sent a joint letter to Immigration Minister Sean Fraser calling on him to take action to ensure participants can attend the International AIDS conference.
Aidan Strickland, a spokesman for Fraser, said in response to earlier questions from The Canadian Press that the department has been working closely with event organizers and that applications "have been assessed in a timely manner."
"While we cannot comment on the admissibility of any particular individual, we can say that, in general, all visitors to Canada must meet the requirements for temporary residence in Canada, as set out in Canada's Immigration and Refugee Protection Act," Strickland said in an email. "All applications from around the world are assessed equally against the same criteria."
Javier Bellocq, an Argentine who runs a community journalism project called the Key Correspondent Team which focuses on people living with HIV and high-risk groups, said from the stories he's heard, it seems like each Canadian consulate is applying different rules.
In some places, he said, applicants have been required to pay for medical examinations as part of the visa process.
"The conference, in theory, arranged with the Canadian government that there will not be medical examinations, but there are, there are many medical examinations."
Of a group of 40 Argentines, including Bellocq, who are planning to participate in pre-conference activities, only two have received visas so far, he said.
Tumie Komanyane, who runs programs for international NGO Frontline AIDS in South Africa, said groups she works with were planning to help more than a dozen young people attend the conference, but decided not to even bother applying for 10 visas after the first four applications were rejected.
Komanyane said she's aware of other young people from the region, including some who had scholarships to attend the conference funded by the Canadian government, who have had their visa applications denied.
"It's incoherent," she said in an interview Saturday. "With the strides that Africa is making in the HIV field, all the lessons and evidence that could be coming from the beneficiaries directly is going to be lost."
While she works with young people, she said, she doesn't want to speak for them.
"They have agency, they have voice, and they shouldn't be represented by people like me. They should be able to go and share what this work means for them," she said.
Bellocq said he's not worried about himself, noting the Argentine passport is relatively powerful and he's a professional who has been travelling internationally form more than 30 years. But he worries about people from countries with less passport privilege and members of marginalized groups who are at high risk of HIV.
With pre-conference events starting in just over three weeks, he said, "time is not on our side."
This report by The Canadian Press was first published July 2, 2022.
Jacob Serebrin, The Canadian Press
Beehives and goat farms: Lacombe school shortlisted in global environmental contest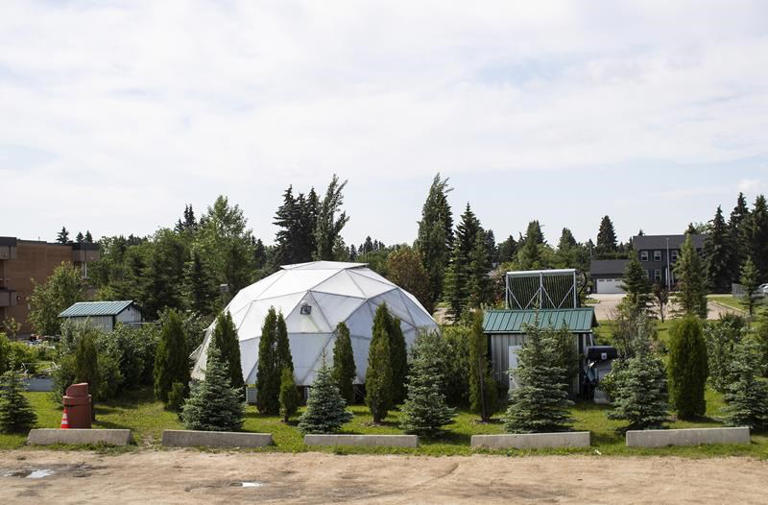 Taylor Perez says she learned more about her passions while tending beehives, goats and fruit trees at her central Alberta high school than sitting through lessons in a classroom.
"These are all skills we don't learn in regular classes," says the 18-year-old student at Lacombe Composite High School.
"You're not going to learn how to collaborate with community members by sitting in a classroom learning about E = mc2."
Perez and her classmates are buzzing with excitement after their school's student-led beekeeping program, goat farm, fruit orchard, tropical greenhouse and other environmental projects were recognized in a global sustainability contest among 10 other schools.
It's the only North American school to be shortlisted by T4 Education, a global advocacy group, in its World's Best School Prize for Environmental Action contest.
"The projects are coming from the students' own hearts and passion for taking care of the environment," says Steven Schultz, an agriculture and environmental science teacher who has been teaching in Lacombe since 1996.
"They are going to be our community leaders — maybe even our politicians — and for them to know what the heartbeat of their generation is (is) extremely important."
Schultz says the projects are pitched and designed by students in the school's Ecovision Club, to which Perez belongs, and he then bases a curriculum around those ideas.
The school of about 900 students began reducing its environmental footprint in 2006 when a former student heard Schultz say during a lesson on renewable energy that "words were meaningless or worthless without action," the 56-year-old teacher recalls.
"She took that to heart and a year later she came back and told me that she wanted to take the school off the grid."
Schultz and students watched a fire burn down solar panels on the school's roof in 2010, an event that further transformed his approach to teaching.
"As their school was burning, my students gathered in tears. That day I realized that students really care about the environment and they really care about the projects that they were involved in."
Since then, 32 new solar panels have been installed, and they produce up to four per cent of the school's electricity. After the fire, students also wanted to clean the air in their classrooms so they filled some with spider plants, including one in the teachers' lounge.
More recently, students replaced an old portable classroom on school property with a greenhouse that operates solely with renewable energy. It's growing tropical fruits, such as bananas, pineapples, and lemons, and also houses some tilapia fish.
Two acres of the school are also covered by a food forest made up of almost 200 fruit trees and 50 raised beds where organic food is grown.
The school also works with a local farm and raises baby goats inside a solar-powered barn that was built with recycled material.
"They breed and milk them at the farm because there are really tight regulations," says Schultz.
"We take the excrement from the goats and the hay and use it as mulch and fertilizers for our garden. The goats also chew up the grass and allow us not to have to use lawn mowers and tractors"
Perez said her favourite class is the beekeeping program with 12 hives that produce more than 300 kilograms of honey every year.
"I love that they have different roles in their own little societies," Perez says of the bees.
She says while working with local businesses and groups as a part of her curriculum, she learned she's passionate about the environment and wants to become a pharmacist so she can continue giving back to her community.
James Finley, a formerly shy Grade 10 student, says the Ecovision Club and environment classes have helped get him out of his comfort zone.
"I made friends, which was a hard thing for me in the beginning. But now I have, like, hundreds," says the 16-year-old, who enjoyed the lessons he took on harvesting.
"Taylor and Mr. Schultz were the main people that made me stay."
Schultz says the winners of the contest are to be announced in the fall.
A prize of about $322,000 will be equally shared among five winners.
This report by The Canadian Press was first published Sunday, July 3, 2022.
—
This story was produced with the financial assistance of the Meta and Canadian Press News Fellowship.
Fakiha Baig, The Canadian Press