Iran's hard-line president-elect says he won't meet Biden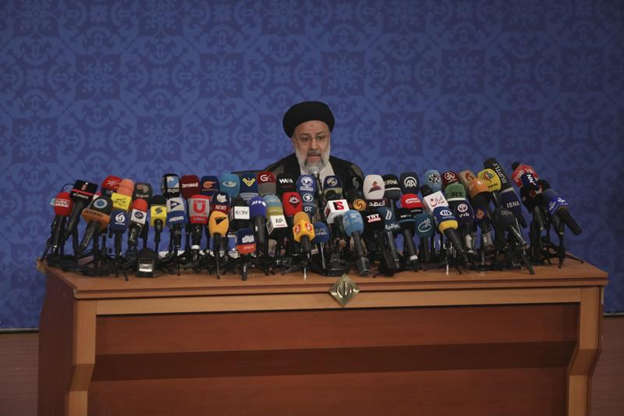 DUBAI, United Arab Emirates (AP) — Iran's president-elect said Monday he would not meet with President Joe Biden or negotiate over Tehran's ballistic missile program and its support of regional militias, sticking to a hard-line position following his landslide victory in last week's election.
Judiciary chief Ebrahim Raisi also described himself as a "defender of human rights" when asked about his involvement in the 1988 mass execution of about 5,000 people. It marked the first time he's been put on the spot on live television over that dark moment in Iranian history at the end of the Iran-Iraq war.
"The U.S. is obliged to lift all oppressive sanctions against Iran," Raisi said at his first news conference after Friday's election, a contest widely seen as a coronation after his strongest competition found themselves barred from running.
Raisi, 60, sat in front of a sea of microphones, most from Iran and countries home to militias supported by Tehran. He looked nervous at the beginning of his comments but slowly became more at ease over the hourlong news conference.
Asked about Iran's ballistic missile program and its support of regional militias, Raisi described the issues as "nonnegotiable."
Tehran's fleet of attack aircraft date largely back to before the 1979 Islamic Revolution, forcing Iran to instead invest in missiles as a hedge against its regional Arab neighbors, who have bought billions of dollars in American military hardware over the years. Those missiles, with a self-imposed range limit of 2,000 kilometers (1,240 miles), can reach across the Mideast and U.S. military bases in the region.
Iran also relies on militias like Yemen's Houthi rebels and Lebanon's militant Hezbollah group for counterbalance against enemies such as Saudi Arabia and Israel, respectively.
On a possible meeting with Biden, Raisi curtly answered: "No." His moderate competitor in the election, Abdolnasser Hemmati, had suggested during campaigning that he might be willing to meet Biden.
The White House did not immediately respond to Raisi's statements. Raisi will become the first serving Iranian president sanctioned by the U.S. government even before entering office, in part over his time as the head of Iran's internationally criticized judiciary.
The victory of Raisi, a protégé of Iran's Supreme Leader Ayatollah Ali Khamenei, came amid the lowest voter turnout in the Islamic Republic's history. Millions of Iranians stayed home in defiance of a vote they saw as tipped in Raisi's favor after a panel under Khamenei disqualified prominent reformist candidates.
Of those who did vote, 3.7 million people either accidentally or intentionally voided their ballots, far beyond the amount seen in previous elections and suggesting some wanted none of the four candidates. In official results, Raisi won 17.9 million votes overall, nearly 62% of the total 28.9 million cast. Tehran had a 34% turnout, far lower than previous years, with many polling stations across the capital noticeably empty.
Raisi's election puts hard-liners firmly in control across the government as negotiations in Vienna continue to try to save a tattered deal meant to limit Iran's nuclear program.
Then-U.S. President Donald Trump unilaterally withdraw America from the landmark agreement in 2018, setting in motion months of tensions across the region. In response, Iran has abandoned the limits of the deal and is now enriching uranium at 60%, its highest levels ever, though still short of weapons-grade levels. Representatives of the world powers party to the deal returned to their capitals for consultations following the latest round of negotiations on Sunday.
Raisi's victory has raised concerns that it could complicate a possible return to the nuclear agreement. In his remarks Monday, Raisi called sanctions relief as "central to our foreign policy" and exhorted the U.S. to "return and implement your commitments" in the deal.
"No matter the timing, a U.S.-Iran agreement in Vienna leaves unanswered whether the United States can achieve a broader rapprochement with an Iran led by an avowed proponent of the core tenets of Iran's Islamic Revolution," the New York-based Soufan Center said in an analysis Monday.
On Sunday, Iran's sole nuclear plant at Bushehr underwent an unexplained emergency shutdown. Previously, Iranian officials had warned that U.S. sanctions affected their ability to get parts for the facility.
On Saudi Arabia, which has recently started secret talks with Iran in Baghdad over several points of contention between the regional heavyweights, Raisi said that Iran would have "no problem" with a possible reopening of the Saudi Embassy in Tehran and that the "restoration of relations faces no barrier." The embassy was closed in 2016 as relations deteriorated.
Raisi struck a defiant tone, however, when asked about the 1988 executions, which saw sham retrials of political prisoners, militants and others that would become known as "death commissions."
After Iran's then-Supreme Leader Ayatollah Ruhollah Khomeini accepted a U.N.-brokered cease-fire, members of the Iranian opposition group Mujahedeen-e-Khalq, heavily armed by Saddam Hussein, stormed across the Iranian border from Iraq in a surprise attack. Iran ultimately blunted their assault.
The trials began around that time, with defendants asked to identify themselves. Those who responded "mujahedeen" were sent to their deaths, while others were questioned about their willingness to "clear minefields for the army of the Islamic Republic," according to a 1990 Amnesty International report.
International rights groups estimate that as many as 5,000 people were executed. Raisi served on the commissions.
"I am proud of being a defender of human rights and of people's security and comfort as a prosecutor wherever I was," he said. "All actions I carried out during my office were always in the direction of defending human rights."
He added: "Today in the presidential post, I feel obliged to defend human rights."
Isabel Debre And Jon Gambrell, The Associated Press
Did Bernier's party split votes on the right? The answer is nuanced, expert says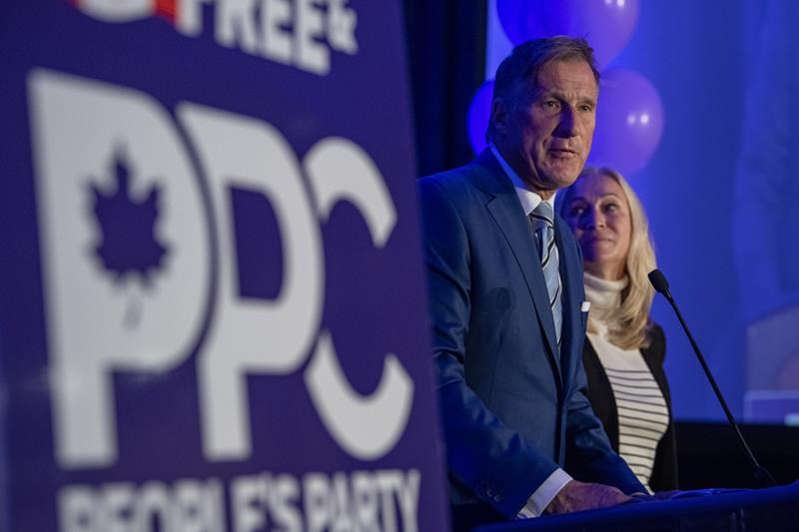 OTTAWA — If Conservative incumbent James Cumming narrowly loses his seat to the Liberals, he might want to blame Brock Crocker.
As of Tuesday afternoon, Cumming was almost 140 votes behind Liberal Randy Boissonnault, who held Edmonton Centre from 2015 until the Conservative flipped it in 2019.
The result might have been different if not for Crocker, the People's Party of Canada candidate who garnered just over 2,000 votes, signifying a potential pocket of support on the right that could have launched Cumming into the lead.
The situation is one that repeated itself in other parts of the country as the maverick movement led by Maxime Bernier picked up votes, but fell short of winning a seat in the House of Commons.
Trevor Tombe, an economics professor at the University of Calgary, took a look at the results and plotted 25 seats where the combined Conservative and PPC vote was greater than the winner's share of the votes.
Among the ridings on the list was Edmonton Centre.
Also on Tombe's list was Aurora-Oak Ridges-Richmond Hill, where Liberal candidate Leah Taylor Roy defeated Conservative incumbent Leona Alleslev, who first won the Toronto-area riding as a Liberal in 2015.
He also flagged Nickel Belt, where Liberal Marc Serre cruised to re-election, and Kitchener-Conestoga, where Conservative Carlene Hawley was a few dozen votes short of Liberal Tim Louis, with some 3,600 votes for PPC candidate Kevin Dupuis.
Tombe estimated that even a small shift of votes to the Conservatives could have meant extra seats for the Tories, although he cautioned against assuming that Conservative candidates would have won if Bernier's party didn't exist.
While Bernier likely picked up votes from supporters disenchanted with his former Conservative colleagues, votes also came from other sources and parties, experts say.
Conrad Winn, an expert on public opinion polling from Ottawa's Carleton University, said some support may come from disenchanted Conservatives, but it could just as easily be more random. He recounted a story of someone who by chance met Bernier at an event and left impressed with the PPC leader.
"Like all parties, it gets support for different kinds of motives," Winn said.
Winn cautioned it is just as difficult to draw a straight line between the Liberals and NDP because of the multiple reasons people support a party, such as age, geography and family history just to cite a few.
Tombe found on election night that the combined total of Liberal and NDP votes could have pushed either into the lead in almost double the 25 ridings that came up in his comparison between Conservative and PPC votes.
Kathy Brock, a professor of policy studies at Queen's University in Kingston, Ont., said Liberals may have lost votes to Bernier from past supporters unhappy with vaccine mandates. She pointed to research by Abacus Data that found a 42-year-old Ontario woman who typically votes Liberal was most likely to be vaccine hesitant.
Complicating matters further is some Tories appear to have voted Liberal because they privately wanted to ensure Prime Minister Justin Trudeau wears any fallout from the handling of the pandemic, Brock said.
Bernier lost his bid on election night to recapture the Quebec seat of Beauce he comfortably held for the Tories before his split from the party following his failed leadership run in 2017. Winning a seat is a key deliverable for his backers if Bernier wants to keep them from migrating away, Brock said.
"I'm struggling to see what he can deliver to them, other than an outlet for anger, but they can do that at a protest rather than belonging to a party," she said.
"People have now seen him in two elections. No seat, no deliverable. Maybe they try some other strategy now, but this is going to be a struggle for Maxime Bernier to try to hold this for two years."
This report by The Canadian Press was first published Sept. 21, 2021.
Jordan Press, The Canadian Press
Officials: Many Haitian migrants are being released in US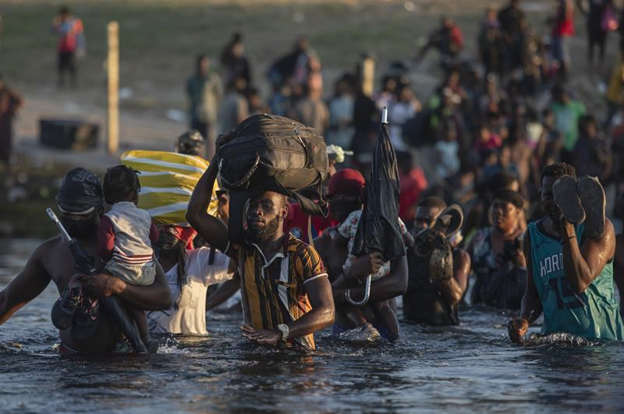 DEL RIO, Texas (AP) — Many Haitian migrants camped in a small Texas border town are being released in the United States, two U.S. officials said Tuesday, undercutting the Biden administration's public statements that the thousands in the camp faced immediate expulsion.
Haitians have been freed on a "very, very large scale" in recent days, according to one U.S. official who put the figure in the thousands. The official, with direct knowledge of operations who was not authorized to discuss the matter and thus spoke on condition of anonymity
Many have been released with notices to appear at an immigration office within 60 days, an outcome that requires less processing time from Border Patrol agents than ordering an appearance in immigration court and points to the speed at which authorities are moving, the official said.
The Homeland Security Department has been busing Haitians from Del Rio to El Paso, Laredo and Rio Grande Valley along the Texas border, and this week added flights to Tucson, Arizona, the official said. They are processed by the Border Patrol at those locations.
A second U.S. official, also with direct knowledge and speaking on the condition of anonymity, said large numbers of Haitians were being processed under immigration laws and not being placed on expulsion flights to Haiti that started Sunday. The official couldn't be more specific about how many.
U.S. authorities scrambled in recent days for buses to Tucson but resorted to flights when they couldn't find enough transportation contractors, both officials said. Coast Guard planes took Haitians from Del Rio to El Paso.
The releases in the U.S. were occurring despite the signaling of a massive effort to expel Haitians on flights to Haiti under pandemic-related authority that denies migrants an opportunity to seek asylum. A third U.S. official not authorized to discuss operations said there were seven daily flights to Haiti planned starting Wednesday.
Accounts of wide-scale releases – some observed at the Del Rio bus station by Associated Press journalists – are at odds with statements a day earlier by Homeland Security Secretary Alejandro Mayorkas, who traveled to Del Rio to promise swift action.
"If you come to the United States illegally, you will be returned, your journey will not succeed, and you will be endangering your life and your family's life," he said at a Monday news conference.
The releases come amid a quick effort to empty the camp under a bridge that, according to some estimates, held more than 14,000 people over the weekend in a town of 35,000 people. Texas Gov. Greg Abbott, during a visit Tuesday to Del Rio, said the county's top official told him the most recent tally at the camp was about 8,600 migrants.
The criteria for deciding who is flown to Haiti and who is released in the U.S. was unclear, but two U.S. officials said single adults were the priority for expulsion flights.
The Homeland Security Department did not immediately respond to a request for comment late Tuesday night.
Meanwhile, Mexico has begun busing and flying Haitian migrants away from the U.S. border, authorities said Tuesday, signaling a new level of support for the United States as the camp presented President Joe Biden with a humanitarian and increasingly political challenge.
The White House is facing sharp bipartisan condemnation. Republicans say Biden administration policies led Haitians to believe they would get asylum. Democrats are expressing outrage after images went viral this week of Border Patrol agents on horseback using aggressive tactics against the migrants.
Mexico has helped at key moments before. It intensified patrols to stop unaccompanied Central American children from reaching the Texas border in 2014, allowed tens of thousands of asylum-seekers to wait in Mexico for hearings in U.S. immigration courts in 2019 and, just last month, began deporting Central American migrants to Guatemala after the Biden administration flew them to southern Mexico.
Marcelo Ebrard, Mexico's foreign relations secretary, said Tuesday he had spoken with his U.S. counterpart, Secretary of State Antony Blinken, about the Haitians' situation. Ebrard said most of the Haitians already had refugee status in Chile or Brazil and weren't seeking it in Mexico.
"What they are asking for is to be allowed to pass freely through Mexico to the United States," Ebrard said.
Two Mexican federal officials, who requested anonymity because they were not authorized to speak publicly, confirmed Mexico's actions.
One of the officials said three busloads of migrants left Acuña on Tuesday morning for Piedras Negras, about 55 miles (90 kilometers) down the border, where they boarded a flight to the southern city of Villahermosa in the state of Tabasco.
The other official said there was a flight Monday from the northern city of Monterrey to the southern city of Tapachula near the Guatemala border. Tapachula is home to the largest immigrant detention center in Latin America. The flight carried about 100 migrants who had been picked up around the bus station in Monterrey, a hub for various routes north to the U.S. border.
The second official said the plan was to move to Tapachula all Haitians who already solicited asylum in Mexico.
The Haitian migrants who are already in Mexico's detention centers and have not requested asylum will be the first to be flown directly to Haiti once Mexico begins those flights, according to the official.
Around Ciudad Acuña, Mexican authorities were stepping up efforts to move migrants away from the border. There were detentions overnight by immigration agents and raids on hotels known to house migrants.
"All of a sudden they knocked on the door and (yelled) 'immigration,' 'police,' as if they were looking for drug traffickers," said Freddy Registre, a 37-year-old Venezuelan staying at one hotel with his Haitian wife, Vedette Dollard. The couple was surprised at midnight.
Authorities took four people plus others who were outside the hotel, he said. "They took our telephones to investigate and took us to the immigration offices, took our photos," Registre said. They were held overnight but finally were given their phones back and released. Authorities gave them two options: leave Mexico or return to Tapachula.
On Tuesday afternoon, they decided to leave town. They bought tickets for a bus ride to the Gulf coast state of Veracruz, planning to continue to Tapachula where they had already applied for asylum.
Others left without being told. Small groups arrived at Ciudad Acuña's bus station to buy tickets to Veracruz, Monterrey and Mexico City. The same bus lines prohibited from selling them tickets for rides north through Mexico, sold them tickets to head south without issue.
In Haiti, dozens of migrants upset about being deported from the U.S. tried to rush back into a plane that landed Tuesday afternoon in Port-au-Prince as they yelled at authorities. A security guard closed the plane door in time as some deportees began throwing rocks and shoes at the plane. Several of them lost their belongings in the scuffle as police arrived. The group was disembarking from one of three flights scheduled for the day.
___
Verza reported from Ciudad Acuña, Mexico, and Spagat from San Diego. Associated Press writers Mark Stevenson in Mexico City, Felix Marquez in Ciudad Acuña, Mexico, Danica Coto in San Juan, Puerto Rico, Evens Sanon from Port-au-Prince, Haiti, Michael Balsamo in Washington, Michael R. Sisak in New York and Tammy Webber in Fenton, Michigan, also contributed to this report.
___
Follow AP's coverage of migration at https://apnews.com/hub/migration
Elliot Spagat, Maria Verza And Juan A. Lozano, The Associated Press