International Energy Agency boss prefers oil and gas from Canada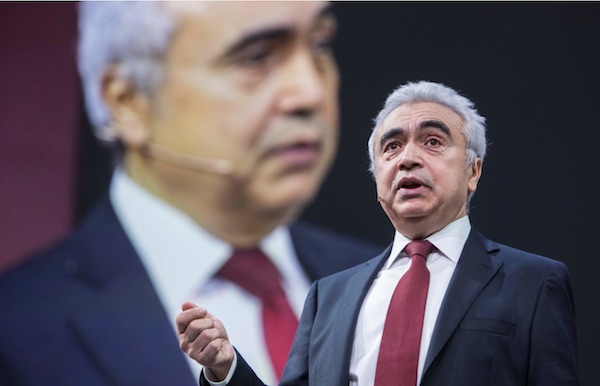 This article is submitted by Canadian Energy Centre Ltd.
Producers building a competitive advantage with ESG performance
The head of the International Energy Agency says Canada is a preferred global oil and gas supplier and should take steps to ensure it remains so in the decades to come.
IEA executive director Fatih Birol is a big advocate for net zero targets, but he knows that even as the world transforms its energy systems, oil and gas will be around for a long time.
He'd prefer the supply comes from "good partners" like Canada, Birol said on Jan. 13 during the virtual launch of the IEA's Canada 2022 report.
The Paris-based IEA is a world-recognized authority on energy supply, demand and policy.
"Canada has been a cornerstone of global energy markets, a reliable partner, for years," Birol said.
"We will still need oil and gas for years to come… I prefer that oil is produced by countries… like Canada who want to reduce the emissions of oil and gas."
World oil consumption has returned near pre-pandemic levels, and natural gas demand surpassed levels pre-COVID last year, according to IEA data. Consumption of both is expected to continue rising even as more renewable energy sources come online.
In Europe, energy customers are feeling the pain of dealing with an unreliable supplier.
Birol said Europe's natural gas crisis is in part because it depends on Russia for nearly half its natural gas imports. As a result, Russia's policies "have a huge impact on the European energy mix."
Right now, Russia has unused capacity to send the equivalent of a full LNG vessel every day to help reduce natural gas prices in Europe, amid a standoff between Moscow and the West over Ukraine, Birol told reporters last week.
"[The] world needs reliable partners," he said. Canada's first LNG exports are expected in 2025 and forecast to rise steadily thereafter, the IEA noted in its report.
Canada is the world's fourth-largest producer of oil and natural gas and home to the third-largest oil reserves, which "creates employment for Canadians and secure and reliable oil and gas for both domestic and global markets," the IEA said.
Remaining competitive in global oil and gas markets – and ensuring the sector remains a major driver of the Canadian economy beyond 2050 – requires emissions reductions, the IEA said, praising work that has been done already.
Canada is not only stable and reliable, but its LNG supply will also be cleaner than competitors, the IEA said.
The LNG Canada project that is under construction in B.C. is expected to have the lowest carbon emissions intensity of any large LNG facility currently operating in the world, at 60 per cent lower than the global average.
Other proposed LNG projects in Canada plan to use clean, renewable hydroelectricity to power operations, resulting in emissions profiles up to 90 per cent lower than global competitors, the IEA said.
Analysts praised the oil and gas industry's "strong track record" of reducing emissions intensity, in the oil sands by 32 per cent since 1990 and by 13 per cent for natural gas production since 2010. A further reduction of up to 27 per cent is expected in the oil sands by 2030.
The success is in part because of large investments in clean technology and environmental protection, the IEA said.
Oil and gas companies in Canada together spend an average of $1 billion per year on energy cleantech, in addition to billions in environmental protection.
In 2018, oil and gas companies also invested $3.6 billion in environmental protection initiatives – by far the largest environmental protection spend of any industry in the country, the IEA said.
"Canadian oil and natural gas producers are leveraging their improving environmental, social and governance performance and Canada's stringent environmental regulations to build a global competitive advantage" as interest in cleaner fuels and environmental sustainability grows.
Saskatchewan ranchers call for investigation into retail meat pricing
REGINA — A group of Canadian ranchers is calling for an investigation into meat pricing.
The Saskatchewan Stock Growers Association says it's asking the provincial and federal governments to look into what it calls an "imbalance" between the price ranchers receive for the cattle and the price consumers pay at the meat counter.
The group says many ranchers and feedlots are operating at a loss this year. Grass is still scarce on the Prairies due to last summer's drought, and the cost of feed grain and fuel has skyrocketed since last year.
But packers and retailers are reporting strong profits this year. The Stock Growers say they believe slaughterhouses may be intentionally running fewer shifts to in order to keep wholesale beef prices high and allow fed cattle supplies to build up in the countryside.
In the U.S., the Biden administration has already expressed concerns about rising meat prices and vowed to implement policies aimed at increasing competition in the meat-packing sector.
According to Statistics Canada, the retail price of beef is up 11.2 per cent year-over-year.
This report by The Canadian Press was first published July 5, 2022.
The Canadian Press
First test production of plastic a milestone for Heartland Petrochemical Complex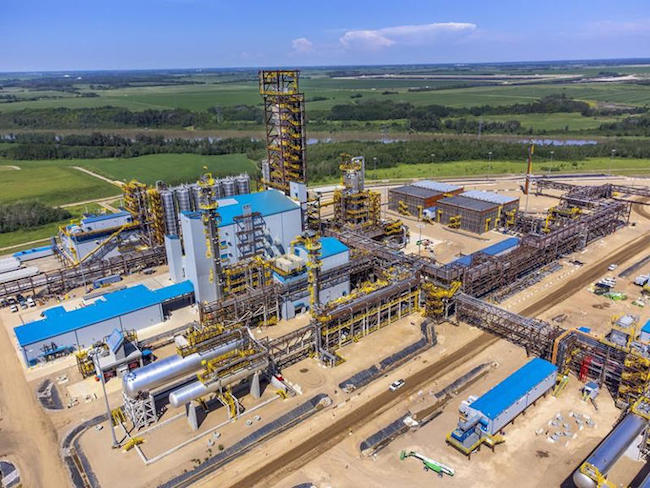 CALGARY — The $4.3-billion Heartland Petrochemical Complex, which has been under construction northeast of Edmonton since 2018, has produced its first plastic pellets.
Owner and operator Inter Pipeline Ltd. said Tuesday the newly commissioned facility has been producing test pellets steadily since late June, an important milestone en route to the expected start of full commercial operation sometime this fall.
The Heartland Petrochemical Complex will convert Alberta propane into 525,000 tonnes per year of polypropylene beads, an easily transported form of plastic that is used in the manufacturing of a wide range of finished products.
Steven Noble, spokesman for Calgary-based Inter Pipeline, said the facility will be the first integrated propane dehydrogenation and polypropylene production facility in North America. He said approximately 70 per cent of Heartland's total production capacity has been already contracted out to long-term customers.
"Through the duration of the project's construction, we've seen demand for polypropylene increase significantly … including at one point hitting an all-time record (market price)," Noble said in an interview. "The demand that we initially forecast certainly hasn't gone away."
The Heartland facility is being built with the support of a $408-million grant from Alberta's provincial government. The cash grant, part of an incentive program aimed at growing the province's petrochemicals sector, is to be paid to Inter Pipeline in equal instalments over three years once the complex is operational.
Noble said by creating a new market for propane, the Heartland facility is an example of how natural resource development in Alberta is diversifying.
"The fact that we're now looking at our raw resources in a different way, and figuring out different ways to get value out of them and create other refined products right here at home … is really the part of the story that everyone here is excited about," he said.
The Heartland Petrochemical Complex is expected to employ 300 people once fully operational.
The polypropylene produced at the facility will be branded as Heartland Polymers.
This report by The Canadian Press was first published July 5, 2022.
Amanda Stephenson, The Canadian Press