International Energy Agency boss prefers oil and gas from Canada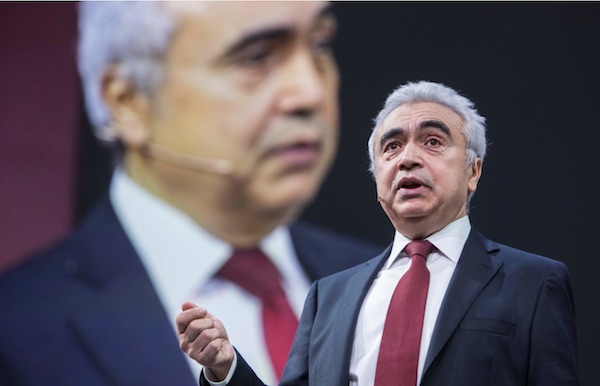 This article is submitted by Canadian Energy Centre Ltd.
Producers building a competitive advantage with ESG performance
The head of the International Energy Agency says Canada is a preferred global oil and gas supplier and should take steps to ensure it remains so in the decades to come.
IEA executive director Fatih Birol is a big advocate for net zero targets, but he knows that even as the world transforms its energy systems, oil and gas will be around for a long time.
He'd prefer the supply comes from "good partners" like Canada, Birol said on Jan. 13 during the virtual launch of the IEA's Canada 2022 report.
The Paris-based IEA is a world-recognized authority on energy supply, demand and policy.
"Canada has been a cornerstone of global energy markets, a reliable partner, for years," Birol said.
"We will still need oil and gas for years to come… I prefer that oil is produced by countries… like Canada who want to reduce the emissions of oil and gas."
World oil consumption has returned near pre-pandemic levels, and natural gas demand surpassed levels pre-COVID last year, according to IEA data. Consumption of both is expected to continue rising even as more renewable energy sources come online.
In Europe, energy customers are feeling the pain of dealing with an unreliable supplier.
Birol said Europe's natural gas crisis is in part because it depends on Russia for nearly half its natural gas imports. As a result, Russia's policies "have a huge impact on the European energy mix."
Right now, Russia has unused capacity to send the equivalent of a full LNG vessel every day to help reduce natural gas prices in Europe, amid a standoff between Moscow and the West over Ukraine, Birol told reporters last week.
"[The] world needs reliable partners," he said. Canada's first LNG exports are expected in 2025 and forecast to rise steadily thereafter, the IEA noted in its report.
Canada is the world's fourth-largest producer of oil and natural gas and home to the third-largest oil reserves, which "creates employment for Canadians and secure and reliable oil and gas for both domestic and global markets," the IEA said.
Remaining competitive in global oil and gas markets – and ensuring the sector remains a major driver of the Canadian economy beyond 2050 – requires emissions reductions, the IEA said, praising work that has been done already.
Canada is not only stable and reliable, but its LNG supply will also be cleaner than competitors, the IEA said.
The LNG Canada project that is under construction in B.C. is expected to have the lowest carbon emissions intensity of any large LNG facility currently operating in the world, at 60 per cent lower than the global average.
Other proposed LNG projects in Canada plan to use clean, renewable hydroelectricity to power operations, resulting in emissions profiles up to 90 per cent lower than global competitors, the IEA said.
Analysts praised the oil and gas industry's "strong track record" of reducing emissions intensity, in the oil sands by 32 per cent since 1990 and by 13 per cent for natural gas production since 2010. A further reduction of up to 27 per cent is expected in the oil sands by 2030.
The success is in part because of large investments in clean technology and environmental protection, the IEA said.
Oil and gas companies in Canada together spend an average of $1 billion per year on energy cleantech, in addition to billions in environmental protection.
In 2018, oil and gas companies also invested $3.6 billion in environmental protection initiatives – by far the largest environmental protection spend of any industry in the country, the IEA said.
"Canadian oil and natural gas producers are leveraging their improving environmental, social and governance performance and Canada's stringent environmental regulations to build a global competitive advantage" as interest in cleaner fuels and environmental sustainability grows.
THE HALFTIME REPORT News from the Alberta Sports Hall of Fame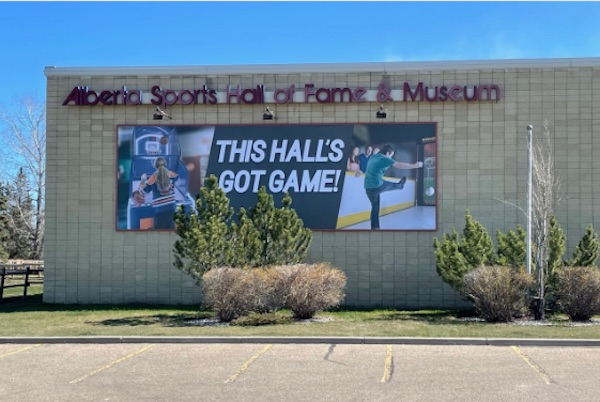 ASHFM Staff Supporting Their Favourite Alberta Teams
The Battle of Alberta was fantastic. Let's do this again soon! This is the first time the Edmonton Oilers and the Calgary Flames have met during the NHL Playoffs since 1991. The Alberta Sports Hall of Fame had a ton of fun creating a number of different ways for Albertans to learn about and participate in the rivalry.
We created a poll where visitors to the museum placed a sticker on our board to indicate which Albertan NHL team they cheer for. Those unable to stop in were encouraged to comment on our social media posts, telling us their team, so we could place the sticker for them. Both teams had over 200 votes, with the total climbing higher each day.
We also highlighted some of our honoured members who have played for, or been associated with either of these teams, such as Wayne Gretzky, Michael Vernon, Glen Sather, and Peter Maher.
Other initiatives include Jersey Day, where visitors who come in on a Battle of Alberta game day wearing a Flames or Oilers jersey get 50% off of their admission into the museum, highlighting iconic BoA moments through Youtube, and more!
This newsletter is sponsored by the RBC Foundation.
Honoured Member in Focus: Wayne Bowes and Bob Daku
Wayne Bowes and Bob Daku began playing racquetball together in 1969, after meeting at the Lethbridge YMCA. They dominated the Canadian Open Men's Doubles in racquetball from 1974 to 1982. Together, they won nine consecutive national titles.
Besides their national titles, this team won numerous Alberta crowns and competed at the 1974 World Amateur Racquetball Championships. They won two more titles, in 1984 and 1985, and then retired from competitive racquetball with eleven of thirteen national titles.
For more information about this team, please see their Honoured Member Profile, linked below.
Provincial Sport Organization: Alberta Racquetball Association
The Alberta Racquetball Association's vision is to make racquetball accessible to all Albertans and to be a national leader in programming, athlete development, and good governance.Its mission is to facilitate the participation and enjoyment of racquetball through the delivery of programs, access to resources, the development of coaches and officials, and support to clubs and affiliates.
They strive to build a strong future and legacy for racquetball by supporting competitive athletes, fostering lifelong participants and aim to increase involvement and accessibility at all levels through promotion, advocacy, and funding.
Artifact in Focus!

The artifact that we are highlighting is a racquetball racquet. The cover is made of faux, brown, leather.
Next time you're driving down the QEII you will notice the new billboard on our building! Our new billboard reads "This Hall's Got Game," and is visible from Highway 2.
Honoured Member Theo Fleury Visits ASHFM
Honoured Member Theo Fleury stopped by the Alberta Sports Hall of Fame recently to film a promotional video.
To learn more about Theo Fleury, please click on the link to his profile below.
Leave a legacy​
The Alberta Sports Hall of Fame needs your support to continue the ongoing preservation of Alberta's sports history and the development of museum exhibits. We are grateful and appreciative of the generosity of our supporters and friends. We would be happy to assist you in choosing how your personal legacy will be fulfilled and the many options available. Here is some information on donating shares to ASHFM and the benefits to you as a donor.
Copyright © 2021 The Alberta Sports Hall of Fame, All rights reserved.
Our mailing address is:
Alberta Sports Hall of Fame
#102 – 4200 Highway 2
Red Deer, AB T4N 1E3
(403) 341- 8614
[email protected]
Aurora Cannabis shares fall 40% after share sale amendment
EDMONTON — Aurora Cannabis Inc.'s share price fell by about 40 per cent, after the company announced it sold US$150 million worth of shares.
The Edmonton marijuana company's share price was $3.47 when trading ended Thursday, but by mid-morning Friday, had fallen to $2.07 and closed at $2.14.
The sale of shares was part of an amendment Aurora made to a previously announced bought deal financing.
The amendment made it possible for a syndicate of underwriters led by Canaccord Genuity and BMO Capital Markets to purchase 61.2 million Aurora units for US$2.45 each.
Each unit is comprised of one common share in Aurora and one common share purchase warrant, which can be used to acquire one common share for US$3.20 each in the next 36 months.
Aurora has yet to record a profit and in recent years has been trying to drive revenues by better aligning supply with demand, laying off staff and closing facilities.
This report by The Canadian Press was first published May 27, 2022.
The Canadian Press