Inquiry into Emergencies Act urged to recommend greater oversight of police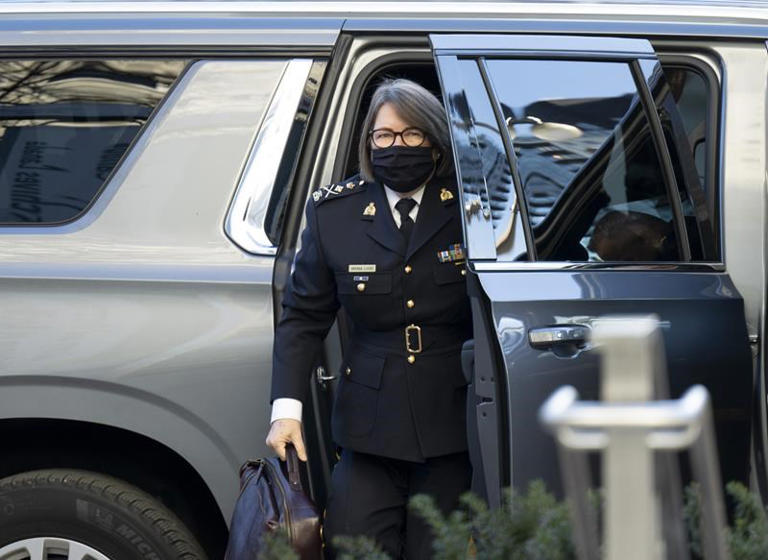 OTTAWA — Lawmakers should define how to maintain government oversight of law enforcement while ensuring police independence more clearly, experts told a public inquiry Thursday, arguing that the understanding of where to draw the line has long been too vague.
The concepts of police oversight and independence came up time and again over six weeks of fact-finding testimony at the Public Order Emergency Commission, which is investigating the federal Liberal government's use of the Emergencies Act last winter.
Throughout the inquiry hearings, police and politicians described a separation between police operations and policy, and said politicians and police boards should never direct operations.
The line was often described as a separation between church and state.
"For me, it's pretty clear. Anything operational, we're advising what's happening, but we're not taking direction on how to do things," RCMP Commissioner Brenda Lucki testified on Nov. 15. She suggested the federal government should use legislation to more clearly define the line that politicians should not cross.
While an expert panel of witnesses agreed Thursday that the line should be more clearly defined, Guelph University political science professor Kate Puddister said such a stark distinction is unhelpful.
"My perspective is that this distinction, in an attempt to draw a clear line between the two, does a disservice," she said. "This formulation allows governments to shirk responsibilities with respect to policing, perhaps as a method of political strategy."
The commission is looking at the events that led up to the government's emergency declaration in response to the weeks-long "Freedom Convoy" protest in Ottawa and similar protests at border crossings across Canada.
Beyond assessing whether the move was appropriate, the inquiry also has a mandate to make recommendations about how to modernize the law and suggest areas where further study could be warranted.
After hours of testimony from Prime Minister Justin Trudeau concluded the first phase of the inquiry last Friday, the commission has turned to a second phase of expert testimony on a range of issues related to the protests.
The police governance experts who testified Thursday reaffirmed the importance of police services being independent of political interference. Otherwise, they risk being seen as "a tool of the government of the day," as Ryan Teschner, the executive director of the Toronto Police Services Board, said in his testimony.
But all agreed that police need more oversight over some elements of their operations.
"We have for too long had a rather vague and sometimes often overblown conception of police independence from government," Teschner said.
Michael Kempa, a criminologist with the University of Ottawa, suggested legislators "simply jettison the term 'operations' altogether," and define police independence "in terms of the exercise of their powers of investigation, arrest and the laying of charges."
The experts also said that all police services in Canada should have some kind of civilian oversight body, such as a police commission or board.
Most urban police services in Canada are watched by such entities, but provincial police and RCMP are not. The RCMP commissioner reports directly to the federal minister of public safety.
Creating a board would mean that any political direction to police would be public and documented, and it would ensure that "ministerial direction is appropriate and given when necessary," Puddister said.
Commissioner Paul Rouleau said some of the panel's recommendations may make their way into his final report, though he wouldn't say which.
During a second afternoon session, experts discussed the ways that different levels of government, including First Nations governments, work together in an emergency.
Judith Sayers, president of the Nuu-chah-nulth Tribal Council, recommended that the Emergencies Act be ammended to require consultation with First Nations in addition to provincial and municipal governments.
"Neither the Emergencies Act or the Emergency Management Act mentions First Nations as governments. Everyone else gets notice," Sayers said.
"Yet when emergencies happen, it is First Nations lives at stake, their lands, resources and their ability to carry out their section 35 protected rights."
The specifics about which First Nations should be consulted could vary depending on the emergency at hand, she said.
Cal Corley, CEO of the Community Safety Knowledge Alliance, said more consultation between levels of government could prevent the need to invoke an emergency in the first place.
He said if there are "intentional proactive measures" between federal, provincial, territorial, First Nations and municipal governments to address large-scale protests and emergencies, "it should, in most cases and circumstances, establish conditions that negate the need for governments to even consider invoking the federal Emergencies Act."
Rouleau and his team must deliver their findings by Feb. 6, with the commission's final report to be made public by Feb. 20.
This report by The Canadian Press was first published Dec. 1, 2022.
Laura Osman, The Canadian Press
Convoy organizer says plans to stage a 2023 protest in Winnipeg are off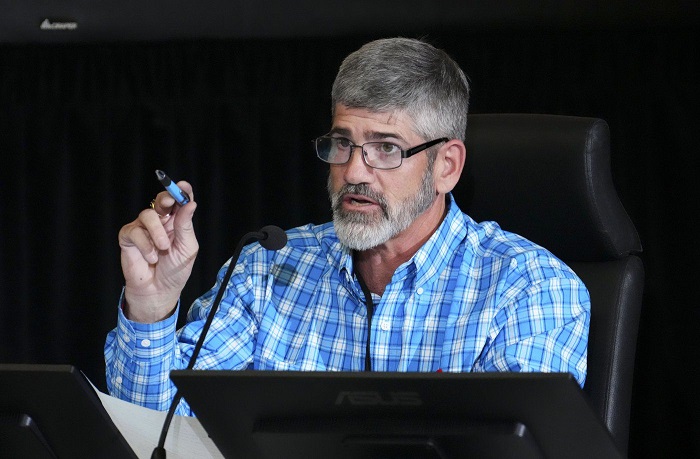 Freedom Convoy 2.0 appears to be a bust.
Canada Unity, one of the anti-government protest groups behind the protests that headlined much of last year, is calling off its plans to restage the event this February.
Canada Unity founder James Bauder initially planned to bring a four-day blockade to Ottawa but then said it would be moved to Winnipeg.
Bauder now says in a Facebook post it's not going to happen at all, citing security breaches and personal character attacks on him.
As the 2022 protest in Ottawa was forced to end last February Bauder was among dozens of people arrested and charged with mischief and various counts of disobeying police and court orders.
The first iteration of the Freedom Convoy blockaded downtown Ottawa for three weeks and shut down at least four border crossings, resulting in the federal government's decision to invoke the Emergencies Act for the first time.
This report by The Canadian Press was first published Jan. 2, 2023.
Ottawa police cut email access over fears info would leak during 'Freedom Convoy'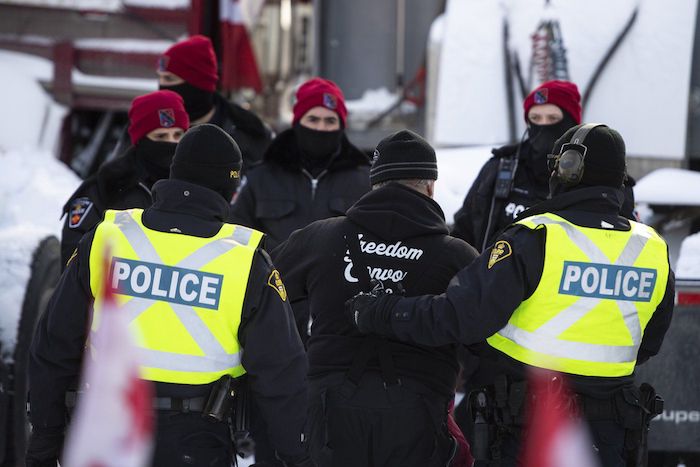 By David Fraser in Ottawa
Ottawa police were so concerned about leaks from "Freedom Convoy" sympathizers in their ranks that they proactively shut off the email accounts of members on leave, but now the force has little to say about how real those fears turned out to be.
The Public Order Emergency Commission investigating the federal Liberal government's use of the Emergencies Act learned there were several times when senior officers were concerned protesters who gridlocked downtown Ottawa for several weeks last winter were getting leaks.
A Feb. 28 email from Ottawa police Insp. Michel Marin to colleagues said that police members were observed participating in the protests downtown, and members who were away from work "sympathetic to the anti-mandate cause" still had access to their professional emails.
The email, submitted to the inquiry, said that "due to the state of emergency and believing this may have compromised (Ottawa Police Service) operations leading to the expulsion of the protesters," email and internal notification system access was restricted for members on leave.
Marin wrote the email after demonstrators had been cleared from the streets. He was seeking guidance on whether it was time to revisit the decision to remove email access, but it remains unclear whether it was restored.
Acting Ottawa police Supt. Robert Drummond told the inquiry there was concern current and former law enforcement officers were involved in the protest and that "as a precaution," access to corporate accounts was cut off for one member of the police force.
"There (were) concerns about information flowing out of the organization," he testified Oct. 26.
Deputy Ottawa police chief Steve Bell, who was acting police chief at the time, testified that concerns over potential leaks were "regularly" investigated, but nothing was found.
"As a result of those investigations, we didn't find any circumstances where there was a compromise of information or actions because information was shared from inside our organization (with) the protesters."
The Ottawa police, even now, have not said how many investigations were completed, or remain ongoing, into allegations of potential leaks.
In a statement, the Ottawa police referred only to "several internal investigations and discipline related to officers' conduct" that have already taken place, noting they were "related to donations made in support of the convoy."
Only one decision had been made public. A police officer pleaded guilty last month to discreditable conduct for having donated to the "Freedom Convoy" after then-chief Peter Sloly had deemed the protest an illegal occupation. She was docked 40 hours of pay.
No other disciplinary hearings for officers related to the protests appear to be scheduled.
The head of the Ontario Provincial Police's provincial operations intelligence bureau, Supt. Pat Morris, also warned senior officers in a Feb. 10 email chain about operational leaks, although it was unclear which police force.
In one email submitted to the inquiry, he linked to a Facebook comment from an unidentified person saying a "source from a city worker and front-line worker" had warned about something planned for the next day.
Morris described it in the email as "evidence," or at least intelligence, of an "operational leak" and "every example that I have been provided has been accurate."
The OPP did not respond to requests about what it is doing, or has done, to investigate leaks.
The inquiry learned that Sloly, who resigned as Ottawa's police chief on Feb. 15, the day after Prime Minister Justin Trudeau invoked the Emergencies Act, was aware of Morris's concerns.
On Feb. 14, Sloly's morning briefing notes show Morris indicated to him "we might have significant issues with police members being involved in the demos."
The former chief told the inquiry every complaint was assigned for review by the professional standards unit, and any that suggested misconduct were assigned for proper investigation. He said he suspended one officer during the protests, but he did not know the status of that case.
Protest organizers who appeared before the inquiry also spoke of police co-operation.
Danny Bulford, a "Freedom Convoy" spokesman and security liaison, said he did not have any active duty officers leaking him any sensitive information, but that he did get help from police.
"There was officers that were on leave for various reasons, whether it be the mandates or their own personal reasons — I didn't ask; it wasn't my business — that were also helping with some of the security tasks that I was co-ordinating," he testified.
Jeremy MacKenzie, founder of the far-right online "Diagolon" group, told the commission he was leaked information from law enforcement on several occasions during the protests.
MacKenzie told the commission that a self-described RCMP officer who was a fan of his podcast and online streaming activities warned of riot police being activated. Some of those details were also included in the OPP's Feb. 8 intelligence report, submitted to the inquiry.
MacKenzie said the person he believed to be a Mountie also leaked photos of a group text message featuring RCMP members joking about protest enforcement efforts.
RCMP Commissioner Brenda Lucki was not asked about police leaks during her Nov. 15 appearance at the inquiry, and she told reporters there were no code of conduct findings or charges laid.
A Feb. 10 RCMP intelligence document shared with the commission also warned the potential for "serious insider threats" existed.
"Those who have not lost their jobs but are sympathetic to the movement and their former colleagues may be in a position to share law enforcement or military information to the convoy protests," the report says.
The RCMP did not answer specific questions about instances of leaks during the convoy or ongoing investigations, saying in a statement its officials "stand by their testimony and have no additional comment."
"Generally, only in the event that an investigation results in the laying of criminal charges, would the RCMP confirm its investigation, the nature of any charges laid and the identity of the individual(s) involved," the RCMP statement said.
This report by The Canadian Press was first published Dec. 12, 2022.