'I'm here but my mind is always there:' Ontario woman returns home from Afghanistan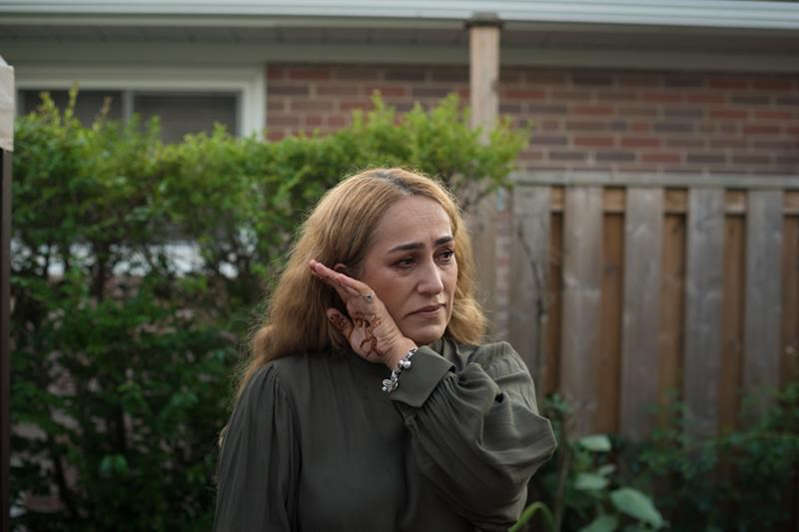 Heartbreak and guilt are all Zakia Zarifi has been feeling since she returned to her home in Ontario from Afghanistan.
"I'm happy to see my family here, but it's torture for me because I couldn't bring my parents with me," the real estate agent from Brampton said over the phone.
"It was the hardest goodbye ever, but deep down I have hope that I can bring them here."
The single mother says she was beaten, shot at and barely dodged a bomb outside Kabul airport during the chaotic journey. All she thinks about now is helping the people left behind.
"(A) genocide … is happening right now in Afghanistan and no one is talking about it. That's why I'm here but my mind is always there."
Zarifi, 50, arrived this week to tears and warm hugs from her three grown children. They frantically worked to bring their mother home after the Taliban seized control of Afghanistan in August. She had gone there to try to get her aging parents out of danger.
Before she got out herself, Zarifi was critical of Canada's evacuation of its citizens from the region.
She told The Canadian Press while she was stuck in Afghanistan that she twice tried to escape before the U.S.-led military mission's Aug. 31 deadline, but was beaten by Taliban members and pushed away from the airport's gates.
She was angry Canadian officials told her and others to meet at dangerous locations, while other countries helped their citizens get to military planes using safer routes. Ten days after Canadian Forces left the region, and as Prime Minister Justin Trudeau faced criticism for mishandling the evacuation, Zarifi got another call from Global Affairs Canada, she said. This time the plan was better. "They told me to be at (Kabul) Serena Hotel and then, from there, the Qatari government was in charge of taking us to the airport. We had a flight with the Qatar airline (to Qatar)." By Tuesday, she was on a plane from Doha to Canada.
"The first flight that left Afghanistan (had) all different citizens from all over the world. On the second flight … there were, I believe, 10 Canadians."
She said others on the flight home told horrifying stories about the Taliban knocking on their families' doors and taking their men.
"They took their birth certificates, and took them to this place. They are all vanished," she said.
"Someone even came to knock on my parents' door. The guy who looks after them (said), 'No one lives here,'  and they left."
Zarifi said her parents are a target because they are from the northeastern province of Panjshir, the heart of military resistance in Afghanistan and where her father fought against Taliban rule.
While she waited for a flight, she and her family helped other Afghans, she said.
They gave away items in their home, distributed 120 blankets and provided food supplies to 500 families. Many Afghans they helped are among thousands who are religious and ethnic minorities who worry the Taliban's return to power will lead to oppression or death.
Zarifi recalled a similar journey she made in 1987 during the Soviet Union's invasion of Afghanistan. She escaped to Pakistan from Kabul. Two years later, she moved to Canada.
"Afghans … a majority of them are refugees and they've all found a way to get out before and through significantly worse times," said Zarifi's daughter Marjan.
"When my mom first came to Canada, she had to walk two days, two nights to get to where she needed to go. They were being directly shot at. So she has done this twice.
"She keeps a lot of strength and says, 'It's gonna be OK,' but every day we can't think straight … Everyone just kind of moves on with life, but my mind is constantly with my family and what's going on."
Despite her frustration with the Canadian government, Zarifi said she's thankful Trudeau did not forget her and other citizens.
"I just hope that the Liberal (government) do their best to bring people, because their life is in danger," Zarifi said.
"When I moved here, I worked 20-hour days. I worked as a bookkeeper, did accounting, night shifts at Walmart. I worked hard. I made a living for myself."
She said she prays that other Afghans will have the same chance at a new life. For her part, she plans to continue helping people in Afghanistan in whatever way she can.
This report by The Canadian Press was first published Sept. 17. 2021.
___
This story was produced with the financial assistance of the Facebook and Canadian Press News Fellowship.
Fakiha Baig, The Canadian Press
Africa tries to end vaccine inequity by replicating its own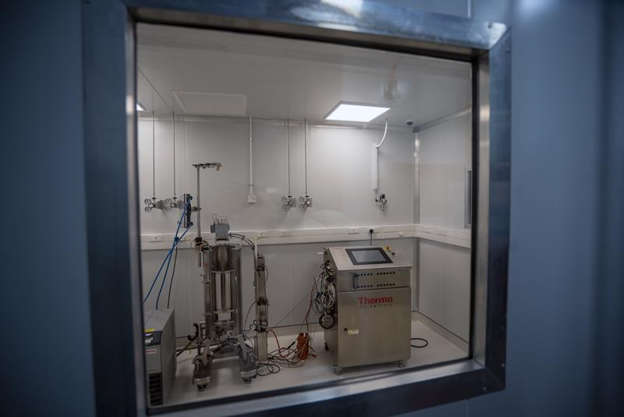 CAPE TOWN, South Africa (AP) — In a pair of Cape Town warehouses converted into a maze of airlocked sterile rooms, young scientists are assembling and calibrating the equipment needed to reverse engineer a coronavirus vaccine that has yet to reach South Africa and most of the world's poorest people.
The energy in the gleaming labs matches the urgency of their mission to narrow vaccine disparities. By working to replicate Moderna's COVID-19 shot, the scientists are effectively making an end run around an industry that has vastly prioritized rich countries over poor in both sales and manufacturing.
And they are doing it with unusual backing from the World Health Organization, which is coordinating a vaccine research, training and production hub in South Africa along with a related supply chain for critical raw materials. It's a last-resort effort to make doses for people going without, and the intellectual property implications are still murky.
"We are doing this for Africa at this moment, and that drives us," said Emile Hendricks, a 22-year-old biotechnologist for Afrigen Biologics and Vaccines, the company trying to reproduce the Moderna shot. "We can no longer rely on these big superpowers to come in and save us."
Some experts see reverse engineering — recreating vaccines from fragments of publicly available information — as one of the few remaining ways to redress the power imbalances of the pandemic. Only 0.7% of vaccines have gone to low-income countries so far, while nearly half have gone to wealthy countries, according to an analysis by the People's Vaccine Alliance.
That WHO, which relies upon the goodwill of wealthy countries and the pharmaceutical industry for its continued existence, is leading the attempt to reproduce a proprietary vaccine demonstrates the depths of the supply disparities.
The U.N.-backed effort to even out global vaccine distribution, known as COVAX, has failed to alleviate dire shortages in poor countries. Donated doses are coming in at a fraction of what is needed to fill the gap. Meanwhile, pressure for drug companies to share, including Biden administration demands on Moderna, has led nowhere.
Until now, WHO has never directly taken part in replicating a novel vaccine for current global use over the objections of the original developers. The Cape Town hub is intended to expand access to the novel messenger RNA technology that Moderna, as well as Pfizer and German partner BioNTech, used in their vaccines.
"This is the first time we're doing it to this level, because of the urgency and also because of the novelty of this technology," said Martin Friede, a WHO vaccine research coordinator who is helping direct the hub.
Dr. Tom Frieden, the former head of the U.S. Centers for Disease Control and Prevention, has described the world as "being held hostage" by Moderna and Pfizer, whose vaccines are considered the most effective against COVID-19. The novel mRNA process uses the genetic code for the spike protein of the coronavirus and is thought to trigger a better immune response than traditional vaccines.
Arguing that American taxpayers largely funded Moderna's vaccine development, the Biden administration has insisted the company must expand production to help supply developing nations. The global shortfall through 2022 is estimated at 500 million and 4 billion doses, depending on how many other vaccines come on the market.
"The United States government has played a very substantial role in making Moderna the company it is," said David Kessler, the head of Operation Warp Speed, the U.S. program to accelerate COVID-19 vaccine development.
Kessler would not say how far the administration would go in pressing the company. "They understand what we expect to happen," he said.
Moderna has pledged to build a vaccine factory in Africa at some point in the future. But after pleading with drugmakers to share their recipes, raw materials and technological know-how, some poorer countries are done waiting.
Afrigen Managing Director Petro Terblanche said the Cape Town company is aiming to have a version of the Moderna vaccine ready for testing in people within a year and scaled up for commercial production not long after.
"We have a lot of competition coming from Big Pharma. They don't want to see us succeed," Terblanche said. "They are already starting to say that we don't have the capability to do this. We are going to show them."
If the team in South Africa succeeds in making a version of Moderna's vaccine, the information will be publicly released for use by others, Terblanche said. Such sharing is closer to an approach U.S. President Joe Biden championed in the spring and the pharmaceutical industry strongly opposes.
Commercial production is the point at which intellectual property could become an issue. Moderna has said it would not pursue legal action against a company for infringing on its vaccine rights, but neither has it offered to help companies that have volunteered to make its mRNA shot.
Chairman Noubar Afeyan said Moderna determined it would be better to expand production itself than to share technology and plans to deliver billions of additional doses next year.
"Within the next six to nine months, the most reliable way to make high-quality vaccines and in an efficient way is going to be if we make them," Afeyan said.
Zoltan Kis, an expert in messenger RNA vaccines at Britain's University of Sheffield, said reproducing Moderna's vaccine is "doable" but the task would be far easier if the company shared its expertise. Kis estimated the process involves fewer than a dozen major steps. But certain procedures are tricky, such as sealing the fragile messenger RNA in lipid nanoparticles, he said.
"It's like a very complicated cooking recipe," he said. "Having the recipe would be very, very helpful, and it would also help if someone could show you how to do it."
A U.N.-backed public health organization still hopes to persuade Moderna that its approach to providing vaccines for poorer countries misses the mark. Formed in 2010, the Medicines Patent Pool initially focused on convincing pharmaceutical companies to share patents for AIDS drugs.
"It's not about outsiders helping Africa," Executive Director Charles Gore said of the South Africa vaccine hub. "Africa wants to be empowered, and that's what this is about."
It will eventually fall to Gore to try to resolve the intellectual property question. Work to recreate Moderna's COVID-19 vaccine is protected as research, so a potential dispute would surround steps to sell a replicated version commercially, he said.
"It's about persuading Moderna to work with us rather than using other methods," Gore said.
He said the Medicines Patent Pool repeatedly tried but failed to convince Pfizer and BioNTech to even discuss sharing their formulas.
Rep. Raja Krishnamoorthi, who is among the members of Congress backing a bill that calls on the United States to invest more in making and distributing COVID-19 vaccines in low- and middle-income countries, said reverse engineering isn't going to happen fast enough to keep the virus from mutating and spreading further.
"We need to show some hustle. We have to show a sense of urgency, and I'm not seeing that urgency," he said. "Either we end this pandemic or we muddle our way through."
Campaigners argue the meager amount of vaccines available to poorer countries through donations, COVAX and purchases suggests the Western-dominated pharmaceutical industry is broken.
"The enemy to these corporations is losing their potential profit down the line," Joia Mukherjee, chief medical officer of the global health nonprofit Partners in Health, said. "The enemy isn't the virus, the enemy isn't suffering."
Back in Cape Town, the promise of using mRNA technology against other diseases motivates the young scientists.
"The excitement is around learning how we harness mRNA technology to develop a COVID-19 vaccine," Caryn Fenner, Afrigen's technical director, said. But more important, Fenner said, "is not only using the mRNA platform for COVID, but for beyond COVID."
___
Cheng reported from London; Hinnant reported from Paris.
Lori Hinnant, Maria Cheng And Andrew Meldrum, The Associated Press
Canadiens top Detroit 6-1, snap 5-game season-opening skid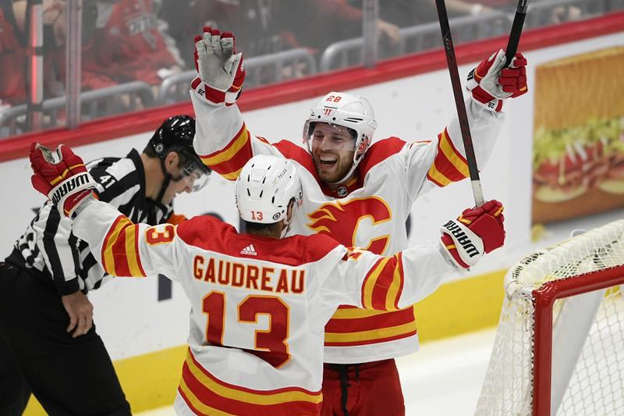 MONTREAL (AP) — Mathieu Perreault had a hat trick and the Montreal Canadiens beat the Detroit Red Wings 6-1 on Saturday night to end their season-opening losing streak at five.
Perreault, Christian Dvorak and Mike Hoffman scored their first goals in Canadiens uniforms. Defenseman Sami Niku also earned his first points in his first start, finishing with two assists.
Jake Allen made 26 saves for Montreal.
Detroit goalie Thomas Greiss was pulled in the second period after conceding five goals on 17 shots. Alex Nedeljkovic stopped all six shots in relief.
Montreal gave up a power play early in the first period and the Red Wings took no time to find the opening goal, with Dylan Larkin beating Allen into the upper right-hand corner.
Ben Chiarot responded for Canadiens with 5:50 to go in the first period. The defenseman scored off a cross-ice pass from Jonathan Drouin.
FLAMES 4, CAPITALS 3, OT
WASHINGTON (AP) — Elias Lindholm completed his second career hat trick with a one-timer 2:46 into overtime, and Calgary beat Washington.
Lindholm's fourth, fifth and sixth goals of the season helped the Flames to a second consecutive victory, this one coming after blowing an early 3-0 lead. Washington had won two in a row.
Andrew Mangiapane scored his third goal of the season for the Flames.
Calgary's Dan Vladar made 22 saves and Johnny Gaudreau had two assists, including the final feed to Lindholm for an effort that caught the body of goaltender Ilya Samsonov before trickling over the line.
Alex Ovechkin, Evgeny Kuznetsov and Martin Fehervary scored for the Capitals. Ovechkin moved to 735 career goals, bringing him within six of Brett Hull for fourth on the NHL list.
RANGERS 3, SENATORS 2
OTTAWA, Ontario (AP) — Chris Kreider, Ryan Lindgren and Barclay Goodrow scored in the final six minutes, rallying New York to its fourth straight win, all on the road.
Alexandar Georgiev made 26 saves for the Rangers..
Ottawa led 2-0 after Josh Norris' goal early in the third period, but the Senators unraveled late. Kreider scored a power-play goal by beating Matt Murray in close with 5:23 left.
Murray, who stopped 22 shots, left the game following the goal, leaving Anton Forsberg to close things out. Forsberg gave up a goal to Lindgren on the first shot he faced with 4:08 left.
Goodrow scored the winner with 2:03 left by deflecting a long shot from Sammy Blais past Forsberg.
Nick Paul also scored for Ottawa.
WILD 4, DUCKS 3, OT
ST. PAUL, Minn. (AP) — Ryan Hartman scored with 12.1 seconds left in overtime and Minnesota extended its season-opening win streak to four games in beating Anaheim.
Brandon Duhaime, Jared Spurgeon and Jon Merrill scored for Minnesota, which has won its first four games for the first time since 2008-09. The franchise best for season-opening wins is six in 2006-07. Cam Talbot had 21 saves for Minnesota.
Rickard Rakell had two goals and Troy Terry also scored for Anaheim. John Gibson had 32 saves for the Ducks.
HURRICANES 5, BLUE JACKETS 1
COLUMBUS, Ohio (AP) — Vincent Trocheck had two goals and an assist to lead Carolina to its fourth straight win to open the season.
Jordan Staal and Sebastian Aho added power-play goals, and Jesper Fast also scored for Carolina. Frederik Andersen stopped 27 shots in his fourth straight win.
Columbus captain Boone Jenner scored, and Joonas Korpisalo finished with 28 saves. Korpisalo lost his second straight game, and the Blue Jackets absorbed their first defeat at home in four games this season.
PANTHERS 4, FLYERS 2
PHILADELPHIA (AP) — Jonathan Huberdeau scored twice, including the go-ahead goal in the third period, and added an assist to lead Florida over Philadelphia.
Owen Tippett also scored and Sam Reinhart had an empty-netter for Florida, which extended its club-record best start to 5-0.
Claude Giroux and Cam Atkinson scored for Philadelphia.
Sergei Bobrovsky made 27 saves for the Panthers. Bobrovsky earned his 300th win in Florida's last game, a 4-1 victory over Colorado on Thursday night.
DEVILS 2, SABRES 1, OT
NEWARK, N.J. (AP) — Pavel Zacha scored at 3:09 of overtime to give New Jersey a victory over Buffalo.
Nico Daws stopped 24 shots to win in his NHL debut, and Nico Hischier had a power-play goal for New Jersey.
Dylan Cozens scored a power-play goal for Buffalo, and Dustin Tokarski made 37 saves.
AVALANCHE 4, LIGHTNING 3, OT
TAMPA, Fla. (AP) — Cale Makar scored in the sixth round of the shootout to give Colorado the win over Tampa Bay.
Makar beat Andrei Vasilevskiy with a wrist shot after Darcy Kuemper denied Anthony Cirelli to begin the sixth round as the Avalanche ended a three-game losing streak.
Tampa Bay's Brayden Point tied the game 3-3 with 2:35 remaining in the third period.
Nathan MacKinnon, Gabriel Landeskog and Mikko Rantanen scored, and Kuemper made 29 saves for Colorado, which had lost three in a row.
Brayden Point, Mathieu Joseph and Steven Stamkos scored for the Lightning. Andrei Vasilevskiy made 24 saves.
PENGUINS 7, MAPLE LEAFS 1
PITTSBURGH (AP) — Drew O'Connor scored twice and Pittsburgh routed Toronto.
O'Connor got his second and third goals of the season. Marcus Pettersson also scored and added two assists for a career-high three points. The Penguins, playing without five of their best players, including Sidney Crosby, Evgeni Malkin and Kris Letang, broke a 1-all tie with a four-goal second period.
Evan Rodrigues scored his third goal, while Jason Zucker and Brian Boyle both got their second of the season. Mike Matheson also scored his first for Pittsburgh. Tristan Jarry made 28 saves for the Penguins.
Jason Spezza scored his third for Toronto, which lost its third straight game. Jack Campbell allowed five goals on 21 shots through two periods. Michael Hutchinson stopped 10 shots in the third.
JETS 6, PREDATORS 4
WINNIPEG, Manitoba (AP) — Paul Stastny scored twice and short-handed Winnipeg held off Nashville.
Rookie forward Kristian Vesalainen got his first NHL goal for Winnipeg. Kyle Connor, Pierre Luc-Dubois and Adam Lowry also scored for the Jets, who played without No. 1 center Mark Scheifele and captain Blake Wheeler for the second consecutive game. Both are in COVID-19 protocol.
Connor Hellebuyck made 26 saves in the win.
Colton Sissons, Nick Cousins, Philip Tomasino and defenseman Roman Josi scored for Nashville. Juuse Saros stopped 23 shots.
BLUES 7, KINGS 3
ST. LOUIS (AP) — David Perron had three goals and an assist, Jake Neighbours scored his first NHL goal, and St. Louis beat Los Angeles.
Ivan Barbashev, Ryan O'Reilly and James Neal also scored for the Blues. Jordan Binnington made 32 saves as St. Louis won its fourth straight game to open a season for the third time in franchise history.
Perron's sixth career hat trick gave him five goals in his last two games.
Alex Iafallo, Justin Brown and Carl Grundstrom scored for the Kings, who lost their fourth straight. Calvin Petersen made 33 saves.
ISLANDERS 3, COYOTES 0
GLENDALE, Ariz. (AP) — Brock Nelson had a goal and an assist, Ilya Sorokin stopped 26 shots and New York kept Arizona winless.
New York got off to slow starts in the first two periods, but Sorokin made some tough saves for his fourth career shutout. Cal Clutterbuck and Anthony Beauvillier also scored for the Islanders, who have five points in three games after two opening losses.
The Coyotes limited shots and controlled the puck for long periods of the opening two periods, yet trailed 2-0 heading into the third. Karel Vejmelka had 21 saves for Arizona, which has one point (0-4-1) in five games this season.
The Islanders arrived in the desert for game five of their season-opening 13-game road trip while construction of their new arena is being completed.
___
More AP NHL: https://apnews.com/hub/NHL and https://twitter.com/AP_Sports
The Associated Press