Hundreds of thousands march in Poland anti-government protests to show support for democracy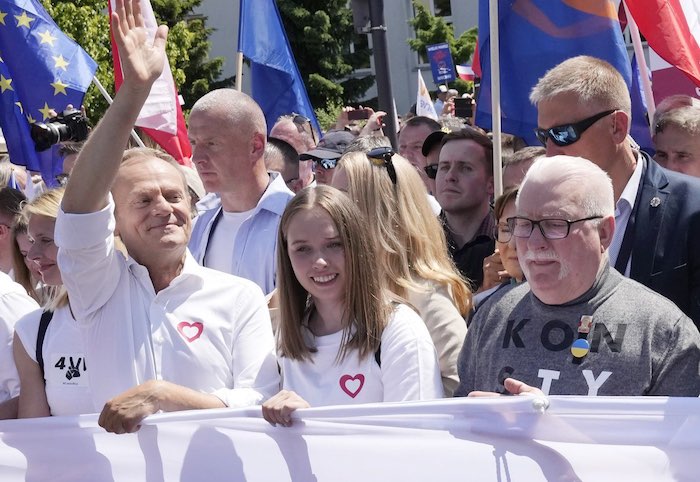 WARSAW, Poland (AP) — Hundreds of thousands of people marched in an anti-government protest in Poland's capital on Sunday, with citizens traveling from across the country to voice their anger at officials who they say have eroded democratic norms and created fears that the nation is following Hungary and Turkey down the path to autocracy.
Warsaw Mayor Rafal Trzaskowski, who belongs to the opposition party that led the march, estimated that 500,000 people took part. The Onet news portal estimated there there were at least 300,000 at the march's culmination.
Large crowds also gathered in Krakow and other cities across the nation of 38 million people, showing frustration with a government that critics accuse of violating the constitution and eroding fundamental rights in Poland.
Former President Lech Walesa, the leader of the Solidarity movement that played a historic role in toppling communism in Poland, marched alongside the leader of the opposition Civic Platform party, ex-Prime Minister Donald Tusk.
Walesa and Tusk are reviled by the ruling Law and Justice party led by Jaroslaw Kaczynski, and the Warsaw crowd chanted "Democracy!" and "Constitution!"
The rally started at Prime Minister Mateusz Morawiecki's office and ended up at the Royal Castle, where Tusk hailed the turnout and pledged to fight to win an autumn election.
"We are going to these elections to win and to right human wrongs. I promise you victory, a settlement of evil, compensation for human wrongs and reconciliation among Poles," Tusk told the crowd.
The government spokesman, Piotr Mueller, accused Tusk and Walesa of "trying to overthrow the government."
Tusk had called on Poles to march with him for the sake of the nation's future — a message that resonated for Radek Tusinski, 49, who arrived with his wife and two children. A handmade sign reading "I cannot give up freedom" was attached to their baby stroller.
Tuskinski said that he worries about the creeping return of an authoritarian system similar to what he remembers from his childhood.
"We want a free country for our children," he said.
Supporters of the march have warned that the election might be the nation's last chance to stop the erosion of democracy under Law and Justice amid growing fears that the fall election might not be fair.
In power since 2015, Law and Justice has found a popular formula, combining higher social spending with socially conservative policies and support for the church in the mostly Catholic nation.
However, critics have warned for years that the party is reversing many of the achievements made since Poland emerged from communist rule in 1989.
The U.S. government has intervened at times when it felt the government was eroding media liberties and academic freedom in the area of Holocaust research.
Critics point mainly to the party's step-by-step takeover of the judiciary and media, and fear that Law and Justice could eventually force Poland to leave the 27-member European Union.
A clampdown on abortion rights has triggered mass protests. Some also voiced anger at double-digit inflation in the country. Poland's government blames Russia's war in Ukraine and the COVID-19 pandemic, but economists say its spending policies have accelerated spiraling prices.
Barbara Dec, 26, and her grandmother left their hometown of Zielona Gora at 4:30 a.m. and traveled seven hours on a bus organized by Civic Platform to protest.
Dec held up a cardboard sign that read, "I am afraid to have children in Poland."
"Women have lost the right to have an abortion even when the fetus is terminally ill, and some women have died," she explained. "And I am also afraid I couldn't manage financially."
The march was held on the 34th anniversary of Poland's first partly-free election. The protest was seen as a test for Tusk's Civic Platform, a centrist and pro-European party which has trailed behind Law and Justice in polls.
However, the passage of a contentious law last month seems to have mobilized greater support for Tusk. Poland is expected to hold a general election in October, though a date hasn't been set.
The law allows for the creation of a commission to investigate Russian influence in Poland. Critics argue that it would have unconstitutional powers, including the capacity to exclude officials from public life for a decade. They fear it will be used by the ruling party to remove Tusk and other opponents from public life.
President Andrzej Duda, who signed the law on May 29, proposed amendments to it on Friday. In the meantime, the law will take effect with no guarantees that lawmakers in parliament will weaken the commission's powers.
Some Poles say it could come to resemble the investigations of Joseph McCarthy, the U.S. senator whose anti-communist campaign in the early 1950s led to hysteria and political persecution.
That fear was underlined last weekend when Kaczynski was asked by a reporter if he still had trust in the defense minister in connection with a Russian missile that fell in Poland in December.
"I am forced … to view you as a representative of the Kremlin," he replied. "Because only the Kremlin wants this man to stop being the minister of national defense."
The media freedom group Reporters Without Borders expressed concerns that the commission "could serve as a new weapon for this type of attack, in which doubt is cast on journalists' probity in an attempt to smear their reputation."
Tusk, who once served as European Council president, had called for the march weeks ago, urging people to demonstrate "against high prices, theft and lies, for free elections and a democratic, European Poland."
Law and Justice sought to discourage participation in the rally with a video spot using Auschwitz as a theme — drawing criticism from the state museum that preserves the site of the Nazi German death camp.
Excess deaths in Canada and most western nations remain very high long after pandemic deaths subside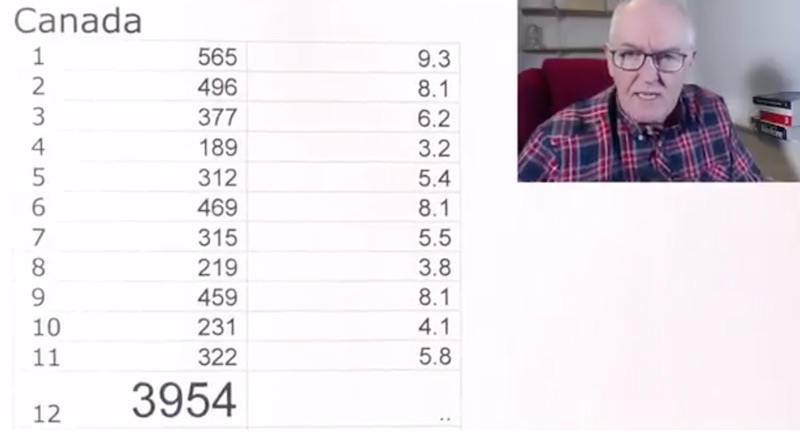 The numbers for 2023 are rolling in and they show a disturbing trend in most of the wealthy nations in the world. In Canada, the United States, and virtually every country in Western Europe, the excess rate of death is astounding and so far unexplained by officials in any nation.
British health researcher Dr. John Campbell shares official data from the OECD (Organization for Economic Co-operation and Development) and wonders why the media doesn't seem to notice or care.
Confirmation of excess deaths in 2023 for US, UK, Canada, Australia, NZ, Netherlands, and Denmark. However, deaths are lower than expected in Poland, Hungary, and Sweden.
OECD data https://stats.oecd.org/index.aspx?que…
Migrants hoping to reach US continue north through Mexico by train amid historic migration levels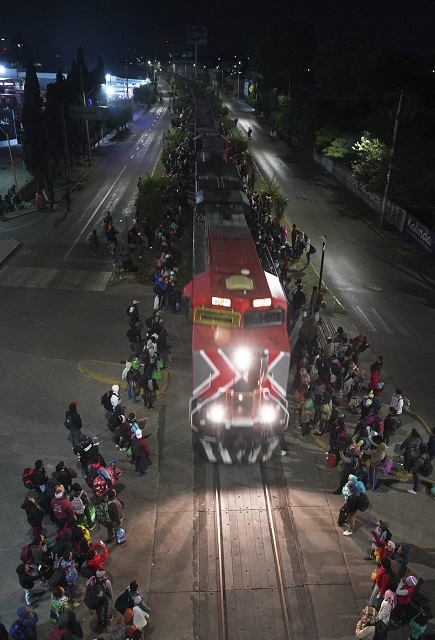 Migrants stand alongside a rail track as a northbound freight train pulls into Irapuato, Mexico, Saturday, Sept. 23, 2023. (AP Photo/Marco Ugarte)
By Megan Janetsky in Irapuato
IRAPUATO, Mexico (AP) — As a train roared in the distance, some 5,000 mostly Venezuelan migrants hoping to make it to the U.S. snapped into action.
Families with young children sleeping on top of cardboard boxes and young men and women tucked away in tents under a nearby bridge scrambled to pack their things. After the train arrived on the outskirts of the central Mexican city of Irapuato, some swung their bodies over its metal trailers with ease, while others tossed up bags and handed up their small children swaddled in winter coats.
"Come up, come up," migrants atop the train urged those below. Others yelled, "God bless Mexico!"
After three days of waiting for the train that many in the group worried would never come, this was their ticket north to Mexico's border with the United States.
Thousands of other migrants were stranded in other parts of the country last week after Mexico's biggest railroad said it halted 60 freight trains. The company, Ferromex, said so many migrants were hitching rides on the trains that it became unsafe to move the trains. The company said it had seen a "half dozen regrettable cases of injuries or deaths" in a span of just days.
When the train arrived Saturday, "Ferromex" was painted on many of the gondolas. Local police were stationed around the improvised camp where the migrants had been waiting, but when the train stopped for about 30 minutes there was no attempt to stop migrants from climbing aboard.
Despite violence from drug cartels and the dangers that come with riding atop the train cars, such freight trains — known collectively as "The Beast" — have long been used by migrants to travel north.
The closures temporarily cut off one of the most transited migratory routes in the country at a time of surging migration, and left families like Mayela Villegas' in limbo.
Villegas, her partner and their six children had spent three days sleeping on the concrete ground surrounded by masses of other migrants. Before boarding the train, the Venezuelan family said they had packed food for only a few days of train rides and struggled to feed their kids.
"The more days we are here, the less food we have. Thankfully people here have helped us, have given us bread," Villegas said. "We're sleeping here because we don't have anything to pay for a room or hotel. We don't have the funds."
The halting of the train routes also underscores the historic numbers of people heading north in search of a new life in the United States, and the dilemma it poses for countries across the Americas as they struggle to cope with the sheer quantities of migrants traversing their territories.
When several thousand migrants crossed into Eagle Pass, Texas, over a few days the border town declared an emergency.
In August, the U.S. Border Patrol made 181,509 arrests at the Mexican border, up 37% from July but little changed from August 2022 and well below the high of more than 220,000 in December, according to figures released Friday.
It reversed a plunge in the numbers after new asylum restrictions were introduced in May. That comes after years of steadily rising migration levels produced by economic crisis and political and social turmoil in many of the countries people are fleeing.
Once, just dozens of migrants from Central American countries would pass through Irapuato by train each day, said Marta Ponce, a 73-year-old from who has spent more than a decade providing aid to those who travel the tracks running through her town.
Now, that number often reaches the thousands.
"We once thought that 50 or 60 people was massive, now it's normal," Ponce said. "It has grown a lot, a lot, a lot."
And migrants come from all over. Ponce noted that Venezuelan migrants fleeing economic crisis in their country are in the overwhelming majority, but she's seen people from around the world, including African nations, Russia and Ukraine.
Most travel through the Darien Gap, a dayslong trek across the rugged Colombia-Panama border. The crossing was once so dangerous that few dared to attempt it, but now so many migrants flood through its dense jungles that it's rapidly become a migratory highway similar to the trains winding through Mexico.
Crossings of the Darien Gap have shot up so much they could approach 500,000 people this year alone.
Villegas, whose family spent three days in Irapuato waiting for the train, was among many who saw the Darien Gap as an opportunity. The family was among 7.7 million people to leave Venezuela in recent years, and spent three years in neighboring Colombia.
The family was able to set up a small barbershop business on the fringes of the Colombia's capital, but rising xenophobia and low pay left the family of eight struggling to scrape by.
This summer, when a gang threatened them for not paying extortion money, Villegas and her partner, 32-year-old Yorver Liendo, decided it was time to go to the U.S. For them, the dangers are worth it if it means a change for their children, who ate yogurt out of plastic bottles and snuggled together on the ground.
"It's the country of a thousand opportunities, and at least my kids are still small. They can keep studying, and have a better quality of life," Liendo said.
But it's not just Ferromex that has been overwhelmed by the crush of people. Regional governments have also struggled with what to do.
Colombia, which has taken on the brunt of the exodus from Venezuela, has long called on the international community for aid. Panama and Costa Rica, meanwhile, have tightened migratory restrictions and demanded that something be done about hundreds of thousands of people passing through the Darien Gap.
Panama even launched a campaign dubbed "Darien is a jungle, not a highway."
Meanwhile, the Biden administration has pushed Mexico and Central American nations to control migratory flows and now requires asylum seekers to register through an app known as CBP One.
On Thursday, the Biden administration announced it would grant temporary protected status to nearly a half million more Venezuelans already in the country.
Meanwhile, activists like Ponce say they expect migration along the train line to grow.
As bleary-eyed migrants climbed onto the train early Saturday morning, they cheered as the train picked up speed and continued them on their winding route north.