How will Alberta's new Premier deal with Ottawa? These are the approaches of four leading candidates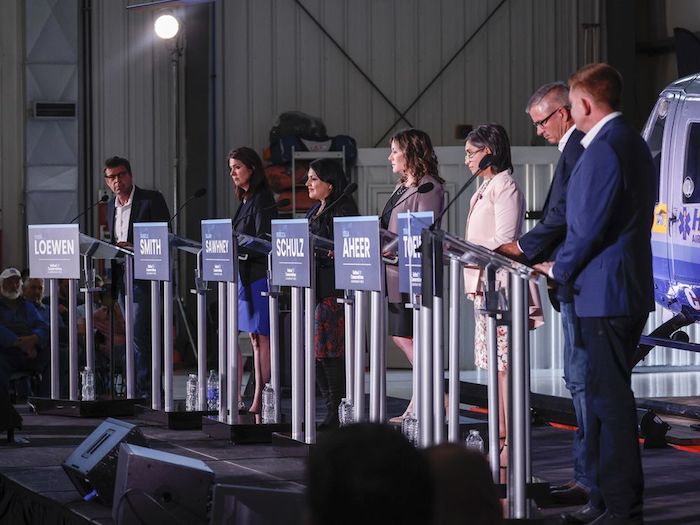 No matter who wins the UCP Leadership race, you can count on a turbulent relationship with Ottawa. Albertans have long had issues with how the Liberal government stifles the critical Oil and Gas industry. Now Alberta's farmers are finding out what that feels like, as the federal government is introducing measures to reduce the amount of nitrogen fertilizer they use.
To add to the level of animosity between the two governments, a growing number of Alberta UCP supporters are voicing dissatisfaction over Covid restrictions and mandates. This group is active politically, and seems to be rallying behind frontrunner Daniel Smith and likeminded Todd Loewen. The idea is to avoid future restrictions and mandates provincially, and stand up against any federal measures.
It's no coincidence then, that the leading candidates in the UCP race all have strong platform initiatives to stand up to Ottawa. Here's what they look like, beginning with Danielle Smith's "Alberta Sovereignty Act.
Danielle Smith – Alberta Sovereignty Act
It is clear that my proposed Alberta Sovereignty Act has thus far been the central issue of the UCP leadership campaign. Tens of thousands of Albertans have embraced the idea of actually standing up to Ottawa's attacks against us, rather than usual ineffective letter writing campaigns and complaining.
It's been both exciting and heartwarming to see hope restored to so many in our Province, and I want them to know how much their faith and confidence in this initiative strengthen my personal resolve to see it through.
Unsurprisingly, many in the media and establishment do not support the Alberta Sovereignty Act and have turned to the tried and tested methods of fearmongering and disinformation to discredit the idea. Unfortunately, some of my fellow UCP candidates may have fallen into their trap.
My hope in releasing this FAQ sheet on the Alberta Sovereignty Act, is that more Albertans and MLAs will take a thoughtful look at this policy, and join the growing majority of Albertans who want to see us stand up to Ottawa, restore our constitutional rights, and take control of our future in this manner.
I am sincerely looking forward to implementing this critically important piece of legislation together.
– Danielle Smith
What is the Alberta Sovereignty Act?
A proposed provincial law that would affirm the authority of the Provincial Legislature to refuse enforcement of any Federal law or policy that violates the jurisdictional rights of Alberta under Sections 92 – 95 of the Constitution or that breaches the Charter Rights of Albertans.
How will it be used?
When the Federal Government institutes a law or policy that appears to violate the constitution or Charter, the Government of Alberta may introduce a Special Motion for a free vote of all MLAs in the Legislature. The Special Motion would include the following:
1. Identification of the Federal law or policy that it deems to be in violation of the Constitution
2. An Outline of the specific harms that violation of the Constitution imposes on the citizens of Alberta
3. Description of the specific actions the Province will take to refuse the enforcement of that Federal law or policy in Alberta
4. A Declaration that by authority of the Alberta Sovereignty Act and notwithstanding the specific Federal law or policy in question, it shall not be enforced by the Provincial Government within Alberta in the manner outlined by the Special Motion
5. Imposition a specific time frame (no more than 24 months) by which the Special Motion will be reviewed in the Legislature
Will a Premier or Governing Party be able to refuse enforcement of any Federal Law or Policy they don't like?
No, the Alberta Sovereignty Act may not be used unless specifically authorized by way of a free vote of all elected MLAs in the Alberta Legislature, as explained above.
What examples of Federal Laws will the Alberta Sovereignty Act be applied to?
Examples could include:
– Federal mandatory vaccination policies – Charter violation
– Use of Emergencies Act to jail & freeze accounts of peaceful protesters – Charter violation
– Bill C-69 'No New Pipelines' Law – found unconstitutional by Alberta Court of Appeal
– Mandatory cuts to fertilizer use by Alberta Farmers – violation of s.95
– Mandatory emissions and production cuts to Alberta energy projects – violation of s.92A
– Federal gun grabs – violation of s.92(13)
Is the Alberta Sovereignty Act about Separation from Canada?
No, the entire objective of the Alberta Sovereignty Act is to assert Alberta's Constitutional Rights within Canada to the furthest extent possible by effectively governing itself as a Nation within a Nation, just as Quebec has done for decades and as Saskatchewan is also now considering.
If anything, the restoration of provincial rights and autonomy of every province from the destructive overreach of Ottawa is likely the only viable way for Canada to survive and flourish into the future. Ottawa's "divide, control and conquer' policies have Canada on a path of division and disunity. Alberta can and must lead on this issue going forward.
Is the Alberta Sovereignty Act illegal or does it run contrary to the rule of law?
No, just the opposite.
Over the last several years the Federal Government has triggered a constitutional crisis through repeated lawless attacks on provincial constitutional rights and the Charter.
The Trudeau Government has effectively imposed economic sanctions against Alberta (and parts of Saskatchewan and BC) that have resulted in economic chaos.
Hundreds of billions in investment and tax revenues, and hundreds of thousands of jobs, have been lost to these sanctions as investors around the world find it too risky to do business in Alberta's energy industry. In fact, no new major development of our world class oil sands has been commenced in almost 20 years as a result.
The idea expressed by some UCP leadership candidates that the Alberta Sovereignty Act would "cause chaos" in the markets is naive in the extreme. The "chaos" is already here and has been caused by both Ottawa's unlawful policies and an utter lack of provincial leadership on effectively pushing back against those attacks.
The fact is the Alberta Sovereignty Act reimposes constitutional rule of law on a lawless Ottawa by reaffirming the critical import of respecting the powers and jurisdiction of the Provinces under the Canadian Constitution.
Brian Jean – Autonomy For Albertans Act
I started with policies designed to change how Alberta reacts to the federal government and Canada. I want us to stop being defensive and go on the offensive. We have to stop covering up and we have to take the fight to Canada.
The five sets of actions that will protect and enhance Alberta's Autonomy Within Canada are:
Serve legal notice invoking section 46 of the Constitution and force Trudeau and the Premiers into negotiations.
Stipulate that Alberta government-funded groups will not be able to participate in the WEF.
Use the courts to challenge the tanker ban, the proposed oil production caps, and the fertilizer caps.
Demand the Quebec government stop taking the assets of Alberta energy companies in Quebec and get their attention by acting against SNC Lavalin.
Demand that Alberta be given Canada's seat on important international energy institutions, just like Quebec gets Canada's seat at UN cultural institutions.
These actions and this approach is very different than how Alberta has traditionally acted. This is very different from what the other leadership candidates are proposing. First this is about acting, about doing something. The "Alberta Sovereignty Act" proposal is purely defensive and reactive. Instead of saying to Canada "we won't enforce your rules if you come after us," I am saying that we need to take the initiative.
My proposals are about taking ACTION and going on the offense. Danielle Smith proposes a purely defensive strategy that surrenders on past fights. Travis Toews has no strategy at all in this area — he wants to continue Jason Kenney's practice of writing stern and meaningless letters whenever we get stepped on.
When we open the Constitution, we can deal with the issues of: pipelines and right-of-ways, access to tidewater, stopping provinces and the federal government from landlocking provinces, and democratic under-representation. Taking the fight to the rest of Canada is the way to actually get results and reverse the damage.
Passing an unconstitutional "Sovereignty Act" that only kicks in the next time we are punched doesn't change anything. It will likely encourage Trudeau to hit Alberta harder.
Fighting the efforts of the World Economic Forum to change our society is something Alberta should have been doing all along.
As is using the courts intelligently including as a way to get expert testimony into the record in important legal debates.
Fighting back against the insults of Quebec and the federal government should have always been our policy. Instead under Jason Kenney we too often gave away things hoping that other provinces would return the favour. They did not.
Finally, we should learn from Quebec and have our position in the world recognized by Canada. Alberta is an energy superpower and it should own Canada's seat at the global table whenever energy issues are discussed.
Travis Toews – Toews

' Strategy to Strengthen Alberta
I'm running to ensure our children and grandchildren have the same kind of opportunities and freedoms that Kim and I have been blessed with.
We must strengthen Alberta's place in Canada and win meaningful reforms. Threats and sternly worded letters aren't enough, and radical actions that create chaos will only set us back.
I have a real plan that uses our economic and fiscal strength to our advantage. A plan that is strategic. A plan that will get us results.
Here's my plan to strengthen Alberta:
1. REFORM EQUALIZATION AND FISCAL STABILIZATION.
The Fiscal Stabilization program supports provinces experiencing a sudden drop in revenue. These stabilization payments are capped at a low level. As Finance Minister, I led negotiations to raise the cap by $500 million for Albertans. I will continue working to increase this cap.
The equalization formula expires in 2024 and I'll fight to ensure it is renegotiated for fairness, rather than simply being renewed like it was in 2014 and 2019.
2. LAY THE GROUNDWORK AND BUILD SUPPORT AMONG ALBERTANS TO OPT-IN TO AN ALBERTA PENSION PLAN.
I've always believed that an Alberta Pension Plan holds great promise for Albertans. As Finance Minister, this file was on my desk and I'm convinced an Alberta Pension Plan is an incredible opportunity for the province. If we're going to win on this critical opportunity, it must be handled strategically in methodology, approach, and timing. We can't afford to lose, and if this is not done right, we could lose this transformative opportunity for future generations.
I will make the case with Albertans for a provincial pension plan. I'm confident we will see this is a transformative opportunity for us to gain autonomy, lower premiums, increase pension benefits, boost our financial sector, and have a more reliable pension long-term.
3. SHIFT TAX POWER FROM THE FEDERAL GOVERNMENT TO PROVINCIAL GOVERNMENTS.
I'll work with other Premiers to shift the tax power from the federal government to provincial governments. This allows provinces to have the tax capacity to deliver services like childcare, pharma care, and dental care. It would provide Albertans with more autonomy, and make it easier for us to deliver high quality services to all Albertans while balancing the budget.
4. DEFEND AND ADVANCE ALBERTA'S KEY ECONOMIC SECTORS LIKE ENERGY AND AGRICULTURE.
Energy and agriculture are the lifeblood of many Alberta communities. My wife Kim and I know this well from our ranching operation and oilfield service company.
To back Alberta's energy and agricultural sectors against Ottawa's targeted attacks, as Premier I would:

Pass enabling legislation so that when Ottawa attacks Alberta's economy we have a potential suite of targeted levies on goods and contracts we can begin to apply and escalate as needed.
Use my experience as an international trade negotiator to lead on the energy file by engaging American and foreign leaders directly.
Continue supporting the ongoing legal challenge against C-69 the "No more pipelines act".
Work with Saskatchewan and Manitoba to expand the Port of Churchill to get our energy and agriculture products to world markets.
Ensure Ottawa's climate policies treat all heavy emitters equally instead of targeting Albertans. We can be environmental leaders without impoverishing our future.
Enhance the Alberta Indigenous Opportunities Corporation so that more Indigenous communities can be full partners in responsible prosperity.
5. EXPLORE AN ALBERTA PROVINCIAL POLICE SERVICE WITH RURAL ALBERTANS AND MUNICIPAL LEADERS.
Kim and I have experienced multiple thefts in our businesses over the years. I know rural crime is a large problem. I am committed to increasing safety for all Albertans by improving policing services.
I have deep respect for the RCMP and the work they do to provide safety to Albertans. I also believe there is merit in exploring a provincial police service. This could reduce bureaucracy and lead to an improved culture in the policing service.
This is not a policy I would implement on day one. Before moving forward, I would ensure rural Albertans and municipal leaders ultimately support the decision.
Rebecca Schulz – 100 DAY PROVINCIAL RIGHTS STRATEGY
A Schulz government would immediately start the 100 Day Provincial Rights Action Plan, with clear steps – and a timeline – to fight, negotiate, partner, and strengthen Alberta's position with Confederation.
"No more letters, no more panels, and no more empty threats – Albertans want action and results when it comes to defending our rights in confederation and seeing our province reach its full potential." – Rebecca Schulz
Within the first 10 days, a Schulz government will appoint a Deputy Premier and team with the primary focus to act as Alberta's lead negotiators in strengthening Alberta's position in Canada.
This will include:
Presenting the federation with a package of common sense reforms on equalization, fiscal stabilization, and greater provincial control over programs through tax points
Presenting the federation with a list of federal, provincial overlap in regulations/policy and begin negotiations on disentanglement
Pursuing an Alberta Pension Plan, Alberta Employment Insurance and an Alberta Revenue Agency
Within the first 50 days, Schulz and the Deputy Premier would present a Provincial Rights
Framework, to identify every legal and constitutional measure possible to stand up against Ottawa's continued attacks on provincial jurisdiction.
This will include:
Calling for a Protecting Provincial Rights Summit to bring provinces to the table and identify every measure to stand up for jurisdictional rights against federal interference
Continuing the fight against the Tanker Ban (C-48) and Trudeau's No-More Pipelines legislation (C-69), alongside all 10 provinces
Taking every proactive legal measure possible against Trudeau's federal emissions and fertilizer caps.
Within the first 100 days, Schulz and the Deputy Premier would present a new Market Access Plan to create political and economic incentives for federal and provincial governments to negotiate with Alberta in good faith for improved trade and market access.
This will include:
Identifying strategic actions to deter other provinces or levels of government from limiting Alberta's market access and trade
Developing criteria for when Alberta will Turn off the Taps through the Preserving Canada's Economic Prosperity Act.
"You don't need to spend weeks on the campaign trail to understand how frustrated Albertans are of being pushed around. The emissions and fertilizer caps are just two of the most recent examples of governments interfering with our provincial trade and prosperity. It's about time Albertans were presented with a real plan to take action." – Rebecca Schulz
Alberta Sheriffs receiving additional officers and more powers with new funding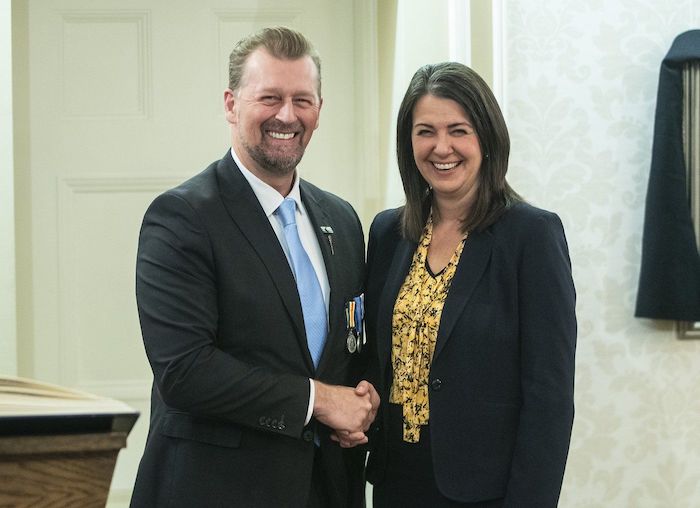 Mike Ellis shakes hands with Alberta Premier Danielle Smith after being sworn into cabinet as minister of public safety in Edmonton, Monday, Oct. 24, 2022. Alberta sheriffs will have expanded powers and play a bigger role in combating rural crime with new funding, the provincial government said Friday. THE CANADIAN PRESS/Jason Franson
St. Paul, Alberta
The Alberta Sheriffs Branch will have expanded powers and play a bigger role in combating rural crime with new funding, the provincial government said Friday.
Public Safety Minister Mike Ellis said $27.3 million will go to new positions and for rural crime initiatives, including two plain clothes teams that will help RCMP with criminal surveillance.
The announcement comes as Alberta continues to mull over whether to create a provincial police service to replace the RCMP.
"There has been some misleading commentary about this investment in the Alberta sheriffs, namely that it's the way of laying the groundwork for establishing a provincial police service by some other means," Ellis said Friday in St. Paul, Alta., 200 kilometres northeast of Edmonton.
"I'd like to remind people that the provincial government hasn't made any decision about an Alberta police service."
Ellis said although the RCMP has its own surveillance teams, most of the efforts are focused on major investigations. He said the new sheriff teams will fill a gap by helping the RCMP detachments with local investigations.
"I've heard countless stories about home invasions being committed by prolific offenders or thefts from farms. Every property owner has the right to feel safe in their home and the right not to wake up and find their equipment gone or fuel siphoned from vehicles," he said.
"These really are the type of cases that keep Albertans up at night."
The sheriffs will also get funding to add 20 investigators to the Safer Communities and Neighbourhood unit, which uses civil enforcement to target problem properties where illegal activities take place.
There is also money for the Sheriff Highway Patrol to train and equip its members to help RCMP with emergencies and high-priority calls.
"We will provide all members of the Alberta sheriffs with full powers to arrest under the Criminal Code," Ellis said.
"Some members of the sheriffs already have Criminal Code authorities, but we believe the public will be better served with consistency throughout this province."
The head of the Alberta RCMP said he welcomes the additional help from the sheriffs.
"These additional resources for the Alberta Sheriffs will improve our combined ability to suppress criminal activity in rural Alberta," said Deputy Commissioner Curtis Zablocki in a statement.
Farooq Sheikh, the chief of Alberta Sheriffs, called it a proud day.
"While our members have a visible presence in many functions they perform such as highway patrol, fish and wildlife enforcement, security in our provincial courts … the sheriffs perform a lot of important work to keep communities safe that's outside of the public eye."
This report by The Canadian Press was first published March 24, 2023.
Finance Minister Travis Toews, Environment Minister Sonya Savage say won't run again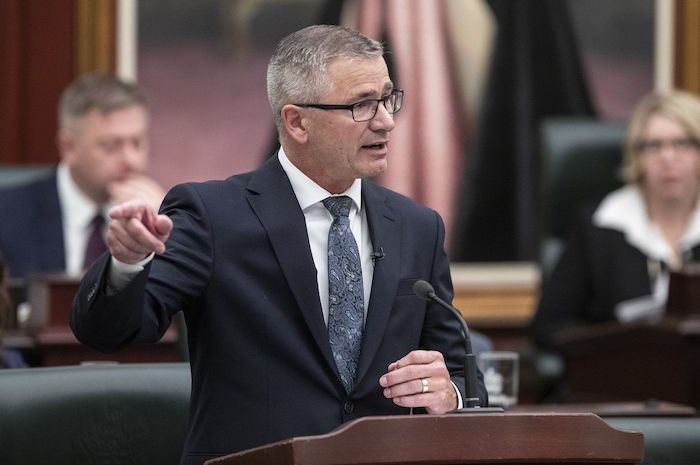 Alberta Finance Minister Travis Toews delivers the budget, in Edmonton, Tuesday, Feb. 28, 2023. Toews says he will not run in the upcoming provincial election. THE CANADIAN PRESS/Jason Franson
By Dean Bennett in Edmonton
Two Alberta government cabinet ministers announced Friday that they will not be seeking re-election.
Travis Toews, the province's finance minister and the runner-up to Premier Danielle Smith in last fall's United Conservative Party leadership race, is exiting politics. Environment Minister Sonya Savage also said she will not run in the expected May 29 provincial vote.
Toews, the legislature member for Grande Prairie-Wapiti in northwestern Alberta, ended months of speculation with his announcement. He said it was a recent decision and a difficult one for him and his wife, Kim.
"(There were) personal considerations, certainly family considerations and some business considerations," Toews said in an interview. "When we added all of them up this seemed like the right decision for us. That was the impetus for it."
He dismissed suggestions the decision was tied to his loss to Smith or to the party's further shift to the right under her leadership.
"We have a big tent party. This United Conservative Party has a lot of diversity. All groups are very important," he said.
"I'm fully committed to the party, to the movement, committed to the premier and committed to an election win this May."
Toews was elected in 2019 for the UCP and was finance minister for all but a few months when he ran to replace former premier Jason Kenney as party leader, coming in second to Smith.
Savage, the member for Calgary North-West, announced her decision to quit provincial politics with a statement on Twitter, saying she wants to spend more time with her family. She said she looks forward to remaining a party member and wished the premier and her UCP colleagues success in the upcoming election.
In a statement, Smith said Toews has been "one of the strongest finance ministers in Alberta's history and leaves a legacy of strong fiscal management that I will continue to uphold as premier."
"I greatly respect his decision to spend more time on the ranch and with his family," Smith said. "There will be big boots to fill in Grande Prairie-Wapiti, and I wish him, Kim and the family nothing but the very best."
Smith said Savage will be greatly missed.
"Minister Sonya Savage's dedication and commitment to furthering Alberta's energy interests and developing a Made-in-Alberta approach to responsible environmental stewardship of our natural resources will benefit Albertans for decades," she said in a statement.
Toews had refused to discuss his future in recent weeks, saying he was focused on passing the budget, which featured a projected $2.4-billion surplus along with increased spending across the board.
The decision comes a little over a month from when the writ is expected to drop.
Smith said that given the short window, she will work with the party and the local constituency association to appoint a candidate "so that the new candidate can hit the ground running and ensure a UCP victory in this constituency."
Toews was the early favourite to replace Kenney as leader last year – with half of the caucus members supporting him — but fell short in the end as Smith galvanized party anger with the federal government and COVID-19 health restrictions.
He locked horns with Smith during the campaign. He criticized her for past advocacy of a provincial sales tax and said her proposed — and since passed — sovereignty act would scare off investment with its promise to ignore federal laws in areas of perceived provincial jurisdiction.
As finance minister, the rancher and accountant oversaw the best and worst of Alberta's turbulent oil-and-gas-powered economy, with massive deficits, negative oil prices and eye-popping surpluses.
He looked born to the parts of outdoorsman and number cruncher: close-cropped hair, eyeglasses and well-worn cowboy boots with a trademark monotone speaking style occasionally punctuated by high-decibel, finger-pointing attacks on the NDP Opposition during question period.
He stickhandled many controversial files, including de-indexing personal income tax, arguing for wage cuts to nurses during the COVID-19 pandemic and lifting the rate cap on auto insurance.
He was also the point person on long-running deliberations to pull Alberta out of the Canada Pension Plan in favour of a provincial one. The government has yet to release research on the merits and drawbacks of such a plan, despite promising two years ago that the release of a report was imminent.
Toews was also among those who were surreptitiously photographed in 2021 at a drinks-and-dinner get-together with Kenney on a rooftop patio on the legislature grounds in contravention of COVID-19 gathering rules.
In a statement, Opposition NDP finance critic Shannon Phillips said she admires Toew's record.
"He conducts himself with decency and is mostly grounded in reality, unlike the new crop of Smith candidates."
Toews said his proudest achievement is leaving the province in a better place financially than when he found it, noting the new budget also includes commitments to keeping spending under control while repaying debt and investing in long-term savings.
"We're leading the nation in job creation," Toews said.
"All of that tied together certainly brings some satisfaction to these last four years, which have certainly been a bit of a roller-coaster."
He said the difficult part was long nights of no-win decisions during the COVID-19 crisis, balancing public health with personal freedoms with no clear cut black-and-white answers.
"Those were some of the hardest hours of my life serving on that COVID cabinet committee," he said.
"(They were) impossible decisions, and knowing those decisions were going to impact Albertans directly. We certainly didn't get it all right."
This report by The Canadian Press was first published March 24, 2023.