How ground-penetrating radar is used to find unmarked graves at residential schools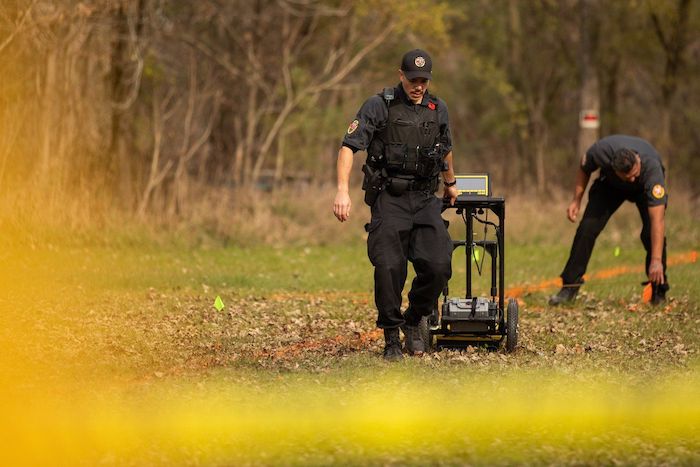 By Stephanie Taylor in Ottawa
Ground-penetrating radar is the technology behind the discoveries of what are believed to be unmarked burial sites on the grounds of former residential schools, by providing communities with the first glimpses of physical evidence of possible graves.
But it is not well understood, and is being used to fuel misinformation about the findings.
The Truth and Reconciliation Commission that investigated the residential school system and its legacy estimated around 6,000 Indigenous children died at the federally funded institutions. The National Centre for Truth and Reconciliation maintains a student memorial register that includes more than 4,000 recorded names. Many experts believe the actual number to be much higher.
Kisha Supernant is the director of the University of Alberta's Institute of Prairie and Indigenous Archaeology and serves as a member of the federal government's national advisory committee on residential schools missing children and unmarked burials.
In an interview with The Canadian Press, Supernant details how ground-penetrating radar works, what its limitations are and what the public should know about the technology.
What is ground-penetrating radar and how is it used?
The basic principle, Supernant says, is that ground-penetrating radar sends an electromagnetic wave into the ground. As the wave travels below the surface it encounters different things and bounces back to the machine.
She says the unit itself looks like a box, roughly the size of a toaster oven, which is usually attached to a cart that someone pushes along the ground.
When her team does searches, they divide the area into a grid and walk a line with their ground-penetrating radar unit. It can be a slow process, Supernant says, depending on the size of the area being searched.
"When we're using it to try to locate potential unmarked graves, what we're really doing is we're sending that signal through the ground and then trying to create a map of what we think we see below the surface."
She says people should think of the soil as a background signal.
"That's why you hear terms like 'anomaly' used, because there's sort of a steady background signal and then something changes and we try to make sense of (what) that change might represent."
Supernant says there are methods for figuring out what an anomaly might be. And certain objects, like rocks or metal, have distant signatures.
When it comes to finding unmarked graves, what they are looking for is a grave shaft.
"When you dig a grave, you disturb the soil … and ground-penetrating radar can sometimes detect that change in the soil from the digging of the grave itself."
There are sets of signals often associated with graves, either marked or unmarked, she said.
Supernant says her team is also guided by elder testimony and community knowledge to help identify where to search, as the areas where graves may be no longer have markers.
What the technology can — and cannot — tell us
First Nations communities tend to use careful language when announcing the findings of such searches, ranging from anomalies and areas of interest to possible graves.
"We use the careful terminology because at the end of the day, ground-penetrating radar alone cannot 100 per cent confirm that there is a grave present or that there's anything in that grave," Supernant said.
She says to confirm the existence of graves, searchers can rely on old aerial photographs of an area to show whether it was a cemetery, or collect information from archival records held by churches and other institutions.
In terms of physical evidence, Supernant says there can sometimes be impressions left on the land itself, but in order to confirm the existence of remains, "you need to do something below the surface."
That's why First Nations that have detected possible unmarked graves are exploring the possible options. Many communities are hoping to avoid disturbing the sites even more.
Supernant says some methods being considered include trying to sample the soil to test for the presence of human DNA.
"That still is invasive, but it's a lot less invasive than digging down."
What do people get wrong about ground-penetrating radar technology?
Supernant says there are two main misconceptions about the technology and its role in searches: "On the one hand there's an overstatement, and then on the other hand, there's an undermining."
In May 2021, the Tk'emlúps te Secwépemc Nation announced it had detected 215 possible unmarked graves at a former residential school in Kamloops, B.C. Supernant says some people were left with the impression that 215 children's bodies had been found.
"Ground-penetrating radar can't do that."
But because some assume that ground-penetrating radar can do more than it can, a narrative has formed where those anomalies or possible graves have "become children."
She says she understands why that happens, because the announcements are devastating and people want to find the children who went missing from residential schools.
On the other hand, Supernant says she also sees people trying to downplay the results, by "using the ambiguity that is inherent in the technology and that we can't know for sure to really discredit it entirely."
"It's also really dangerous because we do know how to distinguish a rock from a potential grave. But sometimes when denialists get a hold of some of these narratives, they use that to undermine."
She says that's not true, as there is established science behind the technology.
This report by The Canadian Press was first published Jan. 19, 2023.
Canada under pressure to produce more food, protect agricultural land: report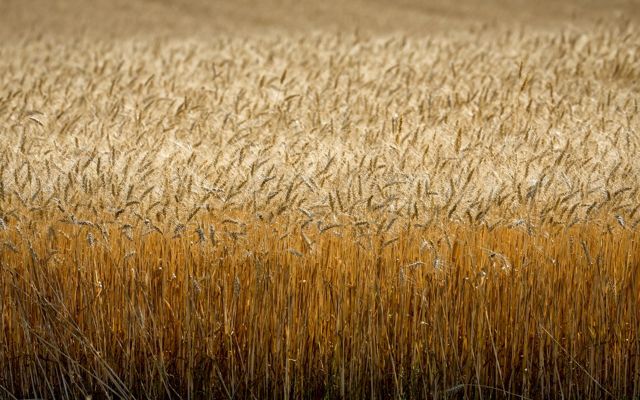 A field of wheat is pictured near Cremona, Alta., Tuesday, Sept. 6, 2022. Canada's agricultural land is under increasing pressure as demand for food grows domestically and internationally while the industry grapples with limited resources and environmental constraints, a new report found. THE CANADIAN PRESS/Jeff McIntosh
By Rosa Saba
Canada's agricultural land is under increasing pressure to produce more food as demand grows domestically and internationally, while the industry grapples with limited resources and environmental constraints, a new report found.
"We need to grow more food on less land and in a volatile climate," said Tyler McCann, managing director of the Canadian Agri-Food Policy Institute.
The report by the institute released Thursday looks at the pressures on Canada's agricultural land to produce more food while also mitigating and adapting to the effects of climate change, said McCann.
Despite Canada being a big country, it doesn't have as much agricultural land as people might think, said McCann, with the report noting that agricultural land makes up only around seven per cent of the country.
Because of that, we can't take what we do have for granted, he said. "We need to be really thoughtful about how we are using our agricultural land."
In 2020, Canada was the eighth largest country in terms of cropland area, the report said, with that cropland decreasing by seven per cent over the previous two decades.
Canada is a major producer and net exporter of agriculture and agri-food products, the report said, exporting $91 billion in products in 2022, and one of the top 10 exporters of wheat, canola, pulses, pork and beef.
In the coming years, Canada will face increased demand from countries whose populations are growing, the report said.
"With population growth on one side and climate change on the other, Canada will be amongst an increasingly smaller number of countries that is a net exporter," said McCann, noting that Canada's own population is growing, and farmland also needs to be protected against urban sprawl.
The wildfires clouding Canadian skies this week are a "vivid reminder" of the pressure that extreme weather and the changing climate are putting on the agricultural sector, said McCann.
"We need to clearly mitigate … agriculture's impact on climate change. But we also need to make sure agriculture is adapting to climate change's impacts," he said.
One of the ways the world has responded to demand for increased agricultural production over time is to create more agricultural land, in some cases by cutting down forests, said McCann. But that's not a viable option for Canada, which doesn't have a lot of land that can be sustainably converted into farmland — and even if it could, doing so could have a variety of adverse environmental effects, he said.
Some of the practices used to reduce emissions and sequester carbon in agriculture can also improve production output on existing farmland, the report found, such as precision agriculture and no-till practices.
However, intensifying the production of current agricultural land also comes with potential environmental downsides, the report said.
For example, McCann said fertilizer is an important part of sustainable agriculture, but there's a balance to be struck because excessive use of fertilizer can quickly turn food production unsustainable.
"We need to be a lot more thoughtful about the inputs that we're using," he said, adding the same can be said about the use of technology in agriculture and the policies and programs put in place to encourage sustainable intensification of Canadian agriculture.
The report recommends that Canada adopt policies that provide financial incentives and technical assistance to farmers and develop regulatory frameworks promoting sustainable land use, as well as promoting education and awareness campaigns, so that the country can "ensure the long-term sustainability of its agricultural sector while protecting the environment."
This report by The Canadian Press was first published June 8, 2023.
New Brunswick's proposed education policy change sparks backlash in Ottawa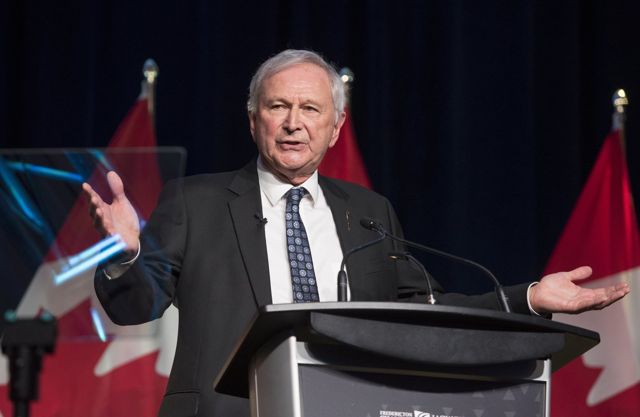 Ottawa
The New Brunswick government is facing criticism from cabinet ministers, MPs and senators in Ottawa who say it's putting LGBTQ kids at risk with a new policy.
Premier Blaine Higgs is pushing changes to sexual orientation policy in schools that would force children under 16 to get parental consent to change their names or pronouns at school.
The previous version of the policy required teachers to get a student's informed consent before discussing names and pronouns with their parents, and was meant to make schools inclusive and safe for LGBTQ children.
Higgs says he's taking a strong position for families, but the changes have sparked anger from opposition parties and dissent within his own caucus.
Senators Kim Pate and René Cormier wrote an op-ed calling for the government to reconsider and reminding Higgs that the province is subject to the Charter of Rights and Freedoms.
Official Languages Minister Ginette Petitpas Taylor called the decision appalling in a tweet, and her cabinet colleague Randy Boissonnault says the policy puts lives at risk.
This report by The Canadian Press was first published June 9, 2023.