House GOP seeks new restrictions on use of US oil stockpile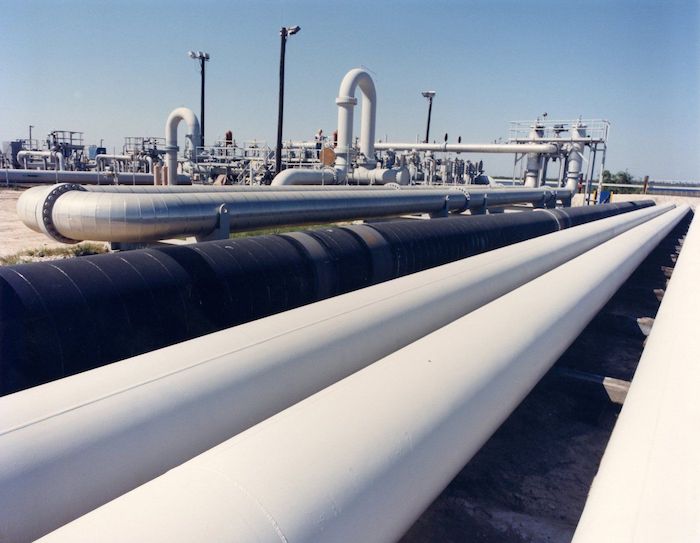 By Matthew Daly in Washington
WASHINGTON (AP) — For the second time this month, House Republicans are seeking to restrict presidential use of the nation's emergency oil stockpile — a proposal that has already drawn a White House veto threat.
A GOP bill set for a vote Friday would require the government to offset any non-emergency withdrawals from the Strategic Petroleum Reserve with new drilling on public lands and oceans. Republicans accuse President Joe Biden of abusing the reserve for political reasons to keep gas prices low, while Biden says tapping the reserve was needed last year in response to a ban on Russian oil imports following President Vladimir Putin's invasion of Ukraine.
Biden withdrew 180 million barrels from the strategic reserve over several months, bringing the stockpile to its lowest level since the 1980s. The administration said last month it will start to replenish the reserve now that oil prices have gone down.
White House press secretary Karine Jean-Pierre attacked the latest GOP proposal, which follows a bill approved two weeks ago that would prohibit the Energy Department from selling oil from the strategic reserve to companies owned or influenced by the Chinese Communist Party.
"House Republicans will vote to raise gas prices on American families … and help Putin's war aims by interfering with our ability to release oil," Jean-Pierre said, referring to the current GOP bill. "These extreme policies would subject working families to immense financial pain and balloon our deficit, all just to benefit the wealthiest taxpayers and big corporations."
Energy Secretary Jennifer Granholm, appearing with Jean-Pierre at the White House, said the bill would make it "harder to offer Americans relief in the future" from oil disruptions that could raise prices.
Republican Rep. Cathy McMorris Rodgers, who chairs the House Energy and Commerce Committee and sponsored the GOP bill, accused Granholm and the White House of multiple misleading claims, including an erroneous assertion that the bill could affect use of the reserve during a presidentially declared emergency.
"At a time when gas prices are on the rise, Secretary Granholm and the Biden administration need to be transparent with the American people about their efforts to cover up how they've abused the Strategic Petroleum Reserve as an election-year gimmick," McMorris Rodgers said.
"Republicans want durable, long-lasting relief at the pump. The best way to do this is by unleashing American energy," which her legislation helps accomplish, added McMorris Rodgers, of Washington state.
The heated rhetoric is part of a larger fight over oil drilling and climate change. Republicans say restrictions on oil leasing imposed by the Biden administration hamper U.S. energy production and harm the economy, while Democrats tout a sweeping climate law approved last year as a crucial step to wean the nation off fossil fuels such as oil, coal and natural gas. The measure authorizes billions in spending to boost renewable energy such as wind and solar power and includes incentives for Americans to buy millions of electric cars, heat pumps, solar panels and more efficient appliances.
Biden, citing the dangers of climate change, canceled the controversial Keystone XL oil pipeline in his first days in office and suspended new oil and gas leases on federal lands. The moratorium has since been lifted, under court order, but Republicans complain that lease sales for new drilling rights are still limited.
Biden campaigned on pledges to end new drilling on public lands, and climate activists have pushed him to move faster to shut down oil leasing. Fossil fuels extracted from public lands account for about 20% of energy-related U.S. greenhouse gas emissions, making them a prime target for emissions reductions intended to slow global warming.
"Whether on land or at sea, oil drilling poses an unacceptable risk for our wildlife, wild places and waterways," said Lisa Frank of Environment America, an advocacy group. "When we drill, we spill. At a time when we should be moving away from this destructive, dangerous practice — and expanding use of renewable power — this bill doubles down on the outmoded energy of the past."
Frank urged lawmakers to reject the GOP bill and instead move to permanently ban new drilling off U.S. coasts and in Alaska's Arctic National Wildlife Refuge.
Conservative and industry groups support the bill.
"We can continue making the Strategic Petroleum Reserve the nation's sole response to future disruptions, or we can also utilize more of the vast oil supplies sitting beneath the lands and offshore areas currently kept off limits by the president," the Competitive Enterprise Institute and other conservative groups said in a letter to Congress.
The Treasury Department estimates that release of oil from the emergency stockpile lowered prices at the pump by up to 40 cents per gallon. Gasoline prices averaged about $3.50 per gallon on Thursday, down from just over $5 per gallon at their peak in June, according to the AAA auto club.
Morris Rodgers accused Biden of using the reserve to "cover up his failed policies" that she said are driving up energy prices and inflation. Average gas prices are up more than 30 cents from a month ago and are higher than when Biden took office in January 2021, she and other Republicans noted.
"Millions of Americans are paying more at the pump as a result of the Biden administration's radical 'rush-to-green' agenda that has shut down American energy," McMorris Rodgers said.
Granholm, citing thousands of unused leases by oil companies, said GOP claims of obstructionism on drilling were off-base. "There's nothing standing in the way of domestic oil and gas production," she said, a claim McMorris Rodgers disputed.
"There are plenty of barriers to unleashing domestic oil and gas production, including burdensome regulations and this administration's discouragement of financial investment in domestic oil and gas industries," she said, noting that U.S. oil production is well below its 2019 peak of 13 million barrels of oil a day.
Venezuela oil czar in surprise resignation amid graft probes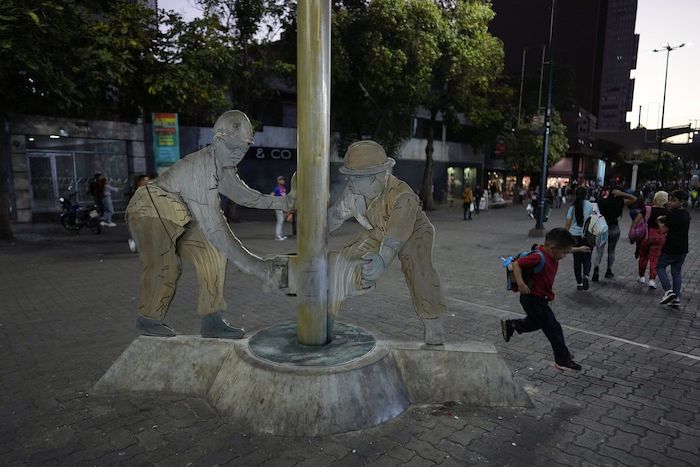 A boy jumps near the "Los Petroleros" sculpture that shows two men working on an oil drill of Petroleos de Venezuela, S.A, PDVSA, on the Sabana Grande boulevard, in Caracas, Venezuela, March 20, 2023. Venezuela's oil czar, Tareck El Aissami announced his resignation on Twitter and pledged to help investigate any allegations involving PDVSA. (AP Photo/Ariana Cubillos)
By Regina Garcia Cano in Caracas
CARACAS, Venezuela (AP) — The man responsible for running Venezuela's oil industry — the one that pays for virtually everything in the troubled country, from subsidized food to ridiculously cheap gas — has quit amid investigations into alleged corruption among officials in various parts of the government.
Tareck El Aissami's announcement Monday was shocking on multiple counts. He was seen as a loyal ruling party member and considered a key figure in the government's efforts to evade punishing international economic sanctions.
And he led the state oil company PDVSA in a Venezuelan business sector widely considered to be corrupt — in a country where embezzelment, bribery, money laundering and other wrongdoing are a lifestyle.
"Obviously, they are giving it the patina of an anti-corruption probe," said Ryan Berg, director of the Americas program at the Center for Strategic and International Studies, a Washington-based think tank.
"Rule of law is not being advanced here," Berg added. "This is really a chance for the regime to sideline someone that it felt for some reason was a danger to it in the moment and to continue perpetuating acts of corruption once particular individuals have been forced out of the political scene."
Hours after El Aissami revealed his resignation on Twitter, President Nicolás Maduro called his government's fight against corruption "bitter" and "painful." He said he accepted the resignation "to facilitate all the investigations that should result in the establishment of the truth, the punishment of the culprits, and justice in all these cases."
Venezuela's National Anti-Corruption Police last week announced an investigation into unidentified public officials in the oil industry, the justice system and some local governments. Attorney General Tarek William Saab in a radio interview Monday said that at least a half dozen officials, including people affiliated with PDVSA, had been arrested, and he expected more to be detained.
Among those arrested is Joselit Ramirez, a cryptocurrency regulator who was indicted in the U.S. along with El Aissami on money laundering charges in 2020.
Corruption has long been rampant in Venezuela, which sits atop the world's largest petroleum reserves. But officials are rarely held accountable — a major irritant to citizens, the majority of whom live on $1.90 a day, the international benchmark of extreme poverty.
"I assure you, even more so at this moment, when the country calls not only for justice but also for the strengthening of the institutions, we will apply the full weight of the law against these individuals," Saab said.
Oil is Venezuela's most important industry. A windfall of hundreds of billions in oil dollars thanks to record-high global prices allowed the late President Hugo Chávez to launch numerous initiatives, including state-run food markets, new public housing, free health clinics and education programs.
But a subsequent drop in prices and government mismanagement, first under Chávez's government and then Maduro's, ended the lavish spending. And so began a complex crisis that has pushed millions into poverty and driven more than 7 million Venezuela to migrate.
PDVSA's mismanagement, and more recently economic sanctions imposed by the U.S., caused a steady production decline, going from the 3.5 million barrels a day when Chávez rose to power in 1999 to roughly 700,000 barrels a day last year.
David Smilde, a Tulane University professor who has conducted extensive research on Venezuela, said the moves by Maduro's government are more than just an effort to clean its image.
"Arresting important figures and accepting the resignation of one of the most powerful ministers in a case that involves $3 billion does not improve your image," he said. "It is probably because the missing money actually has an important impact on a government with serious budgetary problems."
The Biden administration recently loosened some sanctions, even allowing oil giant Chevron for the first time in more than three years to resume production. Maduro's government has been negotiating with its U.S.-backed political opponents primarily to get the sanctions lifted.
U.S. congressional researchers saw El Aissami as an impediment to Maduro's goals.
"Should Al Aissami remain in that position, it could complicate efforts to lift oil sanctions," a November report from the Congressional Research Center said.
The U.S. government designated El Aissami, a powerful Maduro ally, as a narcotics kingpin in 2017 in connection with activities in his previous positions as interior minister and a state governor. The Treasury Department alleged that "he oversaw or partially owned narcotics shipments of over 1,000 kilograms from Venezuela on multiple occasions, including those with the final destinations of Mexico and the United States."
Under the government of Chávez, El Aissami headed the Ministry of Internal Affairs. He was appointed minister of oil in April 2020.
"El Aissami was a key player in the Maduro government's sanctions evasion strategy. We're talking about someone who knows where all the bodies are buried, so it will be key to watch where he ends up," said Geoff Ramsey, a senior fellow at the Atlantic Council focused on Colombia and Venezuela. "If El Aissami ends up being implicated himself, it could have serious implications for the entire power structure."
In September, Maduro's government renewed wrongdoing accusations against another former oil minister, Rafael Ramírez, alleging he was involved in a multibillion-dollar embezzlement operation during the early 2010s that took advantage of a dual currency exchange system. Ramírez, who oversaw the OPEC nation's oil industry for a decade, denied the accusations.
In 2016, Venezuela's then opposition-led National Assembly said $11 billion went missing at PDVSA in the 2004-2014 period when Ramirez was in charge of the company. In 2015, the U.S. Treasury Department accused a bank in Andorra of laundering some $2 billion stolen from PDVSA.
Indigenous-led prospective buyer 'not going away' even as Trans Mountain costs spiral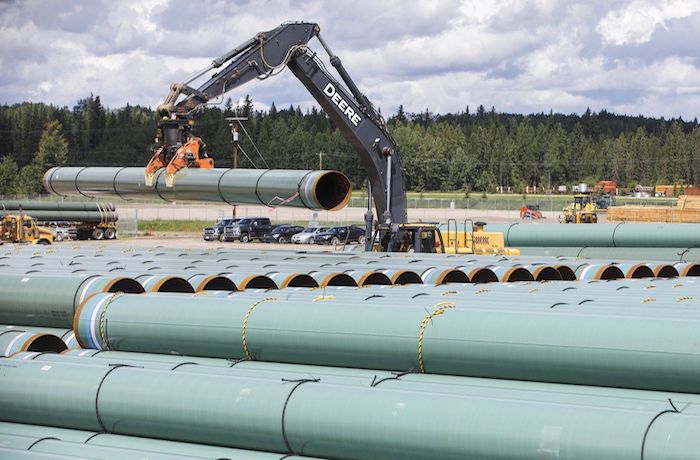 Pipe for the Trans Mountain pipeline is unloaded in Edson, Alta. on Tuesday June 18, 2019. An Indigenous-led initiative says it is still pursuing ownership of the Trans Mountain pipeline, in spite of the project's ballooning price tag. THE CANADIAN PRESS/Jason Franson
By Amanda Stephenson in Calgary
An Indigenous-led initiative is still pursuing ownership of the Trans Mountain pipeline, in spite of the project's ballooning price tag.
"We are not going away, just because it's $30.9 billion. We are entering into the early stages of negotiations," said Stephen Mason, managing director of Project Reconciliation, a Calgary-based group that is working to facilitate the purchase of a major equity stake in the pipeline for the 129 First Nations along the route.
"Yes, there are a couple of other proponents out there, but I think the federal government has recognized our readiness."
The Trans Mountain pipeline — Canada's only pipeline system transporting oil from Alberta to the West Coast — was bought by the federal government for $4.5 billion in 2018 after previous owner Kinder Morgan Canada Inc. threatened to scrap the pipeline's planned expansion project in the face of environmentalist opposition.
Construction on the expansion is still ongoing, and is expected to be completed later this year.
However, capital costs of the project have been steadily spiralling. Last week, Trans Mountain Corp. announced its estimated price tag for the project has increased once again, this time to $30.9 billion — a 44 per cent increase from the $21.4 billion cost projection placed on the pipeline expansion project a year ago, and more than double an earlier estimate of $12.6 billion.
The federal government has indicated it does not wish to be the long-term owner of the pipeline, and has said it is open to the idea of Indigenous ownership.
But due to existing contractual agreements with oil shippers, only 20 per cent to 25 per cent of the rising capital costs of the project can be passed on to oil companies in the form of increased tolls. (Tolls are the rates oil companies pay to shift product on a pipeline, and they are how the pipeline company makes money).
A report from the Parliamentary Budget Officer last June found the federal government stands to lose money from its investment in the pipeline, and suggested that if the project were cancelled at that time, the government would need to write off more than $14 billion in assets.
Mason did not say what his group is prepared to bid for a stake in the pipeline, but he said the ultimate selling price will only be what a buyer is willing to pay and will therefore reflect the anticipated return on investment.
"It's commercial value. It doesn't matter (who the buyer is), they will only pay what the commercial value is and what the tolls will support," he said.
This report by The Canadian Press was first published March 17, 2023.