Highlights from the life of Pope Emeritus Benedict XVI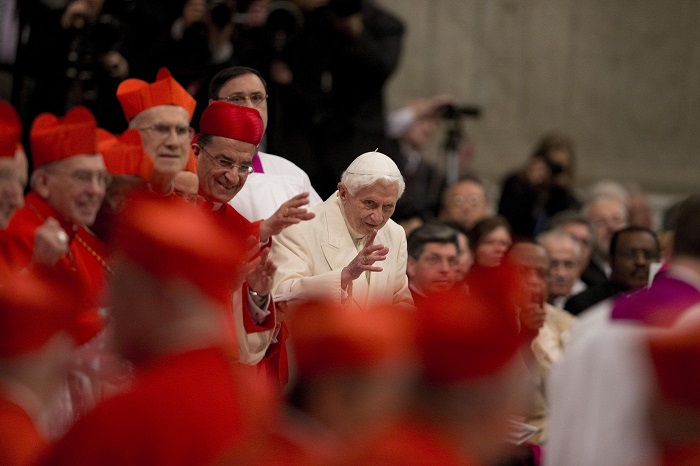 VATICAN CITY (AP) — Pope Emeritus Benedict XVI, the first pope in 600 years to resign, has died. Here are highlights from his life.
April 16, 1927: Born Joseph Alois Ratzinger in Marktl am Inn, Germany, youngest of three children to Joseph and Maria Ratzinger.
1943-1945: Assistant in Germany's anti-aircraft defense and infantry soldier; imprisoned in 1945 in American POW camp in Neu-Ulm.
June 29, 1951: Ordained along with brother Georg Ratzinger in Freising.
1969-1977: Professor at University of Regensburg.
March 25, 1977: Named archbishop of Munich and Freising.
June 27, 1977: Made a cardinal by Pope Paul VI.
Nov. 25, 1981: Named prefect of the Congregation for the Doctrine of the Faith by Pope John Paul II; takes up post in March 1982.
April 2, 2005: Pope John Paul II dies.
April 8, 2005: As dean of the College of Cardinals, Ratzinger presides over John Paul's funeral.
April 19, 2005: Elected 265th pope in one of the fastest conclaves in history. Choosing name Benedict XVI, he says he is merely a "simple, humble worker in the vineyard of the Lord."
April 24, 2005: Installed as pope with Mass.
Aug. 18-21, 2005: First foreign trip, to World Youth Day in Cologne, Germany.
Sept. 24, 2005: Meets with dissident theologian Hans Kung at papal summer residence.
Dec. 25, 2005: First encyclical "God is Love" signed. Released Jan. 25, 2006.
May 28, 2006: During trip to Poland, visits Auschwitz concentration camp.
Sept. 12, 2006: During visit to Germany, delivers speech at University of Regensburg that enrages Muslims; quoting a Byzantine emperor who characterized some of the teachings of the Prophet Muhammad as "evil and inhuman," particularly "his command to spread by the sword the faith."
April 16, 2007: First volume of "Jesus of Nazareth" completed on his 80th birthday. Released April 13.
May 27, 2007: Signs letter to China's Catholics, urging them to unite under his authority. Published June 30.
July 7, 2007: Removes restrictions on celebrating the old Latin Mass in major gesture to traditional Catholics.
April 20, 2008: During visit to United States, prays for victims of Sept. 11, 2001 attacks at ground zero.
July 19, 2008: During visit to Australia for World Youth Day, meets with victims of priestly sex abuse and during a Mass apologizes for their suffering.
Jan. 21, 2009: Lifts excommunication of Holocaust-denying Bishop Richard Williamson and three other ultra-traditionalist bishops of Society of St. Pius X, igniting outrage. Decree released Jan. 24.
March 10, 2009: Acknowledges Vatican mistakes in Williamson affair, says Vatican must make better use of Internet to prevent future controversies. Letter released March 12.
March 17, 2009: En route to Cameroon, tells reporters aboard papal plane that condoms are not the solution to AIDS and can make problem worse, prompting widespread criticism.
May 11, 2009: During visit to the Holy Land, lays wreath at Yad Vashem memorial in Jerusalem, says Holocaust victims "lost their lives but they will never lose their names."
June 29, 2009: Third encyclical "Charity in Truth" signed. Released July 7, 2009.
July 17, 2009: Breaks right wrist in late-night fall at summer vacation home.
Oct. 20, 2009: Vatican announces pope is making it easier for Anglicans to convert en masse to Catholicism.
March 19, 2010: Rebukes Irish bishops for "grave errors of judgment" in handling clerical sex abuse but makes no mention of Vatican responsibility in letter to Irish faithful. Released March 20.
May 1, 2010: Orders major overhaul of Legion of Christ after Vatican investigation determines founder was a fraud.
Sept. 16-19, 2010: During first state visit by a pope to Britain, meets with Queen Elizabeth II, Archbishop of Canterbury Rowan Williams and beatifies Anglican convert John Henry Newman.
Nov. 20, 2010: Revises controversial condom-AIDS comments in book and says male prostitutes who use condoms may be taking a first step toward a more responsible sexuality.
March 2, 2011: Issues sweeping exoneration of Jews for the death of Christ in "Jesus of Nazareth-Part II." Book released March 10.
May 1, 2011: Beatifies John Paul II before 1.5 million people.
June 28, 2011: Tweets for the first time, announcing launch of Vatican news information portal.
Oct. 6, 2012 Pope's former butler is convicted on charges he stole the pontiff's private letters and leaked them to a journalist.
Feb. 11, 2013: Reveals in Latin that he is stepping down Feb. 28 during a meeting of Vatican cardinals, surprising even his closest collaborators.
Feb. 28, 2013: Departs Vatican City in a helicopter bound for Castel Gandolfo, where he begins his final journey as a "simple pilgrim."
March 23, 2013: Receives Pope Francis for lunch at Castel Gandolfo; the two men pray side-by-side and Francis insists "We are brothers."
April 28, 2014: Joins Francis on altar to canonize St. John Paul II and St. John XXIII, the first time a reigning and retired pope celebrate Mass together.
April 11, 2019: In an essay, blames the clergy sex abuse scandal on the sexual revolution of the 1960s and an absence of God.
January, 2020: Contributes to a book reaffirming celibacy for priests at a time when Francis was considering an exception, sparking calls for rules governing future "popes emeritus."
June 18, 2020: Travels to Germany to visit his ailing brother, the Rev. Georg Ratzinger, who dies two weeks later, on July 1.
July 16, 2021: Has his signature relaxation of restrictions on celebration of old Latin Mass reversed by Pope Francis.
Jan. 21, 2022: Is faulted for his handling of four sex abuse cases while bishop of Munich in the 1970s and 1980s by independent report commissioned by German church.
Feb. 8, 2022: Asks forgiveness for any "grievous faults" in handling of Munich priests, but denies personal or specific wrongdoing.
Dec. 28, 2022: Pope Francis announces Benedict is "very ill," asks for special prayers and visits him at his home.
Dec. 31, 2022: Benedict dies at 9:34 a.m. at his home in the Vatican Gardens at age 95.
WHO's Global Digital Health Certification Network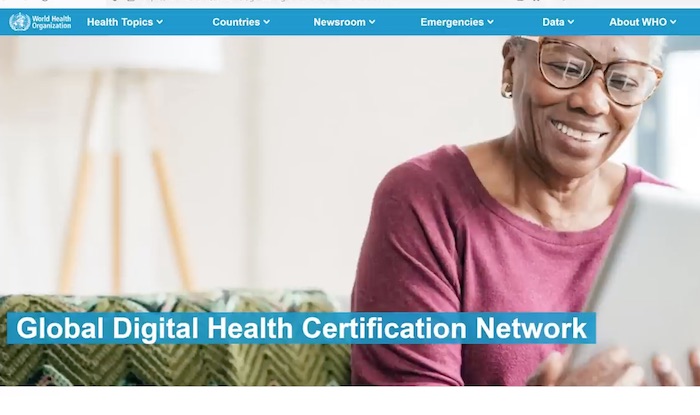 In order to prepare for a future pandemic, the WHO is looking to acquire your personal health information. This week, the World Health Organization and the European Union announced plans for the Global Digital Health Certification Network.
As British Health Researcher Dr. John Campbell explains, the plan is for the Global Digital Health Certificate to monitor the health status of everyone on the planet, and use this information to "facilitate global mobility". In other words there are plans to use your health status to determine your ability to travel, and to participate in other aspects of regular life.
With notes from the World Health Organization website, Dr. John Campbell explains the WHO's Global Digital Health Certification Network.
Dr. John Campbell's Presentation notes:
WHO's Global Digital Health Certification Network https://www.who.int/initiatives/globa…
WHO has established the Global Digital Health Certification Network (GDHCN). Open-source platform, built on robust & transparent standards, that establishes the first building block of digital public health infrastructure, for developing a wide range of digital products, for strengthening pandemic preparedness
Background Member States used digital COVID-19 test and vaccine certificates As the directing and coordinating authority on international health work, at the onset of the pandemic, WHO engaged with all WHO Regions to define overall guidance for such certificates and published the Digital Documentation of COVID-19 Certificates
https://www.who.int/publications/i/it… https://www.who.int/publications/i/it… there is a recognition of an existing gap, and continued need for a global mechanism, that can support bilateral verification of the provenance of health documents
The GDHCN may include Digitisation of the International Certificate of Vaccination or Prophylaxis, verification of prescriptions across borders
International Patient Summary Verification of vaccination certificates within and across borders Certification of public health professionals (through WHO Academy) Expanding such digital solutions will be essential to deliver better health for people across the globe.
The GDHCN has been designed to be interoperable with other existing regional networks EU-WHO digital partnership https://www.who.int/news/item/05-06-2…
• LIVE: WHO and @EU… https://commission.europa.eu/strategy… WHO and the European Commission have agreed to partner in digital health.
This partnership will work to technically develop the WHO system with a staged approach to cover additional use cases, In June 2023, WHO will take up the European Union (EU) system of digital COVID-19 certification to establish a global system, that will help facilitate global mobility
This is the first building block of the WHO Global Digital Health Certification Network (GDHCN)
Dr Tedros Adhanom Ghebreyesus WHO aims to offer all WHO Member States access, On the principles of equity, innovation, transparency and data protection and privacy Stella Kyriakides, Commissioner for Health and Food Safety
This partnership is an important step for the digital action plan of the EU Global Health Strategy, we contribute to digital health standards and interoperability globally
Thierry Breton, Commissioner for Internal Market The EU certificate … has also facilitated international travel and tourism I am pleased that the WHO will build on …. cutting-edge technology … to create a global tool against future pandemics
One of the key elements in the European Union's work against the COVID-19 pandemic has been digital COVID-19 certificates. WHO will facilitate this process globally under its own structure … allow the world to benefit from convergence of digital certificates. Expanding such digital solutions will be essential to deliver better health for citizens across the globe.
The WHO and the European Commission will work together to encourage maximum global uptake and participation.
New York City goes after Hyundai, Kia after security flaw leads to wave of social media fueled theft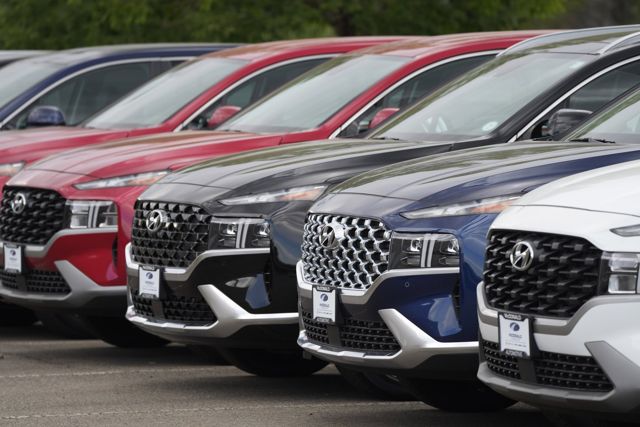 A line of 2022 Santa Fe SUV's sit outside a Hyundai dealership Sunday, Sept. 12, 2021, in Littleton, Colo. Nearly three months after Hyundai and Kia rolled out new software designed to thwart rampant auto thefts, crooks are still driving off with the vehicles at an alarming rate. (AP Photo/David Zalubowski)
By Michelle Chapman
New York City has filed a lawsuit against Hyundai and Kia, joining a host of other cities beset by a social media fueled wave of car thefts due to a flaw that made some car models highly susceptible to theft.
Viral how-to videos on TikTok and other sites show how to start the cars using only USB cables and a screwdriver. The reason is that some models sold by Hyundai and Kia in the U.S. came without engine immobilizers, a standard feature on most cars since the 1990s that prevent the engine from starting unless the key is present.
The lawsuit, which was filed with the U.S. District Court in the Southern District of New York late Tuesday, alleges that Hyundai Motor America and Kia America Inc. failed to keep up with other automakers by not adopting immobilizer technology that ensured cars could not be started without their keys.
"Hyundai's and Kia's business decisions to reduce costs, and thereby boost profits, by foregoing common anti-theft technology have resulted in an epidemic of thefts," the lawsuit states.
The city claims the vehicle thefts are straining the resources of its police department, as well as negatively impacting public safety and emergency services.
The New York City police department reports that about 287 Kias were stolen last year, compared with approximately 119 in 2021. Approximately 415 Hyundais were reported stolen in 2022, compared with 232 a year earlier. And the problem has continued, with an estimated 977 Hyundai and Kia vehicles reported stolen in the first four months of this year. There were only 148 such thefts in the same months last year.
New York, the nation's biggest city by population, joins a growing list of cities going after the carmakers following a raft of thefts, including Baltimore, Cincinnati, Cleveland, Milwaukee, San Diego and Seattle.
New York City, which is seeking a trial by jury, is requesting an order providing for abatement of the public nuisance Hyundai and Kia have created or contributed to, compensation for the economic losses suffered as a result of the nuisance and injunctive relief.
Hyundai says it's committed to ensuring the quality and integrity of its products.
"A subset of Hyundai vehicles on the road in the U.S. today – primarily "base trim" or entry-level models – are not equipped with push-button ignitions and immobilizing anti-theft devices. It is important to clarify that an engine immobilizer is an anti-theft device and these vehicles are fully compliant with federal anti-theft requirements," the automaker said in a written statement.
Hyundai made engine immobilizers standard on all of its vehicles made from November 2021 onward. The company also said that it's speaking with the National Highway Traffic Safety Administration on the actions it is taking to assist its customers.
Kia did not immediately respond to a request seeking comment.
Last month Hyundai and Kia reached a settlement to resolve a class-action lawsuit prompted by a surge in vehicle thefts.
The settlement could be valued at $200 million and covers about 9 million 2011-2022 model year Hyundai and Kia vehicles in the U.S., the companies said at the time.
The settlement will provide cash compensation to customers who suffered theft-related losses or damage not covered by insurance — as well as reimbursement for insurance deductibles, increased insurance premiums and other losses, Kia and Hyundai said.
A software upgrade will also be provided to eligible owners. For customers with vehicles that cannot accommodate the software upgrade, the agreement will provide a reimbursement of up to $300 for anti-theft devices.
Kia and Hyundai have also given impacted customers tens of thousands of free steering wheel locks through local law enforcement and direct shipments, the companies said.
That proposed settlement is expected to be reviewed in court for preliminary approval in July.