'He's incredible': Bedard once again turning heads at Canada's world junior camp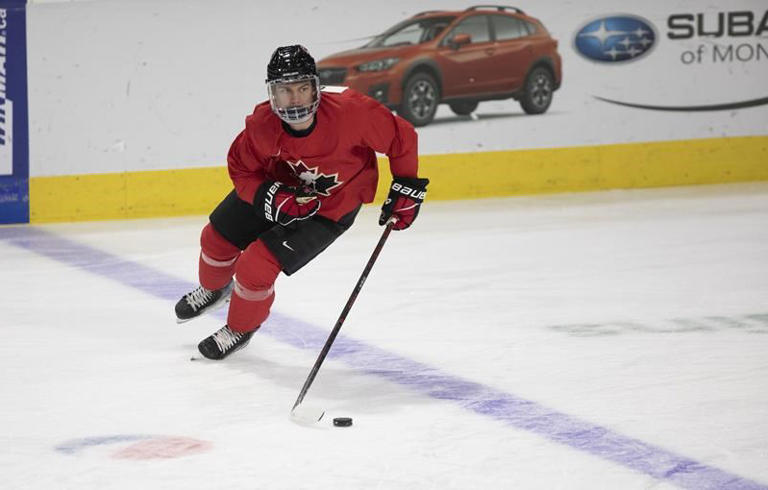 MONCTON, N.B. — Connor Bedard's highlight reel has been hard to miss.
Already the presumptive first overall selection at the 2023 NHL draft, the 17-year-old phenom with a bullet shot and an ability to make the puck look like it's on a string – often leaving defenders chasing shadows and goaltenders looking foolish – has taken his game to new heights this season.
Video of his jaw-dropping skill splashes across social media on what feels like a near-daily basis. And there's almost certainly going to be more viral clips when Bedard takes centre stage with Canada at the 2023 world junior hockey championship later this month.
His exploits have also already entered the NHL conversation.
"We have guys in the Kings dressing room talking about him like, 'You get to play with Bedard kid,'" said Canadian defenceman Brandt Clarke, who was loaned to the men's under-20 national team by Los Angeles for the tournament.
"I'm not going to name anybody."
So, was the teammate in question Kings defenceman and noted hockey geek Drew Doughty?
"(He) did say that, actually," Clarke, 19, added with a laugh. "(Bedard's) already getting that kind of recognition."
With good reason.
Coming off a 51-goal, 100-point performance at age 16 for the Western Hockey League's Regina Pats in 2021-22, the silky smooth centre from North Vancouver, B.C., has gone next-level this season.
Bedard was held off the scoresheet in Regina's opener, but has scored 27 times and added 37 assists since as part of an outrageous 27-game point streak.
Before joining up with Canada, which will be looking for its 20th gold medal when the world juniors open Dec. 26 in Halifax and Moncton, Bedard had five points in an 8-2 victory last weekend.
Canadian world junior hopeful and Seattle Thunderbirds goaltender Thomas Milic was asked about Bedard's shot.
Turns out he has first-hand experience from the WHL this season.
"It's pretty, pretty, pretty good," the 19-year-old said with a smile. "There's a picture online where the shot was taken and I'm still looking for it and it goes right by me.
"Hopefully that one doesn't circulate too much."
During one recent on-ice session at Canada's world junior selection camp in Moncton, a simple rush drill saw Bedard effortlessly collect a wayward pass by drawing the puck between his legs up to his stick without breaking stride – one of countless subtle moments that feel ordinary, but certainly aren't.
Shane Wright, the No. 4 pick by the Seattle Kraken at the 2022 draft, said Bedard has teammates in awe.
"Such a good player, but you'd never know," said the 18-year-old centre, who was also loaned to Canada for the tournament. "Such a down-to-earth guy and such a fun guy to be around.
"He cares about taking care of himself properly and cares about his game. We see the talent on ice, we see the moves he makes and all the clips, but there's so much that he does off camera – behind the scenes – that allows him to be that good and be that successful. He's incredible."
One of 10 returning players from Canada's gold-medal winning roster that won the reimagined August world juniors pushed back eight months following a series of COVID-19 outbreaks that shelved last year's event, Bedard is a lock after working hard to earn a spot 12 months ago.
But he taking nothing for granted.
"Always want to come in with that tryout mentality," said Bedard, the first player granted exceptional status to play in the WHL a year early at age 15. "Still trying to prove myself and show everyone here what I can do."
What he's done over the last few years – Bedard even travelled to Sweden during the pandemic to train and find games when the WHL shuttered operations – is demonstrate a drive and determination that mirrors his talents.
"A player that wowed us last Christmas, a player that wowed us in the summer," said James Boyd, a member of Canada's management group. "He's got the game-changing ability. What's exciting is that he's a better player now."
Director of player personnel Alan Millar said the next step is honing his play without the puck.
"When you get into those key games, matchups are important," Millar said. "The offence and a skill, we all know. But I think you'll see a young man whose game has matured and is that much more complete."
While that's been a point of emphasis, Bedard is doing his best to keep draft talk at arms length.
"You have such a big focus on winning," he said. "That's outside noise. I'm so focused on the room with the Pats and here with the Team Canada.
"It's pretty easy to block that stuff out."
Adam Fantilli, a freshman forward at the University of Michigan expected to be in the conversation for the No. 2 spot at the draft, and Bedard are friends off the ice.
The pair watched Regina's game Friday when Fantilli couldn't get Michigan's matchup against Michigan State on his laptop.
"Great guy," Fantilli said.
"It's kind of funny when people put us against each other," Bedard added. "We joked about it a bit, but we're both cheering for each other and now we're on the same team."
Hockey's next big talent – Bedard has been compared to Connor McDavid in terms of what he might do to alter an NHL's franchise future – is just getting started.
And already a big talking point across the sport.
"He's as advertised," Clarke said. "He's so smart with the puck, his released is unmatched.
"I'm really looking forward to the rest of his career."
The next step is trying to secure another gold on home soil.
This report by The Canadian Press was first published Dec. 10, 2022.
___
Follow @JClipperton_CP on Twitter.
Joshua Clipperton, The Canadian Press
Flames bounce back with 5-1 victory over Ducks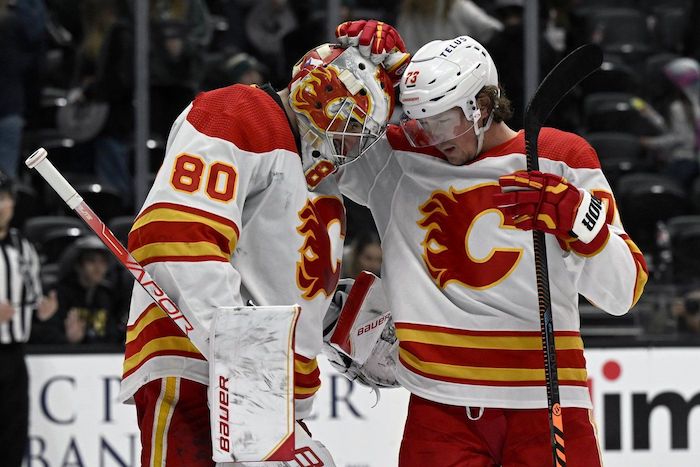 Calgary Flames right wing Tyler Toffoli (73) celebrates with goaltender Dan Vladar (80) after the Flames defeated the Anaheim Ducks in an NHL hockey game in Anaheim, Calif., Tuesday, March 21, 2023. (AP Photo/Alex Gallardo)
By Joe Reedy in Anaheim
ANAHEIM, Calif. (AP) — Tyler Toffoli had three assists, Calgary scored twice on the power play and the Flames bounced back from a six-goal loss one night earlier with a 5-1 victory over the Anaheim Ducks on Tuesday.
Toffoli has nine points in the past four games, including six assists.
Nick Ritchie, Troy Stecher, Rasmus Andersson, Elias Lindholm and Andrew Mangiapane scored Calgary's goals. Mikael Backlund had a pair of assists and Dan Vladar stopped 19 shots for the Flames, who rebounded from an 8-2 defeat Monday night in Los Angeles.
"We just wanted to put that game behind us. And there's no better way to put it behind you than to just go out there and play right away," said Mangiapane, who scored on a breakaway with less than five minutes remaining for his 12th of the season. "I think the first period set the tone for us. We wanted to come out strong and hard and just keep building off of that."
The win kept Calgary four points behind Winnipeg for the final wild-card berth in the Western Conference with 10 games remaining after the Jets beat Arizona 2-1.
"As a coach it is really simple: I just want to keep every game meaningful," Flames coach Darryl Sutter said.
Frank Vatrano scored Anaheim's lone goal. John Gibson made 38 saves, facing more than 40 shots for the 20th time this season.
"We knew that they were going to be a little ornery after their game last night against L.A., and other than a few spurts in the second period, maybe for about six minutes in the second, we couldn't sustain much. Every time we turned, they were in our face," Ducks coach Dallas Eakins said.
Calgary has 12 goals with the man advantage over the past month, which is fifth best in the NHL.
Andersson put Calgary up 3-0 less than three minutes into the third period on a one-timer off Toffoli's pass. It was Andersson's 11th goal and his third in the past six games.
The Flames grabbed the lead 37 seconds into the game when Ritchie put in the rebound after Gibson made a pad save on Noah Hanifin's shot from the point. Ritchie's 12th of the season marked the sixth time Calgary has scored in the opening minute.
Stecher broke a 90-game goal drought at 16:50 of the first with a snap shot from the right faceoff circle to the high side of the far post. Stecher — whose last goal was on Feb. 17, 2022 — has three points (one goal, two assists) since being acquired from Arizona at the trade deadline.
Anaheim got on the board five minutes later when Vatrano lifted a wrist shot over Vladar's shoulder on his glove side. Vatrano's 17th marked only the second goal in Anaheim's last 15 power-play opportunities.
Lindholm scored his 21st and gave Calgary a 4-1 lead 46 seconds into the third on a one-timer.
NOTES
Hanifin extended his point streak to six games with the first assist on Ritchie's goal. He has six points (two goals, four assists) during that span. … Calgary defenceman Chris Tanev was scratched an hour before the game due to an upper-body injury. … Anaheim forward Nikita Nesterenko made his NHL debut. Nesterenko was acquired from Minnesota in the John Klingberg trade at the deadline. Nesterenko played three seasons at Boston College and signed a two-year, entry-level contract last Wednesday.
UP NEXT
Flames: Open a three-game homestand against the Vegas Golden Knights on Thursday.
Ducks: Host the Winnipeg Jets on Thursday.
2022 World Senior Men's gold medalist rink and Cheryl Bernard among teams at Senior Curling Championships at Red Deer's Pidherney Centre this week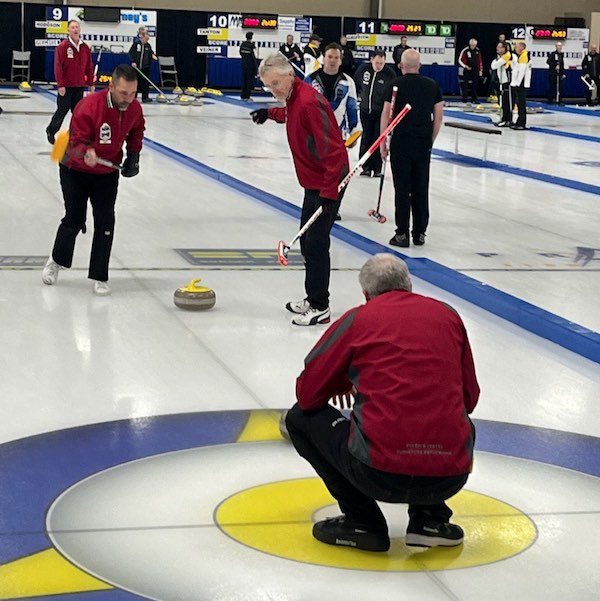 The 2023 Alberta Servus Credit Union Senior Men's and Women's Championships will take place at Red Deer's Pidherney Centre on March 21 to 26.
Thirty-three rinks are on hand to vie for the right to represent Alberta at the Men's and Women's Canadian Championships next fall.
The 2022 World Senior's gold medalists, Team Wade White looks to add yet another championship title to his name alongside teammates, third Barry Chwedoruk, second Dan Holowaychuk and lead George White. While defending Alberta champion, Team Pahl will keep the pressure on to represent Alberta once again.
Other noteworthy names on the men's side include, Mickey Pendergast; Master's Provincial Champion and former teammate of local legend, Rob Armitage, and 2017 Senior's Champion, Glen Hansen.
The talent continues on the women's side with nine of the top senior women's teams in the province.
The star studded line-ups include Olympians, Cheryl Bernard, Carolyn McRorie, Sandra Jenkins and Shannon Kleibrink forming a team under Bernard, and Glenys Bakker and Atina Ford-Johnston skipping their own rinks, with Cory Morris joining Ford-Johnston as lead.
With defending champion, Diane Foster, out of the race, it truly is anyone's title to claim.
Draws run throughout the week with the semi-finals of both the women and men at 9 am on Sunday March 26 followed by the finals at 2 pm.
Admission is free thanks to support from Servus Credit Union.