Hawaii's Mauna Loa starts to erupt, sending ash nearby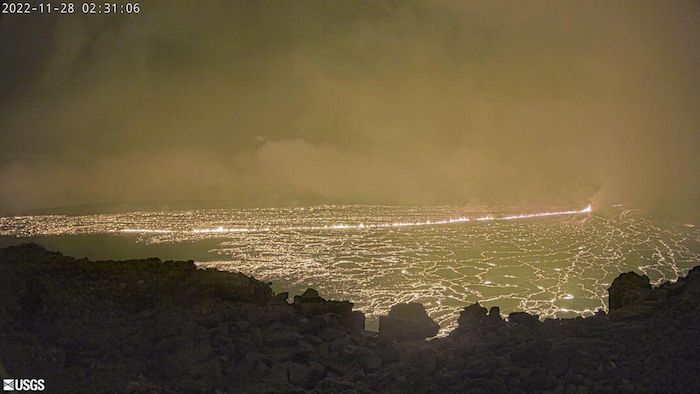 HONOLULU (AP) — Hawaii's Mauna Loa, the world's largest active volcano, has started to erupt for the first time in nearly four decades, prompting volcanic ash and debris to fall nearby, authorities said Monday.
The eruption began late Sunday night in the summit caldera of the volcano on the Big Island, the U.S. Geological Survey said. Early Monday, it said lava flows were contained within the summit area and weren't threatening nearby communities.
"However, lava flows in the summit region are visible from Kona. There is currently no indication of any migration of the eruption into a rift zone," the Hawaiian Volcano Observatory said in a statement. A rift zone is where the mountain is splitting apart, the rock is cracked and relatively weak and it's easier for magma to emerge.
How long the volcano erupts and whether it could cause lava to flow to populated areas of the island is impossible to predict, said Miel Corbett, a USGS spokesperson.
"But I can tell you, we're in constant communication right now with Hawaii Civil Defense, and they're providing updates to community members," she said.
Even though it noted there is no indication of lava exiting the summit, the civil defense agency said it has opened shelters in Kailua-Kona and Pahala because it has reports of of people self-evacuating along the South Kona coast.
"Multiple images have surfaced on social media indicating lava activity outside of the caldera. At this time, no lava migration into a rift zone has been confirmed," according to a statement.
The USGS warned residents at risk from Mauna Loa lava flows should review their eruption preparations. Scientists had been on alert because of a recent spike in earthquakes at the summit of the volcano, which last erupted in 1984.
Portions of the Big Island were under an ashfall advisory issued by the National Weather Service in Honolulu, which said up to a quarter-inch (0.6 centimeters) of ash could accumulate in some areas.
Mauna Loa is one of five volcanoes that together make up the Big Island of Hawaii, which is the southernmost island in the Hawaiian archipelago.
Mauna Loa, rising 13,679 feet (4,169 meters) above sea level, is the much larger neighbor to Kilauea volcano, which erupted in a residential neighborhood and destroyed 700 homes in 2018. Some of its slopes are much steeper than Kilauea's so when it erupts, its lava can flow much faster.
During a 1950 eruption, the mountain's lava traveled 15 miles (24 kilometers) to the ocean in less than three hours.
Ex-Twitter execs face GOP questioning on Hunter Biden story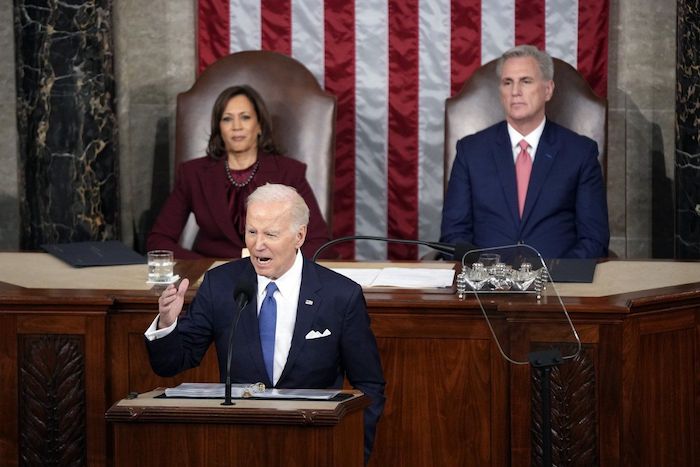 By Farnoush Amiri in Washington
WASHINGTON (AP) — House Republicans questioned former Twitter executives Wednesday about the platform's handling of reporting on Hunter Biden, the president's son, fulfilling a party promise to investigate what they have long asserted is anti-conservative bias at social media companies.
Three former executives appeared before the House Oversight and Accountability Committee to testify for the first time about the company's decision in the weeks before the 2020 election to initially block from Twitter a New York Post article about the contents of a laptop belonging to Hunter Biden.
"Today's hearing is the House Oversight and Accountability Committee's first step in examining the coordination between the federal government and Big Tech to restrict protected speech and interfere in the democratic process," Rep. James Comer, the chairman, said in his opening statement.
The witnesses Republicans subpoenaed to testify are Vijaya Gadde, Twitter's former chief legal officer; James Baker, the company's former deputy general counsel; and Yoel Roth, former head of safety and integrity.
Democrats have a witness of their own, Anika Collier Navaroli, a former employee with Twitter's content moderation team. She testified last year to the House committee that investigated the Capitol riot about Twitter's preferential treatment of Donald Trump until the then-president was banned from Twitter two years ago.
The hearing is the GOP's opening act into what lawmakers promise will be a widespread investigation into President Joe Biden and his family, with the tech companies another prominent target of their oversight efforts.
The White House criticized congressional Republicans for staging "a bizarre political stunt," hours after Biden's State of the Union address where he detailed the bipartisan progress made in his first two years in office.
"This appears to be the latest effort by the House Republican majority's most extreme MAGA members to question and relitigate the outcome of the 2020 election," White House spokesperson Ian Sams said in a statement Wednesday. "This is not what the American people want their leaders to work on."
The New York Post first reported in October 2020, weeks before the presidential election, that it had received from Trump's personal lawyer, Rudy Giuliani, a copy of a hard drive from a laptop that Hunter Biden had dropped off 18 months earlier at a Delaware computer repair shop and never retrieved. Twitter blocked people from sharing links to the story for several days.
Months later, Twitter's then-CEO, Jack Dorsey, called the company's communications around the Post article "not great."He added that blocking the article's URL with "zero context" around why it was blocked was "unacceptable."
The newspaper story was greeted at the time with skepticism due to questions about the laptop's origins, including Giuliani's involvement, and because top officials in the Trump administration had already warned that Russia was working to denigrate Joe Biden before the White House election.
The Kremlin had interfered in the 2016 race by hacking Democratic emails that were subsequently leaked, and fears that Russia would meddle again in the 2020 race were widespread across Washington.
Just last week, lawyers for the younger Biden asked the Justice Department to investigate people who say they accessed his personal data. But they did not acknowledge that that data came from a laptop that Hunter Biden is purported to have dropped off at a computer repair shop.
The issue was also reignited recently after Elon Musk took over Twitter as CEO and began to release a slew of company information to independent journalists, what he has called the "Twitter Files."
The documents and data largely show internal debates among employees over the decision to temporarily censor the story about Hunter Biden. The tweet threads lacked substantial evidence of a targeted influence campaign from Democrats or the FBI, which has denied any involvement in Twitter's decision-making.
Nonetheless, Comer and other Republicans have used the Post story, which has not been independently verified by The Associated Press, as the basis for what they say is another example of the Biden family's "influence peddling."
One of the witnesses on Wednesday, Baker, is expected to be the target of even more Republican scrutiny.
Baker was the FBI's general counsel during the opening of two of the bureau's most consequential investigations in history: the Hillary Clinton investigation and a separate inquiry into potential coordination between Russia and Trump's 2016 presidential campaign. Republicans have long criticized the FBI's handling of both investigations.
For Democrats, Navaroli is expected to counter the GOP argument by testifying about how Twitter allowed Trump's tweets despite the misinformation they sometimes contained.
Navaroli testified to the Jan. 6 committee last year that Twitter executives often tolerated Trump's posts despite them including false statements and violations of the company's own rules because executives knew the platform was his "favorite and most-used … and enjoyed having that sort of power."
The Jan. 6 committee used Navaroli's testimony in one of its public hearings last summer but did not identify her by name.
___
Associated Press writer Eric Tucker contributed to this report.
Turkey, Syria quake is deadliest in decade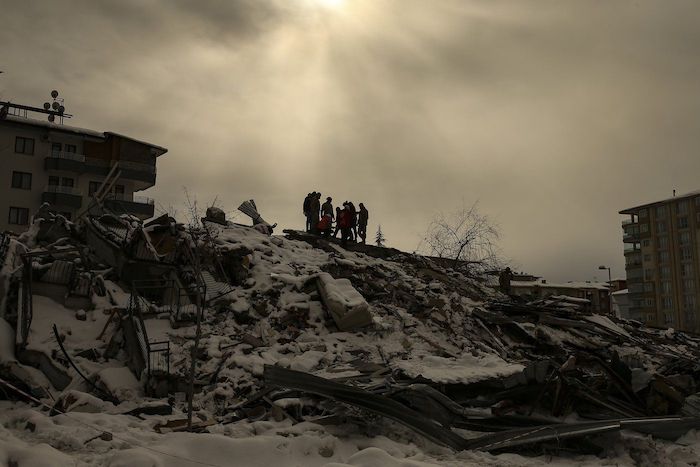 The catastrophic earthquake that razed thousands of buildings in Turkey and Syria became one of the deadliest quakes worldwide in more than a decade Wednesday and the death toll kept rising, surpassing 11,000.
Rescue crews braved freezing overnight temperatures in quake-hit areas in both countries in hopes of reaching more survivors and to pull more bodies from the rubble.
The latest on the earthquake:
___
The European Union says Syria has asked for humanitarian assistance to deal with the victims of the devastating earthquake and insisted sanctions that it has imposed on the Syrian government had no impact on its potential to help.
EU Humanitarian Aid Commissioner Janez Lenarčič said Wednesday that Syria had asked for anything from search and rescue aid to medicine and food. He said the EU was encouraging its members to contribute and denied that sanctions were affecting the delivery of humanitarian aid.
The government in Syria, wracked by a 12-year civil war and refugee crisis, has been under EU sanctions since 2011 for its suppression of the population. The sanctions include the freezing of funds and travel bans on hundreds of people and entities. They are focused on paralyzing sectors of the economy from which the regime profits.
___
KEY DEVELOPMENTS:
— Wreckage, rescue and hope in Turkey's earthquake epicenter
— Aid to quake-hit Syria slowed by sanctions, war's divisions
— A glance at some of the world's deadliest earthquakes in the last 25 years
— Find more AP coverage at https://apnews.com/hub/earthquakes
___
German lawmakers stood for a minute of silence to honor the earthquake victims ahead of a speech to parliament by Chancellor Olaf Scholz.
Scholz said Wednesday that Germany is helping Turkey and was in close contact with the United Nations on getting humanitarian aid to the Syrian earthquake area "because the need is enormous there, too."
He said that the disaster shows again "how vital this cross-border access is that we have advocated for years."
____
Volunteer rescue organization White Helmets says six people, including four children, were pulled out of the rubble alive during overnight rescue operations in rebel-held parts of northwest Syria.
In the town of Harem, paramedics were able to communicate with a woman and her son until they were pulled out of a collapsed building. The boy was able to walk but appeared dazed as two paramedics helped him to safety.
___
Turkish President Recep Tayyip Erdogan has toured a temporary shelter area in the city of Kahramanmaras, where more than 200 tents have been set up on the grounds of a stadium to house earthquake survivors.
He was later scheduled to travel to the quake's epicenter in the town of Pazarcik and to Turkey's most affected province, Hatay
___
Turkey's stock exchange stopped trading after circuit breakers were tripped by sharp declines in the benchmark BIST index following Monday's devastating quake.
The Borsa Istanbul's public disclosure platform announced the suspension on Wednesday. It said trading in equities, futures and the derivatives markets had been suspended, but gave no further details.
The benchmark had fallen more than 7% earlier in the morning. It sank 8.6% on Tuesday. The catastrophe has added to the country's woes as it contends with high inflation and an economic downturn.
____
A former journalist described seeing the removal of eight bodies from a collapsed building in the Turkish city of Malatya in temperatures dropping to minus 6 degrees Celsius (21 degrees Fahrenheit).
Ozel Pikal told the Associated Press by telephone on Wednesday how the bodies were placed side by side and covered in blankets as rescuers waited for vehicles to take them to morgues. He said he thinks the victims may have frozen to death.
Pikal spoke of "no hope left" in the southeastern city because "no one is coming out alive from the rubble." He said more than 100 people may be trapped in a collapsed hotel, adding that there was a shortage of "professional" rescue teams in the area he was in.
Pikal said more earth-moving machines are needed because "our hands cannot pick up anything because of the cold." He said the elderly and children are having a particularly difficult time as residents are staying in tents pitched on ice.
___
Rescuers have pulled 10 people out of the rubble alive in the Turkish city of Besni, including four children, Polish officials said.
The commander of the Polish rescue team in the city, Grzegorz Borowiec, said on Polish television channel TVN24 on Wednesday that more than 30 buildings have collapsed in the city of some 37,000 residents.
Borowiec said it crews 12 hours to get through several layers of concrete to pull a woman out alive.
The Polish contingent includes 76 rescuers and eight trained dogs.
____
The bodies of more than 100 Syrians who died in Turkey as a result of the earthquake have been brought back home for burial through the Bab al-Hawa border crossing.
Mazen Alloush, an official on the Syrian side of the border said Wednesday that 20 more bodies were on their way to the border, adding that all of them were Syrian refugees who fled war in their country.
Turkey is home to some 3.6 million Syrian refugees who fled the civil war in their country that broke out 12 years ago.
___
Pope Francis is asking for prayers and demonstrations of solidarity for the people of Syria and Turkey following the earthquake there.
Francis led hundreds of people gathered for his weekly general audience Wednesday in reciting the "Hail Mary" prayer. He offered thanks to the rescue workers searching for survivors and the people caring for residents left homeless.
The pope said that his thoughts go now to the people of Turkey and Syria and that it's "with sadness" that he prays for them, expressing "my closeness to the people, the relatives of victims and all those who are suffering from this devastating calamity."
Francis also asked for prayers for Ukrainians, particularly those without heat or electricity in frigid temperatures.
___
The Mediterranean island nation of Malta is sending a contingent of 32 people and a rescue dog to Turkey to help with rescue efforts following the earthquake.
Malta's Civil Protection Department is also collecting items from the general public to send as aid. The Maltese Foreign Ministry said Wednesday it would be sending financial support to Syrians affected by the quake via the International Rescue Committee.
____
The United Nations says it's "exploring all avenues" to get supplies to rebel-held northwestern Syria, and it released $25 million from its emergency fund to help kick-start the humanitarian response in Turkey and Syria.
U.N. spokesman Stephane Dujarric said the road leading to the Bab al-Hawa border crossing from Turkey to northern Syria was damaged, temporarily disrupting aid delivery to the rebel-held northwest. He said the border crossing itself "is actually intact."
Bab al-Hawa is the only crossing through which U.N. aid is allowed into the area.
Dujarric said the U.N. is preparing a convoy to cross the conflict lines within Syria. But that would likely require a new agreement with President Bashar Assad's government, which has laid siege to rebel-held areas throughout the civil war.
In Turkey, Dujarric said, Syrian refugees make up more than 1.7 million of the 15 million people inhabiting the 10 provinces impacted by the earthquake.