Groups ready campaign to help young voters identify 'fake news' in election
OTTAWA — Samantha Reusch is aiming to help young Canadians identify misinformation online because she and her colleagues can't monitor all social media platforms for false information during this fall's campaign.
Reusch is the research manager at Apathy is Boring, a non-profit organization that encourages youth to engage in politics. She says misinformation on social media can be a barrier between young Canadians and political participation.
In the coming weeks, the group — along with some 400 other organizations and individuals — will launch a media literacy campaign of sorts, focusing on helping young voters identify misinformation and suspicious sources online.
Teaching young how to turn of the auto-play feature on YouTube, or use a reverse-image search on Google are examples of what the campaign will promote. There will also be a focus on the effect algorithms play in deciding what social media users with different values, backgrounds or demographics see in their feeds.
Reusch said her group wants young voters "to think critically about what they're seeing online and why it might be spreading.
"If they see a story that makes them feel very strongly, … there might be someone who wants to elicit that response in us," she said.
"Step back, and then check the source."
The push — among many this election season — stems from concerns that deliberate misinformation campaigns, fomented by nefarious foreign actors or social media trolls, could have an effect on this fall's federal election, fuelled by findings of Russian interference in the 2016 U.S. presidential election.
The federal government has set up a team of top civil servants who will monitor the election for foreign interference and alert the public if necessary. Parties have also been given secret briefings on how to protect themselves and their candidates from online misinformation.
Groups like Apathy is Boring are going to individual users.
The organization and its partners are planning a week of events starting on Sept. 8 and leading up to Sep. 15, the UN's International Day of Democracy.
Reusch said the plan is to use popular social media platforms like Facebook, Twitter and Instagram to publish materials about identifying misinformation, send teams to concerts and festivals to talk with young people about how they consume news on social media, and bring young people around a table to talk with their friends about misinformation, news and the federal election.
Misinformation relies on eliciting an evocative emotional response, which helps fuel its spread on social media because users "engage with it by clicking or commenting on it," said Reusch. Algorithms push the content to the top of feeds because of the high engagement rates, she said.
Reusch said students don't learn enough about these issues in school, necessitating the awareness campaign.
"Civic education is not consistent across Canada. Provinces have varying degrees of civic curriculum in a high school level or elementary school level," she said.
Understanding how social media work is a crucial and important part of a systematic response to misinformation, said Elizabeth Dubois, an assistant professor of communications at the University of Ottawa. But first, the country needs a better idea of how widespread of an issue misinformation is, she said.
Researchers with the Public Policy Forum and the Max Bell School of Public Policy at McGill University in Montreal are aiming to do just this fall. Their Digital Democracy Project will track how news and information is shared and digested leading up to the Oct. 21 vote.
The project team's first report noted that the overall level of misinformation in Canada "appears to be quite low," but that people are more likely to get the facts wrong and be misinformed about a particular topic or issue the more they consume news.
Dubois said political parties, government and third-party organizations, including news outlets and non-governmental organizations, should help raise awareness around how news media is produced and shared, and how digital technologies function. She also said online platforms need to make sure their systems don't incentivize malicious content that could be detrimental in the election.
But identifying misleading content can be very difficult, said Dubois, whose research focuses on political use of digital media.
"It's very, very challenging to identify what constitutes disinformation, and what constitutes satire or personal opinion," she said.
"Legitimate political speech comes in a bunch of different forms."
Maan Alhmidi, The Canadian Press
Allow unvaccinated Canadians to cross U.S. border, Poilievre asks President Joe Biden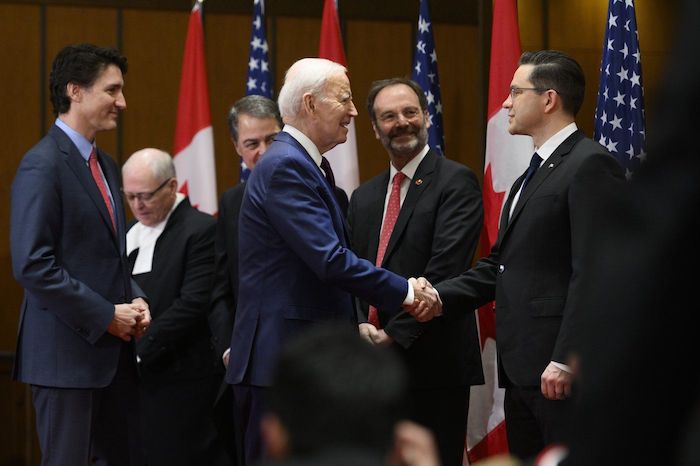 U.S. President Joe Biden shakes hands with Conservative Party of Canada Leader Pierre Poilievre, as Prime Minister Justin Trudeau looks on, during a welcoming ceremony on Parliament Hill in Ottawa, on Friday, March 24, 2023. Conservative Leader Pierre Poilievre says allowing Canadians who are unvaccinated against COVID-19 to cross into the United States was among issues he raised with President Joe Biden. THE CANADIAN PRESS/Justin Tang
By Stephanie Taylor in Ottawa
Conservative Leader Pierre Poilievre said Friday he asked President Joe Biden to remove the U.S. government's requirement that Canadians be vaccinated for COVID-19 before crossing the border.
He told reporters after their meeting that American citizens are no longer required to have their shots and Canada allows unvaccinated Americans to visit.
"There are millions of good, decent, honourable people who, through a personal medical decision, are discriminated against at the border," Poilievre said.
"I encouraged the president to lift those restrictions to allow them freedom of mobility."
Poilievre won the leadership of his party a little more than six months ago by mounting a vocal opposition to COVID-19 health restrictions, including mask and vaccine mandates, but he has since focused his message on cost-of-living issues.
He met with Biden on Parliament Hill Friday during the president's 27-hour visit to the Canadian capital, and later shared a photo of the two online.
Michael Ignatieff was the last Opposition leader to have face time with a U.S president. The former Liberal leader met with former President Barack Obama in 2009. It happened at the airport.
Poilievre said Friday he found Biden wants to be a "friendly" and "decent" neighbour to Canada, and on a personal level, he said he told the president they share Irish heritage.
He said they discussed the need for Canada to bolster its defence systems and "bring fairness" to workers by seeing the U.S. exempt Canada from its Buy American policies.
The Tory leader also said he expressed a need for Biden to axe tariffs on Canadian softwood lumber, arguing that the long-standing dispute saw a brief reprieve under Conservative prime minister Stephen Harper.
"I don't believe that Prime Minister (Justin) Trudeau has pushed and fought on behalf of Canadians," he said.
Before the meeting, Poilievre had shared some unscripted moments with the leader of the free world.
As he stood in a receiving line of Canadian politicians from all parties who were greeting Biden upon his arrival at Parliament Hill, Poilievre introduced himself as the "Leader of His Majesty's Loyal Opposition."
That prompted Biden to question, still shaking Poilievre's hand: "Loyal opposition?"
Poilievre assured him that yes, "we believe that opposition is an act of loyalty in our system."
Biden chuckled, patting Poilievre on the arm.
"We do, too, unfortunately," he said, chuckling.
Later, while addressing the House of Commons, Biden noted that both he and Trudeau appointed cabinets that were half women, making them the first in their respective countries to do so.
Many in the chamber broke out in applause.
Biden noticed that Poilievre and the Opposition Conservatives were not quick to rise, and quipped: "Even if you don't agree, guys, I'd stand up," which Poilievre and others then did.
Asked afterwards about that interaction, Poilievre said only: "We support gender equality for all Canadians."
Poilievre was on the guestlist for a dinner with Biden Friday evening, along with other government ministers, officials and celebrities.
The invitation process came with a dash of partisanship.
Earlier in the day, staff in Poilievre's office were left scratching their heads when they said it had not received an invite from Trudeau's office to attend, and asserted that any suggestion he had refused the invitation was false.
The Prime Minister's Office confirmed it had sent Poilievre notice of the dinner — but the invitation went to a personal email account that notifies senders it is not monitored.
This report by The Canadian Press was first published March 24, 2023.
Trudeau says he accepts MP's choice to leave Liberal caucus amid meddling allegations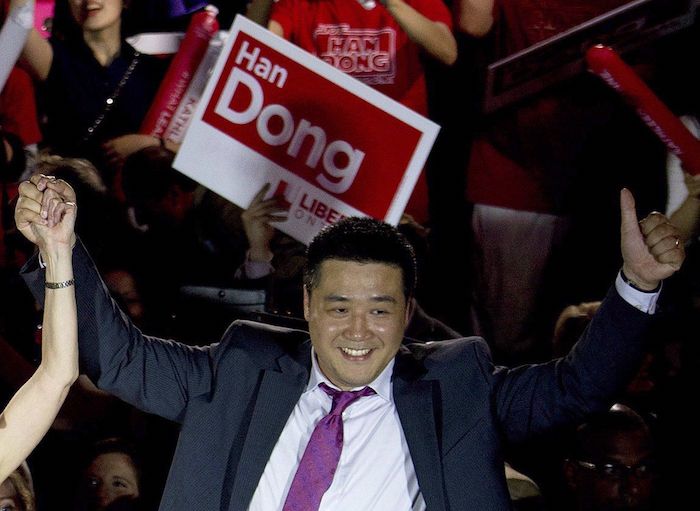 Then-Provincial Liberal candidate Han Dong celebrates with supporters while taking part in a nomination event, in Toronto, Thursday, May 22, 2014. THE CANADIAN PRESS/Nathan Denette
By Stephanie Taylor in Ottawa
Prime Minister Justin Trudeau says he accepts Han Dong's decision to leave the Liberal caucus after an allegation he spoke to a Chinese diplomat about delaying the release of two Canadians.
Trudeau sidestepped a question Friday about whether he believes the allegation, saying only that Canadians should watch Dong's "strong" speech for themselves.
He said at a news conference alongside U.S. President Joe Biden, who was visiting Ottawa, that he fully accepts Dong left the Liberal caucus "to vigorously contest these allegations."
The prime minister also added that he and Biden discussed foreign interference, and said it is "unacceptable," whether from China or from other countries such as Russia and Iran.
Dong, a Toronto MP, announced he would sit as an Independent on Wednesday night, telling the House of Commons that he would defend himself against "absolutely untrue claims" regarding his alleged involvement in Chinese interference.
Global News published a report that night, citing unnamed security sources who alleged that Dong spoke about Michael Spavor and Michael Kovrig, who at that time had been detained in China for just over two years, with a Chinese diplomat in Toronto in February 2021.
The two Canadian men had been detained by China in December 2018, just over a week after the RCMP arrested Huawei executive Meng Wanzhou in Vancouver on a U.S. extradition warrant.
Global News alleged that Dong told China's consul general in Toronto that releasing the men would benefit the Conservatives, but also that showing some "progress" in the case would help the Liberals.
The Canadian Press has not independently verified the allegations.
The MP said he met with the diplomat but disputes any suggestion he urged China to delay releasing Kovrig and Spavor, telling the House of Commons he did nothing to cause them harm.
Kovrig and Spavor were treated as honoured guests when Biden addressed the House of Commons on Friday.
Members of Parliament and others who packed the gallery gave the men no fewer than four standing ovations. It was their first time in public together since returning to Canada in September 2021.
Conservative Leader Pierre Poilievre told reporters it was moving to see Kovrig and Spavor, whom he described as "two courageous men who survived unimaginable hell."
Poilievre added: "I was very heartened that everyone in the chamber gave them such a warm welcome."
The Tory leader declined to weigh in on the allegations against Dong, but repeated his position that holding a public inquiry is the only way to get to the bottom of China's alleged meddling in Canadian affairs.
He noted that all opposition parties agree on that — and pointed out that even Dong himself voted in favour of a motion that called for a public inquiry, the day after he left the Liberal caucus.
"So for his sake and for everybody's sake, and most importantly, for the sake of the truth, the prime minister has to end his cover up and call a full public inquiry," Poilievre said.
Trudeau has not ruled out the possibility of calling a public inquiry, but he has said that any recommendation to do so will have to come from former governor general David Johnston, who was recently appointed to probe the issue as a special rapporteur.
This report by The Canadian Press was first published March 24, 2023.