Greater share of recent immigrants landing jobs even as Canada welcomes more
OTTAWA — The share of recent immigrants of prime working age who had employment reached a new high last year, even though Canada has been opening its doors to more newcomers than ever before, according to an internal federal analysis.
The increase was likely driven in part by the country's strong job-creation run, which has encouraged companies to hire more people who usually find themselves at the margins of the workforce, says the document prepared for Finance Minister Bill Morneau. Immigrants who arrived less than five years ago fall into that category.
The analysis provides a closer look at the impact of immigration on a labour force that has posted big gains in recent years.
After economic slowdown last winter the unemployment rate has hovered near 40-year lows. As a result, employers have reported challenges when trying to fill job vacancies.
"The performance of recent immigrants on the labour market has markedly improved in recent years, especially when considering the scale of immigrants arriving in Canada every year," reads the January briefing note, obtained through access-to-information law.
The memo says the employment rate for immigrants aged 25 to 54 who landed less than five years ago, was 71 per cent last year. It was the indicator's highest level since 2006 — which is as far back as the data goes.
"Similar trends are witnessed for immigrants that landed between five and 10 years ago," the briefing said.
The labour-force participation and unemployment rates of recent immigrants were better than before the last recession, over a decade ago. Selection criteria have targeted immigrants with better earnings prospects and recent newcomers to Canada are more highly educated, the analysis said.
The share of prime-aged immigrants with post-secondary educations rose from 75 per cent in 2006 to 80 per cent in 2018. That's nine percentage points higher than the share in the general population in the same age range.
Canada has welcomed more immigrants in recent years — and the government intends to bring in more. It has set targets of nearly 331,000 newcomers this year, 341,000 in 2020 and 350,000 in 2021.
The numbers are rising at a time of growing public debate about some aspects of immigration. It could become an issue in the lead-up to the October federal vote.
A lobby group representing chief executives of Canada biggest companies has urged political parties to avoid aggravating public concerns about immigration during the campaign.
Business leaders made clear the economic case in favour of immigration, especially as baby boomers age and the country seeks workers to help fund social programs, like public health care, through taxes.
The Finance Department document argues that, in general, immigrants in Canada have done well because the country has maintained a positive attitude towards immigration.
"The topic of immigration has become more polarized in a number of countries, which may reflect the poor socio-economic outcomes for immigrants and economic stagnation of the middle class who use immigration as a scapegoat," it says.
"The economic benefits of immigration are largely dependent on how well newcomers integrate into the labour market. Increasing immigration — or any increase in the population — will drive demand for goods and services, contributing to economic growth."
The document also noted the strong economic and education outcomes for second-generation Canadians, compared to children of two Canadian-born parents.
Among individuals aged 25 to 44, 95 per cent of second-generation Canadians had completed high school compared to 89 per cent of those whose parents were both Canadian-born. Forty-one per cent of second-generation Canadians had university degrees versus 24 per cent of people with two Canadian-born parents.
In 2017, second-generation Canadians earned average employment incomes of $55,500, versus $51,600 for children of Canadian-born parents.
—Follow @AndyBlatchford on Twitter
Andy Blatchford, The Canadian Press
Raising the Bar and Drawing the Line – Men for the Eradication of Violence Against Women

On December 6, 1989, 14 women were brutally murdered in a gender-based attack on a mechanical engineering classroom at Montreal's École Polytechnique institution. In an event now widely known as the "Montreal Massacre", a man entered the classroom armed with a semi-automatic weapon and shouted, "you are all feminists," while proceeding to open fire on the students.
The tragedy at École Polytechnique sent shockwaves around the world. The horrific event gave rise to a global dialogue regarding the deeply entrenched issue of gender-based violence and its many forms in modern society. 
In 1991, the White Ribbon Campaign was established in Toronto in honor of the 14 women who lost their lives in the Montreal Massacre. White Ribbon is now the largest global movement of men and boys working to "end violence against women and girls, promote gender equity, healthy relationships and a new vision of masculinity."
With a focus on intersectionality, the organization aims to understand and be an ally to all those who experience gender-based violence and discrimination in a multitude of ways. This means educating the public on and standing up against violence, racism, homophobia, transphobia, misogyny and more.
The White Ribbon itself is a historical reference to breaking the silence, and represents a pledge to never commit, condone or remain silent about any form of gender-based violence. 
In the era of MeToo, harmful narratives often emerge in response to discussions of gender-based violence, particularly on the Internet. These include statements such as "not all men" and "men experience violence too" in response to shared experiences of violence perpetrated against women.
White Ribbon aims to increase education and understanding of disproportionate struggle by highlighting how the affirmation of struggle and suffering experienced by women is not the negation of male struggles in a similar arena. "Absolutely not all men have used violence," states Humberto Carolo, Executive Director at White Ribbon "but all men have to be a part of the solution." 
"We have to change our responses. Instead of saying not all men, we need to say YES, all men need to step up, speak out, challenge their own behaviors, intervene when they can, and learn about these issues and how they affect women in their communities and around the world." 
Carolo has been on the front lines of gender-based violence prevention for his entire career, including 16 years with White Ribbon. According to him, his commitment to eradicate gender-based violence is both personal and professional. Being raised in a home where he and his family experienced violence has contributed to a deep conviction that men can – and must – be a part of the solution.
"I am a dad," he says, "I have 3 sons. I promised myself I would do everything in my power to raise the next generation so they would not go through the things I went through, and the women in their lives would never experience the things the women in my family, and community, did."
Raising sons to understand the complexities of gender-based violence, while teaching them how to be a part of the solution is a monumental – and absolutely essential – task, rooted specifically in education, discussion, information, and practice.
"The existing process of socialization teaches men and boys in our society to be tough, to be strong, not to cry, to always be in control and always fight back," says Carolo. "If we as men cannot deal with our feelings and emotions in a healthy way, it results in the extremely toxic use of violence, anger and control that is very harmful to those around us – particularly women and girls." 
To introduce solutions to a centuries old crisis, tailored educational initiatives are required, according to Carolo. Specifically, teaching men and boys to witness, notice, and accept that what is happening is problematic, while providing them with the tools and knowledge to address the issues and intervene wherever it is possible, and safe, to do so.
White Ribbon's Draw the Line Campaign provides a series of potential situations and next steps designed to educate students, parents and teachers on the safe and appropriate actions to take in instances of sexual violence. This includes why, when, and how to draw the line. 
Ways to Draw the Line
Communicating with a friend to let them know their behavior is not okay 

Alerting others to a potentially dangerous situation
Reporting the situation to someone you trust
Calling 911 in situations of immediate danger
Supporting the individual who has been affected by the violent actions
In the 30 years since the launch of the White Ribbon Campaign, the organization and its allies have grown and evolved alongside the changing times. Particularly in response to movements such as MeToo and Black Lives Matter, White Ribbon has continued to develop educational tools, campaigns, and resources to increase awareness, understanding and accessibility. The original call to action, which encourages men and boys to wear white ribbons and sign onto the pledge, remains in place, but is now supplemented by multi-dimensional approaches designed to address systemic factors of violence at their roots.  
The White Ribbon website provides a host of resources for learning how to be an ally, how to respond to ongoing movements for women's safety and equality in a productive way, how to understand and talk about consent, and so many more. For more information on White Ribbon and how to join the movement against gender-based violence, visit https://www.whiteribbon.ca
For more stories, visit Todayville Calgary.
Violence Against Women is a Crisis in Every Single City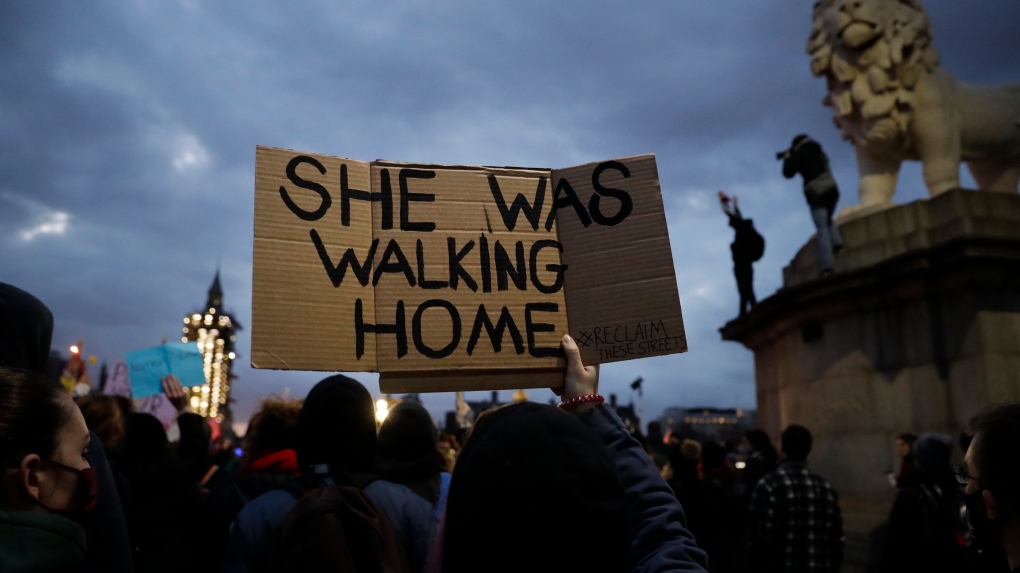 The City of Calgary remains on edge following several reports of assault and harassment against women in the last two weeks.  
One woman reported being targeted while in her car, when four men on foot surrounded her vehicle while it was stopped at a streetlight on Glenmore Trail as she was driving home. It was close to midnight and the roads were relatively quiet, and the woman reported the men pulled on all four door handles but were unable to enter the vehicle, as the doors were locked while she was driving – a simple action she believes may have saved her life.
Another woman was assaulted on the Calgary Beltline on March 18th while reportedly walking to work on 5th Street between 11th and 12th Avenue. Two men pulled her from the street into an alley where they proceeded to violently physically and sexually assault her. The incident was captured by security cameras on a nearby building. 
These frightening attacks occurred in Calgary just as the devastating news of Sarah Everard's murder being circulating in the UK. On the evening of March 3rd, Everard was walking home from a friend's house in south London when she went missing. The body of the 33-year-old was found on the evening of March 10th, more than 50 miles from where she was last seen. British police officer Wayne Couzens has since been charged with the kidnapping and murder of Sarah Everard.
The tragic UK story has struck chords all across the globe, and thousands of women have come forward to share their own lived experiences with physical and sexual assault. In recognition of Sarah and in solidarity with the countless women who suffer physical and sexual assault on a daily basis, women's marches have broken out around the world. Statements such as #SheWasJustWalkingHome, #EveryWomanYouKnow and #TextMeWhenYouGetHome are now also trending online. 
For many – if not all – women, the fear for personal safety is never far from mind. The extensive list of personal protection devices, such as pepper spray, pocket sirens, rape whistles, key-chains designed to smash windows from the inside, and so many more, offer just a glimpse into the lived reality of ongoing fear for women everywhere. Simply put, violence against women represents a crisis in every single city.  
An analysis conducted in 2018 by the World Health Organization on violence against women, featuring data from across 161 countries and areas from 2000 – 2018 found that nearly 1 in 3 women have been subjected to physical and/or sexual violence by an intimate partner or non-partner sexual violence or both.

According to the Assaulted Women's Helpline, over half of all Canadian women have experienced at least one incident of physical or sexual violence since the age of 16.
The movement to end violence against women is not new, and it is still far from over. In addressing the complex structural factors that contribute to the continued perpetuation of violence against women, conversation is key. 
Listening to the woman who has spent countless years holding keys between her fingers as a make-shift weapon while she walks home from work, or made pretend phone-calls to friends or family so she wouldn't be perceived as alone. Understanding the fears of the girl who learned at an early age to never wear headphones in public and never be caught walking alone after dark – or even in the daytime, if it can be helped. 
These women are our daughters, mothers, sisters and friends, and far too many of them have stories like this. 
If you or someone you know is struggling with violence, assault or harassment, visit https://crcvc.ca/links/ – Support for Women for an extensive list of available resources including helplines, counseling and support centres, and a number of activism groups focused on ending violence against women in Canada and around the world.
For more stories, visit Todayville Calgary.