GoFundMe withholding $4.7 million from trucker convoy until plan presented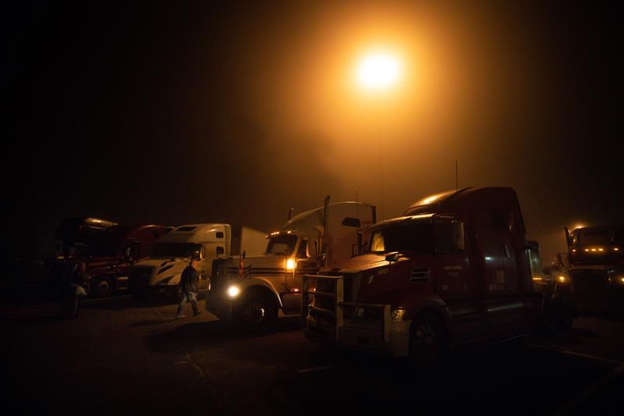 GoFundMe has frozen access to the more than $4.7 million in funds raised by the trucker convoy now wending its way across the country toward Ottawa in a protest against vaccine mandates.
"We require that fundraisers be transparent about the flow of funds and have a clear plan for how those funds will be spent. In this case, we are in touch with the organizer to verify that information," Rachel Hollis, a spokeswoman for the crowdfunding platform, said in an email.
"Funds will be safely held until the organizer is able to provide the documentation to our team about how funds will be properly distributed."
As of Tuesday afternoon, funds were raised from 61,100 donors, according to the GoFundMe page of the "Freedom Convoy."
Tamara Lich, who is also secretary of the fledgling Western separatist Maverick Party, launched the campaign on Jan. 14. It states that the money will go toward fuel as well as food and lodgings for big-riggers taking part.
"Our current government is implementing rules and mandates that are destroying the foundation of our businesses, industries and livelihoods," the convoy's GoFundMe page states.
"We are a peaceful country that has helped protect nations across the globe from tyrannical governments who oppressed their people, and now it seems it is happening here."
As of Jan. 15, the federal government required Canadian truckers to be fully vaccinated if they want to avoid a 14-day quarantine when they cross the border from the United States.
Labour Minister Seamus O'Regan has also announced that vaccination will become mandatory for workers in all federally regulated industries, though no timeline has been laid out.
The Canadian Trucking Alliance, which has denounced the convoy protest, says more than 85 per cent of the 120,000 Canadian truck drivers who regularly traverse the border are vaccinated, but that up to 16,000 may be sidelined due to the new restriction, exacerbating supply chain problems.
The big-riggers are bound for a protest set for Saturday in Ottawa, where drivers from across the country are planning to converge.
In a joint release Tuesday, the federal government and alliance president Stephen Laskowski acknowledged "unprecedented challenges" to a sector that ships the vast majority of food and consumer products, but stressed vaccination as the route to economic health.
"Vaccines, medications, personal protective equipment, food, and supplies continue to arrive where they need to be thanks to the efforts of our dedicated commercial truck drivers," said Laskowski, O'Regan, Transport Minister Omar Alghabra and Employment Minister Carla Qualtrough.
"The government of Canada and the Canadian Trucking Alliance both agree that vaccination, used in combination with preventive public health measures, is the most effective tool to reduce the risk of COVID-19 for Canadians, and to protect public health."
Last Saturday the U.S. barred unvaccinated Canadian drivers from entering the country, mirroring Canada's border filter for American truckers.
In a Twitter thread Monday showing pictures of depleted grocery store shelves, Alberta Premier Jason Kenney said he was "on the phone with U.S. governors" that morning who share his concerns. He said he is was working on a joint letter to U.S. President Joe Biden and Prime Minister Justin Trudeau to end the dual vaccine mandates.
The convoy was greeted in Saskatchewan on Monday night by supporters — Conservative members of Parliament Andrew Scheer and Warren Steinley were among them — and by more backers Tuesday morning before it left for Manitoba.
Conservative Leader Erin O'Toole warned last week that "we're going to see prices skyrocket for groceries, for everything," and that the Liberal government's vaccine mandate would spark "division and pink slips."
Trudeau said Monday that Conservative politicians were "fearmongering" about the supply chain.
"The best way to continue to prevent supply chain disruptions is to ensure that everyone gets vaccinated," Trudeau said in French. He noted the Canadian Trucking Alliance backs vaccination — though the association argued persistently against the mandate in the lead-up to its implementation earlier this month.
This report by The Canadian Press was first published Jan. 25, 2022.
Christopher Reynolds, The Canadian Press
Inflation could put more Canadians at risk of going hungry, say experts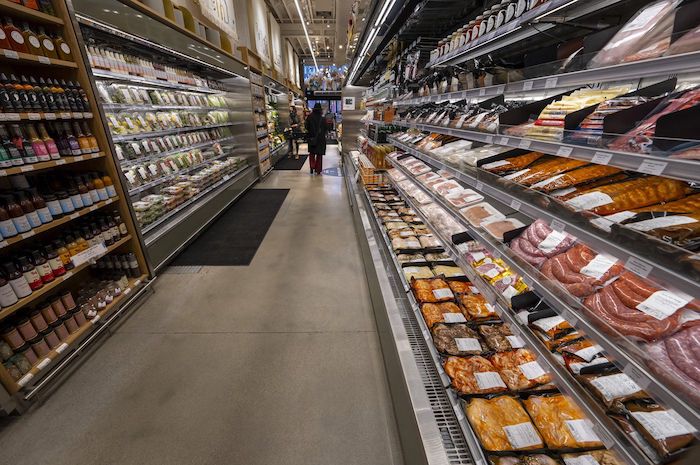 By Adina Bresge in Toronto
Experts and advocates anticipate that more Canadians could be at risk of going hungry as inflation continues to outpace many consumers' grocery budgets.
Valerie Tarasuk, a professor of nutritional sciences at University of Toronto, said steepening inflation rates are likely to increase the prevalence and severity of food insecurity in Canada. That could mean financial concerns will prompt people to reduce meal sizes, skip meals or even go a day or more without eating.
Overall food costs rose 8.8 per cent compared with a year ago, while Canadians paid 9.7 per cent more for food at stores in April, the largest increase since September 1981, Statistics Canada reported Wednesday.
Compared with a year ago, the cost of fresh fruit was up 10 per cent, fresh vegetables gained 8.2 per cent and meat rose 10.1 per cent. The cost of bread rose 12.2 per cent, while pasta gained 19.6 per cent and rice increased 7.4 per cent.
While all consumers are prone feel the pinch at the checkout aisle, these numbers pose particular concern for low-income people who are less able to absorb the price hikes, forcing some to make compromises at a detriment to their dietary needs, Tarasuk said.
"As prices of basic commodities rise, it's very worrisome to think that we have such a large swath of the Canadian population sitting in circumstances are insufficient to come up with the costs."
The 2020 Canadian Income Survey found that 11.2 per cent of Canadians lived in households that had experienced moderate and severe food insecurity, and 4.6 per cent more had experienced marginal food insecurity.
Concerns over being able to consistently put food on the table is a pervasive and persistent problem in Canada, said Tarasuk, and as income levels lag farther behind inflation, the situation looks to get worse with far-reaching impacts.
Food insecurity is a "toxic condition" that has been linked to physical and mental health problems, Tarasuk said. As mounting costs threaten to draw more people into food security and compound the stress on those who are already struggling, inaction on this issue could have consequences for the health-care system and life expectancy, she said.
Tarasuk said only a fraction of food-insecure people turn to charity. But a couple of food banks reported that soaring food prices have accelerated the surge in demand for their services during the COVID-19 crisis.
"This is a crisis on a crisis," said Neil Hetherington, CEO of Daily Bread Food Bank. "These (inflation) numbers are meals that people will be going without."
The Toronto-based food charity saw 160,000 client visits in March, up from 123,000 in March 2021, said Hetherington.
He projected that number will increase to 225,000 visits per month by this time next year, but said he hopes that's an overestimate.
"I'm an incredibly optimistic guy, but I am very concerned about the next couple of years," said Hetherington.
In the first three months of 2022, the Calgary Food Bank logged a 29 per cent year-over-year increase in demand for its food hampers, said communications co-ordinator Betty Jo Kaiser.
Last month, the organization distributed food support to nearly 9,500 people, 75 per cent of whom were first-time clients, said Kaiser.
"We do not expect a slowdown in demand," she said. "We brace ourselves for continued and rising need."
This report by The Canadian Press was first published May 19, 2022.
Jail 'Freedom Convoy' organizer Tamara Lich again, Crown argues in Ottawa court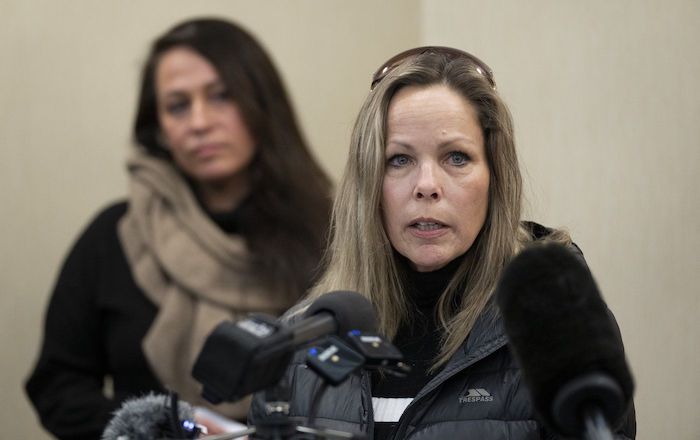 By Laura Osman in Ottawa
The Crown is accusing "Freedom Convoy" organizer Tamara Lich of breaching her bail conditions and prosecutors argue she should go back to jail until her trial.
A judge initially denied Lich bail after her arrest during the massive protest that overtook downtown Ottawa for more than three weeks in February, but she was released in March after a review of the court decision.
She appeared virtually on Thursday in Ontario Superior Court, where lawyers wrangled over how the bail hearing should proceed.
Lich and fellow protest organizer Chris Barber are jointly accused of mischief, obstructing police, counselling others to commit mischief and intimidation.
She was released with a long list of conditions, including a ban from all social media and an order not to "support anything related to the Freedom Convoy."
The Crown says Lich has violated one of her bail conditions by agreeing to accept a "freedom award" from the Justice Centre for Constitutional Freedoms, a legal advocacy group that supported the protest.
The organization planned to honour her at a gala celebration for inspiring "Canadians to exercise their Charter rights and freedoms by participating actively in the democratic process," and leading the "Freedom Convoy" protest in Ottawa.
That protest evolved into a weeks-long demonstration that gridlocked the streets of Ottawa and eventually led the federal government to invoke the Emergencies Act in an effort to dislodge the participants.
"Ms. Lich has suffered for the cause of freedom by spending 18 days unjustly jailed, and exemplifies courage, determination and perseverance," the organization wrote in a statement on its website, which the Crown included in its notice of application.
The website said Lich would attend the award dinner in Toronto on June 16, if a review of her bail conditions would allow her to attend, as well as events in Vancouver and Calgary.
The Toronto event is expected to include a keynote address by columnist Rex Murphy.
During the protest, Keith Wilson, a Justice Centre for Constitutional Freedoms lawyer, spoke on behalf of the convoy protesters at a news conference and described Lich as a client.
"Tamara Lich ought to be detained," the Crown's notice of application concludes.
Meanwhile, Lich's lawyers plan to argue that her bail conditions are too restrictive and should be reconsidered.
Her lawyer, Lawrence Greenspon, told the court Thursday that the social media ban imposed on Lich was unnecessarily broad and has had a huge impact on her life while she's been out of custody.
He said she wishes to be in contact with her 94-year-old grandmother by social media and communicate with her friends and family.
The hearing is expected to last two days.
This report by The Canadian Press was first published May 19, 2022.