Get your arts fix with 'I Don't Get It'
What do you do when something you value isn't getting much media coverage? For the team behind I Don't Get It, you make a podcast to fill the gap.
Fawnda Mithrush and Paul Blinov met at Vue Weekly, an alt-weekly arts publication in Edmonton. Dance was getting short shrift in the local media, so in 2013 they started a podcast in which Mithrush, a dance critic, would introduce Blinov, a dance newbie, to the art. With production help from Andrew Paul, I Don't Get It was born.
In 2017, the podcast expanded to cover theatre and news on the arts community in general. They mostly cover Edmonton, but will take the occasional road trip, such as their excursion to the Badlands Amphitheatre to catch a production of Carmen, or their trip to the Banff Centre to see Orphée+.
Let's learn a little more about the team behind I Don't Get It:
Q. Why should people listen to your show?
A. Listeners will learn about what's happening on Edmonton stages, and also get a taste of theatre and dance history. Through light and fun conversation, we hope to lift the "I don't get it" veil from contemporary performance for both new and experienced audiences.
Q. What's the most interesting comment you've received from a listener?
A. We often receive comments from the arts community that say, "Thanks for saying that, I thought the same thing," when we point out problematic aspects of a performance. One such example was a listener who sent that same message after our review of Shakespeare's R&J, when we discussed whether or not an all-male production of Romeo & Juliet was tone deaf in the post-#MeToo era.
Q. What podcasts do you listen to?
A. We're media people, so mostly media and storytelling podcasts: On the Media, Longform, New Yorker Radio Hour, Canadaland, Invisibilia.
Q. Do you have any unusual hobbies or talents that may surprise your listeners?
A. All three of us love to cook. Paul is particularly good at bread-making, Andrew is an apprentice butcher, and Fawnda has memorized all seasons of Julia Child's The French Chef.
Q. Write your own epitaph — what would it say and why?

A. "Wherever there's magic and make-believe and an audience, there's Theatre." It's a quote from 'All About Eve', in a longer speech about democratizing theatre for all audiences (it's not only for the elite). It's one of the greatest films to discuss theatre and the challenges of being an artist within it – and also features one of the best critic characters of all time, Addison DeWitt.
Q. What has been your favourite episode so far and why?

A. Season 1 Episode 1 still stands out as a classic example of what we were trying to do with the show, and also why it was important for the growth of arts media in Edmonton. We reviewed one of the city's most storied dancers and his company, and were terrified. And we nailed it on the first take (for real). Click the link below to listen.
Be sure to connect with I Don't Get It on Twitter and Facebook.
Over the next several weeks, Todayville will introduce you to members of the Alberta Podcast Network, so you can invite even more Alberta-made podcasts into your ears! You can find I Don't Get It and dozens of other shows at albertapodcastnetwork.com.
About Alberta Podcast Network
The Alberta Podcast Network, powered by ATB, is on a mission to:
-Help Alberta-based podcasters create podcasts of high quality and reach larger audiences;
-Foster connections among Alberta-based podcasters.
-Provide a powerful marketing opportunity for local businesses and organizations.
Alberta Podcast Network Ltd. is pursuing this mission with funding from ATB Financial and support from other sponsors.
Canopy Growth reports Q4 net revenue down 25 per cent from year ago
SMITHS FALLS, Ont. — Canopy Growth Corp. reported a smaller quarterly loss compared with a year ago as its net revenue fell 25 per cent.
The cannabis company says it had a net loss of $578.6 million or $1.46 per diluted share for the quarter ended March 31 compared with a net loss of $616.7 million or $1.85 per diluted share a year earlier.
Net revenue in what was Canopy's fourth quarter totalled $111.8 million, down from $148.4 million in the same quarter last year.
The drop in revenue came as the company's global cannabis net revenue fell to $66 million in its latest quarter compared with $101.3 million a year earlier.
Other consumer products revenue amounted to $45.8 million for the quarter, down from $47.1 million.
Canopy chief executive David Klein says the company will remain focused on building its market share in the key segments that will drive profitable growth and continuing to grow its premium brands across North America.
This report by The Canadian Press was first published May 27, 2022.
Companies in this story: (TSX:WEED)
The Canadian Press
McDavid scores in OT, Oilers down Flames to advance to Western Conference final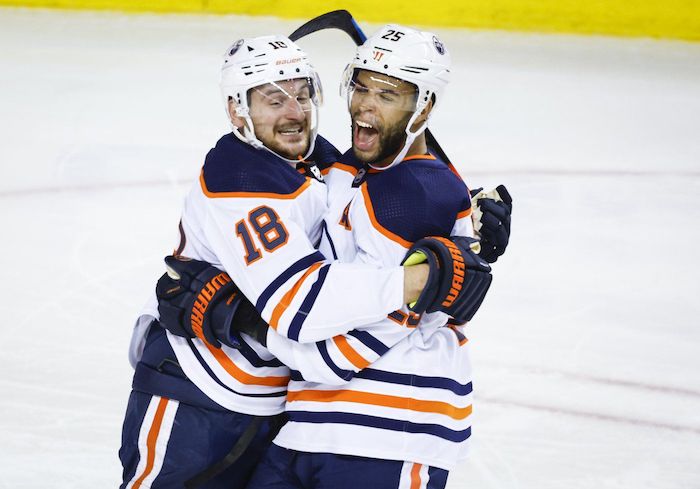 By Joshua Clipperton in Calgary
The Edmonton Oilers are off to the Western Conference final.
Connor McDavid scored at 5:03 of overtime as the Oilers defeated the Calgary Flames 5-4 on Thursday to win their second-round playoff series 4-1.
The Edmonton captain fired his seventh goal of the post-season past Jacob Markstrom off a pass from Leon Draisaitl to send the Oilers spilling over the bench in celebration.
Zach Hyman, with a goal and two assists, Darnell Nurse, Jesse Puljujarvi and Evan Bouchard also scored for the Oilers. Mike Smith made 32 saves as Edmonton claimed the first post-season Battle of Alberta in 31 years.
Draisaitl added four assists — his fifth straight contest registering three-plus points to build on the NHL playoff record he set in Game 4.
McDavid and Draisaitl have both amassed 26 points to lead the playoffs so far.
The Oilers will face either the Colorado Avalanche or St. Louis Blues in their first conference final appearance since 2006. Colorado leads that series 3-2, with Game 6 set for Friday in St. Louis.
Mikael Backlund, with a goal and an assist, Johnny Gaudreau, Calle Jarnkrok and Andrew Mangiapane replied for Calgary. Blake Coleman added two assists, while Jacob Markstrom made 30 saves as the Flames dropped to 0-10 when trailing a playoff series 3-1.
Coleman, who won the Cup the last two seasons with the Tampa Bay Lightning, appeared to snap a 4-4 tie with just under six minutes left in regulation after Backlund took the puck hard to Edmonton's net. But the goal was waved off following a video review after it was ruled the winger kicked the puck over Smith's goal line with his skate as he battled with Oilers defenceman Cody Ceci.
With his team trailing 1-0 after a tentative first period, Edmonton interim head coach Jay Woodcroft double-shifted Draisaitl and McDavid early in the second, and it nearly paid off on a couple of good opportunities.
But the Flames, who topped the Oilers by seven points in the regular season to claim the Pacific Division crown, went up 2-0 at 5:41 when Backlund scored his fifth on a slick deflection.
The Oilers got on the board at 7:40 after Draisaitl protected the puck against Backlund before finding Nurse in the slot for him to fire his second past a screened Markstrom.
Edmonton tied it up just 2:26 later on a 3-on-1 rush when Markstrom could only get a piece of Hyman's shot before Puljujarvi swept home his second as the Oilers erased another multi-goal deficit on the road.
The offensive floodgates then really opened over a wild stretch that would see four pucks find the back of the net in 71 seconds.
Hyman scored his sixth goal of the series, and eighth of the post-season, on a power play at 14:57 before Gaudreau tied things again at 3-3 at 15:12 with his third.
Jarnkrok then scored his first as a member of the Flames since coming over in a trade with the Seattle Kraken at 15:28 to make it 4-3.
But the Oilers responded again at 16:08 when Bouchard's blast beat Markstrom for his second as the teams set an NHL record for the fastest four goals in playoff history — 22 seconds faster than the previous mark set by the Philadelphia Flyers and Toronto Maple Leafs in 1976.
Following a tepid start for both teams inside a nervous Scotiabank Saddledome, the Flames nudged in front at 10:13 of the first when Mangiapane took a terrific pass from Coleman to bury his third goal of the playoffs.
The winger's first point of the series gave his team its first lead since late in the second period of Game 2 — a stretch of exactly 155 minutes — that started a run of three straight losses to push Calgary to the brink of elimination.
One of three finalists for the Vezina Trophy as the league's top goalie in the regular season, Markstrom entered Thursday with an .850 save percentage in the series after posting a .943 mark in Calgary's seven-game victory over the Dallas Stars in the opening round.
After the Oilers, who beat the Los Angeles Kings 4-3 to set up the matchup with their provincial rival, killed off a McDavid high-sticking penalty, the Flames goaltender had to scramble to keep the Edmonton captain's dash to the net at bay with the puck briefly lying free in Calgary's crease.
This report by The Canadian Press was first published May 26, 2022.
___
Follow @JClipperton_CP on Twitter.