Germany cautious over Nord Stream pipeline attack reports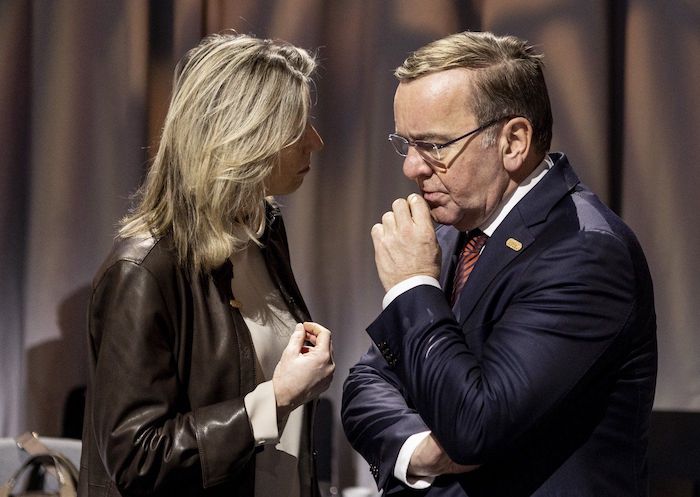 Kajsa Ollongren, Netherland's Minister of Defense, left, and Boris Pistorius, Germany's Minister of Defense attend the informal meeting of EU defence ministers at the Scandinavian XPO in Marsta outside Stockholm, Sweden Wednesday, March 8, 2023. (Christine Olsson/TT News Agency via AP)
By Frank Jordans in Berlin
BERLIN (AP) — Germany's defense minister voiced caution Wednesday over media reports that a pro-Ukraine group was involved in blowing up the Nord Stream gas pipelines in the Baltic Sea last year.
German daily newspaper Die Zeit and public broadcasters ARD and SWR reported Tuesday that investigators were able to largely reconstruct how the pipelines from Russia to Germany were sabotaged on the night of Sept. 26, 2022.
Citing multiple unnamed officials, the news outlets reported that five men and a woman used a yacht hired by a Ukrainian-owned company in Poland to carry out the attack. German federal prosecutors confirmed that a boat was searched in January.
The New York Times also reported Tuesday that U.S. officials reviewed intelligence that suggested a pro-Ukrainian group was behind the blasts. The Ukrainian government has denied involvement.
German Defense Minister Boris Pistorius said he read the news reports "with great interest" but warned against drawing hasty conclusions.
"We need to clearly differentiate whether it was a Ukrainian group that acted on the orders of Ukraine or … without the government's knowledge," he told reporters in Stockholm.
Speaking on the sidelines of a European Union defense ministers meeting, Pistorius said some experts also had raised the possibility of a so-called false flag operation by a group pretending to be Ukrainian.
"It would not be the first time in the history of such events," the German minister said. "As such, I'm refraining from drawing premature conclusions."
Asked whether the reports could undermine Western support for Ukraine, Pistorius said he preferred to respond once he had reliable information. "Anything else is hypothetical," he added.
Ukrainian Defense Minister Oleksii Reznikov rejected suggestions that the attack might have been ordered by Kyiv. "It's like a compliment for our special forces, but this is not our activity," he told reporters in Stockholm.
According to the German media reports, the suspects used forged passports when hiring the boat, which set off from the German port of Rostock. A captain, two divers, two diving assistants and a doctor made up the group, ARD reported.
Germany's Federal Prosecutors Office declined to comment directly on the reports. But it confirmed that investigators conducted a search from Jan. 18-20 "in connection with a suspicious boat hire."
"There is a suspicion that the boat in question could have been to transport explosive devices that exploded on Sept. 26, 2022, on the Nord Stream 1 and Nord Stream 2 pipelines," the prosecutors office said in an email to The Associated Press. "The evaluation of the seized traces and objects is ongoing."
"The identity of the perpetrators and their motives are the subject of ongoing investigations," it added. "At present, it is not possible to make any reliable statements on this, in particular on the question of state control."
"In the course of the further investigation, all leads to clarify the facts of the case will be pursued," prosecutors said. "There are no grounds for suspecting employees of the German company that leased the ship."
Søren Thiim Andersen, an official on the small Baltic Sea island of Christiansoe, told Danish daily Berlingske that he was contacted by police in January seeking to talk to people who may have photographed ships that had been in the harbor around Sept. 16-18.
White House National Security Council spokesman John Kirby declined Tuesday to comment on the New York Times report, noting that investigations by Denmark, Germany, and Sweden remain active. Aside from the economic damage, the blasts released huge amounts of planet-warming methane.
"We need to let these investigations conclude," Kirby said. "And only then should we be looking at what follow-on actions might or may not be appropriate."
His comments were echoed by NATO Secretary-General Jens Stoltenberg. "There are ongoing national investigations, and I think it's right to wait until those are finalised before we say anything more about who was behind," he told reporters in Stockholm.
Kremlin spokesman Dmitry Peskov on Wednesday described the media reports alleging Ukrainian involvement in the Nord Stream explosions as a coordinated manipulation intended to cover up the organizers of the attack.
"The masterminds of the terror attack clearly want to distract attention," Peskov said in remarks carried by the state RIA Novosti news agency.
Russian President Vladimir Putin and his officials have accused the U.S. of staging the pipeline explosions, which they described as a terror attack.
Peskov again noted that Russia was denied access to evidencefrom the investigation. He called for a transparent international probe.
The Nord Stream 1 and 2 pipelines have long been a target of criticism by the United States and some of its allies, who warned that they posed a risk to Europe's energy security by increasing dependence on Russian gas.
Germany halted certification of the still-uncommissioned Nord Stream 2 after Russia's invasion of Ukraine, and Moscow stopped the flow of gas in Nord Stream 1 weeks before the attack.
Dutch gas transport and storage company Gasunie said Wednesday it does not expect the sabotaged Nord Stream 1 and 2 pipelines to come back into service any time soon and has written off its multimillion-euro investment in the project.
"In the current geopolitical context, Gasunie does not foresee a resumption of gas deliveries via Nord Stream for the foreseeable future and, as a result, does not expect to receive any more dividends," the company said in its annual report.
Gasunie, whose transportation and storage activities serve the Netherlands and parts of Germany, had invested 508 million euros for a 9% stake in Nord Stream. It slashed the value of the investment in July to 240 million euros and now has written it off entirely.
___
Lorne Cook in Brussels, Jan M. Olsen in Copenhagen, Vladimir Isachenkov in Moscow, Mike Corder in The Hague and Aamer Madhani in Washington contributed to this report.
Europe OKs plan to tally cost of Moscow's war in Ukraine with eye toward future reparations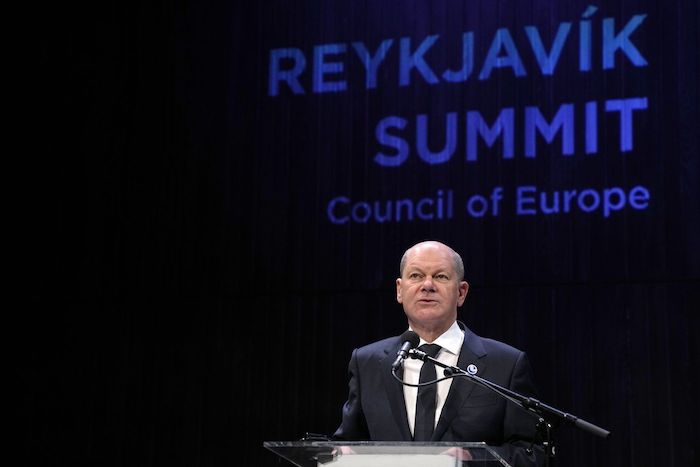 Germany's Chancellor Olaf Scholz speaks during a media conference at the Council of Europe summit in Reykjavik, Iceland, Wednesday, May 17, 2023. Leaders from across Europe were wrapping a two-day summit on Wednesday, putting the final touches on a system to establish the damage Russia is causing during the war in Ukraine, in the hopes it can be forced to compensate victims and help rebuild the nation once the conflict is over. (AP Photo/Alastair Grant)
By Molly Quell in Reykjavik
REYKJAVIK, Iceland (AP) — More than 40 nations agreed Wednesday to set up a system to tally the damage Russia has inflicted on Ukraine in the hope of getting reparations, adding to the international legal challenges the Kremlin is facing.
The register of damages, which will allow Ukrainian victims of war to catalog the harm they have suffered, found a plethora of support among the 46-nation Council of Europe summit in Iceland. Participants also discussed the details of a potential future tribunal where Russia would face charges for waging war.
"This Reykjavik summit shows clearly that Putin has failed with his calculations – he wanted to divide Europe and has achieved the opposite," said German Chancellor Olaf Scholz. "We stand closer together in Europe than ever before."
While leaders were at the waterside venue on the far-flung island nation for two days, the United Nations' top court announced it would hold hearings next month in a case between Russia and Ukraine. Kyiv claims Moscow is discriminating against minority groups in occupied Crimea and is financing terrorism in the region.
But even if Ukraine prevails at The Hague-based International Court of Justice, a ruling wouldn't make whole the millions of Ukrainians whose homes and lives have been torn apart by the conflict.
In theory, victims might have better luck at the Council of Europe's own court, the European Court of Human Rights, where Moscow is facing thousands of complaints of human rights violations, including three brought by Ukraine. The Strasbourg-based court can order countries to pony up restitution, but Russia's neighbor Georgia has been yet unable to collect for damages inflicted by Moscow when it invaded in 2008.
However, Russia was expelled from the council last year, in the wake of the full-scale invasion of Ukraine. And as long ago as 2015, it passed a law allowing it to overrule judgements from the ECHR.
Neither the court, nor the council, now has any channel of communication with the Russian authorities.
The damages register is seen as a first step toward justice in Ukraine. "Accountability is one of the topics that is of crucial importance," Marija Pejcinovic Buric, Secretary General of the Council of Europe, told the AP in an interview.
Compiling a comprehensive register of the destruction may be a first step: it's unclear what else might follow. The Council of Europe has made it clear that it will not assess the credibility of any claims, nor will it fund reparations payments. Those decisions will be left for other potential future institutions to determine.
Little wonder that Ukrainian President Volodymyr Zelenskyy, addressing the summit from Kyiv, reiterated his country's wish for such a court specifically for the prosecution of Russian aggression. In addition to military aid, another conference topic, he said his country needed "100% of justice, as there will be no reliable peace without justice."
While international institutions may be bogged down in overcoming legal hurdles to accountability, a group of squatters in Amsterdam has cut through the red tape – and the locks of the $3.5 million Amsterdam home belonging to one of Russia's sanctioned oligarchs.
A court in the Dutch city ruled on Wednesday that an anarchist group, who took over the Russian tech billionaire Arkady Volozh's house in October, could remain in the five-story, 19th-century mansion so long as they didn't annoy the neighbors.
Putin, Zelenskyy agree to meet with 'African leaders peace mission,' says South Africa president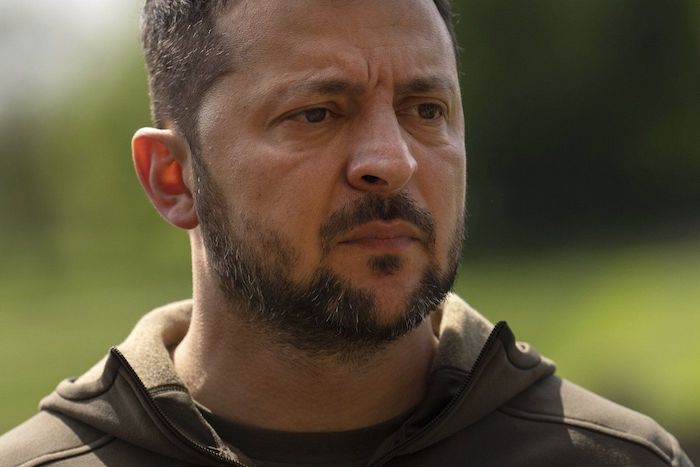 Ukraine's President Volodymyr Zelenskyy listens during a press conference with Britain's Prime Minister Rishi Sunak, in the garden at Chequers, in Aylesbury, England, on May 15, 2023. South African President Cyril Ramaphosa said Tuesday May 16, 2023 that his Russian and Ukrainian counterparts have agreed to separate meetings with a delegation of African heads of state to discuss a possible plan to end the war in Ukraine. (Carl Court/Pool via AP, File)
By Gerald Imray in Cape Town
CAPE TOWN, South Africa (AP) — Russian President Vladimir Putin and Ukrainian President Volodymyr Zelenskyy have agreed to separate meetings with a delegation of leaders from six African countries to discuss a possible plan to end the war in Ukraine, South Africa's president said Tuesday.
South African President Cyril Ramaphosa said he spoke with Putin and Zelenskyy by phone over the weekend and they each agreed to host "an African leaders peace mission" in Moscow and Kyiv, respectively.
"Principal to our discussions are efforts to find a peaceful resolution to the devastating conflict in the Ukraine," Ramaphosa said.
The leaders of Zambia, Senegal, Republic of Congo, Uganda and Egypt would make up the delegation along with Ramaphosa, he said in a statement. Putin and Zelenskyy gave him the go-ahead to "commence the preparations," the South African leader said.
Four of those six African countries — South Africa, Republic of Congo, Senegal and Uganda — abstained from a U.N. vote last year on condemning Russia's invasion. Zambia and Egypt voted in favor of the motion.
Ramaphosa did not give a time frame or outline any parameters for the possible peace talks. Zelenskyy has said he would not consider a peace deal to end the 15-month war until Russian forces withdraw completely from Ukrainian territory.
U.N. Secretary-General António Guterres also was briefed on the African delegation's planned meetings and "welcomed the initiative," Ramaphosa said.
U.N. spokesman Stephane Dujarric confirmed Monday that Ramaphosa spoke to Gutteres Monday afternoon during his visit to Jamaica.
"As we've said before, we are in favor of any initiative that could lead us to a peace in line with the (U.N.) Charter, in line with international law and in line with General Assembly resolutions," Dujarric said.
The announcement of the African-led peace effort came as Russia launched a heavy air attack on Kyiv.
There was no immediate reaction Tuesday from either the Kremlin or Kyiv. A readout from a phone conversation Putin and Ramaphosa had Friday said the Russian leader supported "Cyril Ramaphosa's idea about a group of African leaders participating in the discussion of the prospects of resolving the Ukrainian conflict."
It wasn't clear if that was the phone call Ramaphosa was referring to when he said he spoke with Putin over the weekend.
South Africa's leading position in the African delegation is bound to draw scrutiny. Ramaphosa's announcement came days after the U.S. ambassador accused South Africa of siding with Russia in the war in Ukraine and even providing weapons to help Moscow.
U.S. Ambassador to South Africa Reuben Brigety alleged last week that weapons and ammunition were loaded onto a Russian-flagged cargo ship at a South African naval base in December and taken to Russia. The South African government has denied it sent any weapons to Russia.
Ramaphosa has said the matter is under investigation.
South Africa has claimed its position on the war is neutral. The country has strong historical ties with Russia due to the former Soviet Union's support of South Africa's ruling African National Congress party when it was a liberation movement fighting to end the racist apartheid regime.
South Africa also hosted Russian and Chinese warships for joint naval exercises off its coast in February and which coincided with the one-year anniversary of Russia's invasion of Ukraine. South Africa's top army general traveled to Moscow and met with the commander of the Russian ground forces on Monday.
South Africa maintains it also retains a strong relationship with the United States and other Western supporters of Ukraine. Ramaphosa met with U.S. President Joe Biden at the White House late last year.
Zambia also has historical ties with Russia. Uganda is a U.S. ally on regional security in East Africa, but Ugandan President Yoweri Museveni has spoken of his country's friendship with Russia and its neutral position in the war in Ukraine.
Sipho Mantula, an analyst at South Africa's Thabo Mbeki African School of Public and International Affairs, said the neutrality of some of those African countries would help any talks.
"You don't need people who will take sides and become proxy mediators," Mantula said.
Russia and Ukraine are far apart in terms of an agreement to end the war.
The Kremlin wants Kyiv to acknowledge Russia's annexation of the Crimean Peninsula and the Ukrainian provinces of Donetsk, Kherson, Luhansk and Zaporizhzhia, which most nations have denounced as illegal. Ukraine has rejected the demands and ruled out any talks with Russia until its troops pull back from all occupied territories.
Ukraine is determined to recover all Russian-occupied areas.
Zelenskyy's 10-point peace plan also includes a tribunal to prosecute crimes of aggression, which would enable Russia to be held accountable for its invasion. Zelenskyy had private talks with Pope Francis at the Vatican on Saturday, later saying he sought support for Ukraine's peace plan from the pontiff.
China has been the only other country so far offering to mediate possible peace talks, an offer clouded by its show of political support for Moscow.
Beijing released a proposed peace plan in February, and a Chinese envoy is preparing to visit Russia and Ukraine.
But there appeared to be little chance of an imminent breakthrough to end the war since Ukraine and its Western allies largely dismissed the Beijing's proposal.
___
AP correspondent Hanna Arhirova contributed to this story from Kyiv, Ukraine. AP writers Dasha Litvinova in Talinn, Estonia, Rodney Muhumuza in Kampala, Uganda, and Mogomotsi Magome in Johannesburg also contributed.
___
Follow AP's coverage of the war in Ukraine at https://apnews.com/hub/russia-ukraine