Gazprom says it's cutting gas Nord Stream to 20% of capacity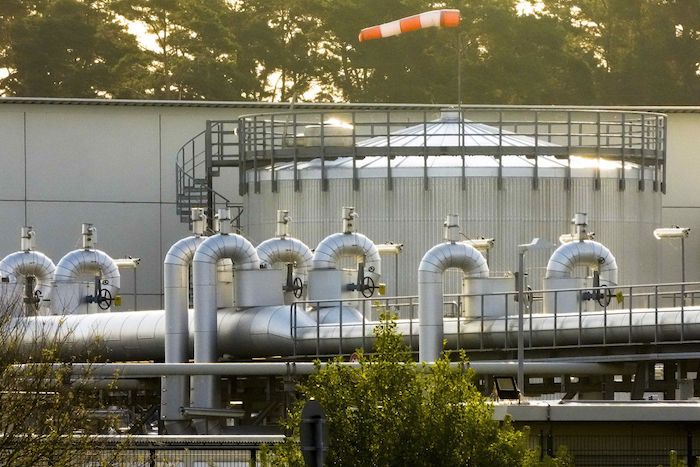 BERLIN (AP) — Russia's Gazprom said Monday that it would further reduce natural gas flows through a major pipeline to Europe to 20% of capacity, citing repairs of equipment.
The Russian state-owned company tweeted that it would reduce "the daily throughput" of the Nord Stream 1 pipeline to Germany to 33 million cubic meters as of Wednesday. The head of Germany's network regulator confirmed the reduction.
"The halving of the nomination of NordStream1 was announced for the day after tomorrow," tweeted Klaus Mueller.
It comes after Gazprom raised questions earlier Monday about the return of a part that has been at the center of tensions over natural gas deliveries through the pipeline, saying that it isn't satisfied with documents it has received.
The company reduced the gas flow through the Nord Stream 1 pipeline by 60% in mid-June, citing alleged technical problems involving the equipment that partner Siemens Energy sent to Canada for overhaul and couldn't be returned because of sanctions over Russia's invasion of Ukraine.
Canada subsequently allowed the turbine for a compressor station at the pipeline's Russian end to be delivered to Germany. That is where the German government said it was last week.
Its return to Russia has turned into a protracted saga, underlining tensions over the war and raising the possibility of even less gas flowing through the pipeline under the Baltic Sea to Germany. Gas is used to keep industry humming, generate electricity and heat homes in the winter, and concerns are rising about a possible recession if Europe does not save enough gas and rationing is required to get through the cold months.
Germany has rejected Gazprom's technical explanation for the gas reduction, saying repeatedly that it was only a pretext for the Kremlin's political decision to sow uncertainty and further push up energy prices. It has said the turbine was a replacement that was only supposed to be installed in September.
Deliveries stayed at 40% of full capacity when Nord Stream 1 reopened after 10 days of scheduled maintenance last week.
In a statement Monday on Twitter, Gazprom said it had received documents for the turbine issued by Canadian authorities but after studying them, "had to conclude that they do not eliminate the previously identified risks and give rise to additional questions."
It also asserted that issues regarding European Union and British sanctions "remain unresolved for Gazprom," though that resolution is important for delivering the turbine "and performing urgent major repair of other turbine engines" for the same compressor station.
The company said it had requested "prompt support" from Siemens Energy to clarify. Germany says all concerned have been informed that the part isn't subject to EU sanctions, and Siemens Energy said it had no update.
The German government said last week that the reduction in gas flows confirmed that the country can't rely on Russian deliveries, announcing that it would step up its gas storage requirementsand take further measures to save gas. Russia recently has accounted for about a third of the country's gas supplies.
____
Follow the AP's coverage of the war at https://apnews.com/hub/russia-ukraine
ConocoPhillips to exercise pre-emptive right; will buy rest of Surmont project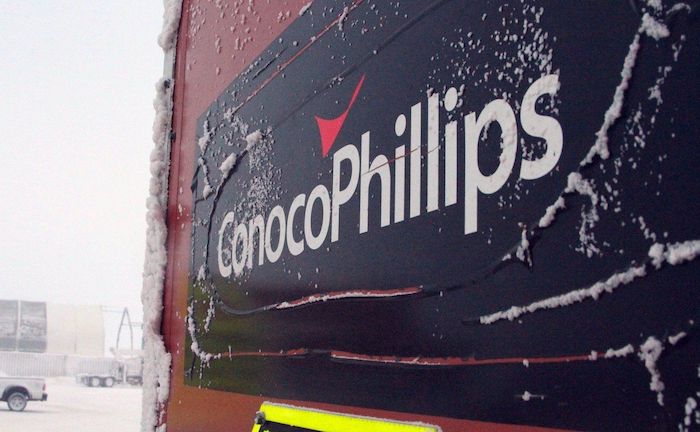 An ice-covered ConocoPhillips sign at the Colville-Delta 5, or as it's more commonly known, CD5, drilling site on Alaska's North Slope is shown on February 9, 2016. THE CANADIAN PRESS/AP, Mark Thiessen
Calgary
ConocoPhillips says it will exercise its right of first refusal and purchase TotalEnergies' 50 per cent stake in the Surmont oilsands project for $4 billion.
The Houston-based oil company is currently the operator and the 50 per cent owner of the in situ oilsands asset near Fort McMurray, Alta.
In April, Suncor Energy Inc. said it would acquire the other half of Surmont, part of a larger $6.1-billion deal that would also see Suncor acquire French company Total's stake in the Fort Hills oilsands project.
But ConocoPhillips says it will pre-empt Suncor and purchase the remainder of Surmont for itself.
The company says it expects the deal will add approximately US$600 million of annual free cash flow in 2024, based on a West Texas Intermediate oil price of US$60.
The deal is expected to close in the second half of 2023, with an effective date of April 1, 2023.
This report by The Canadian Press was first published May 26, 2023.
Companies in this story: (TSX:SU)
Tempers rise as German government's clean heating plans go up in smoke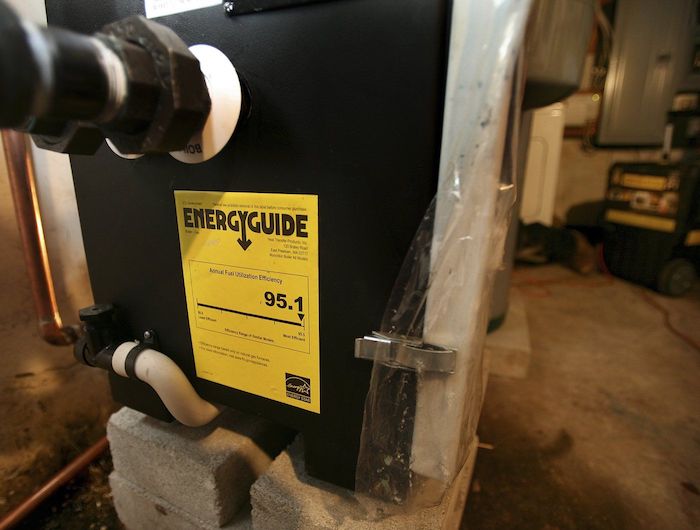 The energy guide of a Munchkin natural gas boiler, part of a super-efficient gas boiler, hot water and air conditioning unit, can be seen at a home in Ossining, N.Y. Friday, Aug. 8, 2008. Germany's government is facing a major test after two junior partners in Chancellor Olaf Scholz's three-party coalition sparred publicly over a key element in the country's ambitious climate policy. (AP Photo/Craig Ruttle, File)
BERLIN (AP) — Germany's government is facing a major test after two junior partners in Chancellor Olaf Scholz's three-party coalition sparred publicly over a key element in the country's ambitious climate policy.
Economy and Energy Minister Robert Habeck of the environmentalist Greens accused the libertarian Free Democratic Party of backtracking on agreements by refusing to let lawmakers debate a bill for replacing home heating systems with greener alternatives.
The bill was approved by Cabinet in March after months of intense haggling between the parties. A major stumbling block was the Green party's demand that the installation of new oil or gas furnaces should be banned from next year to ensure Germany can meet its target of reducing greenhouse gas emissions to net zero by 2045.
A compromise saw numerous exceptions and subsidies included in the bill, but the Free Democrats later said they still had misgivings, meaning it is unlikely to be taken up by parliament before the summer recess.
"In my view this is a breach of promise," Habeck told reporters in Berlin.
"If you enter into government and give your word, then you stand by your word," he added.
Populist newspapers have claimed that installing climate-friendly heat pumps will be hugely expensive and may not be feasible in older buildings, though such systems are widely used in neighboring countries. Experts counter that a failure to replace fossil fuel heatings will end up costing homeowners more as the price of oil and gas rise sharply in the coming decades because of emissions surcharges agreed at the European level.
Scholz has largely tried to sit out the spat between his two junior partners, but told members of his own center-left Social Democratic Party on Tuesday that Germany's transformation to a carbon-neutral economy can only succeed if politicians can convince voters that their fears are taken seriously and the changes will benefit them.