FTX founder keeps talking, ignoring typical legal strategy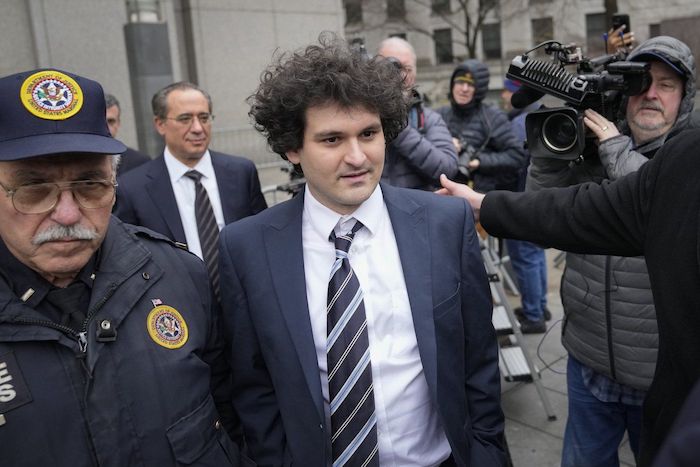 By Ken Sweet in New York
NEW YORK (AP) — For federal prosecutors, Sam Bankman-Fried could be the gift that keeps on giving.
After the November collapse of FTX, the cryptocurrency exchange he founded in 2019, Bankman-Fried unexpectedly gave a series of interviews intended to present his version of events. He was indicted in December and charged with perpetrating one of the biggest frauds in U.S. history — and he's still talking, either in person or on the internet.
The atypical chattiness for a criminal defendant is likely causing Bankman-Fried's attorneys to scratch their heads, or worse. Prosecutors can use any statements, tweets or other communications against him at his trial, which is scheduled for October.
"Prosecutors love when defendants shoot their mouths off," said Daniel R. Alonso, a former federal prosecutor who is now a white-collar criminal defense attorney. If Bankman-Fried's public comments before trial can be proven false during the trial, it may undermine his credibility with a jury, he said.
Bankman-Fried's most immediate concern, however, is a recent private communication. Prosecutors say he sent an encrypted message over the Signal texting app on Jan. 15 to the general counsel of FTX US, a likely witness for the government. Bankman-Fried will be back in a New York court Thursday, where a judge could impose new bail restrictions because of what could be seen as an attempt to influence a witness.
Before its collapse, FTX was the world's second-largest crypto exchange and Bankman-Fried, 30, was its CEO and a billionaire several times over, at least on paper. Celebrities and politicians alike vouched for FTX and its founder, and Bankman-Fried was considered a leading figure in the crypto world.
However, the broad collapse of cryptocurrencies last year caused severe financial stress for numerous companies in the crypto universe, from lenders to exchanges to firms focused on investing in digital assets. FTX sought bankruptcy protection in November after customers pulled out their money in the crypto equivalent of a bank run.
Federal prosecutors have said Bankman-Fried devised "a scheme and artifice to defraud" FTX's customers and investors right from FTX's inception. They say he illegally diverted their money to cover expenses, debts and risky trades at Alameda Research, the crypto hedge fund he started in 2017, and to make lavish real estate purchases and large political donations.
In interviews and Twitter posts, Bankman-Fried has said he never intended to defraud anyone. He's maintained that running FTX took up all his time and that he was unaware of the financial problems at the hedge fund until it was too late.
Those assertions are likely to be refuted by one of the government's key witnesses. Caroline Ellison, the former CEO of Alameda, has agreed to plead guilty for her role in FTX's collapse and to testify against Bankman-Fried. In a plea hearing in December, Ellison said she knew FTX had used billions in customer funds to make loans to Alameda and agreed with Bankman-Fried and others to take steps to conceal the nature of the loans.
Gary Wang, who co-founded FTX with Bankman-Fried, also struck a deal for cooperation. At his own plea hearing, Wang said that he made changes to computer code to enable FTX customer funds to be transferred to Alameda.
Another claim made often by Bankman-Fried is that he's trying to help recover funds for FTX customers, but that FTX's new management has cut him off and has taken steps, including filing for bankruptcy protection, that could inhibit customers from getting their money back.
For instance, Bankman-Fried says that when FTX collapsed, outside parties had made funding offers totaling billions of dollars, and if given a few weeks the company could have raised enough money "to make customers substantially whole." Instead, it was "strong-armed" into filing for bankruptcy protection by its main law firm, Sullivan & Cromwell, a claim the firm denies.
Bankman-Fried has also frequently taken issue with decisions made by FTX's new CEO, John Ray. Bankman-Fried has often claimed that FTX's U.S. operation, which was considerably smaller than the international operations, was solvent at the time of the bankruptcy filing, a contention that Ray disputes.
"I'm still waiting for him to finally admit that FTX US is solvent and give customers their money back," Bankman-Fried tweeted on Jan. 19.
Bankman-Fried was scheduled to testify under oath in front of Congress in December with Ray, but that appearance was cancelled because of his arrest in the Bahamas, where FTX is based.
"The real risk Bankman-Fried runs in making public comments 'explaining' what happened is they could be seen as continuing efforts to mislead investors by regulators and prosecutors," said Jeff Linehan, a former prosecutor in the financial crimes division of the New York State Attorney General's Office. Linehan is now a criminal defense attorney.
Bankman-Fried's comments at the time of FTX's collapse could also come back to haunt him. On Nov. 7, as customers furiously demanded their money back, he tweeted "FTX is fine. Assets are fine." He deleted the tweet the next day. On Nov. 11, FTX filed Chapter 11.
Through a spokesman, Bankman-Fried decline to comment for this article.
Some defendants will go through their entire legal ordeal without saying anything that isn't first cleared by their attorneys. Even putting defendants on the witness stand at trial has long been seen by defense attorneys as a last-resort option because it opens them up to interrogation by prosecutors and often does more harm than good.
"As the prosecution prepares their case, it's really important to figure out what the defense's strategy could be, and a defense wants to keep that strategy under wraps as much as possible," said Alonso, the former federal prosecutor.
Bankman-Fried faces the possibility of decades in prison if convicted on all counts. Even if he were to agree to a plea bargain, a judge would have full discretion on what sentence to impose. If the judge does not believe Bankman-Fried is truly sorry for his actions, based partly on his public statements, he could ignore the prosecution's recommendations and imposing a stricter sentence, legal experts say.
Before FTX collapsed, Bankman-Fried had built up a gigantic public persona. He spoke often to reporters, testified in front of Congress, and appeared at conferences to advocate for cryptocurrencies and his firm. He gave millions of dollars to political candidates and advocated for charitable causes such as food issues in the Bahamas. It could be difficult to give up that sort of public influence.
"Some people simply can't help themselves," Alonso said.
Feds open to cutting plastic production but global agreement will be hard: Guilbeault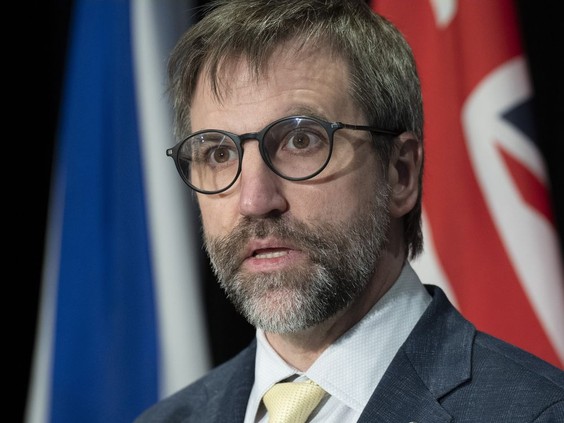 Minister of Environment and Climate Change Steven Guilbeault responds to a question during a news conference following meetings Friday May 26, 2023 in Ottawa. Guilbeault says he is not opposed to cutting back on how many plastic products are made as the world works towards a global treaty to eliminate plastic pollution.THE CANADIAN PRESS/Adrian Wyld
OTTAWA — Canada is open to the idea of including a requirement to cut back on the production of plastic in a new global treaty to eliminate plastic pollution, Environment Minister Steven Guilbeault said Friday.
But he said that may become one of the biggest sticking points in the negotiations, which are supposed to conclude at the end of next year.
"The idea that we might have to commit to reducing the use of plastics will be something that's going to be difficult for some countries to agree to," said Guilbeault in an interview.
At the United Nations Environment Assembly in March 2022, 175 nations agreed to launch talks to create a global plastics treaty to eliminate plastic waste by the end of 2024.
The second round of those talks wrapped up in Paris Friday with an agreement to start drafting the treaty, which is supposed to be ready by the end of 2024.
There are three more rounds of talks guaranteed before then, and Guilbeault said Canada is going to host the next round about a year from now.
Plastic pollution has become a global scourge, choking marine life and contributing to biodiversity loss. Less than one-tenth of it is recycled, including in Canada, and scientists believe almost nine million tonnes ends up in the oceans each year. Canadians produce about 2.9 million tonnes of plastic waste each year that isn't recycled or incinerated.
Canada has set a domestic goal to eliminate plastic waste by 2030.
Environment groups say the only true way to eliminate plastic pollution is to make less plastic in the first place.
"We need significant cuts to production and we need to ultimately phase out virgin production," said Sarah King, the plastics campaign manager at Greenpeace Canada.
"And we need Canada to get to a place where they're willing to to support that publicly and to champion that in treaty negotiations."
French President Emmanuel Macron said at the outset of the Paris negotiations earlier this week that the talks should prioritize reducing the production of plastics.
King said Canada has been supportive of restraining production. But she said what the treaty needs is a direct cap on plastic production and a phase-down over time.
Guilbeault said he is "not opposed" to putting limits on production but is careful to say eliminating plastic pollution means using plastic more carefully, not eliminating its use altogether.
"So the idea of producing plastic and then using it for five minutes or an hour or a day or two weeks and then throwing it away will be something of the past," he said. "Will it mean that we will consume less plastic? It's hard to tell, but I think a reasonable answer would be yes."
NDP MP Gord Johns, who successfully pushed a motion in Parliament five years ago calling for a national strategy to address plastic pollution, said Canada needs to be more clear about its position.
"Right now we hear President Macron take leadership, committing to cutting upstream production," Johns said.
"And we need that same leadership from the prime minister here in Canada."
Johns said Canada also needs to show leadership by living up to promises to stop exporting its plastic waste problem.
Following the embarrassment when Canadian plastic garbage was found rotting in the Philippines in 2019, Canada said it would work with the Canada Border Services Agency to halt exports of contaminated plastic. It also agreed to amendments to the United Nations Basel Convention that meant after Jan. 1, 2021, Canada must export plastic waste only to other convention members with consent and confirmation of how the waste would be disposed.
In the two years since, Canada's exports of plastic garbage have increased — mainly to the United States, which is not part of the convention. That means Canada doesn't know what happens to its plastic waste and that it could be shipped to the very developing countries Canada has committed to protecting.
The Basel Action Network said Canada's plastic exports increased 13 per cent in 2021 to 170 million kilograms, and another eight per cent in 2022 to 183 million kilograms.
That's about the combined weight of 30,000 elephants.
More than 90 per cent in both years was destined initially for the United States.
Guilbeault had said he would direct his department to end that practice more than a year ago. He said Friday an announcement is coming soon.
He also said he intends to launch another update of the Canada Environmental Protection Act that will include stronger powers to tackle that problem. That bill, known as CEPA, is in the final stages of debate in the Senate before it's expected to pass.
This report by The Canadian Press was first published June 2, 2023.
Virgin Galactic completes final test flight before launching paying customers to space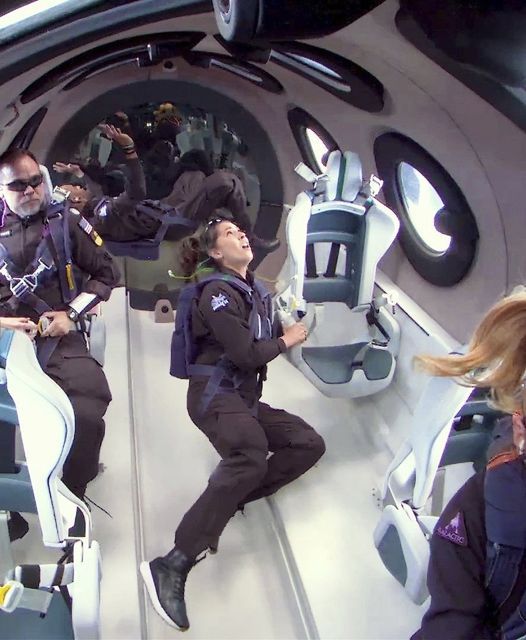 Huie, left, instructor Luke Mays, center, and mission specialist Jamila Gilbert during a test flight on Thursday, May 25, 2023. Virgin Galactic completed what's expected to be its final test flight Thursday before taking paying customers on brief trips to space. (Virgin Galactic via AP)
ALBUQUERQUE, N.M (AP) — Virgin Galactic completed what is expected to be its final test flight Thursday before taking paying customers on brief trips to space, marking what the space tourism company described as a "fantastic achievement" in what has been a long road to commercial operations.
Six of the company's employees, including two pilots, landed at Spaceport America in southern New Mexico after the short up-and-down flight that included a few minutes of weightlessness. It took about an hour for the mother ship to carry the spaceplane to an altitude of 44,500 feet (13,563 meters), where it was released and fired its rocket motor to make the final push.
"Successful boost, WE HAVE REACHED SPACE!" Virgin Galactic tweeted.
It reached an altitude of 54.2 miles (87 kilometers) before gliding back down to the runway, according to the company.
Jamila Gilbert, who grew up in southern New Mexico and leads the company's internal communications, was among those on board who were evaluating what it will be like for paying customers.
It was hard for her to put the experience into words, saying it probably will take a lifetime to process the sights and the feelings that filled those moments between the rocket igniting and the spaceship reaching its highest point.
"It was just this magnetic pull," she said in an interview. "Once I started looking out, I could feel that I was floating. I could hear voices. But I couldn't stop looking at the planet, and I couldn't look away."
Fellow crew member Christopher Huie said it seems as if everything stopped when the spaceship was released from the carrier plane.
"You're just waiting for the rocket to light," said Huie, an aerospace engineer. "And I think that moment had so much anticipation, and I could have lived in that moment forever."
Then came a little jostle with the firing of the rocket, and the crew were pinned to their seats as the G-forces kicked in.
The flight came nearly two years after founder Richard Branson beat fellow billionaire and Amazon founder Jeff Bezos and rocket company Blue Origin into space. Bezos ended up flying nine days later from West Texas, and Blue Origin has since launched several passenger trips. Federal aviation authorities banned Virgin Galactic launches after Branson's flight to investigate a mishap.
Virgin Galactic has been working for more than a decade to send paying passengers on short space hops and in 2021 finally won the federal government's approval.
The next step will be for Virgin Galactic to analyze data from Thursday's flight and inspect the planes and other equipment as the company prepares for commercial service, possibly as soon as late June.
Virgin Galactic CEO Michael Colglazier has acknowledged the delays and missed deadlines over the years. But on Thursday, he said seeing the crew's reactions after landing gave him confidence in what the company has built so far.
The initial commercial flight will include members of the Italian AirForce who will conduct experiments. Next will come customers who purchased tickets years ago for their chance at weightlessness aboard a winged spacecraft that launches from the belly of an airplane.
About 800 tickets have been sold over the past decade, with the initial batch going for $200,000 each. Tickets now cost $450,000 per person.
Virgin Galactic has reached space five times since 2018 and will be aiming for 400 flights per year from Spaceport America once it finishes building its next class of rocket-powered planes at a facility in neighboring Arizona.
After Branson's trip, the Federal Aviation Administration grounded flights as it investigated a problem that caused the rocket ship to veer off course during its descent back to its runway in the New Mexico desert. Virgin Galactic insisted at the time that Branson and others were never in any danger.
The company made changes to its carrier airplane and the spaceplane. The delay was nearly twice as long as expected, partly because of supply chain issues and labor shortages.
Branson joined a group of customers who watched Thursday's flight from Spaceport America.
Huie, a senior manager with Virgin Galactic's flight sciences engineering team, said the company is ready for commercial service and will be expanding its fleet over the coming years.
"We're looking to scale up in a big way," he said, "and the goal is to populate lots of spaceports with lots of spaceships and motherships and send hundreds of people every year to space."
Virgin Galactic founder Richard Branson answers students' questions during a news conference at Spaceport America near Truth or Consequences, N.M., on July 11, 2021. Virgin Galactic completed what's expected to be its final test flight Thursday, May 25, 2023, before taking paying customers on brief trips to space. The company is planning its first commercial flight, a science mission with the Italian Air Force, in late June. (AP Photo/Susan Montoya Bryan, File)