Former BoC governor Stephen Poloz warns against entrenching inflation in expectations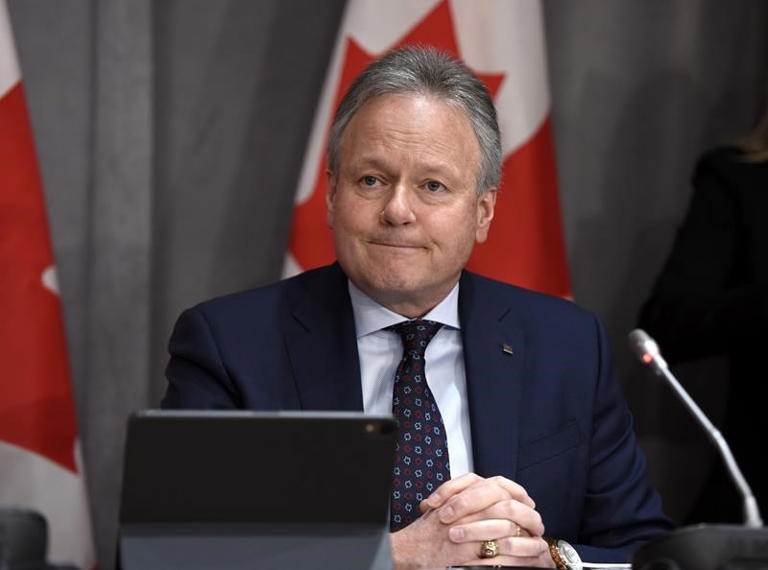 BANFF, Alta. — Preventing current high inflation levels from becoming embedded into the public's expectations is key if the country is to avoid falling into recession, former Bank of Canada governor Stephen Poloz said Thursday.
Poloz, who was head of the bank for seven years until his term expired in June of 2020, made the comments during an interview in Banff, Alta., where he was a speaker at the Global Business Forum, an annual conference that attracts executives and business leaders from around the world.
Poloz said he believes the current cycle of high inflation is transitory, pointing to the latest monthly reading from Statistics Canada showing inflation is already beginning to ease — in spite of the fact, Poloz said, that interest rate hikes already implemented by central bankers have barely had time to have an effect.
"It means it (inflation) is going to go away more or less by itself in time. But if it takes one year for it to climb up, it has to take a full year for it to flatten and another full year for it to go away," Poloz said.
He said it's possible inflation could return to the Bank of Canada's target rate of two per cent without a severe or even a mild recession. He pointed out the Canadian economy is in a strong position, with a strong labour market, high levels of income and household savings, and encouraging levels of corporate investment.
However, he also said there's no guarantee of a soft landing. A major geopolitical event that causes a dramatic spike in the price of oil, for example, could cause a recession all on its own regardless of interest rates or any other factor.
Poloz said one of the biggest risks is actually the public's expectations. If people become convinced that high inflation is here to stay, he said, that could lead to higher wage settlements that are difficult to reverse.
Spiralling wages in turn could drive inflation even higher, forcing the need for a more difficult economic contraction to get the cost of living under control.
"The risk is (inflation) infects our economy, it gets embedded and stays there, to some degree," Poloz said. "Of course it would never be near 100 per cent, but it could be meaningful."
Poloz said the fact that most Canadians no longer remember this country's last period of high inflation, which occurred in the late 1970s and early 1980s, is a positive in that it makes it more likely they will view the current cycle as a short-term event.
Poloz's hopeful tone Tuesday was a marked contrast to the message just one day prior from U.S. Federal Reserve Chair Jerome Powell.
Speaking at a news conference after the Fed announced a substantial rate hike of three-quarters of a percentage point, Powell acknowledged what many economists have been saying for months: That the Fed's goal of engineering a "soft landing" — in which it would manage to slow growth enough to curb inflation but not so much as to cause a recession — looks increasingly unlikely.
"No one knows whether this process will lead to a recession or, if so, how significant that recession would be," Powell said, adding that before the Fed's policymakers would consider halting rate hikes, they would have to see continued slow growth, a "modest" increase in unemployment and "clear evidence" that inflation is moving back down to their 2 per cent target.
"We have got to get inflation behind us," Powell said. "I wish there were a painless way to do that. There isn't."
Earlier this month, the Bank of Canada raised its own key interest rate by three-quarters of a percentage point and signalled this won't be the last increase as it continues its battle against high inflation.
In Banff on Thursday, Poloz said no one truly knows what is going to happen as central bankers around the world look to downshift from an overheated economy.
"It's like landing a plane in the fog," Poloz said. "You won't really know until you feel the wheels touch down, and you're hoping it's going to be soft."
— With files from The Associated Press
This report by The Canadian Press was first published Sept. 22, 2022.
Amanda Stephenson, The Canadian Press
Canada's top five federal contaminated sites to cost taxpayers billions to clean up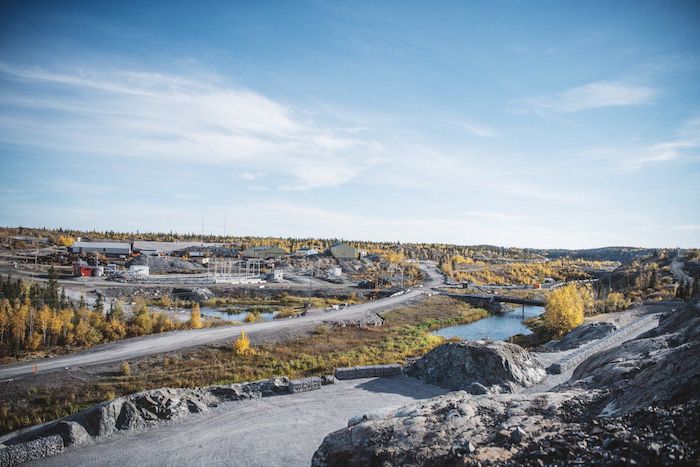 By Emily Blake in Yellowknife
With a cost estimate of $4.38 billion, remediation of the Giant Mine, one of the most contaminated sites in Canada, is also expected to be the most expensive federal environmental cleanup in the country's history.
The figure, recently approved by the Treasury Board of Canada, spans costs from 2005 until 2038, when active remediation at the former Yellowknife gold mine is anticipated to end. That includes $710 million the federal government said has already been spent, but does not include costs for long-term care and maintenance.
"It doesn't bother me so much that it's going to cost $4 billion to clean up Giant Mine. What really bothers me is that the taxpayer is covering that cost," said David Livingstone, chair of the Giant Mine Oversight Board.
It indicates the federal government failed to ensure private developers provided financial security to remediate sites. He said while that has improved over time, there will likely be more issues in the future.
"We as a society need to get a better handle on what it costs us to support mining industry and oil and gas industry," he said. "If the numbers suggest that it's going to cost more to clean up a site than that site generated in revenue to the Crown, we've got a problem."
There are more than 20,000 locations listed in the federal contaminated sites inventory, from dumps and abandoned mines to military operations on federal land.
Environment and Climate Change Canada says that after Giant Mine, the four most expensive cleanups are the Faro Mine in Yukon, the Port Hope Area Initiative in Ontario, Esquimalt Harbour in British Columbia and Yukon's United Keno Hill Mine.
More than $2 billion has been spent on the five sites so far, and it's anticipated they will cost taxpayers billions more in the coming years. Their final price tags are not yet known.
The most recent numbers from the Treasury Board of Canada indicate more than $707 million has been spent on remediation, care and maintenance at Faro Mine, a former open pit lead-zinc mine. Its remediation project is expected to take 15 years to complete and is currently estimated to cost $1 billion, plus $166 million for the first 10 years of long-term operation and maintenance.
Parsons Inc. was awarded a $108-million contract in February for construction, care and maintenance at Faro Mine until March 2026, with the option to extend the contract for the duration of active remediation. The company said the contract could ultimately span 20 years and exceed $2 billion.
In 2012, Ottawa committed $1.28 billion in funding over 10 years for the cleanup of historical low-level radioactive waste in the municipalities of Port Hope and Port Grandby, Ont. To date more than $722 million has been spent on assessment and remediation.
The Port Grandby Project was completed earlier this year and has moved into long-term monitoring for hundreds of years. The Port Hope cleanup, which started in 2018, will continue into 2030.
The cleanup in the Esquimalt Harbour seabed in Victoria currently has a budget of $162.5 million. Roughly $214 million has already been spent on remediation and assessment. The Department of National Defence said that may include costs before 2015, when the remediation project began.
Cleanup of United Keno Hill Mine, a historical silver, lead and zinc mining property near Yukon's Keno City, is estimated to cost $125 million, including $79 million during its active reclamation phase. That is expected to begin in 2023 and take five years, followed by a two-year transition phase then long-term monitoring and maintenance. More than $67 million has been spent on remediation, care and maintenance at the site so far.
Other costly federal sites that have been cleaned up include the Cape Dyer Dew-Line, 21 former radar stations across the Arctic, for $575 million, the Sydney tar ponds and coke ovens on Cape Breton Island, N.S., for nearly $398 million, and the 5 Wing Goose Bay air force base in Labrador, for $142.9 million.
The 2022 public accounts state the gross liability for the 2,524 federal contaminated sites where action is required is nearly $10 billion based on site assessments. Of the 3,079 unassessed sites, 1,330 are projected to proceed to remediation with an estimated liability of $256 million.
The federal contaminated sites action plan was established in 2005 with $4.54 billion in funding over 15 years. That was renewed for an additional 15 years, from 2020 to 2034, with a commitment of $1.16 billion for the first five years.
Jamie Kneen with MiningWatch Canada said the contamination from Giant Mine highlights the importance of the planning and assessment process for development projects.
"If you don't actually do any planning around something, you can end up with a pretty horrible mess," he said. "In this case, it killed people before they started even capturing the arsenic. We don't want that to happen anymore."
This report by The Canadian Press was first published Nov. 27, 2022.
___
This story was produced with the financial assistance of the Meta and Canadian Press News Fellowship.
Saskatchewan government deciding what to do with new revenue from carbon pricing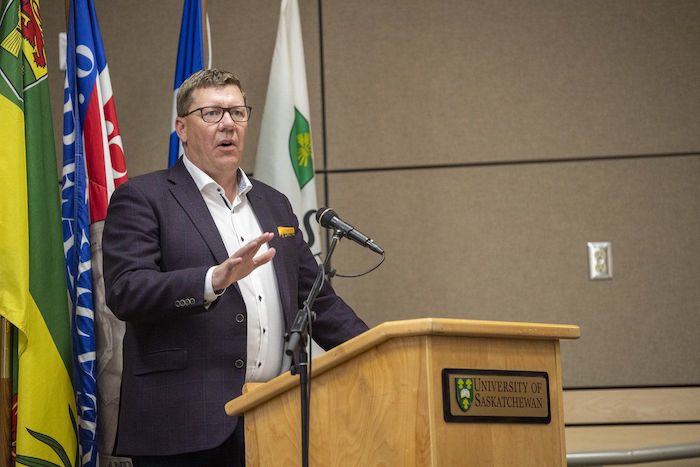 By Mickey Djuric in Regina
Saskatchewan is to soon gain control of the carbon pricing charge that shows up on residents' power bills.
However, Premier Scott Moe and his Saskatchewan Party government are still mulling over how that new revenue should be spent.
Since 2019, a carbon backstop has been placed on Saskatchewan Power Corporation bills to account for its greenhouse gas emissions.
The money has been going to the federal government, but starting in January the money will be staying in the province.
This comes after Saskatchewan successfully applied to have natural gas pipelines and power plants regulated through its own carbon-pricing system, and will take full regulatory control over all large greenhouse gas emitters in the province.
Under the program, Saskatchewan will still have to comply with the federal carbon pricing schedule.
Moe has said his government hasn't made a decision whether it will return some of that money collected through power bills back to residents.
"It's fair to say we haven't made that decision yet," Moe said Wednesday.
He said a priority for the government is to invest in Saskatchewan's transition to cleaner power generation.
Moe said he'd like to see some money go toward producing nuclear energy.
Federal government policy aims to reach a net-zero grid by 2035. This is putting pressure on Saskatchewan to transition away from coal and natural gas — power generation it mainly relies on to keep the lights on in the province.
To support a transition to cleaner energy, the modernization of Saskatchewan's electrical grid will be essential, SaskPower, the province's Crown electrical utility, said in its 2021-22 report.
"We need to make responsible decisions of how we are making those investments, but we also want to do everything we can to keep power affordable for Saskatchewan residents," Moe said.
The Opposition New Democrats have taken a similar viewpoint.
NDP Leader Carla Beck said Thursday that she wants to see a plan for the money that involves reliable energy that reduces emissions and doesn't stick Saskatchewan people with power sources they can't afford.
"These are huge investments, huge considerations for the future of this province," she said.
This report by The Canadian Press was first published Nov. 24, 2022.