Flight issues? Here's what you need to know about getting compensation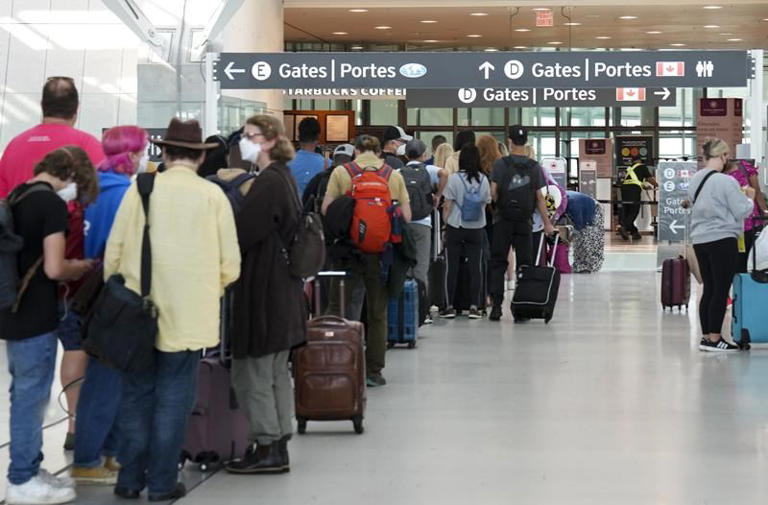 Delayed and cancelled flights are a reality this summer amid surging demand for travel, so customers should know whether they can expect compensation from airlines under federal regulations.
The Air Passenger Protection Regulations say ticket holders are entitled to financial compensation if they arrive at their destination at least three hours late, or if their flight was cancelled and the disruption was unrelated to safety issues or outside the airline's control.
Some airlines have been criticized over their explanations for the disruptions, including both Air Canada and WestJet citing staffing shortages as a safety issue. The Canadian Transportation Agency has disputed lack of staff as valid under compensation rules.
A July 8 ruling by the CTA said the threshold was high for an airline to use staffing shortages as a safety issue and found in that instance that WestJet had not met it, ordering the airline to pay what was owed to the traveller.
The CTA previously looked into the issue of cited reasons for disruptions in 2020 and found there were multiple communication issues leading to passenger frustration, but found no evidence that the airlines deliberately mischaracterized the reasons for delays and cancellation.
To dispute an airline's decision, customers need to file a request in writing for compensation to the airlines, which then have 30 days to respond.
If a traveller is unsatisfied with the airline's response they can then file a complaint to the CTA though the agency's website, but a huge backlog means travellers could have to wait some time to get a response.
The CTA faced a total of 28,673 complaints for the year up to March 31, including 12,158 new complaints and the carry-over of 16,515 reports from the previous fiscal year. Of the total, about half involved flight disruptions, while ticketing and reservations complaints also numbered in the thousands.
The higher numbers come even though many travellers don't bother to appeal their decision. Up to two-thirds of Canadian claimants give up their claim after an initial rejection by the airline, according to an online YouGov survey in 2019, though awareness of the new rules could have improved since then.
Appealing could well be worthwhile though, as a 2019 study from AirHelp, a German company that helps process claims, found that airlines wrongfully reject more than 50 per cent of valid claims at first.
The potential payouts for customers vary depending on a few factors including how lengthy the delay, how big the airline, and how much notice was given, as well as the question of whether the issue was within the airline's control and not a safety issue.
If the trip was cancelled within 14 days or less, passengers are owed $1,000 for a cancellation or delay of nine hours or more, and between $400 and $700 for delays of three to nine hours.
For those informed more than two weeks in advance, they are owed alternate travel arrangements or a refund, at the traveller's choice.
No matter how long the notice, a passenger who opts to reject a rebooking should receive $400 in compensation from large airlines and $125 for small airlines, on top of a refund.
Those denied boarding, such as from overbooking, could see between $900 and $2,400 depending on how much it delays their arrival, while there are also rules on compensation for lost and damaged baggage that can go up to $2,300.
Added rights also come into force on Sept. 8 where even if the cause of the delay is outside the airline's control, they must rebook the traveller within 48 hours on their or a competitor's flight or the traveller will be eligible for a refund.
Previously, the passenger rights regime only required refunds for flight disruptions that were within the airline's control, which excluded situations ranging from weather to war to unscheduled mechanical issues.
This report by The Canadian Press was first published Aug. 8, 2022.
The Canadian Press
Quebec says only people at risk who haven't had COVID-19 should get booster dose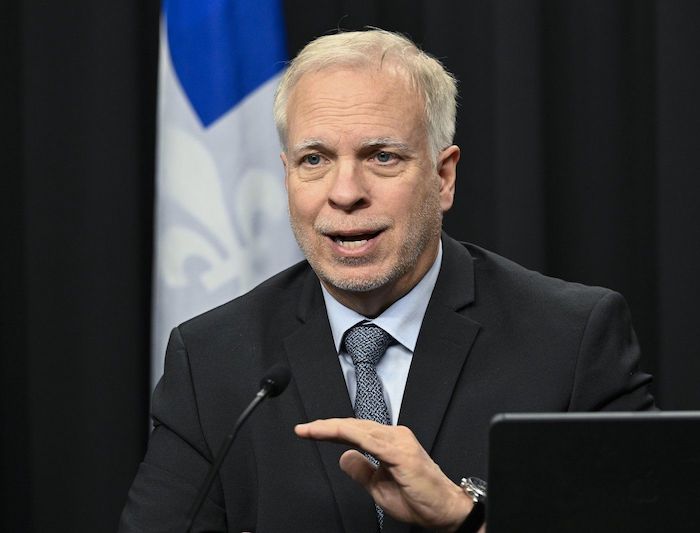 Only people who are considered at risk for severe COVID-19 — and who haven't already been infected — need to get a booster dose, Quebec's public health director said Thursday.
The vast majority of Quebecers have hybrid immunity — protection through vaccination and through a SARS-CoV-2 infection — making regular boosters unnecessary, at least for this winter and spring, Dr. Luc Boileau told reporters.
"People with hybrid immunity … have a very good protection against a severe form of the illness," Boileau said. "And this immunity lasts for a long enough time that we can propose changes."
Those who have been vaccinated but haven't contracted the virus are also protected against severe COVID-19, he said, but their immunity "has a tendency to drop with time."
Quebec's vaccination committee decided to focus the province's immunization policy on preventing hospitalizations and deaths, he said. People who are 60 and older or who have chronic illnesses, health workers, pregnant women and those who live in isolated regions are among the people who should get a booster every six months — but only if they have never caught the virus, Boileau said.
Dr. Caroline Quach-Thanh, chairperson of Quebec immunization committee, said the data shows that people already vaccinated for COVID-19 who have contracted the virus "maintain their protection."
"Adding a dose doesn't add a lot protection for severe (illness)," she said.
Health officials estimate that more than three-quarters of Quebecers under 60 have had COVID-19 over the past three years, while about half of those over 60 have caught the virus.
Boileau said only people who are immunocompromised should continue getting boosters even if they've been infected, "because their immunity could be affected by their condition."
Before Thursday's announcement, boosters were recommended for all people considered at risk of severe COVID-19. Boileau said COVID-19 vaccines will remain available to anyone who wants one. "We won't refuse anyone," he said.
This report by The Canadian Press was first published Feb. 2, 2023.
Senate passes Liberals' controversial online streaming act with a dozen amendments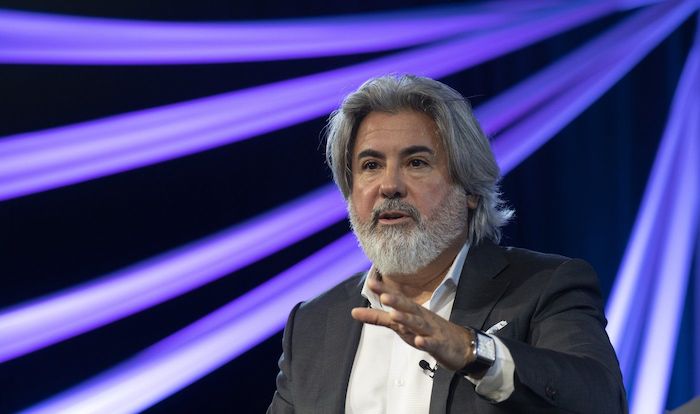 By Mickey Djuric in Ottawa
Big tech companies that offer online streaming services could soon be required to contribute to Canadian content as a controversial Liberal bill gets one step closer to becoming law.
The Senate has passed the online streaming act known as Bill C-11 with a dozen amendments following a lengthy study by senators.
The bill would update Canada's broadcasting rules to reflect online streaming giants such as YouTube, Netflix and Spotify, and require them to contribute to Canadian content and make it accessible to users in Canada — or face steep penalties.
Canadian Heritage Minister Pablo Rodriguez says he hopes the House of Commons will pass the bill next week after it reviews the Senate's changes.
Senators made amendments intended to protect user-generated content and highlight the promotion of Indigenous languages and Black content creators.
They also included a change that would prohibit CBC from producing sponsored content, and another that would require companies to verify users' ages before they access sexually-explicit material.
Rodriguez said Thursday that the Liberal government would not accept all of the Senate's recommendations, but he didn't say which ones he disagrees with.
"We'll see when the bill comes back. There are amendments that have zero impact on the bill. And others that do, and those, we will not accept them," the minister said Thursday during a Canadian Media Producers Association panel.
The Senate also removed a clause in the bill that Sen. Paula Simons described as giving "extraordinary new powers to the government to make political decisions about things."
Ian Scott, the former chair of Canadian Radio-television and Telecommunications Commission, had told a Senate committee that some provisions in the bill did move the balance point "slightly closer to lessening the independence" of the regulator — though he insisted that it would remain independent.
The CRTC, now under the leadership of Vicky Eatrides, will be tasked with enforcing the bill's provisions.
The Senate passed the bill on the anniversary of its introduction in the House of Commons.
Between the House of Commons and Senate, there have been approximately 218 witnesses, 43 meetings, 119 briefs and 73 proposed amendments, said Rodriguez.
"It's the longest bill," he said.
The proposed law has come under intense scrutiny amid accusations from companies and critics who said it left too much room for government control over user-generated content and social-media algorithms.
Rodriguez said tech giants can get creative with ways they promote Canadian content, such as with billboards, advertising or, if they so choose, tweaks to their algorithms.
The bill has also caught the attention of the United States. Its embassy in Ottawa recently said that it is holding consultations with U.S. companies that it is concerned could face discrimination if the bill passes.
Last week, two U.S. senators called for a trade crackdown on Canada over Bill C-11, saying that the prospective law flouts trade agreements.
"I'm not worried, because we think it complies with trade obligations," Rodriguez said.
This report by The Canadian Press was first published Feb. 2, 2023.