Final order issued barring mail delivery of tabloid accused of promoting hate
OTTAWA — The federal government has ordered Canada Post to permanently cease delivering a controversial Toronto-based tabloid that has been criticized for promoting hatred against Jews, visible minorities, women and LGBTQ Canadians.
In June 2016, the government issued an interim order to stop delivery of Your Ward News to some 300,000 households through Canada Post's unaddressed bulk mail.
After considering the recommendations of an independent board of review on the matter, Carla Qualtrough, the minister responsible for the post office, has now made that order final. The public services and procurement minister says her decision is consistent with the law and the government's support for diversity and inclusiveness.
Last fall, the tabloid's publisher, LeRoy St. Germaine, and editor-in-chief, James Sears, were each charged with two counts of wilful promotion of hatred against an identifiable group, namely Jews and women.
They were also both charged with uttering death threats against political consultants Warren and Lisa Kinsella, but a judge last month dismissed the charge against St. Germaine.
The Centre for Israel and Jewish Affairs, which had filed a criminal complaint about the tabloid, applauded Qualtrough's decision Thursday to permanently ensure Your Ward News is not disseminated through Canada Post.
"Your Ward News promotes disgusting anti-Semitic conspiracy theories, misogyny, homophobia and racism," Noah Shack, the centre's vice-president for Toronto, said in a statement.
"Our taxpayer-funded mail service should not be used to distribute such hateful content to hundreds of thousands of households."
Until the interim prohibition on delivery, the tabloid had been landing unsolicited every month on the doorsteps of about 300,000 households and businesses in the Greater Toronto Area.
"Just think about a Holocaust survivor picking up their mail only to find neo-Nazi propaganda on their doorstep," said Shack. "This is totally unacceptable."
The Canadian Press
Stand for the 'common person' Pierre Poilievre tells faithful gathered in Ottawa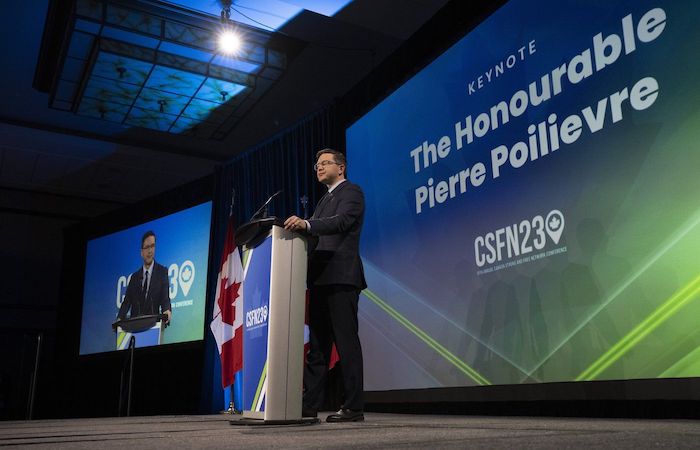 Conservative leader Pierre Poilievre speaks at a conference in Ottawa, Thursday, March 23, 2023. Pierre Poilievre rallied a room conservative faithful gathered in Ottawa Thursday by calling on them to become "champions" of ordinary people. THE CANADIAN PRESS/Adrian Wyld
By Stephanie Taylor in Ottawa
Pierre Poilievre rallied a room of conservative faithful gathered in Ottawa Thursday by calling on them to become "champions" of ordinary people.
It's a picture the Conservative leader has painted before to his party's caucus: one in which the "everyday common person" is under attack by Prime Minister Justin Trudeau.
Throughout his address at the Canada Strong and Free Network event, Poilievre evoked images of the single mother, police officer, farmer and general worker whose interests, he said, are not represented in Ottawa.
"More and more, I see them rising up because they feel like they're losing control over their lives."
Poilievre's refrain — a message he believes will open the party up to a coalition of voters needed to defeat the Liberals — was delivered hours after Alberta Premier Danielle Smith said conservatives across the country have another challenge to overcome: winning in cities.
With Albertans set to go the polls in a provincial election this year, Smith said her United Conservative Party has more ground to gain in the province's two largest cities: Calgary and Edmonton. Insiders predict a competitive race with the Alberta NDP.
Smith replaced Jason Kenney as party leader and premier last fall when he resigned after getting only 51 per cent support in a leadership review.
Kenney, who also attended the conference in Ottawa, faced considerable backlash leading up to that vote for his handling of the COVID-19 pandemic, and Smith told Thursday's crowd that the party lost "a lot" of its base.
She ran for its leadership promising to bolster provincial sovereignty and appealing to party members and others who opposed public-health measures like vaccine mandates as an infringement of personal freedoms.
"The good news is that we're finally united as a conservative movement," she told Thursday's crowd. "Now, we just need to gain a little bit more ground in Calgary and in Edmonton."
She added: "This is a challenge for all conservatives. We have to figure out how to win in big cities because increasingly, people are moving to big cities."
That belief is shared by the federal Conservatives, with Poilievre spending many of his weekends in Metro Vancouver and the Greater Toronto Area — areas where the party has struggled to gain ground in the past several elections.
Since becoming party leader last September, Poilievre — who has long talked about inflation, food prices and cost-of-living issues — has increased his focus on crime, an issue that affects many who live in cities and suburbs.
He has adopted what some say is a controversial policy on drugs, opposing the practice of providing drug users with a safe supply of certain illicit substances, despite a broad consensus from experts who say that is necessary to prevent accidental overdoses arising from an increasingly toxic drug supply.
Pointing to regions such as Vancouver's Downtown Eastside, Poilievre recently slammed safe supply as a "failed experiment," saying he would instead focusing on increasing access to recovery and treatment spaces.
On Thursday, Smith said she believes her government's drug policy — which Poilievre has touted as a model to follow — is supported by people living in cities like Edmonton.
Poilievre is also looking to grow the party's support in urban ridings by getting more immigrant and visible minority communities to consider voting Conservative.
This report by The Canadian Press was first published March 23, 2023.
Former prime minister Stephen Harper says Canada needs a 'Conservative renaissance'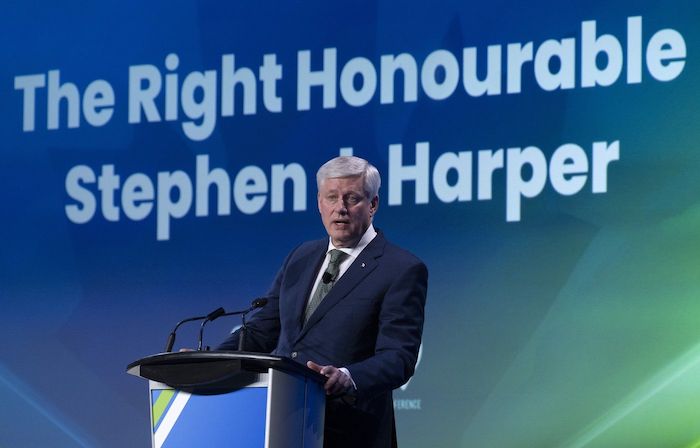 Former prime minister Stephen Harper delivers the keynote address at a conference, Wednesday, March 22, 2023 in Ottawa. THE CANADIAN PRESS/Adrian Wyld
By Stephanie Taylor in Ottawa
Canada needs a "Conservative renaissance," former prime minister Stephen Harper said Wednesday, but he cautioned that Pierre Poilievre should wait until an election before telling Canadians how he might run the country.
Harper delivered a speech that evening to a room of party faithful staged by the Canada Strong and Free Network, formerly called the Manning Centre.
His public appearance is a rare one for Harper, who exited political life after losing the 2015 election to Prime Minister Justin Trudeau's Liberals after nine years in power.
Poilievre's election as party leader last September appears to have changed that, with Harper throwing his endorsement behind Poilievre, which was the first time he had done so for a Conservative leader.
Introduced as a "statesman" of the party, Harper mounted a defence of the term "populism," which he said is often portrayed in a negative or imprecise light by what he called the "liberal media."
"Our country is badly in need of a Conservative renaissance at the national level," he told the crowd.
Harper reminded the audience that the modern Conservative party was built from the populism in Western Canada, a sense of nationalism in Quebec and Tories from Ontario.
He said its owes credit to Preston Manning, founder of the populist Reform Party, a precursor to the Canadian Alliance, which merged with the Progressive Conservatives to form the Conservative Party of Canada.
Harper and Manning then shared the stage Wednesday for what organizers billed as a "fireside chat" about the legacy of the Reform Party.
During the talk, the former Conservative prime minister quipped about foreign election interference, telling the crowd "I hear it's topical" and referred to the federal NDP as a "branch plant" for entering into a supply-and-confidence agreement with the Liberal government.
Only its leader Jagmeet Singh could enter into a deal with the Liberals and leave with nothing, Harper told the room.
As for Poilievre — whom Harper at one point referred to as first meeting as a "very tiny Reformer" — the former prime minister said if he forms the next government, Poilievre would be leading under much tougher circumstances than he ever did.
In the meantime, Harper said Poilievre's job as Opposition leader is to hold Trudeau's government to account, rather than outline how he would run the country.
"That's the job."
He said until an election happens, Poilievre and his team should be developing with their alternative vision for the country looks like to be ready.
This report by The Canadian Press was first published March 22, 2023.