Feds tell Canadian hockey players with KHL teams in Russia, Belarus to get out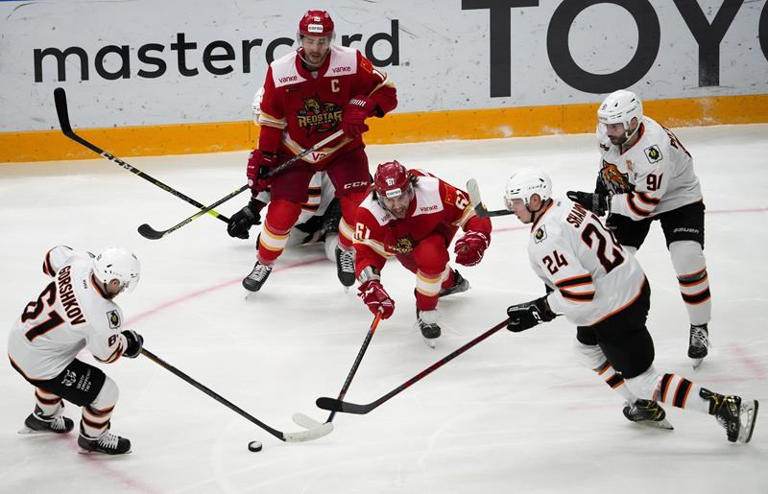 Canadians continue to play hockey for Kontinental Hockey League teams in Russia and Belarus despite the Canadian government's warning to get out of those countries.
The 48 Canadian players currently on KHL club rosters this season is the most from any country outside Russia.
Forty-four are playing for clubs within Russian and Belarusian borders, with the other four in Kazakhstan.
Russia, with Belarus a supporter, invaded Ukraine on Feb. 24.
Canada has been firmly on the side of Ukraine in the conflict with $626 million in military aid and over $320 million in humanitarian assistance since February, as well imposing financial sanctions on Russia and Belarus.
"President (Vladimir) Putin's war in Ukraine is a war on freedom, on democracy and on the rights of Ukrainians, and all people, to determine their own future," wrote Adrien Blanchard, press secretary for Foreign Affairs Minister Melanie Joly, in an emailed statement to The Canadian Press.
"As Canadians, these are values we hold dear. Athletes who decide to play and associate with Russia and Belarus should explain their decisions to the public."
Alberta-based player agent Ritchie Winter, who has three clients in the KHL, says players have a right to make a living in their profession as other Canadians do working in foreign countries.
"We live in a world where individuals are allowed to make those decisions. It's just an individual decision related to an employment opportunity," Winter said. "Has every player that's gone, push, tugged and pulled and wrestled with the decision? Yeah, absolutely.
"At the end of the day, they're husbands and fathers who have responsibilities to their families. If you're a young family with limited resources because you played mostly in the minors, there's a desire to take care of your family.
"Sometimes that leads people to the oilfields in Kazakhstan and sometimes it leads them to the KHL."
Advisories to avoid travel to Russia and Belarus were issued March 5 and Feb. 24 respectively, Global Affairs Canada told The Canadian Press in a statement.
"Our government has been very clear. Canadians should avoid all travel to Russia and Belarus," said Blanchard. "If they are in Russia or in Belarus, they should leave now. Our ability to provide consular services may become extremely limited."
Dozens of Canadians play in men's pro leagues across Europe every year. A top KHL player can make over US$1 million a year in salary.
The Canadian Press messaged nine Canadian players in the KHL asking what assurances they'd received from that league and their teams in regard to their personal safety. None responded.
"There were a number of players caught in the crosshairs last year when all of this happened. They stayed and didn't see any risk," Winter said.
"From what the players tell me, the environment isn't changed from what it has (been) previously. Many of them have balanced that risk and determined that they would play there."
He also knows of players who turned down opportunities to play in the KHL this season.
"Everybody has a different risk profile," he said. "I've had Canadian and American clients turn down massive amounts of money compared to what they'll make here."
There were 53 Canadians in the KHL last season. Seven played for Latvia's Riga Dynamo, which along with Finland's Helsinki Jokerit withdrew from the league.
"Something I obviously don't support is the war that's going on," said forward Jake Virtanen, who is on a tryout contract with the Oilers after playing 36 games for Spartak Moscow last season.
"It was one of the main reasons why I left. It's a tough situation. Me, personally, I wouldn't go back because of it."
Ukraine supporter United States is entangled in a diplomatic row with Russia over a pro athlete.
WNBA all-star Brittney Griner, who plays pro basketball for Ekaterinburg in the off-season, was sentenced Aug. 4 to nine years in prison for drug possession.
When she arrived in Moscow on Feb. 17, police said they found vape cartridges containing cannabis oil in her luggage.
Winter says Russians playing in the NHL deters a possible retaliatory detention of a Canadian player over Canada's support of Ukraine, but a McGill associate Professor of Political Science says the risk exists.
"Russia doesn't have any rule of law, so anybody who is in Russia is always in danger of being framed, incarcerated, used as a pawn in whatever the local government, central government et cetera decides to do," Maria Popova said.
The risk of a Canadian hockey player detained by local, state or central governments is low to moderate, "but there is a risk," she said. "I think something like what happened to Brittney Griner is possible. The same playbook can be repeated in a case against a Canadian player for sure."
"I don't see why Russia would try to use these people as a pawn because Canada is not Russia's main problem in this war," Popova continued.
"There isn't really any hope that Russia could change Canadian policy in Ukraine. They know Canada is firmly in NATO, clearly backing Ukraine."
Goaltender Andrew Hammond was the most recent Canadian to sign with a KHL club. He joined Chelyabinsk Traktor on Sept. 16.
Craig Woodcroft, the brother of Edmonton Oilers head coach Jay Woodcroft, coaches Minsk's KHL team in Belarus.
"With what's going on in the world obviously, we're paying attention to that for sure," Jay Woodcroft said.
"My brother is in Belarus, so it's not the big Russian mainland, but they play in that league. He's carved a good career for himself there at a high level in the KHL."
Seven Canadians in the KHL wore the Maple Leaf in Beijing's Olympic Games in February just before Russia invaded Ukraine, including goaltender Ed Pasquale (Metallurg Magnitogorsk) and forwards Corban Knight (Avangard Omsk) and Josh Ho-Sang (Salavat Yulaev).
— With files from Steven Sandor in Edmonton.
This report by The Canadian Press was first published Sept. 28, 2022.
Donna Spencer, The Canadian Press
Connor McDavid's four-point effort leads Oilers to 8-2 rout of Coyotes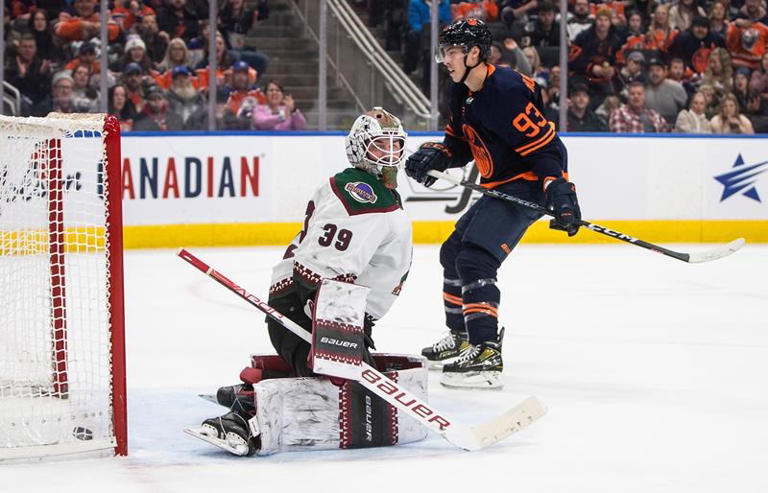 EDMONTON — Connor McDavid had two goals and two assists and Ryan Nugent-Hopkins scored twice and had an assist as the Edmonton Oilers defeated the Arizona Coyotes 8-2 on Wednesday.
Derek Ryan, Leon Draisaitl, Bret Kulak and Klim Kostin also scored for the Oilers (15-12-0) who have won five of their last seven games.
Jack McBain and Shayne Gostisbehere responded for the Coyotes (7-13-4) who finished off an epic 14-game road trip with their sixth consecutive loss.
The Oilers got off to a good start with a power-play goal just 4:37 into the opening period as Nugent-Hopkins sent a wrist shot through a screen in front that beat Coyotes netminder Connor Ingram.
Edmonton added to its lead with 3:19 minutes remaining in the first frame as Ryan shrugged off a defender and scored on a backhand shot.
The power play clicked again for the Oilers 8:14 into the second period as McDavid sent it through to Draisaitl and he scored from a tight angle for his 18th goal of the season. McDavid recorded his 50th point in just the 27th game of the season, the fastest Oiler to hit that mark since Wayne Gretzky in 1987-'88.
Arizona got on the board with 6:17 to play in the second period. McBain made a nice move in tight to deposit it past an outstretched Stuart Skinner in the Oilers net.
Edmonton got that goal back just 23 seconds later, however, as Kailer Yamamoto stole a puck at the Arizona blue line and sent Nugent-Hopkins in alone for his second of the night and 13th of the season.
The Oilers went up 5-1 with 1:21 to play in the second as Kulak blistered a shot high to the glove side that went off the bar and in.
Edmonton had a 30-10 edge in shots after 40 minutes.
The Oilers kept the pressure on in the third period as Ryan stripped a puck that went to Kostin in front and he deposited his second goal of the season past Ingram at 3:19.
McDavid extended his goal streak to six games a couple minutes later, taking a pretty pass from Draisaitl behind the net before scoring on the wraparound.
The Oilers captain made it a four-point game with seven minutes left in the third, as McDavid took a feed from Hyman and scored on a one-timer for his 24th goal of the season.
Arizona scored with just over five minutes to play as Gostisbehere tipped in a Christian Fischer shot.
Kostin fought Zack Kassian in the final minute, giving him the "Gordie Howe Hat Trick" on the night with a fight, goal and an assist.
ROAD TRIP
The Coyotes' 14-game road trip started on Nov. 5, lasted 33 days, and tied an NHL record for the longest in history with the Vancouver Canucks. Arizona started the trip with three wins before going 1-7-3 after that.
FIRST GOAL
Scoring first has been a challenge for both teams this season, as they came into the game having each allowed the first goal 15 times. Edmonton had managed to overcome the deficit more successfully with a record of 6-9-0, while Arizona was 2-11-2 in those situations.
HYMAN RETURNS
Zach Hyman returned to the Edmonton lineup, but the Oilers remained without forwards Evander Kane (wrist), Warren Foegele (undisclosed) and Ryan McLeod (undisclosed).
UP NEXT
Both teams play next on Friday night. The Coyotes finally return to Arizona to host the Boston Bruins. The Oilers close out a four-game homestand against the Minnesota Wild.
This report by The Canadian Press was first published Dec. 7, 2022.
Shane Jones, The Canadian Press
Andersson's three-point night helps Calgary Flames to 5-3 win over Minnesota Wild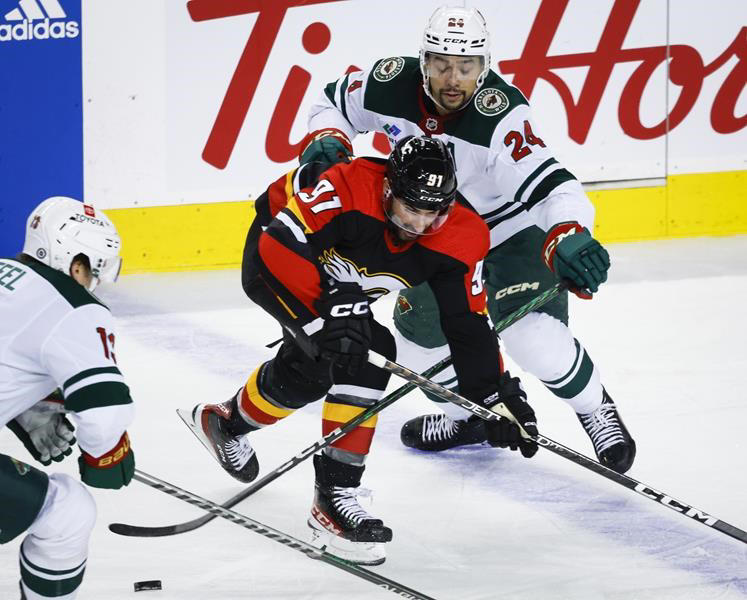 CALGARY — Rasmus Andersson notched the game-winner at 15:57 of the third period and added two assists as the Calgary Flames overcame a disastrous start in a 5-3 comeback victory over the Minnesota Wild on Wednesday.
Tyler Toffoli with a pair, including an empty netter, Nazem Kadri and Blake Coleman also scored for Calgary (13-10-3). Elias Lindholm had three assists.
The Flames have won three games in a row and earned eight points on their five-game homestand.
Kirill Kaprizov extended his goal streak to seven games for the Wild – tops in the league this season. Mason Shaw and Jon Merrill also scored for Minnesota (13-10-2), which had its four-game winning streak come to an end.
Making his sixth start in the last eight games, Dan Vladar gave up two goals on his first three shots. He settled in and finished with 25 saves for his fourth straight victory, improving to 5-4-1 on the season.
Marc-Andre Fleury had 22 saves at the other end. His record fell to 9-6-1.
Minnesota was trailing 3-2 when they tied it at 15:45 when Merrill's point shot deflected in off the stick of Flames defenceman Chris Tanev.
But just 12 seconds later, a Wild turnover behind their net ended up on the stick of Andersson, who cut across the crease and used his backhand to put the puck just inside the goalpost.
Kaprizov entered the game on an offensive tear with 19 points in his last dozen games. He extended his point streak to 13 games when he tipped in a Matt Dumba point shot just 1:27 into the game.
Both of Kaprizov's streaks are franchise records.
Less than a minute later, the Wild broke out on a 3-on-1 with Shaw one-timing Connor Dewar's cross-ice pass past Vladar.
But the Flames overcame the Wild's fast start to the first period with an even better start to the second.
On a power play that carried over from the first period, Kadri got Calgary on the scoreboard just 16 seconds into the second period when he redirected Lindholm's hard pass past Fleury.
Coleman tied it after a goalmouth scramble at 1:37.
The Flames moved in front at 3:11 with another power-play goal and another deflection. Toffoli got a piece of Andersson's heavy slapshot from the blue line.
The Wild had three power-play opportunities later in the period but were thwarted by the Flames' penalty kill. Entering play, Minnesota was 8-for-19 with the man advantage over the last six games.
BLOWN LEADS AND COMEBACKS
To lose a game in which they scored the first goal and led after the first period is a rarity for the Wild.
Minnesota entered the game with an 8-1-2 mark when scoring first and an 8-0-1 record when leading after 20 minutes.
Calgary improved to 4-6-1 when surrendering the first goal and 3-6-2 when trailing after the first period.
POWER SURGE
After a seven-game stretch where the Flames' power play was just 2-for-21, they've scored two goals in each of the past two games, going a combined 4-for-9 over that span.
UP NEXT
Wild: Head to Edmonton to take on the Oilers on Friday.
Flames: Open a three-game road trip on Friday against the Columbus Blue Jackets.
This report by The Canadian Press was first published Dec. 7, 2022.
Darren Haynes, The Canadian Press