Feds lift border vaccine mandates, mandatory masks on planes and trains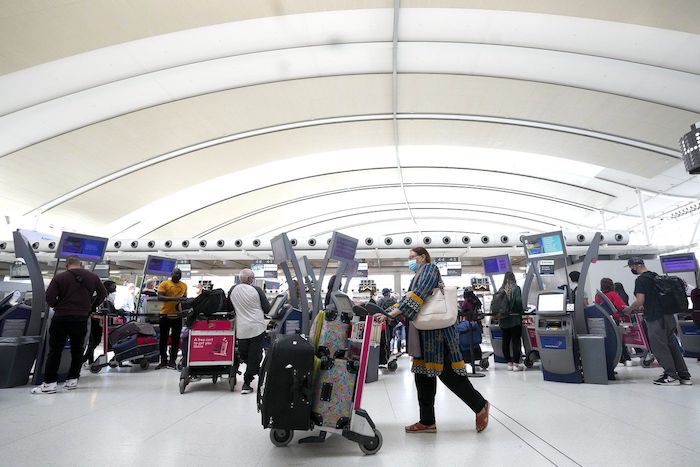 OTTAWA — The final vestiges of COVID-19 restrictions at Canada's borders will be lifted on Saturday, as federal ministers announced Monday the end of mandatory vaccination, random tests, quarantine, use of the ArriveCan app and masks on planes and trains.
The Liberal government will not renew the cabinet order maintaining COVID-19 border measures when it expires on Sept. 30, but Health Minister Jean-Yves Duclos once again warned that pandemic restrictions could be brought back if they are needed.
Duclos said Monday that the federal government has learned throughout the course of the pandemic which types of measures work.
"We will therefore leave open all possible options when it comes to protecting the health and safety of Canadians," he said at a news conference.
The changes mean foreign nationals will no longer require an approved series of vaccinations to enter the country.
Canada-bound travellers will also no longer be subject to random COVID-19 tests, and unvaccinated Canadians will not need to isolate when they return to the country.
Cruise passengers will not have to do pre-board tests or prove they have been vaccinated.
The controversial ArriveCan app will not be mandatory when the order expires.
"Going forward, use of ArriveCan will be optional, allowing travellers who so choose to submit their customs declaration in advance at major airports," said Public Safety Minister Marco Mendicino.
So far that option is available at international airports in Toronto, Montreal and Vancouver, but that will be expanded to include Calgary, Edmonton, Winnipeg, Ottawa, Quebec City, Halifax and Billy Bishop Toronto City Airport.
With the cabinet order gone, travellers will not have to self-monitor or report symptoms of COVID-19 anymore but they are still instructed not to travel when sick.
COVID-19 is still considered a communicable disease under the Quarantine Act, and federal officials say travellers who become sick en route or when they arrive in Canada should flag a flight attendant, cruise staff, or a border services officer.
"Border agents and public health officials have the ability to keep screening people and advise them on the right things to do if they happen to be infected with COVID-19 or other diseases," Duclos said.
"If people enter Canada and find out that they have been infected with COVID-19 then they will need to follow local public health measures."
People who already started their quarantine or testing regime in the 14 days before Oct. 1 will not have to continue once the changes come into effect.
The five federal ministers making the announcement said the changes are informed by science and epidemiology, adding that modelling indicates the peak of the latest wave of the disease has "largely passed."
But they did face questions about whether the move is at least partially politically motivated as the Liberals contend with the newly elected Opposition leader, Pierre Poilievre.
Duclos said public health data suggests COVID-19 cases imported into the country by travellers are having a minor effect on the epidemiology in Canada.
"There was a sense that these border measures were no longer effective, or no longer justified in the circumstance that we're in right now," Prime Minister Justin Trudeau said Monday at a separate news conference on Parliament Hill.
He said the best way to fend off the possibility of reinstating border restrictions is for people to get their COVID-19 booster shots.
"The more Canadians choose to get vaccinated, the more people get up to date on their shots, the more resilient we will be as a country to any future waves of COVID and therefore less disruptions people will have to see in their lives," Trudeau said.
The pandemic is not over, Trudeau said, and encouraged anyone who thinks so to visit a hospital "where we still see the impact of people struggling with COVID-19."
The Public Health Agency of Canada still strongly recommends that people wear masks, particularly in crowded environments such as planes and trains.
"The science is clear: wearing a mask is clearly a means of personal protection that is extremely effective," said Dr. Howard Njoo, Canada's deputy chief health officer.
"I hope Canadians will make an enlightened decision about this."
Duclos said the negative attitudes of some passengers have made things very difficult for airlines and crews to enforce the mask mandate in recent months, and cited that as a factor in the decision.
"The transmission of the variants of COVID are domestic-based, for the most part, and therefore, this is what we should stress: masking is highly recommended … but it is not something that can be, in a sense, forced."
That is a change in messaging from earlier in the summer, when the government and public health officials insisted that maintaining measures at the border was necessary to track and prevent the introduction of new variants.
Mendicino said there have been 38 million entries at the border in 2022 so far, more than double the number in all of last year. "We want to keep that momentum going."
In the United States, New York Republican Rep. Elise Stefanik went so far as to claim a measure of credit for the decision, which came "following my advocacy," she said in a statement.
"Our northern border communities have suffered enough from the prolonged closure and restriction to travel," Stefanik said. She also took an obligatory jab at the president, who declared the pandemic "over" in a recent "60 Minutes" interview, in calling for prompt reciprocal action south of the border.
"Even though Joe Biden has admitted that the pandemic is over, he continues to fail to drop the vaccine mandate for travel across the northern border into the U.S., failing our northern border communities as a result."
Border-state Democrats, including New York Rep. Brian Higgins and Montana's Sen. Jon Tester, are also among the congressional voices urging the Department of Homeland Security to follow Canada's lead.
White House officials have refused to say if the U.S. rules will change any time soon. DHS officials did not immediately respond to media inquiries Monday.
This report by The Canadian Press was first published Sept. 26, 2022.
— With files from James McCarten in Washington
Laura Osman, The Canadian Press
Alberta premier defends new rules on in-person learning, no mask mandates in schools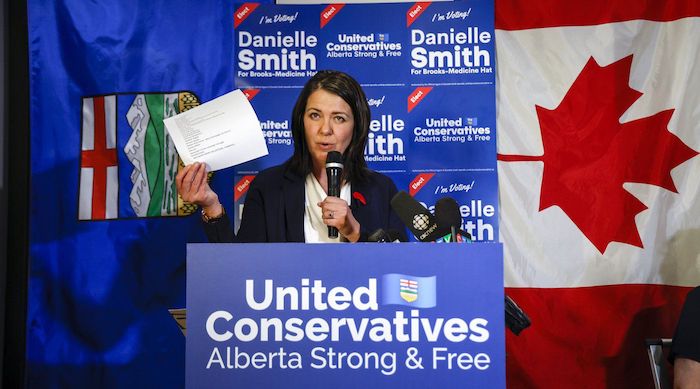 By Dean Bennett and Colette Derworiz
Alberta Premier Danielle Smith is defending new rules ordering schools to provide in-person learning during the current wave of viral illnesses, saying a clear, measured response is crucial for students and parents.
"We need a normal school environment for our children, and we need to make sure that the classrooms stay open to be able to support our parents," Smith said at a news conference in Medicine Hat on Friday.
"That's why we made the decision that we did — to give that clear direction."
Her comments came a day after she announced regulatory changes saying school boards must provide in-person learning. Schools also can't require students to wear masks in school or be forced to take classes online.
The changes take effect immediately.
"Anyone is welcome to wear a mask if they feel that that is the right choice for them, but we should not be forcing parents to mask their kids, and we shouldn't be denying education to kids who turn up without a mask," Smith said.
She has said mask rules and toggling from online to in-person learning adversely affected the mental health, development and education of students during the COVID-19 pandemic and strained parents scrambling to make child-care arrangements when schools shut down.
That's over, Smith said.
"We're just not going to normalize these kind of extreme measures every single respiratory virus season," she said.
School boards have been asking for more direction as a slew of seasonal respiratory and gastrointestinal illnesses, along with some COVID-19 cases, have led to high classroom absentee rates and have jammed children's hospitals.
In Edmonton, Trisha Estabrooks, board chair for Edmonton Public Schools, said the decision provided the clarity that the board was seeking.
"All Albertans now understand that it's not within the jurisdiction, and nor should it ever have been within the jurisdiction of individual school boards, to make decisions that belong to health officials," said Estabrooks.
She said the province has made it clear that any future public health order would supersede the new rules.
The in-person learning change applies to grades 1-12 in all school settings, including public, separate, francophone, public charter and independent schools.
The masking change applies to those same grades and schools, but also to early childhood services.
The Opposition NDP criticized the new rules, saying it's unrealistic to force schools to be all things to all students while also handling a wave of viral illnesses and not providing additional supports to do it.
Jason Schilling, head of the Alberta Teachers' Association, said the government needs to work with school boards to figure out how to make this work.
"You have schools that are struggling to staff the building, (they) can't get substitute teachers, teachers are sick, they're covering each other's classes, principals are covering the classes," Schilling said in an interview.
"And then to say if you go online, you are to still offer the same programming in person — we just don't have the people to do that."
Wing Li, communications director for public education advocacy organization, Support our Students, said it will be difficult for schools to offer hybrid learning without any additional resources.
"There are no teachers," Li said in an interview. "Pivoting online was mostly due to staffing shortages, which is worse now three years in."
Li said online learning is challenging for students but, when temporary and supported, can keep schools and communities safe from spreading illness.
"This is a quite aggressive use of the Education Act to enshrine an ideology," she said.
This report by The Canadian Press was first published Nov. 25, 2022
Three Medical Policies that Need Immediate Changing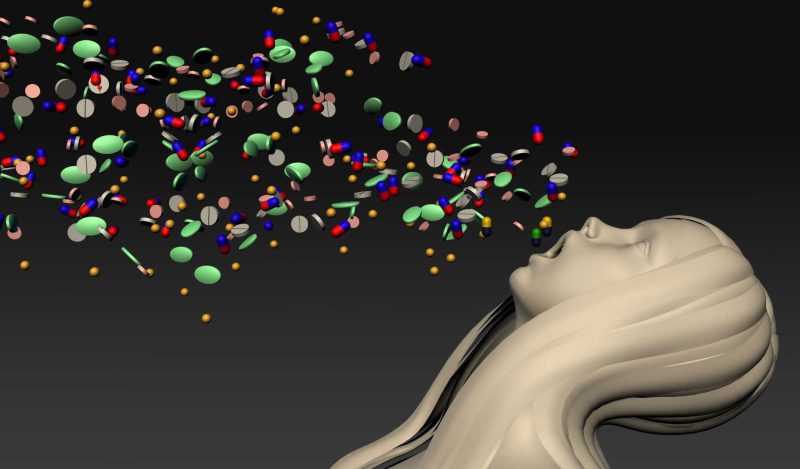 BY
PIERRE KORY
You can't make this up: The same cast of characters who erred so badly on COVID-19 want a do-over. A head-turning essay in The Atlanticwent so far as to plead for "pandemic amnesty." For many in the medical community who have been derided by the likes of Dr. Anthony Fauci and his fanatics, these words ring hollow. Talk, as they say, is cheap, especially with the benefit of hindsight. Before a COVID-19 mulligan can be considered, here are three policies that must change.
First, "vaccine or bust" proponents must admit their approach overpromised and underdelivered. President Biden has repeatedly declared COVID-19 a "pandemic of the unvaccinated," despite the science indicating otherwise. His claim that the vaccinated "do not spread the disease to anyone else" was rated "mostly false" by PolitiFact. Simply lowering the goalposts about less severe symptoms is insufficient. This is not what we were promised.
Making matters worse was the weaponization of this misinformation to influence public policy. It wasn't just a smug Rachel Maddow telling her audience in March 2021 that the "virus stops with every vaccinated person." This so-called science was used to pit Americans against one another, keep children out of school and force personnel out of critically important positions in the military, schools and first responders. Last fall, 5% of unvaccinated adults reported leaving their jobs.
I should know. I've been on the receiving end of threats to my livelihood.
This brings us to point two: The new California law empowering the punishment of doctors deemed guilty of spreading "misinformation" must be repealed before it can inflict further damage. Signed by Gov. Gavin Newsom, California Assembly Bill 2098 enables the state to strip the medical licenses of professionals who veer from the preferred political party line.
It's a disturbing trend taking hold across the country. The American Board of Internal Medicine (ABIM) recently voted to remove Dr. Peter McCullough, one of the nation's leading cardiologists, from his certifications in cardiovascular disease. Mr. McCullough's sin had nothing to do with his performance in caring for patients, but rather with questioning the necessity of the COVID-19 vaccine for younger populations. With their far-reaching certification authority, the ABIM has the power to make any doctor's life a living hell. Mr. McCullough's fate now hangs in the balance until his Nov. 18 appeal date. This dangerous precedent must be nipped in the bud in the nation's most populous state (governed by an oft-mentioned future presidential candidate) before it can take hold elsewhere.
Third, the District of Columbia must scrap its vaccine mandate for children in schools once and for all. Last week's vote to delay compliance until January 3, 2023, is not enough. DC is one of the only school districts in the country with this type of requirement, going further than their counterparts in New York City or Los Angeles.
Last month, nearly half (44.7%) of DC school students fell short of COVID-19 compliance, according to Axios. In a city where 60% of the school-age population is Black, this mandate is not only unnecessary but is perpetuating further inequity. The pandemic has already taken an incredible toll on our children's education, with math and reading scores falling to astonishing new lows. It is beyond misguided to bar children from attending school unless they receive a vaccine for an illness that poses a far smaller hazard to their health than the soaring crime rates in our cities.
From masks to breakthrough cases to alternative treatments, the so-called experts have amassed a track record of incorrect judgments that make political pollsters look good by comparison. Even in the fog of a once-in-a-century pandemic, these decisions were not just borne of inexpert and incorrect scientific knowledge but rather driven by a rush to push a medical agenda.
Our organization, the Front Line COVID-19 Critical Care Alliance (FLCCC) practices what we preach. As data evolved over time, we updated our recommendations and approaches accordingly. It wasn't luck. We were following the science. Sadly, government agencies stuck with their unceasing policy recommendations that were increasingly divorced from the science.
One thing most people can agree on: COVID-19 won't be the last public health emergency. There are already concerning headlines about an early spike of RSV impacting children. The leaders of captured health agencies must learn from their mistake of allowing the pharmaceutical industry unimpeded control of pandemic health policy. Americans are incredibly forgiving people willing to show grace, but step one in that process is a willingness for those in charge to admit their mistakes.
Republished from Washington Times