Federal government has made little progress in addressing MMIWG, says advocacy group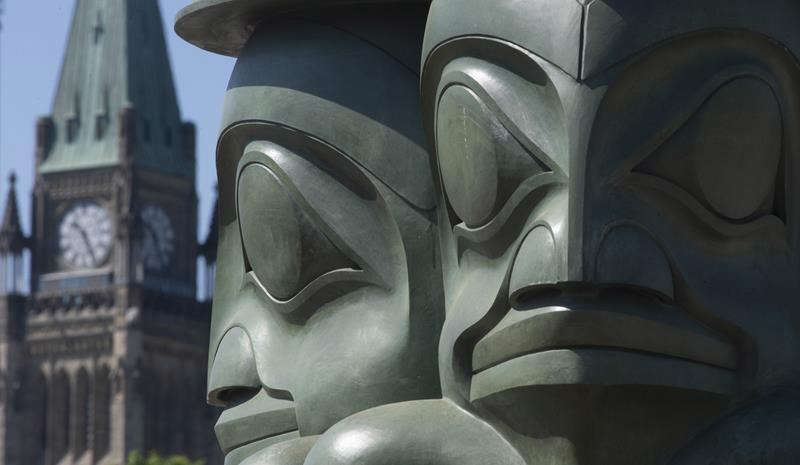 OTTAWA — The Native Women's Association of Canada says the federal government has made little progress in the past year on its action plan to end violence against Indigenous women, girls and gender-diverse people.
There have been funding commitments, but little has been done to directly support survivors and families, said an analysis released today by the group.
The national action plan was at the top of the 231 calls to justice put forth by the National Inquiry into Missing and Murdered Indigenous Women and Girls in their final report three years ago.
The association was one of the groups working with Ottawa on the plan, but walked away saying the exercise was fundamentally flawed and politically motivated.
The National Family and Survivors Circle did participate in developing the plan and members from that group are expected to speak later Friday.
Prime Minister Justin Trudeau is to meet with survivors and take part in a private ceremony in the National Capital Region.
The Native Women's Association of Canada tracked the commitments made by the government in its plan and assessed the implementation of them.
While some progress has been made over the past 12 months on some of actions, little or none has been made on others, the organization says.
"Today, we are seeing the sad results of the government's weak response to the crimes being committed against Indigenous women, girls, and gender-diverse people," said CEO Lynne Groulx.
"The National Action Plan, as it was drafted, was actually a recipe for inaction, and the people represented by our organization are paying the price."
The federal government committed to provide funding or enhance existing funding in four areas: culture, health and wellness, human safety and security and justice.
Ottawa is expected to release its first annual progress report that will document the work completed over the last year.
This report by The Canadian Press was first published June 3, 2022.
The Canadian Press
'A brand new day': First Nations sign child welfare agreement with Ottawa, Alberta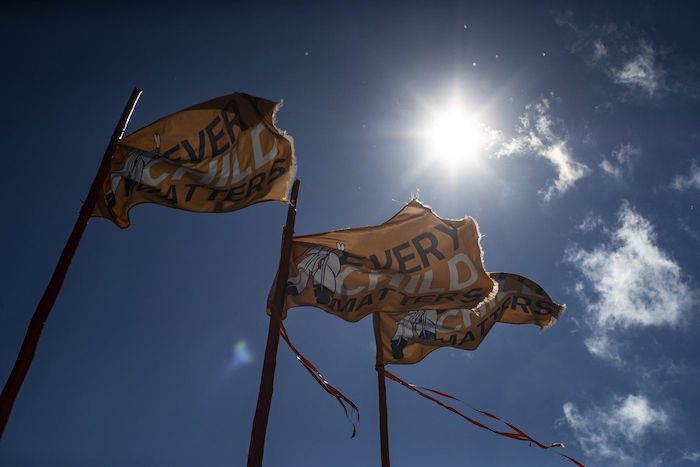 Flags with "Every Child Matters" written on them fly in Maskwacis, Alta., on Monday, June 27, 2022. Three Alberta First Nations have signed an agreement with the federal and provincial governments to be responsible for their own child welfare systems. THE CANADIAN PRESS/Jason Franson
Trout Lake, Alberta
Three northern Alberta First Nations have signed an agreement with the federal and provincial governments to be responsible for their own child welfare systems.
The chiefs of Loon River First Nation, Lubicon First Nation and Peerless Trout First Nation gathered Tuesday with members of their communities and representatives of the federal and provincial governments to celebrate the agreement.
"Today there is hope, hope that we can begin to truly heal intergenerational trauma that has impacted our children for too long," said Chief Gilbert Okemow of Peerless Trout First Nation, which is about 500 kilometres north of Edmonton.
"The current child welfare system just wasn't designed for the First Nations peoples and it has caused too many children to be removed from their homes, their families, their communities and their culture for far too long. Starting today, we are changing that."
Chief Ivan Sawan of the nearby Loon River First Nation said it's a huge step forward for the communities.
"I've seen the cries with our people, I've seen mothers embrace their children," he said. "Our families struggled so many years.
"Today is a brand new day for us."
Ottawa passed An Act Respecting First Nations, Inuit and Métis Children, Youth and Families in 2020 with a focus on prevention so families can receive support to remain together.
The agreement signed Tuesday with the three First Nations implements Awaśak Wiyasiwêwin, which is Cree for children's law, and gives child and family services control and jurisdiction to the First Nations.
"We've always had our children's laws before 500 years ago," said Chief Billy Joe Laboucan of Lubicon First Nation. "Now we have the opportunity with this legislation to be able to go back to those laws so that all of the community raises that child."
Members of each of the First Nations voted in favour of the move last November.
The agreement includes transferring nearly $150 million over five years to the First Nations from the federal government.
Federal Crown-Indigenous Relations Minister Marc Miller said it's important to return inherent child welfare rights to the First Nations.
"It has been taken away from you by successive governments, by at times religious institutions and it's something that has always been there — the right to take care, control custody of your own children in the right way, preserve the language, the education," he said.
Miller said it's the first trilateral agreement in Alberta and one of the first in Canada. Another, he said, was signed Tuesday with a First Nation in Ontario.
"I hope this rhythm continues not only across Alberta, but across the rest of Canada, where it actually needs to go faster and faster," he said. "I think you are blazing a trail."
Mickey Amery, minister of children's services in Alberta, said it's a monumental agreement.
"It's a great privilege to be here and to join in signing Alberta's first … trilateral co-ordination agreement," he said.
"This agreement represents a shared path toward true and meaningful reconciliation but most importantly a mutual dedication for the safety and well-being of our children."
A bilateral agreement was signed between the federal government at Louis Bull Tribe in Maskwacis, south of Edmonton, in February. That agreement did not involve the province.
This report by The Canadian Press was first published April 11, 2023
— By Colette Derworiz in Calgary.
Indigenous child-welfare settlement heading back to Canadian Human Rights Tribunal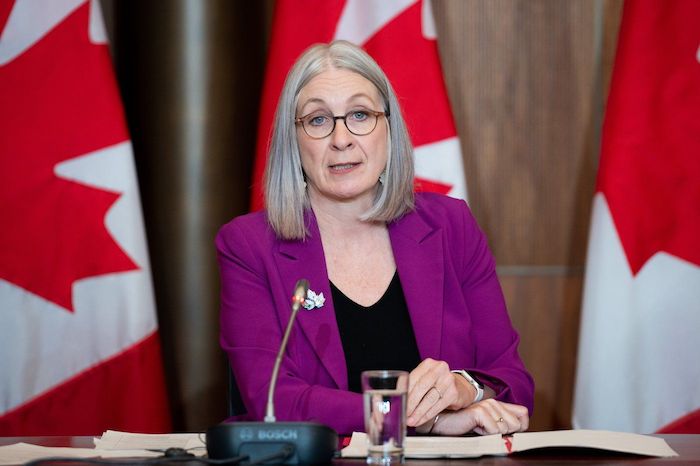 Minister of Indigenous Services and Minister responsible for the Federal Economic Development Agency for Northern Ontario Patty Hajdu speaks speaks during a press conference on a revised final settlement agreement to compensate First Nations children and families in Ottawa, on Wednesday, April 5, 2023. THE CANADIAN PRESS/Spencer Colby
Ottawa
A multibillion-dollar settlement for children and families harmed by Ottawa's underfunding of on-reserve services will be presented to the Canadian Human Rights Tribunal for approval after being endorsed by First Nations chiefs.
Indigenous Services Minister Patty Hajdu says the revised $23-billion compensation package is the largest settlement in Canadian history, and represents an "important piece of healing" for those harmed by past government policies.
"The revised agreement, as I said, isn't going to make people whole," Hajdu said on Wednesday. "No amount of money can make people whole. But it is an important piece of healing, because it's an acknowledgement of the discrimination."
This latest settlement comes after years of threatened lawsuits by the Assembly of First Nations and human rights tribunal rulings that rejected several offers by the federal government, including one last year.
The latest deal includes an additional $3 billion that includes compensation for 13,000 more children and other amendments that both sides are hoping will satisfy the tribunal's concerns.
Cindy Woodhouse, a regional chief from Manitoba who led the file for the assembly, gave thanks to Prime Minister Justin Trudeau today for helping both sides reach a successful resolution.
Woodhouse also called on Trudeau to adhere to the First Nations chiefs' call for Trudeau to make a formal apology to the plaintiffs and victims.
This report by The Canadian Press was first published April 5, 2023.