Federal departments failed to spend $38B on promised programs, services last year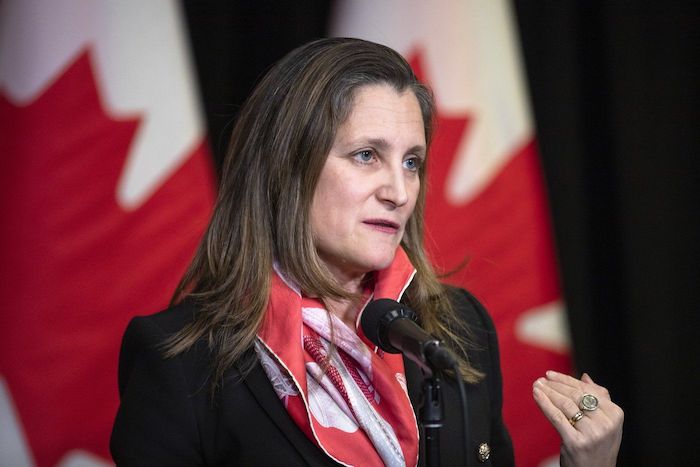 By Lee Berthiaume in Ottawa
The federal government failed to spend tens of billions of dollars in the last fiscal year on promised programs and services, including new military equipment, affordable housing and support for veterans.
Federal departments are blaming a variety of factors for letting a record total of $38 billion in funding lapse in 2021-22, including delays and disruptions caused by the COVID-19 pandemic.
They also say much of the money remains available for future years.
The unspent funds also played a big part in the Liberal government posting a smaller-than-expected deficit in the year ending March 31, 2022.
Canada rang up a $90.2 billion deficit — $23.6 billion less than had been projected in the budget.
The unprecedented amount of lapsed funding, much of which has been returned to the federal treasury, has one observer suggesting it is a sign of long-standing challenges delivering on big federal projects for the country.
The amount of lapsed funds across government is spelled out in the most recent iteration of the public accounts, a report on federal revenues and spending by every department and agency tabled in the House of Commons every year.
The $38.2 billion that was reported as lapsed in the last fiscal year marks a new record over the previous year, which was $32.2 billion. That was a dramatic increase over the previous record of $14 billion in 2019-20.
That compares to around $10 billion about a decade ago, when Stephen Harper's Conservative government was accused by political opponents and experts alike of using large lapses to make cuts by stealth.
Health Canada and the Public Health Agency of Canada reported the largest lapses of all departments and agencies, with nearly $11.2 billion of their combined $28.2 billion budgets going unspent.
Much of that had been set aside for COVID-19 initiatives that were not needed, said Health Canada spokeswoman Tammy Jarbeau. Those include vaccines, personal protective equipment and rapid tests.
"Both Health Canada and the Public Health Agency of Canada have rigorous internal financial management controls designed to prevent, detect and minimize errors and financial losses, and ensure the funding is spent in the best interests of Canadians," she wrote in an email.
The pandemic figured in the responses and explanations from many other departments and agencies, with many blaming COVID-19 for delays.
One of them was the Defence Department, which reported a lapse of $2.5 billion in the last fiscal year. Much of the money wasn't spent due to delays in the delivery of new military equipment such as Arctic patrol vessels and upgrades to the Army's armoured vehicles.
There were also delays on major infrastructure projects for the military, according to Defence Department spokeswoman Jessica Lamirande. Those include upgrading and rebuilding two jetties for the Navy in Esquimalt, B.C., and a new armoury in New Brunswick.
"The COVID-19 pandemic has had a significant impact on many of our business lines," Lamirande said.
"The impacts of the pandemic on supply chain and industry capacity are causing manufacturing backlogs and delays."
Lamirande added most of the unspent funds are expected to be available in future years through a process called reprofiling, in which schedules are revised to reflect planned spending in future years due to those delays.
Former parliamentary budget officer Kevin Page said the government's handling of lapsed funding now is "a little more relaxed" than in previous years, when unspent funds were not reprofiled and even used to justify budget cuts in Ottawa.
But defence analyst David Perry of the Canadian Global Affairs Institute said the Defence Department's lapse, which has been steadily growing in recent years, is a symptom of Ottawa's continued difficulties purchasing new military equipment.
"If we're not getting those procurement projects through, we're not getting new equipment into the inventory, so we don't actually have the gear for our troops," he said, noting many of the delayed projects were launched under the Harper government.
Perry also noted the current rate of inflation, which is already naturally higher for military equipment and the defence sector than most other parts of the economy. Not spending money now means Canada will have to pay more for the same gear and services later, he said.
The Infrastructure Department, the Canadian Mortgage and Housing Corp. and the Fisheries Department, which includes the Canadian Coast Guard, also reported delays with different capital projects, including on affordable housing and broadband internet.
"Due to the unprecedented circumstances over the last few years such as the COVID-19 pandemic, disbursing funds to proponents for many projects are expected to and will take longer," CMHC spokeswoman Claudie Chabot said in an email.
Perry suggested a bigger problem.
"The government of Canada's ability to actually deliver services to the public, especially when it comes to large projects, large capital projects, be it for equipment or infrastructure or IT projects, is struggling across the board," he said.
Other federal entities with large lapses included Indigenous Services Canada, which failed to spend $3.4 billion, and Crown-Indigenous Relations and Northern Affairs Canada, which reported a lapse of $2.2 billion.
Spokesman Vincent Gauthier attributed much of the latter lapse to "the timing and progress of negotiations for specific claims and childhood litigations," adding that funds will available "in some instances" in future years.
Gauthier did not say why Indigenous Services, which is responsible for delivering federal services to First Nations, Inuit and Métis, failed to spend billions of dollars. He did say most of the money had been reprofiled "so that it will be available when recipients need it."
Veterans Affairs Canada also reported a nearly $1 billion lapse last year, which the department blamed on fewer ill and injured ex-soldiers applying for assistance than expected.
However, critics have described earlier lapsed funding as evidence of the challenges many veterans face in accessing benefits and services. In 2014, the Royal Canadian Legion demanded the Harper government explain why $1.1 billion went unspent over seven years.
This report by The Canadian Press was first published Jan. 30, 2023.
Why TikTok's security risks keep raising fears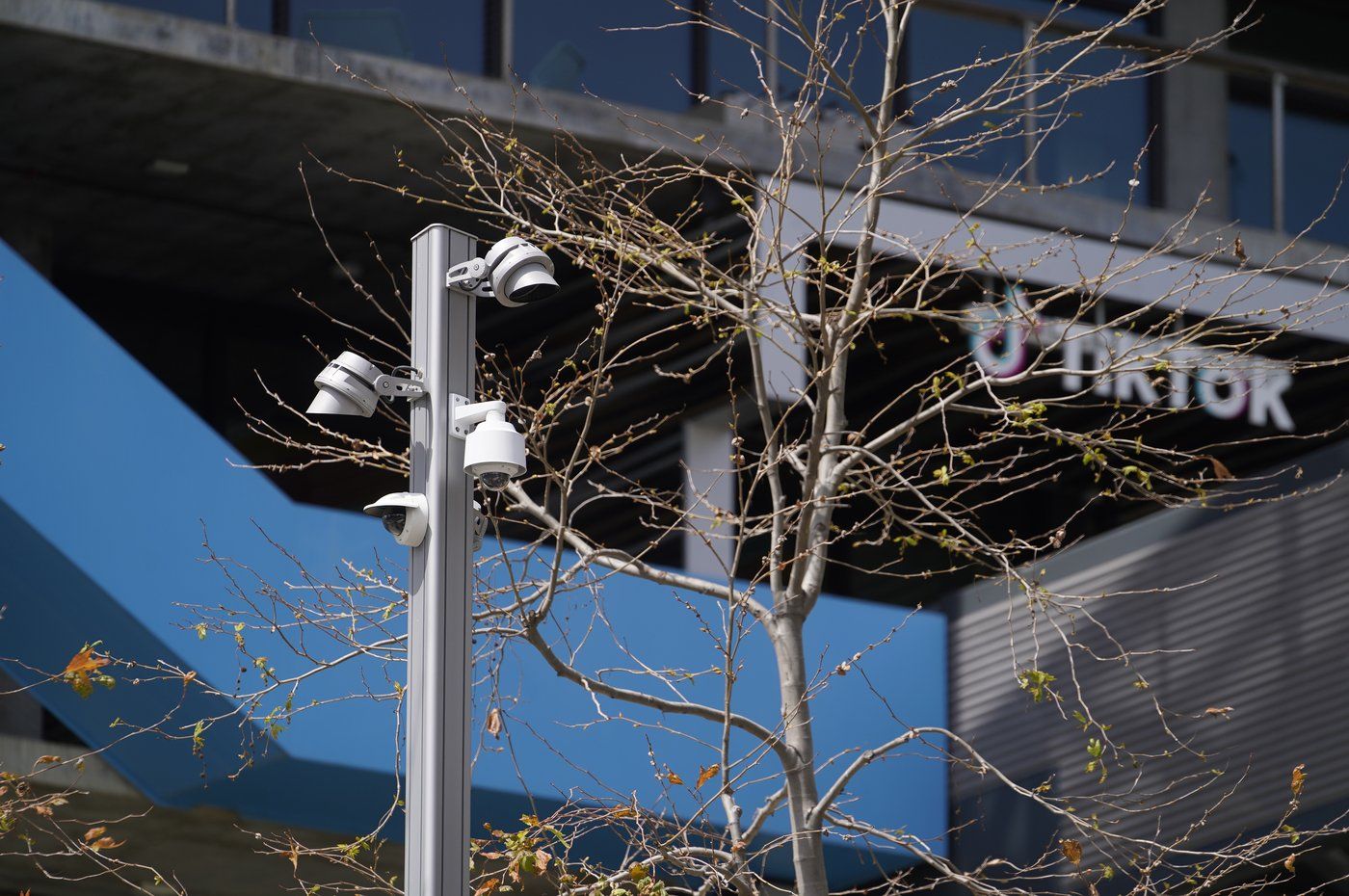 Security cameras are seen at the TikTok Inc. building in Culver City, Calif., Friday, March 17, 2023. The battle between the U.S. and China over TikTok comes to a head on Thursday when the social media platform's CEO testifies before Congressional lawmakers. (AP Photo/Damian Dovarganes, File)
By Kelvin Chan And Haleluya Hadero
The battle between the U.S. and China over TikTok comes into full view on Thursday when the social media platform's CEO testifies before Congressional lawmakers.
Shou Zi Chew's hearing is happening at what he's called a "pivotal moment" for the hugely popular short video sharing app. TikTok is owned by parent company ByteDance, which has offices in Beijing. The platform has 150 million American users but it's been dogged by persistent claims that it threatens national security and user privacy, or could be used to promote pro-Beijing propaganda and misinformation.
Chew will attempt to persuade lawmakers not to pursue a ban on the app or force its sale to new owners.
So are the data security risks real? And should users be worried that the TikTok app will be wiped off their phones?
Here's what to know:
WHAT ARE THE CONCERNS ABOUT TIKTOK?
Both the FBI and officials at the Federal Communications Commission have warned that ByteDance could share TikTok user data — such as browsing history, location and biometric identifiers — with China's authoritarian government.
Officials fear that TikTok, which like many other social media platforms collects vast amounts of data on its users, would be forced to give it to Beijing under a 2017 law that compels companies to turn over any personal data relevant to China's national security.
Concerns around TikTok were heightened in December when ByteDance said it fired four employees who accessed data on journalists from Buzzfeed News and The Financial Times while attempting to track down the source of a leaked report about the company.
HOW IS THE U.S. RESPONDING?
The Committee on Foreign Investment in the U.S. — known as CFIUS and part of the Treasury Department — is carrying out a review, and has reportedly threatened a U.S. ban on the app unless its Chinese owners divest their stake. China's Foreign Ministry in turn accused the United States itself of spreading disinformation about TikTok's potential security risks.
White House officials have said there are "legitimate national security concerns with respect to data integrity."
Some U.S. senators urged CFIUS last year to quickly wrap up its investigation and "impose strict structural restrictions" between TikTok's American operations and ByteDance, including potentially separating the companies.
At the same time, lawmakers have introduced measures that would expand the Biden administration's authority to enact a national ban on TikTok. The White House has already backed a Senate proposal that has bipartisan support.
HOW HAS TIKTOK ALREADY BEEN RESTRICTED?
Authorities in North America, Europe and Asia-Pacific have banned the TikTok app, mostly on government-issued phones or devices used for official business, citing cybersecurity concerns. Last week Britain imposed a government phone ban while New Zealand restricted lawmakers and other workers in its Parliament from having it on their phones.
The European Union's three main institutions, the executive Commission, Parliament and Council, have ordered staffers to remove it from their work phones. So has Denmark's defense ministry. The Canadian government said its ban includes blocking civil servants from downloading the app in the future. Norway and Netherlands warned this week against installing TikTok on government devices.
The White House ordered U.S. federal agencies to delete TikTok from all government-issued mobile devices. Congress, the U.S. armed forces and more than half of U.S. states had already banned the app.
WHAT DOES TIKTOK SAY?
In a TikTok video this week, Chew appealed against a ban, saying it could take the app away from 150 million American users.
In his testimony, he plans to outline how the company's data protection and security efforts go "above and beyond" anything that its social media and online entertainment rivals do.
Under a $1.5 billion project dubbed Project Texas that's underway, data from U.S. users is being routed through servers controlled by Oracle, the Silicon Valley company it partnered with in an effort to avoid a nationwide ban.
Older U.S. user data stored on non-Oracle servers will be deleted this year. Under this arrangement, there's no way for Beijing to access the data, Chew said in prepared remarks released ahead of the hearing.
TikTok has also sought to portray ByteDance as a global company, not a Chinese one. Executives have been pointing out that ByteDance's ownership consists of 60% big global investors, 20% employees and 20% Chinese entrepreneurs who founded the company. TikTok itself is headquartered in Singapore.
ARE THE SECURITY RISKS LEGITIMATE?
It depends on who you ask.
Some tech privacy advocates say while the potential abuse of privacy by the Chinese government is concerning, other tech companies have data-harvesting business practices that also exploit user information.
"If policy makers want to protect Americans from surveillance, they should advocate for a basic privacy law that bans all companies from collecting so much sensitive data about us in the first place, rather than engaging in what amounts to xenophobic showboating that does exactly nothing to protect anyone," said Evan Greer, director of the nonprofit advocacy group Fight for the Future.
Karim Farhat, a researcher with the Internet Governance Project at Georgia Tech, said a TikTok sale would be "completely irrelevant to any of the alleged 'national security' threats" and go against "every free market principle and norm" of the state department's internet freedom principles.
Others say there is legitimate reason for concern.
People who use TikTok might think they're not doing anything that would be of interest to a foreign government, but that's not always the case, said Anton Dahbura, executive director of the Johns Hopkins University Information Security Institute. Important information about the United States is not strictly limited to nuclear power plants or military facilities; it extends to other sectors, such as food processing, the finance industry and universities, Dahbura said.
IS THERE PRECEDENCE FOR BANNING TECH COMPANIES?
The U.S. has banned the communications equipment sold by Chinese companies Huawei and ZTE, citing national security risks. But banning the sale of items is easier than banning a free app.
Such a move might also wind up in courts on grounds that it could violate the First Amendment, as some civil liberties groups have argued.
Another possibility, albeit remote, is forcing a sale. That's what happened in 2020 when Beijing Kunlun, a Chinese mobile video game company, agreed to sell gay dating app Grindr after an order from CFIUS.
Beijing Kunlun said it signed a "national security agreement" with CFIUS to sell Grindr to San Vicente Acquisition for $608.5 million, promising not to send sensitive user data to China, cease its operations there and maintain its headquarters in the U.S.
Canada needs 300,000 new rental units to avoid gap quadrupling by 2026: report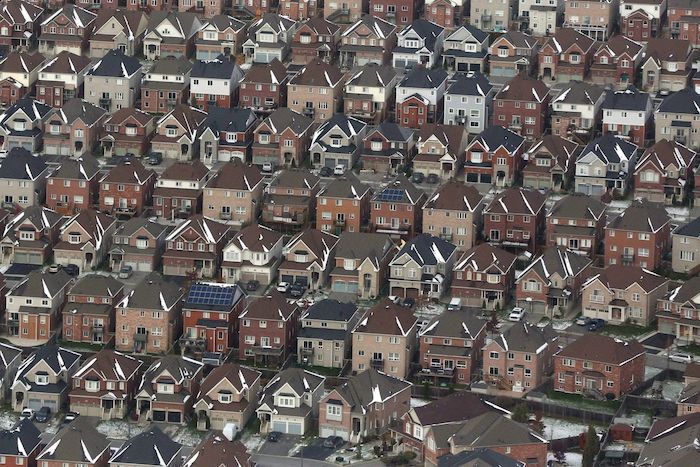 An aerial view of houses in Oshawa, Ont. is shown on Saturday, Nov. 11, 2017. A Royal Bank of Canada report predicts Canada's rental housing shortage will quadruple to 120,000 units by 2026 without a significant boost in rental stock. THE CANADIAN PRESS/Lars Hagberg
By Sammy Hudes in Toronto
Canada's rental housing shortage will quadruple to 120,000 units by 2026 without a significant boost in stock, Royal Bank of Canada said in a report Wednesday.
In order to reach the optimal vacancy rate of three per cent, the report suggested Canada would need to add 332,000 rental units over the next three years, which would mark an annual increase of 20 per cent compared with the 70,000 units built last year.
The research analyzed vacancy rate data released in January by the Canada Mortgage and Housing Corporation (CMHC).
Canada's vacancy rate fell to 1.9 per cent in 2022, its lowest point in 21 years, from 3.1 per cent in 2021.
Competition for units also drove the highest annual increase in rent growth on record, by 5.6 per cent for a two-bedroom unit.
Canada's rental housing stock grew by 2.4 per cent in 2022, led by Calgary at 7.4 per cent and Ottawa-Gatineau at 5.5 per cent, while Toronto and Montreal saw the smallest percentage increases at 2.1 per cent and 1.4 per cent, respectively.
"We haven't seen that many additions to the purpose-built inventory in almost a decade, so you would think that added supply of units would ease some of the competition, but what the CMHC rental market data revealed to us was that it didn't," said RBC economist Rachel Battaglia.
Slow growth in Canada's two most populous cities has been outpaced by rapidly increasing demand, partly fuelled by high immigration levels, she said. Annual federal immigration targets are set to grow eight per cent by 2025, meaning demand is unlikely to let up.
Battaglia also pointed to affordability and behavioural preferences for the influx of rentals sought. She said more Canadians are choosing to live alone, meaning fewer incomes per household.
"You have a lot of people being funnelled into the rental market who maybe would have liked to own something but it's just not financially in the books for them right now," said Battaglia.
The report estimated an existing deficit of 25,000 to 30,000 units of rental stock across Canada. In addition to building more supply, it recommended turning condo units into rentals, converting commercial buildings and adding rental suites to existing homes to help ease the pressure.
Without such measures, Battaglia said the market could "become infinitely more competitive."
"Which is not something that we want to realize given the competition we're already seeing," she said.
"You're already seeing rents increase dramatically."
This report by The Canadian Press was first published March 22, 2023.