Family vacation turns tragic for young family when Red Deer man suffers severe injury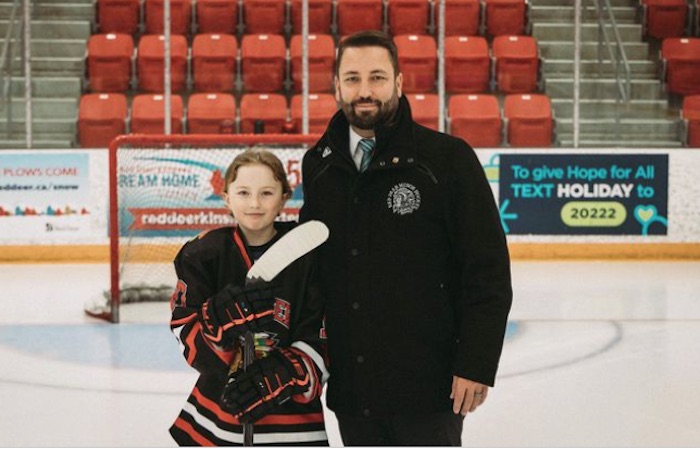 From GoFundMe
Rebuild the Life of Graham Lindquist and Family
Brad Balon is organizing this fundraiser.
On January 23, 2023, Graham Lindquist was vacationing in Playa del Carmen, Mexico with his wife, Chandra and some of their friends. He was enjoying his time at the hotel swimming pool when an unimaginable accident occurred. Graham jumped into the pool and suffered a complete spinal fracture and dislocated C7 vertebrae.
He was transported by ambulance to a local hospital, but it was determined that his injuries were far too significant for the hospital to properly treat him. He was then relocated to a hospital in Cancun, Mexico where he immediately underwent a grueling 6 hour surgery to stabilize his spine.
Graham's prognosis is one that is very hard for all of us to fathom. At this point, Graham's doctors believe he will be confined to a wheelchair indefinitely. They have also indicated that Graham may suffer permanent upper body paralysis. These medical opinions have been absolutely heartbreaking to Graham's family and friends. It is unbelievable that this could happen to such an amazing human. Graham is truly as good as it gets. He has selflessly dedicated himself to being an amazing husband, dad, step-dad, son, friend, hockey coach, and active community member.
Graham will remain in the ICU in Cancun, Mexico for 2 more weeks. We are hopeful he will then be transported home by air ambulance. Graham will continue to be hospitalized upon his return home.
There is no question that Graham's injuries will have a significant financial impact on his family. Medical costs, adapting their home, the impact on his employment, transportation, etc. We are reaching out to everyone who knows and loves Graham, Chandra and their beautiful family to help lighten the significant financial burden that they will endure. Your generosity will surely help them through this incredibly difficult time.
On behalf of Graham and his family, we wish to thank you for all of your love, prayers, and support.
ASIRT investigation continues into RCMP officer-involved shooting causing injury in Red Deer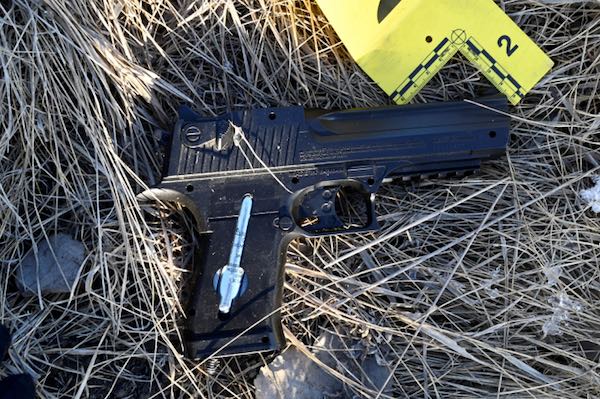 The photo of the item located at the scene near where the affected person fell.
From the Alberta Serious Incident Response Team (ASIRT)
On March 12, the Alberta Serious Incident Response Team (ASIRT) was directed to investigate an officer-involved shooting in Red Deer.
At approximately 11:16 a.m., the RCMP received a 911 call alleging a carjacking and presence of a firearm at the Walmart in Red Deer. The 911 call came from a cellphone registered to an adult male, the affected person (AP), who was the subject of a missing persons report in the Calgary area.
Upon arriving in the vicinity of the Walmart, the RCMP located an unoccupied vehicle associated to the AP. They searched the area around the Walmart with the assistance of a drone but were not able to locate the AP.
At approximately 2:17 p.m., two RCMP officers located the AP walking westbound on 67th Street in Red Deer. The officers got out of their vehicle and approached the AP. The ensuing interaction was captured on the RCMP vehicle's recording device.
The AP would not identify himself or follow the officers' directions. The AP then ran at the officers and produced an item resembling a firearm from his jacket pocket, which he pointed at the officers. One officer fired his firearm and the other fired a non-lethal projectile.
The AP was hit with rounds from the firearm and fell to the ground. He received treatment and was then airlifted to a Calgary hospital, where he remains.
ASIRT's investigation will examine the use of force by the officer. No additional information will be released.
ASIRT's mandate is to effectively, independently and objectively investigate incidents involving Alberta's police that have resulted in serious injury or death to any person, as well as serious or sensitive allegations of police misconduct.
It's playoff time! Rebels open up at home against Hitmen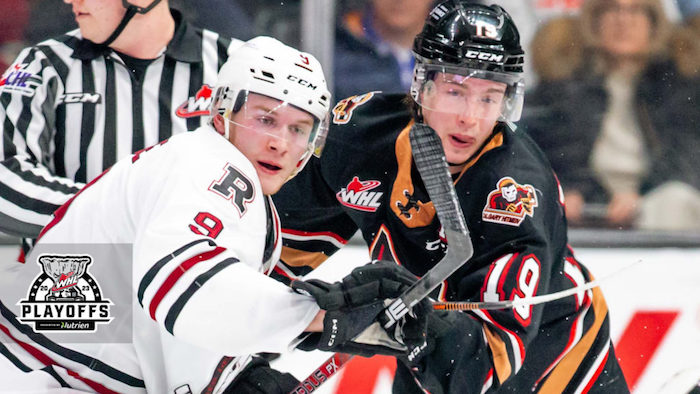 Rebels captain Jayden Grubbe picked up the 2022/2023 Players Award. In this photo by Rob Wallator, Grubbe battles against first round opponent Sean Tschigerl.
From the Red Deer Rebels
REBELS THIS WEEK
PLAYOFFS EDITION – MARCH 27, 2023
BRING ON THE HITMEN!
The Red Deer Rebels take on the Calgary Hitmen in round one of the 2023 WHL Playoffs presented by Nutrien.
The Rebels were 6-1-1-0 versus the Hitmen during the regular season. This will be the seventh playoff series between the two clubs with Red Deer having won four of the first six.
WHL Eastern Conference Quarterfinals – #2 Red Deer Rebels vs. #7 Calgary Hitmen
Game One Friday, March 31 7 p.m. Peavey Mart Centrium, Red Deer
Game Two Saturday, April 1 7 p.m. Peavey Mart Centrium, Red Deer
Game Three Monday, April 3 7 p.m. Scotiabank Saddledome, Calgary
Game Four Wednesday, April 5 7 p.m. Scotiabank Saddledome, Calgary
Game Five* Friday, April 7 7 p.m. Peavey Mart Centrium, Red Deer
Game Six* Sunday, April 9 2 p.m. Scotiabank Saddledome, Calgary
Game Seven* Tuesday, April 11 7 p.m. Peavey Mart Centrium, Red Deer
* If necessary
Single-game tickets for all Rebels home playoff games at the Peavey Mart Centrium can be purchased through Tickets Alberta. Playoff packages are available at reddeerrebels.com.
UCHACZ SCORES 50 GOALS
Centre Kai Uchacz is the sixth player in Rebels history to score 50 goals in a season. It's also the first time the Rebels have had a 50-goal scorer in back-to-back seasons since 1992-93 and 1993-94.
Player Season Goals
B.J. Young 1996‑97 58
Kyle Wanvig 2000‑01 55
Ben King 2021‑22 52
Craig Reichert 1993‑94 52
Dean Tiltgen 1992‑93 50
Kai Uchacz 2022‑23 50
YEAR-END AWARDS
The Rebels have handed out their annual year-end awards for the 2022-23 WHL Regular Season. Kai Uchacz took home four awards — the Three-Star Award, Hampton Inn and Suites Top Scorer, Bearcom Most Valuable Player and ATB Humanitarian of the Year. Christoffer Sedoff was honoured as the team's Top Defenceman. The Players' Award was presented to captain Jayden Grubbe. Jace Isley was honoured as the Darcy Robinson Most Underrated Player, Ollie Josephson picked up the Pattison Media Rookie of the Year award, and Carson Birnie was the recipient of the Telus Scholastic Player of the Year award.