Expansion of prison needle exchange programs going ahead despite pandemic delays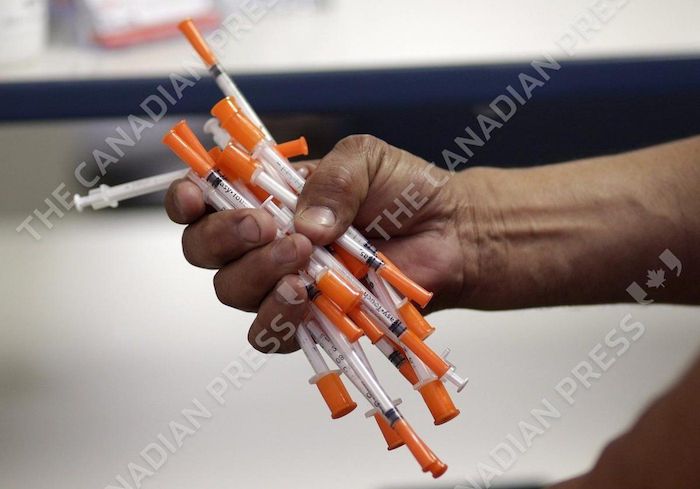 By Marie-Danielle Smith in Ottawa
Despite pandemic slowdowns, Correctional Service Canada is still planning to expand the needle exchange programs currently offered at nine federal prisons, government officials say.
At a presentation given to the International AIDS Conference in Montreal on Friday, Henry de Souza, the agency's director general of clinical services and public health, said "a number of institutions" have been identified for an expansion, and the program will continue to be implemented across the country.
Inmates have been able to request sterile equipment for drug use at two Canadian prisons since 2018, and another seven were added in 2019. Some advocates have expressed fears the program, which is designed to reduce needle sharing and the spread of infectious disease, could be cancelled after numbers showed a low uptake.
Only 53 inmates were actively using the programs in mid-June, officials told the AIDS conference Friday night, out of 277 who had been approved to participate over the last four years.
These programs are in addition to the country's only prison-based "overdose prevention service," which began operating in 2019 at the men's medium-security Drumheller Institution in Alberta. It is essentially a supervised injection site, offering sterile equipment and consumption under observation.
Since the site opened, there have been 55 participants, 1,591 visits and zero overdoses at the site, officials told the conference.The correctional service says it also offers mental health counselling, access to naloxone to counter opioid overdose effects and preventive treatments, such as pre-exposure prophylaxis — medicine taken to prevent getting HIV.
All of these efforts has led to a decrease in infections, said Marie-Pierre Gendron, an epidemiologist at Correctional Service Canada. She said HIV infection among inmates nationally is down from 2.02 per cent of the prison population in 2007 to 0.93 per cent in 2020; and hepatitis C is down from 21 per cent in 2010 to 3.2 per cent in 2021.
Lynne Leonard, a University of Ottawa associate professor who was contracted by the agency to evaluate the programs, said during a Tuesday morning panel that both programs have had "significant beneficial outcomes" for inmates, and she saw "eventual successful institutional adoption" despite initial pushback from staff.
Preliminary results from her study found that the program seemed to lead to a significant decrease in HIV infections at the institutions that put it into place. Overdoses at Drumheller were down more than 50 per cent overall since its supervised consumption site opened.
"I'm encouraged by the way they're describing the program as something they're proud of," says Sandra Ka Hon Chu, co-executive director of the HIV Legal Network.
But a major "red flag" that could be leading to lower participation is the fact that security personnel are involved in the process, she said. That's not the case in other countries' prison needle exchange programs, some of which are fully anonymous or even offer syringes in automated dispensing machines.
"It's really a critical flaw in the program," she said.
Inmates are subject to a threat assessment by security and approval by a warden before being able to access programs, as officials described the process. Almost a quarter of requests to participate in the program have been rejected, according to statistics presented at the conference.
Shawn Huish, the warden at Mission Institution in British Columbia, said it was a challenge to shift the mindset of correctional workers accustomed to searching for drugs, confiscating them and trying to stop inmates from taking them — while at the same time reassuring inmates that participating in the program would not affect their release.
There was a lot of "fake news" to battle, Huish said, including a billboard erected outside the prison that painted the program in a negative light.
"Our biggest focus was talking, educating, breaking down the fear. Having a needle acknowledged in jail can be scary for folks," he said. "You're afraid you're going to get needle sticks. So we looked at the records. In two and a half years, we've had one staff member get pricked, and it was while searching, and it was a thumb tack."
Leah Cook, the regional manager of public health for the Prairies, oversaw the implementation of the supervised injection site at Drumheller and said it is "the only known service of its kind in a correctional setting on the world stage, for which I am incredibly proud."
Cook said a "safe zone" was created so that participants in the program could carry their own drug supply to the observation room without the fear of being searched — and it's been nicknamed the "yellow brick road."
Although it is not clear whether the agency plans to expand the overdose prevention service to other institutions, Leonard's research found that staff members at Drumheller preferred it to the needle exchange program and thought it was safer and more successful.
Correctional Service Canada did not immediately respond to questions sent over the weekend.
This report by The Canadian Press was first published Aug. 2, 2022.
Allow unvaccinated Canadians to cross U.S. border, Poilievre asks President Joe Biden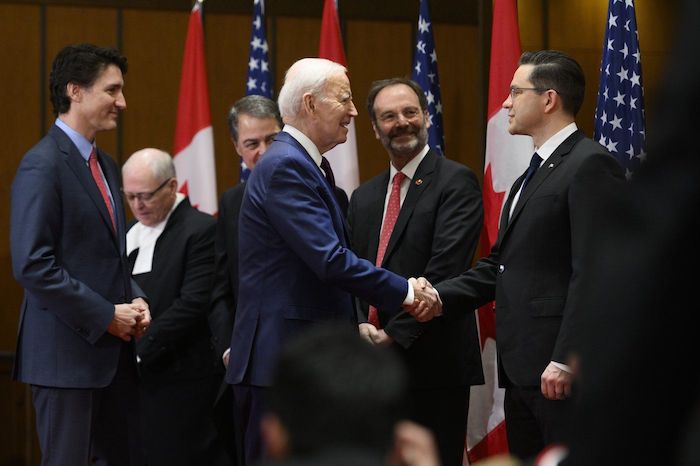 U.S. President Joe Biden shakes hands with Conservative Party of Canada Leader Pierre Poilievre, as Prime Minister Justin Trudeau looks on, during a welcoming ceremony on Parliament Hill in Ottawa, on Friday, March 24, 2023. Conservative Leader Pierre Poilievre says allowing Canadians who are unvaccinated against COVID-19 to cross into the United States was among issues he raised with President Joe Biden. THE CANADIAN PRESS/Justin Tang
By Stephanie Taylor in Ottawa
Conservative Leader Pierre Poilievre said Friday he asked President Joe Biden to remove the U.S. government's requirement that Canadians be vaccinated for COVID-19 before crossing the border.
He told reporters after their meeting that American citizens are no longer required to have their shots and Canada allows unvaccinated Americans to visit.
"There are millions of good, decent, honourable people who, through a personal medical decision, are discriminated against at the border," Poilievre said.
"I encouraged the president to lift those restrictions to allow them freedom of mobility."
Poilievre won the leadership of his party a little more than six months ago by mounting a vocal opposition to COVID-19 health restrictions, including mask and vaccine mandates, but he has since focused his message on cost-of-living issues.
He met with Biden on Parliament Hill Friday during the president's 27-hour visit to the Canadian capital, and later shared a photo of the two online.
Michael Ignatieff was the last Opposition leader to have face time with a U.S president. The former Liberal leader met with former President Barack Obama in 2009. It happened at the airport.
Poilievre said Friday he found Biden wants to be a "friendly" and "decent" neighbour to Canada, and on a personal level, he said he told the president they share Irish heritage.
He said they discussed the need for Canada to bolster its defence systems and "bring fairness" to workers by seeing the U.S. exempt Canada from its Buy American policies.
The Tory leader also said he expressed a need for Biden to axe tariffs on Canadian softwood lumber, arguing that the long-standing dispute saw a brief reprieve under Conservative prime minister Stephen Harper.
"I don't believe that Prime Minister (Justin) Trudeau has pushed and fought on behalf of Canadians," he said.
Before the meeting, Poilievre had shared some unscripted moments with the leader of the free world.
As he stood in a receiving line of Canadian politicians from all parties who were greeting Biden upon his arrival at Parliament Hill, Poilievre introduced himself as the "Leader of His Majesty's Loyal Opposition."
That prompted Biden to question, still shaking Poilievre's hand: "Loyal opposition?"
Poilievre assured him that yes, "we believe that opposition is an act of loyalty in our system."
Biden chuckled, patting Poilievre on the arm.
"We do, too, unfortunately," he said, chuckling.
Later, while addressing the House of Commons, Biden noted that both he and Trudeau appointed cabinets that were half women, making them the first in their respective countries to do so.
Many in the chamber broke out in applause.
Biden noticed that Poilievre and the Opposition Conservatives were not quick to rise, and quipped: "Even if you don't agree, guys, I'd stand up," which Poilievre and others then did.
Asked afterwards about that interaction, Poilievre said only: "We support gender equality for all Canadians."
Poilievre was on the guestlist for a dinner with Biden Friday evening, along with other government ministers, officials and celebrities.
The invitation process came with a dash of partisanship.
Earlier in the day, staff in Poilievre's office were left scratching their heads when they said it had not received an invite from Trudeau's office to attend, and asserted that any suggestion he had refused the invitation was false.
The Prime Minister's Office confirmed it had sent Poilievre notice of the dinner — but the invitation went to a personal email account that notifies senders it is not monitored.
This report by The Canadian Press was first published March 24, 2023.
Trudeau says he accepts MP's choice to leave Liberal caucus amid meddling allegations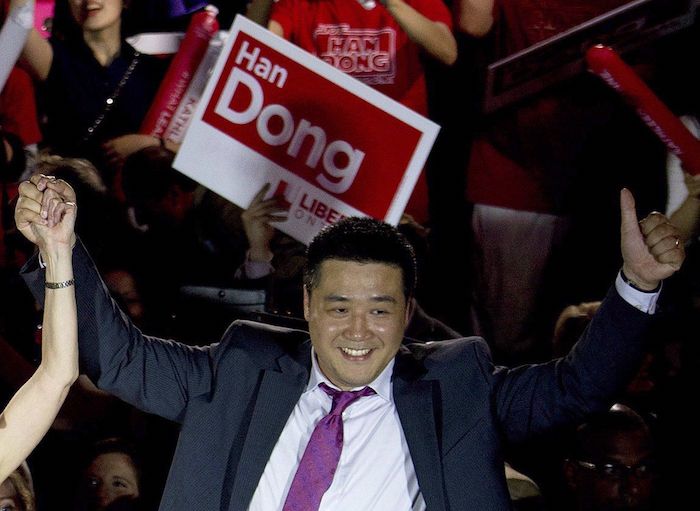 Then-Provincial Liberal candidate Han Dong celebrates with supporters while taking part in a nomination event, in Toronto, Thursday, May 22, 2014. THE CANADIAN PRESS/Nathan Denette
By Stephanie Taylor in Ottawa
Prime Minister Justin Trudeau says he accepts Han Dong's decision to leave the Liberal caucus after an allegation he spoke to a Chinese diplomat about delaying the release of two Canadians.
Trudeau sidestepped a question Friday about whether he believes the allegation, saying only that Canadians should watch Dong's "strong" speech for themselves.
He said at a news conference alongside U.S. President Joe Biden, who was visiting Ottawa, that he fully accepts Dong left the Liberal caucus "to vigorously contest these allegations."
The prime minister also added that he and Biden discussed foreign interference, and said it is "unacceptable," whether from China or from other countries such as Russia and Iran.
Dong, a Toronto MP, announced he would sit as an Independent on Wednesday night, telling the House of Commons that he would defend himself against "absolutely untrue claims" regarding his alleged involvement in Chinese interference.
Global News published a report that night, citing unnamed security sources who alleged that Dong spoke about Michael Spavor and Michael Kovrig, who at that time had been detained in China for just over two years, with a Chinese diplomat in Toronto in February 2021.
The two Canadian men had been detained by China in December 2018, just over a week after the RCMP arrested Huawei executive Meng Wanzhou in Vancouver on a U.S. extradition warrant.
Global News alleged that Dong told China's consul general in Toronto that releasing the men would benefit the Conservatives, but also that showing some "progress" in the case would help the Liberals.
The Canadian Press has not independently verified the allegations.
The MP said he met with the diplomat but disputes any suggestion he urged China to delay releasing Kovrig and Spavor, telling the House of Commons he did nothing to cause them harm.
Kovrig and Spavor were treated as honoured guests when Biden addressed the House of Commons on Friday.
Members of Parliament and others who packed the gallery gave the men no fewer than four standing ovations. It was their first time in public together since returning to Canada in September 2021.
Conservative Leader Pierre Poilievre told reporters it was moving to see Kovrig and Spavor, whom he described as "two courageous men who survived unimaginable hell."
Poilievre added: "I was very heartened that everyone in the chamber gave them such a warm welcome."
The Tory leader declined to weigh in on the allegations against Dong, but repeated his position that holding a public inquiry is the only way to get to the bottom of China's alleged meddling in Canadian affairs.
He noted that all opposition parties agree on that — and pointed out that even Dong himself voted in favour of a motion that called for a public inquiry, the day after he left the Liberal caucus.
"So for his sake and for everybody's sake, and most importantly, for the sake of the truth, the prime minister has to end his cover up and call a full public inquiry," Poilievre said.
Trudeau has not ruled out the possibility of calling a public inquiry, but he has said that any recommendation to do so will have to come from former governor general David Johnston, who was recently appointed to probe the issue as a special rapporteur.
This report by The Canadian Press was first published March 24, 2023.