Environmental groups raise concerns about proposed Calgary-to-Banff passenger train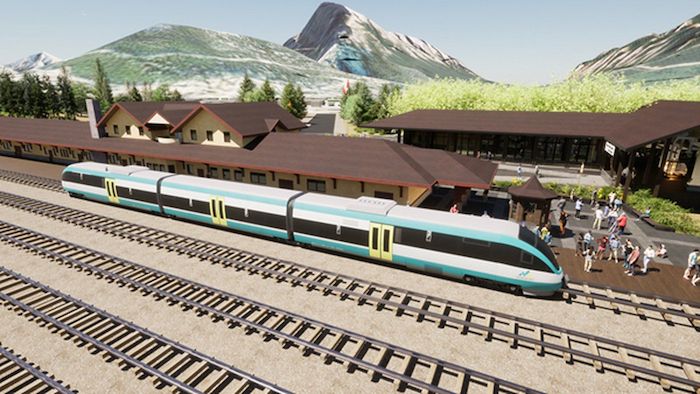 By Colette Derworiz in Calgary
Conservation advocates and experts are concerned a proposal for a Calgary-to-Banff passenger train is chugging along without addressing some key environmental issues in and around the national park.
Liricon Capital Inc., the lead private-sector proponent, is touting it as a hydrogen-powered transportation solution with lower greenhouse gas emissions than driving.
The company says it has received support from municipalities and the tourism industry, but the Alberta government has told the Globe and Mail it won't invest in the $1.5-billion train as it stands because the financial risks are too high.
Environmental organizations — including Canadian Parks and Wilderness Society, Yellowstone to Yukon and Bow Valley Naturalists — and some scientists say the proposal also has environmental risks.
"This is one of the most important conservation landscapes in North America," Tony Clevenger, a senior wildlife research scientist with the Western Transportation Institute at Montana State University, said from Banff, Alta. "It also happens to be one of the busiest in terms of transportation infrastructure.
"The thought of this new rail line, which would be really close to the existing rail line, is really troublesome — not just in the park, but outside the park on provincial lands and Stoney Nakoda (First Nations) as well."
Concerns include wildlife deaths along the rail line — particularly grizzly bears, which have been hit and killed on the existing track — and the fragmentation of wildlife habitat in Alberta's already busy Bow Valley.
Josh Welsh, Alberta program manager for Yellowstone to Yukon, said passenger rail to Banff isn't a bad idea.
"We see it as a means to potentially provide a sustainable transportation vision that could work for wildlife, people and the planet," he said.
But, he added, there's not enough information or collaboration to know whether it works for wildlife.
"The Bow Valley is already being squeezed by development."
A recent report by the Canmore, Alta.-based organization found the mountain town's footprint has grown five times in 50 years. It focused on grizzly bears because "if you take care of grizzlies, you take care of a lot of other things."
The report found bears have lost about 85 per cent of their original habitat in the Bow Valley.
"So, when you talk about another piece of linear infrastructure, which a train line is … we are talking about cutting up the habitat, disconnecting wildlife," he said.
Devon Earl, conservation specialist with Alberta Wilderness Association, said the Calgary-based organization has similar concerns.
"We don't think there has been adequate assessment of how wildlife will be impacted," she said.
She also questions whether a train would actually reduce cars on the highway, saying bus service may be more cost-effective.
Liricon has said Parks Canada needs to consider raising the entry fee to Banff National Park for private passenger vehicles and expanding bus and shuttle service between park attractions.
Parks Canada said in a statement that its first priority is to protect the ecological integrity in national parks, but it's "not currently reviewing a proposal for passenger rail in Banff National Park." Any review, it added, would look at policy and legislation, including the Impact Assessment Act and park priorities.
Jan Watrous, managing partner with Liricon, said a study shows the train could carry about 11 million passengers annually and reduce highway traffic.
"The fact that the passenger train will be a zero-emission hydrogen train and significantly reduce vehicle traffic … means human and wildlife mortality on the highways will be dramatically reduced," she said. "The specifics of the hydrogen solution and wildlife mitigations will be determined through consultation."
The company has said it's considering using technology such as lighting or sound to warn animals about approaching trains and reduce wildlife deaths on the tracks.
Colleen Cassady St. Clair, a biologist with the University of Alberta, said she spoke to Liricon about that idea, which came out of some research she led.
Although early tests show it can be effective for some wildlife, she said "there's a lot of untested terrain in a warning-based system."
St. Clair said there could also be challenges with wildlife crossing structures that go over or under the tracks.
Clevenger, who specializes in wildlife crossings, said he's heard the company was looking at underpasses to align with those under the Trans-Canada Highway in Banff National Park.
"That's very simplistic and completely unfeasible," he said. "You can't put in an underpass on the new rail line without putting an underpass on the (Canadian Pacific Railway) main line. You'd have to do both."
Clevenger said the measure would reduce already-compromised wildlife habitat.
A passenger train, he added, could end up increasing overall traffic to the national park.
"It's a landscape that is just overflowing with people," he said. "I don't think they can manage it."
This report by The Canadian Press was first published Aug. 15, 2022
'Ludicrous': Prosecutor questions testimony of teen in Calgary hit-and-run cop death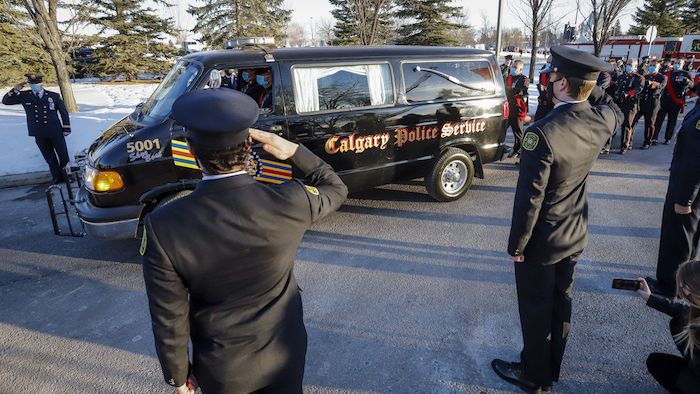 By Bill Graveland in Calgary
A prosecutor suggested Wednesday a teen charged with first-degree murder in the hit-and-run death of a Calgary Police Service officer had no reason to believe he was in danger.
Sgt. Andrew Harnett died in hospital on Dec. 31, 2020, after being dragged by a fleeing SUV and falling into the path of an oncoming car.
The alleged driver, who cannot be identified because he was 17 at the time, has testified he was scared when Harnett and another officer approached the vehicle during a traffic stop and he saw Harnett put his hand on his gun.
But during cross-examination, Crown prosecutor Mike Ewenson played the body-camera footage of the stop. He asked the accused, who is now 19, if there was any proof Harnett was being threatening or insulting during the routine traffic stop.
"You brought up George Floyd in your direct examination. Do you remember what happened to George Floyd?" Ewenson asked.
The accused replied: "He got pulled out of the vehicle and I think they stepped on his neck … and he said he couldn't breathe."
Floyd was a Black man who was killed during an arrest by Minnesota police on May 25, 2020.
During testimony Tuesday, the teen testified he and his friends had discussed the Floyd case on social media.
"Let's talk about what we just saw with Sgt. Harnett if we could, because you're bringing this up at a trial that involves his death," said Ewenson. "Any abusive language from him?"
"No," the teen replied.
"Anything that was insulting to your age, your race, your ethnic background or religion," Ewenson asked.
"Not necessarily, no. Actually, I felt like I was being racialized, right? Just the fact that the door opened and the fact that he asked for my phone number. I've never been asked for my phone number."
Ewenson said any talk of the traffic stop being racist was just something the teen wanted the court to "take his word for" and there's nothing that would be considered racist from Harnett's behaviour.
"That's how I felt," the accused replied.
The teen repeatedly told Ewenson that he wasn't sure how he ended up in the neighbourhood. He said he was following his GPS to get to a party. He also said he didn't know who the third person in the back seat of the vehicle was, who had come with a friend.
Ewenson said it's unlikely there would be memory lapses after an event that was the "most traumatic, powerful" and "consequential" night of the teen's life.
"So looking back on it, you realize the story is ludicrous? The story doesn't make sense, does it?" Ewenson asked. "Everything for you is a mindless reaction."
The suspect said at the time he panicked and just decided to take off because he was afraid. The teen said looking back, he wishes his decision had been different.
"Look, to be frank to you, I've sat for two years in jail and I've thought about this over and over and over again," he said. "It's different when I think about it now and what I was going through at the moment."
Ewenson suggested it was more likely something illegal was inside the suspect vehicle that made fleeing a simple traffic stop worth the risk.
Closing arguments in the trial are scheduled for Thursday.
This report by The Canadian Press was first published Sept. 28, 2022.
Incredible luxury homes and vehicles seized in massive international $55 million drug bust with Alberta roots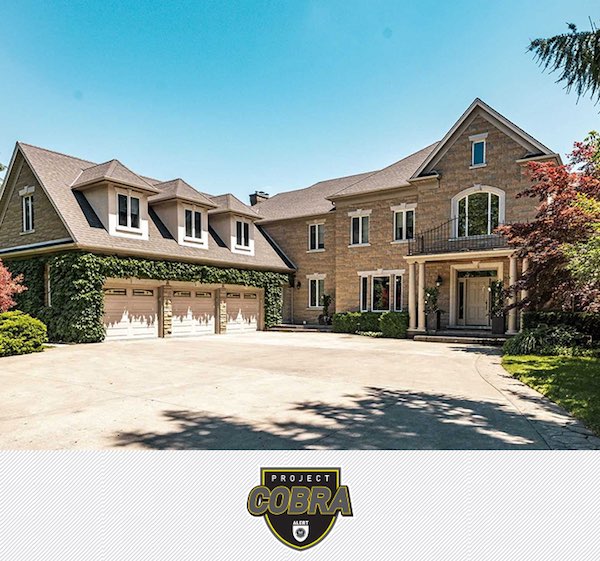 Niagara-On-The-Lake home seized by police in Project Cobra operation
News release from the Alberta Law Enforcement Response Team (ALERT)
Project Cobra intercepts $55 million worth of drugs
More than an estimated $55 million worth of methamphetamine and cocaine has been seized following a cross-border investigation by ALERT, RCMP Federal Serious and Organized Crime, and the U.S. Drug Enforcement Administration.
Project Cobra is a nearly three-year organized crime investigation into transnational drug importation, drug trafficking, and money laundering.
As the result of enforcement initiatives on both sides of the border, 928 kilograms of methamphetamine and 6 kilograms of cocaine were intercepted. In addition, approximately $7 million worth of assets have been seized or placed under criminal restraint.
Project Cobra relied on the assistance of a number of police agencies and specialized units, including: Calgary Police Service, Edmonton Police Service, U.S. Homeland Security Investigations, U.S. Customs and Border Protection, Canada Border Services Agency (CBSA), Niagara Regional Police, Canada Revenue Agency, Financial Transactions and Reports Analysis Centre of Canada (FINTRAC), and RCMP units in Ontario, Nova Scotia, Saskatoon, North Battleford, Sask., and Osoyoos, B.C.
Police agencies collaborated to make numerous large-scale drug seizures during the course of Project Cobra. These were shipments destined for Alberta, and included the following seizures:
342 kg of meth in Wyoming;
308 kg of meth in Los Angeles;
137 kg of meth in Calgary;
84 kg of meth in Los Angeles;
50 kg of meth at Lake Koocanusa, B.C.;
7 kg of meth and 1 kg of cocaine in Calgary; and
5 kg of cocaine in North Battleford, Sask.

Nineteen firearms were also seized, which included handguns, rifles, submachine guns, and suppressors.
Seven million dollars' worth of property, bank accounts, luxury vehicles, and other suspected proceeds of crime has been seized or placed under criminal restraint. This includes a $3.5 million home in Niagara-on-the-Lake, two Lamborghinis, a Porsche, classic cars, and $200,000 cash.
Project Cobra began in 2020 and a series of 11 coordinated search warrants were executed in December 2021. Homes, vehicles, businesses, and storage locations were searched in Calgary, Bedford, Nova Scotia, Niagara-on-the-Lake, Ont., and Leduc County, Alta.
Fifteen people and one business have been charged with 80 criminal offences ranging from participation in a criminal organization, to importation of a controlled substance, to laundering proceeds of crime, to drug trafficking.
The suspects were arrested and charged between May 2022 and August 2022:
Elias Ade, 38-year -old from Calgary, charged with 12 offences;
Abdul Akbar, 37-year-old from Calgary, charged with 8 offences;
Tianna Bull, 25-year-old from North Battleford, charged with 1 offence;
Lina El-Chammoury, 50-year-old from Calgary, charged with 2 offences;
Russell Ens, 39-year-old from North Battleford, charged with 2 offences;
Talal Fouani, 46-year-old from Calgary, charged with 3 offences;
Belal Fouani, 44-year-old from Calgary, charged with 3 offences;
Kari-Lynn Grant, 51-year-old from Calgary, charged with 4 offences;
Scott Hunt, 33-year-old from Calgary, charged with 3 offences;
Ricco King, 50-year-old from Bedford, N.S., charged with 5 offences;
Jarett Mackenzie, 32-year-old from Calgary, charged with 6 offences;
Jesse Marshall, 52-year-old from Calgary, charged with 4 offences;
Daniel Menzul, 32-year-old from Calgary, charged with 4 offences;
Sean Nesbitt, 44-year-old from Calgary, charged with 3 offences;
William Whiteford, 39-year-old from Leduc County, charged with 20 offences; and
Fouani Equity Funds Ltd. charged with 1 offence.
Fouani Equity Funds Ltd. is a Calgary-based investment company and was charged with laundering proceeds for an organized crime group.
Members of the public who suspect drug or gang activity in their community can call local police, or contact Crime Stoppers at 1-800-222-TIPS (8477). Crime Stoppers is always anonymous.
ALERT was established and is funded by the Alberta Government and is a compilation of the province's most sophisticated law enforcement resources committed to tackling serious and organized crime.