Doctor tells Law Society of Alberta that former health minister visited his home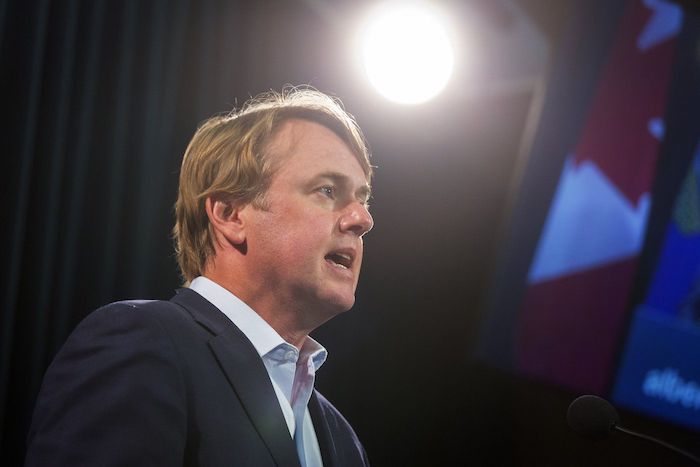 By Bill Graveland in Calgary
Alberta's justice minister began a three-day Law Society of Alberta hearing Tuesday to answer allegations he broke the lawyers' code of conduct.
Three complaints against Tyler Shandro stem from his time as health minister early in the COVID-19 pandemic.
Dr. Mukarram Zaidi told the hearing he had posted a photo on social media of Shandro with a caption related to privatizing health care. He said the minister and his wife visited his home in March 2020 during fractious negotiations between the government and the Alberta Medical Association over fees.
The photo of Shandro, with a thought bubble caption, said "So every Albertan that I can kick off health care is another client we can sign up for Vital Partners. We're going to be RICH."
Shandro's wife, Andrea, is the co-founder of Vital Partners, a health insurance agency.
Zaidi said he went outside of his home to meet Shandro, whom he described as being highly upset. He said Shandro demanded that the doctor remove the post immediately because his family was being subjected to death threats.
"As I stepped out into the driveway I see Shandro and his wife standing at the sidewalk. He was crying, he was emotionally charged. His wife was holding him," Zaidi said.
"He said, 'you can't do this to us. We're getting death threats.' I think I asked him, 'what do you want me to do?' And he said, 'delete your post.'"
Zaidi said he complied and felt that Shandro was visiting in his capacity as a government minister and not as a private citizen.
He said he has been a member of the United Conservative Party, was an activist and had known Shandro for some time.
Zaidi told the panel that he put the matter behind him but was contacted by a CBC journalist.
Under examination from Shandro's lawyer, Zaidi said he didn't plan the original post or his media interview as a strategy to discredit the minister during fee negotiations.
"I wanted to get attention that this is a conflict of interest, of a sitting minister of health, whose business would benefit in turn for what his actions were," he said.
After the story emerged, Shandro issued a statement confirming the meeting took place.
"The attacks on someone I love and the mother of my children upset me deeply. As any husband would do, I responded passionately to defend my wife," the minister wrote.
Shandro said he visited Zaidi, who he had known to be a decent and honourable man.
"When I saw that a longtime political acquaintance and neighbour had posted something to social media that was contributing to attacks against my wife, I went to speak to him and implore him to cease propagating this false information."
Shandro's lawyer, Grant Stapon, said the conversation with Zaidi was a private matter.
"Those communications should be judged on the basis of Minister Shandro's actions as a non-lawyer, in his personal capacity," said Stapon.
"He was not practising law. He was not acting as a politician. He was acting in his personal capacity."
Zaidi said he found the encounter unsettling.
"I don't really get intimidated. This was a very intimidating situation."
This report by The Canadian Press was first published Jan. 24, 2023.
Japan to resume imports of Canadian processed beef, 20 years after mad cow disease
OTTAWA — Japan is lifting the last of its restrictions against Canadian beef, 20 years after BSE, often called mad cow disease, devastated this country's cattle industry.
The federal government says Japan is reopening its doors to processed beef and beef patties from Canada.
The move puts an end to the market access barriers Japan put in place in 2003, after a case of bovine spongiform encephalopathy, or mad cow disease, was discovered in Alberta.
While Japan initially shut its border to all Canadian beef, it has been lifting restrictions in stages over the years, most recently with its 2019 decision to begin accepting Canadian beef from cattle older than 30 months of age.
The federal government says Japan is now Canada's second-largest market for beef, with exports worth $518 million in 2022.
Around 40 countries closed their borders to Canadian beef during the height of the 2003 BSE crisis, resulting in billions of dollars in losses for the industry.
This report by The Canadian Press was first published March 27, 2023.
The Canadian Press
Statements from the family members of Constables Travis Jordan and Brett Ryan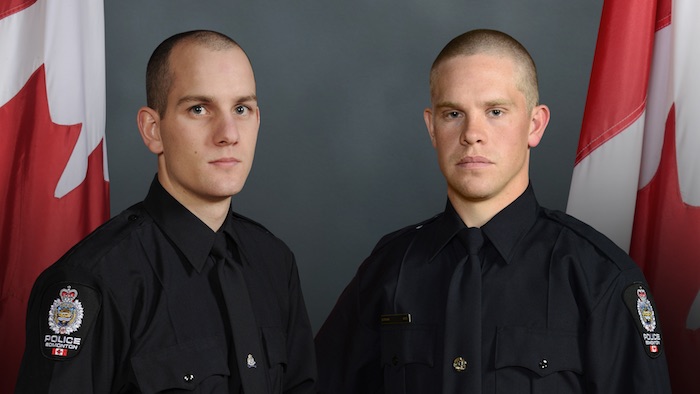 Statements submitted by the Edmonton Police Service
Ryan Family Statement
We want to thank the public for the overwhelming outpouring of support they have provided our family, and Brett's EPS and first-responder family, during this extremely difficult time. Grieving the sudden loss of a beloved member of our family is ineffable. Brett was a husband, a son, a brother, an uncle, and a father-to-be. He was a multi-talented individual, dedicated friend, respected colleague, active community member and volunteer, and compassionate first responder whose calling was to help those in need. His absence is profound, and we, along with his brothers and sisters in blue, will miss him. We have had the incredible experience of witnessing the extraordinary support a city can provide a family in their most significant time of need. Thank you for your selflessness expressed through thoughtful words, blue ribbons, touching tributes, acts of kindness, and much more. As we prepare to say our farewell, we thank you for respecting our privacy and for continuing to do so in the coming days and weeks as we grieve this tremendous loss.
Jordan Family Statement
We want to take this opportunity to express our sincere appreciation to the public for the extraordinary lengths you have gone to support our family, and Travis' EPS family, in this time of great tragedy. We are beyond words as we continue to grieve this unspeakable loss. Travis' sense of adventure was boundless and led him to a life well-lived. He was a son, a husband, a brother, and a loyal friend. Alberta may have called to his heart, but the East Coast ran through his veins. His family roots in Nova Scotia have deep ties to the province filled with friends, family and loved ones. We want to extend our thanks for their continued love and support and pay homage to them for the profound effect they had on his life. He was passionate about giving back to his communities, and his willingness to help was limitless—all the makings of a great police officer and an even greater human being. This loss has cast an enormous void in our lives, and we, along with his EPS brothers and sisters, will miss him fiercely. The incredible outpouring of support we continue to receive in this city and across the country has not gone unnoticed and is deeply appreciated. We thank you for respecting our family's privacy during this difficult time and for continuing to do so in the days ahead as we prepare to say farewell to a great man.