Doctor: Eriksen 'was gone' before being resuscitated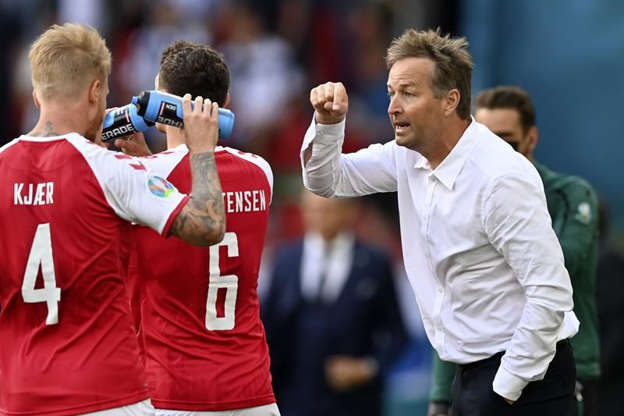 COPENHAGEN (AP) — Denmark's team doctor said Sunday that Christian Eriksen's heart stopped and that "he was gone" before being resuscitated with a defibrillator at the European Championship.
Eriksen collapsed during Denmark's opening Euro 2020 group game against Finland on Saturday and was given lengthy medical treatment before regaining consciousness.
"He was gone. And we did cardiac resuscitation. And it was cardiac arrest," said team doctor Morten Boesen, who led the work in giving Eriksen treatment on the field. "How close were we? I don't know. We got him back after one defib. That's quite fast."
Eriksen was in stable condition at a Copenhagen hospital and had spoken to teammates via video link on Sunday, team officials said.
Boesen said it was still unclear what caused the midfielder's collapse.
"I'm not cardiologist, so the details about why it happened and further, I will leave to the experts," he said.
He also said the 29-year-old Eriksen may not have survived had the game not been played at a major soccer tournament with top-class medical equipment at hand.
"That was completely decisive, I think," Boesen said. "The time from when it happens to when he receives help is the critical factor, and that time was short. That was decisive."
Denmark coach Kasper Hjulmand said when he spoke to Eriksen, the Inter Milan midfielder was more concerned about his teammates' well being than his own.
"He said 'I don't remember much but I'm more concerned about you guys. How are you doing?'" Hjulmand said. "That's typical Christian. … It was good to see him smile."
The Danish players and team staff were being given crisis management assistance as they process the incident. Eriksen fell face-forward to the ground late in the first half and his teammates formed a protective circle around him while the medics gave him treatment.
The game was suspended for about 90 minutes before resuming. Finland won 1-0 after scoring in the second half.
Denmark canceled a planned training session on Sunday but Hjulmand said they would try to go back to their normal routines on Monday. He insisted the players are determined to finish the tournament, with Denmark playing Belgium next in Group B on Thursday.
"(Eriksen) would like for us to play," Hjulmand said. "We are trying to get back to some normality tomorrow. That is completely in line with what the psychologists are saying, and the way I want to try to lead this group forward."
The decision to restart the game on Saturday has been heavily criticized by many in Denmark, including former players Peter Schmeichel and Michael Laudrup.
UEFA gave Denmark the option to resume the game Sunday at noon but the players opted to finish it Saturday evening instead. A later date was not possible because Finland plays its second group game on Wednesday in St. Petersburg, Russia.
Hjulmand said he remained proud of his players for finishing the game, but that he now had second thoughts about not insisting it should have been called off.
"In hindsight, I wonder if I could have done something differently," Hjulmand said. "Because when I look back, I honestly do not think we should have been back on the field. I am so proud that the players were able to mobilize and give it a try. It was a huge effort. But I have a guilty conscience that we were back out there."
___
More AP soccer: https://apnews.com/hub/soccer and https://twitter.com/AP_Sports
Mattias Karén, The Associated Press
Penny Oleksiak wins bronze in 200-metre freestyle for sixth Olympic medal
TOKYO — Canadian swimmer Penny Oleksiak has won a bronze medal in the women's 200-metre freestyle at the Tokyo Olympics.
It's Oleksiak's sixth career medal, making her Canada's most decorated summer Olympian.
Speedskater Cindy Klassen and dual Olympian Clara Hughes also have six medals each, while rowing's Lesley Thompson-Willie and track and field's Phil Edwards have five each in the Summer Olympics.
Oleksiak finished the first length in the lead at the Tokyo Aquatics Centre and held off a late push by China's Junxuan Yang to finish third.
Australia's Ariarne Titmus took gold while Hong Kong's Siobhan Bernadette Haughey took silver.
Oleksiak won her fifth career medal on Sunday when the Canadian team took silver in the women's 4 x 100-metre freestyle.
This report by The Canadian Press was first published July 27, 2021.
The Canadian Press
CP NewsAlert: Trucker sentenced to 12 1/2 years in hotel room death of Edmonton woman
EDMONTON — A judge has sentenced an Ontario trucker driver to 12 1/2 years in prison for killing a woman in his Edmonton hotel room a decade ago.
Court of Queen's Bench Justice Stephen Hillier said Bradley Barton will get credit for days he has already spent in custody, so about 11 years remain in his sentence.
A jury found Barton guilty in February of manslaughter in the death of Cindy Gladue, a 36-year-old Métis and Cree woman who bled to death at the Yellowhead Inn in June 2011.
Hillier said he rejected what he called the self-serving stories Barton told at his trial to avoid responsibility for the aggressive sexual assault that killed Gladue.
Medical experts testified the mother of three had four times the legal limit of alcohol in her system when she was left to bleed to death in a bathtub from a severe wound caused by rough sex.
Gladue's relatives bowed their heads when the judge said there is no sentence that will bring Gladue back or undo the intergenerational trauma the woman's death has caused her family.
It was the second trial for Barton.
A jury found him not guilty in 2015 of first-degree murder, which sparked rallies and calls for justice for Indigenous women.
More coming …
The Canadian Press