Dizzying weather extremes a new fact of life for Canadians, experts say
As Ottawa limps across the finish line of its snowiest January on record, cherry blossoms are blooming at the legislature in coastal Victoria, B.C.
Millions of Canadians were hiding out this week under extreme cold warnings stretching across the map, even as some East Coast cities enjoyed moderate temperatures.
According to experts, these co-existing extremes have been predicted for some time — and they're likely here to stay.
"This is the kind of thing people have been predicting for years," said Konrad Gajewski, a professor of geography and environment at the University of Ottawa.
"This kind of pattern of more alternation, more extremes, both in terms of warm and cold conditions is what we're expecting for the future."
Central Canada's cold snap comes from the oscillating upper wind patterns of the jet stream, pushing the cold air down from the north with the polar vortex.
At the same time, the large "waves" in the wind patterns push some warm air north, explaining comparatively warm temperatures on the coasts.
The exact role climate change plays in the pattern's changes is an ongoing discussion in the scientific community, but a common belief says it's the result of a warming Arctic.
"It's thought that as the Arctic warms up because the ice is melting back, we're going to have more of a situation where you have what we call 'waviness' in the polar vortex," Gajewski said.
This "waviness" in the upper wind's pattern could be carrying cold further and further south into south and central Canada, and pushing warm air further north along the coast.
Atmospheric physics professor Kent Moore at the University of Toronto says the striking weather patterns show how the world's climate system is intimately coupled, and how changes in the coldest and warmest regions can be felt in central Canadian cities.
As an example, Moore pointed to the theory that the waves in upper wind patterns are moving slower, with larger amplitudes as a possible result of warming in the Arctic.
"The largest changes in the climate are occurring in the Arctic and some would say, 'Who cares? I live in mid-latitudes, why should I care about that stuff?'" Moore said.
"The Earth is kind of a small place and so things that happen in the Arctic don't stay in the Arctic."
This interconnectedness of the world's climate system also explains the impacts from El Nino systems on Canada, Moore said.
David Atkinson, a climate professor at the University of Victoria, said the jet stream's behaviour could also make the increasingly frequent, intense storms on the East Coast gain even more strength.
"If the air is kind of moving apart, it allows surface air to rise more easily," Atkinson said. "That helps a storm to work, storms depend on rising air."
Gajewski said the arrival of long-predicted weather patterns means it's time for all levels of government to seriously plan for changes that are already hitting Canada in the form of sweltering heat waves in the summer and record cold in the winter.
This could mean more snow-clearing and flood response on the municipal level and global warming mitigation efforts across the board.
In Ottawa, Gajewski pointed to some ongoing local efforts like more bicycle lanes and efforts to plow some of them in the winter.
"A lot of it would just be common sense. It's going to get hotter in the summers and we're going to get perhaps more snow, more rain, more extreme conditions, more floods," Gajewski said.
"Cities have to be planned to deal with that kind of thing."
For cities like Ottawa, which just completed its twelfth straight day of round-the-clock plowing, people shouldn't plan to retire their shovels any time soon.
"We're going to have to shovel more often."
Holly McKenzie-Sutter, The Canadian Press
Why Bad Climate Legislation Is Worse Than No Climate Legislation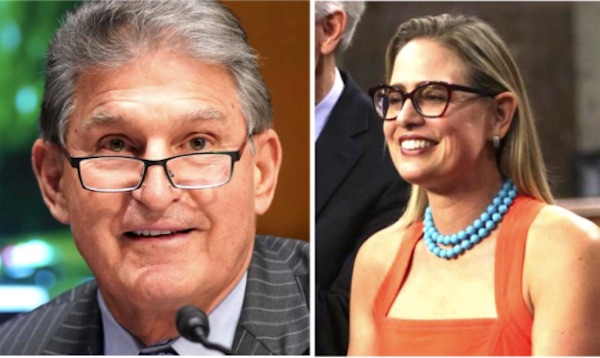 From Michael Schellenberger
Moderate Democratic Senators Joe Manchin & Krysten Sinema Are Right to Oppose the Clean Energy Performance Program
Progressives are angry that moderate Democratic Senator Joe Machin has reportedly opposed the inclusion of climate-related legislation in President Joe Biden's budget "This is absolutely the most important climate policy in the package," said Leah Stokes, a Canadian political scientist who helped write the legislation. "We fundamentally need it to meet our climate goals. That's just the reality."
But that's not the reality. The "Clean Energy Performance Program" is not needed to meet climate goals, and might actually undermine them.
Consider Waxman-Markey. That's the name of the "cap and trade" climate legislation that passed the House but failed in the Senate in 2010. It had a climate goal of reducing U.S. greenhouse gas emissions by 17 percent below 2005 levels by the year 2020. Instead, the U.S. reduced its emissions by 22 percent.
Had cap and trade legislation passed in the Senate, emissions would have declined less than 22 percent, because Waxman-Markey so heavily subsidized coal and other fossil fuels. As the Los Angeles Times reported at the time, "the Environmental Protection Agency projects that even if the emissions limits go into effect, the U.S. would use more carbon-dioxide-heavy coal in 2020 than it did in 2005."
The same thing would likely have been true for the Clean Energy Performance Program, which lock in natural gas. Consider France. According to the Commision de Regulation de L'Energie, €29 billion (US$33) billion was used to purchase wind and solar electricity in mainland France between 2009 and 2018. But the money spent on renewables did not lead to cleaner electricity. In fact, the carbon-intensity of French electricity increased.
After years of subsidies for solar and wind, France's 2017 emissions of 68g/CO2 per kWh was higher than any year between 2012 and 2016. The reason? Record-breaking wind and solar production did not make up for falling nuclear energy output and higher natural gas consumption. And now, the high cost of renewable electricity is showing up in French household electricity bills.
Some pro-nuclear people supported the proposed Clean Energy Performance Program. They claimed it would have saved existing nuclear plants at risk of closure. According to the U.S. Energy Information Administration, the closure of nuclear plants including Diablo Canyon in California, will result in nuclear energy in the U.S. declining by 17% by 2025. If the Program had passed, some pro-nuclear people believe, plants like Diablo Canyon could have been saved.
But the Clean Energy Performance Program would not have saved Diablo Canyon for the same reason it would not have saved Indian Point nuclear plant, which closed in New York, earlier this year: progressive Democratic politicians are forcing nuclear plants to close, and at a very high cost to ratepayers.
If the Clean Energy Performance Program had passed into law, Diablo Canyon's owner, Pacific Gas & Electric, would simply have passed the $500 million to $1.5 billion penalty imposed by the Program onto ratepayers, along with the other billions in costs related to closing Diablo Canyon 40 years earlier than necessary. The same would have happened with Indian Point.
Where there is political support for saving nuclear plants, state legislators and governors save nuclear plants, as they did in Illinois a few weeks ago, and as they have done in Connecticut, New Jersey, and with up-state nuclear plants in New York. In other states, nuclear plants are protected from cheap natural gas by regulated electricity markets. And now, with natural gas prices rising dramatically, any nuclear plants at risk of closure for economic reasons are no longer at risk.
What threatens the continued operation of nuclear power plants, and nuclear energy in general, is the continued subsidization of renewables, which the Clean Energy Performance Program would have put on steroids. Under the program, utilities would have received $18 for each megawatt-hour of zero-emissions energy it produces between 2023 to 2030, on top of the existing $25 per megawatt-hour subsidy for wind energy.
Under such a scenario, notes energy analyst Robert Bryce, a wind energy company "could earn $43 per megawatt-hour per year for each new megawatt-hour of wind energy it sells. That's a staggering sum given that the wholesale price of electricity in New York last year was $33 per megawatt-hour. In Texas, the wholesale price of juice was $22 per MWh."
Manchin is joined in his opposition to the Plan by moderate Democratic Arizona Senator, Krysten Sinema, and understandably so. The legislation would cost Arizona ratepayers nearly $120 billion in additional electricity costs, according to energy analysts Isaac Orr and Mitch Rolling of the American Experiment. "This would result in a 45 percent increase in electricity prices by 2031, compared to 2019 rates," they note.
As troubling, the Clean Energy Performance Program would increase dependence on solar panels made in China by incarcerated Uighyr Muslims living in concentration camps and against whom the Chinese government is committing "genocide," according to the U.S. State Department. New research shows that China made solar panels cheaper through the use of forced labor, heavy government subsidies, and some of the dirtiest coal in the world. The Program would have done nothing to shift production of solar panels back to the U.S.
Nor would the legislation have done anything to internalize the high cost of solar panel waste disposal. Most solar panels become hazardous waste, and create dust from heavy metals including lead, as soon as they are removed from rooftops. A major study published in Harvard Business Review earlier this year found that, when the high cost of managing toxic solar panel waste is eventually accounted for, the true cost of solar electricity will rise four-fold.
As troubling, the continued expansion of weather-dependent renewables will increase electricity costs and blackouts across the United States, as they did in California and Texas. Those renewables-driven blackouts were likely on Senator Manchin's mind when he made his decision to oppose the Clean Energy Performance Plan. He certainly knows about the problems of renewables in Texas and California, since I discussed them directly with Manchin when I testified before his committee earlier this year.
A better approach would be for Congress to seek nuclear-focused legislation to expand nuclear from its current 19% of U.S. electricity to 50% by 2050. It should take as a model the British government's announcement yesterday that it would put nuclear energy at the center of its climate plans. Global energy shortages triggered by the lack of wind in Europe have led nations to realize that any efforts to decarbonize electricity grids without creating blackouts must center nuclear power, not weather-dependent solar and wind.
Environmental Progress and I met with British lawmakers in 2019 to advocate for a greater focus on nuclear. At the time, many British energy analysts, as well as ostensibly pro-nuclear climate activists, Mark Lynas and George Monbiot, were telling the public that their nation did not need more nuclear, as Britain could simply rely more on wind energy, and natural gas. Now, electricity prices are skyrocketing and factories are closing in Britain, due to a bad year for wind.
It was a strange experience to be alone in Britain, without support from supposedly pro-nuclear Britons, in urging lawmakers to build more nuclear plants, but I was similarly alone in many other parts of the world, and got on with the task. Happily, one year later, former Extinction Rebellion spokesperson Zion Lights joined me in advocating for nuclear, and quickly forced the government to agree to a nuclear build-out.
Today, in the U.S., there is a growing grassroots movement for nuclear energy, one which saved nuclear plants, twice, in Illinois, and other states, and is gearing up to save Diablo Canyon nuclear plant in California. Doing so will require a new governor, since the current one, Gavin Newsom, made closing the plant a feature of his sales pitch to powerful environmental groups, including Sierra Club and Natural Resources Defense Fund which are, like Newsom himself, heavily funded by natural gas and renewable energy companies that stand to benefit from the Diablo's destruction.
Leadership at the national level will need to come from Senators Manchin and Sinema. While a significant amount of electricity policy is determined by the states, the Senate can play a constructive role in maintaining the reliability, resiliency, affordability, I testified to Senator Manchin and other committee members. Senator Sinema is from Arizona, a state with the largest nuclear plant in the U.S., Palo Verde, and which is a model of how to make electricity both low in emissions, and in costs.
With the Clean Energy Performance Program now apparently dead, the Congress, led by Manchin and Sinema, should take policy action to not only keep operating the nuclear plants that have been critical to preventing power outages in recent years, but also expand them.
About Michael Shellenberger
Michael Shellenberger is a Time Magazine "Hero of the Environment,"Green Book Award winner, and the founder and president of Environmental Progress.
He is author of the best-selling new book, Apocalypse Never (Harper Collins June 30, 2020), which has received strong praise from scientists and scholars. "This may be the most important book on the environment ever written," wrote climate scientist Tom Wigley. "Apocalypse Never is an extremely important book," says historian Richard Rhodes, who won the Pulitzer Prize for The Making of the Atomic Bomb. "Within its lively pages, Michael Shellenberger rescues with science and lived experience a subject drowning in misunderstanding and partisanship. His message is invigorating: if you have feared for the planet's future, take heart."
Additional Reading:
Why Biden's Climate Agenda Is Falling Apart
Nuclear Plant Closures And Renewables Increase Electricity Prices & Unreliability, Testifies Michael Shellenberger to U.S. Senate
China Made Solar Cheap With Coal, Subsidies, And "Slave" Labor — Not Efficiency
Bjorn Lomborg shows how social media censors forgot to include the facts in their fact check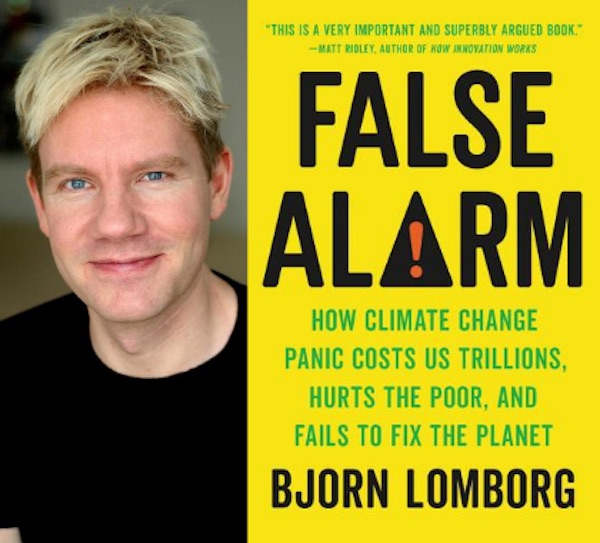 Dr. Bjorn Lomborg is president of the Copenhagen Consensus Center, and visiting fellow at the Hoover Institution, Stanford University. The Copenhagen Consensus Center is a think-tank that researches the smartest ways to do good. For this work, Lomborg was named one of TIME magazine's 100 most influential people in the world. His numerous books include "False Alarm: How Climate Change Panic Costs Us Trillions, Hurts the Poor, and Fails to Fix the Planet", "The Skeptical Environmentalist", "Cool It", "How to Spend $75 Billion to Make the World a Better Place", "The Nobel Laureates' Guide to the Smartest Targets for the World 2016-2030" and "Prioritizing Development: A Cost Benefit Analysis of the UN's SDGs".
The heresy of heat and cold deaths
A group of campaign researchers try hilariously, ineptly — and depressingly —to suppress facts
TL;DR. A blog, claiming to check facts, does not like that I cite this fact: the rising temperatures in the past two decades have caused more heat deaths, but at the same time avoided even more cold deaths. Since this inconvenient fact is true, they ignore to check it.  Instead, they fabricate an absurd quote, which is contradicted in the very article they claim to 'fact-check'.
166,000 avoided deaths
Cold deaths vastly outweigh heat deaths. This is common knowledge in the academic literature and for instance the Lancet finds that each year, almost 600,000 people die globally from heat but 4.5 million from cold.
Moreover, when the researchers include increasing temperatures of 0.26°C/decade (0.47°F/decade), they find heat deaths increase, but cold deaths decrease more than twice as much:
Or here from the article:
The total impact of more than 116,000 more heat deaths each year and almost 283,000 fewer cold deaths year is that by now, the temperature rise since 2000 means that for temperature-related mortality we are seeing 166,000 fewer deaths each year.
Climate Feedback
However, this is obviously heretical information, so the self-appointed blog, Climate Feedback, wants it purged. Now, if they were just green campaigning academics writing on the internet, that might not matter much. But unfortunately, this group has gained the opportunity to censor information on Facebook, so I have to spend some time showing you their inept, often hilarious, and mostly nefarious arguments. The group regularly makes these sorts of bad-faith arguments, and apparently appealing their Facebook inditements simply goes back to the same group. It is rarely swayed by any argument.
They never test the claim
Climate Feedback seemingly wants to test my central claim from the Lancet article that global warming now saves 166,000 people each year, from my oped in New York Post:
But notice what is happening right after the quote "Global warming saves 166,000 lives each year". They append it with something that is not in the New York Post. You have to read much further to realize that they are actually trying — and failing — to paste in an entirely separate Facebook post, which addressed a different scientific article.
It turns out, Climate Feedback never addresses the 166,000 people saved in their main text. "166" only occurs three times in the article: twice stating my claim and once after their main text in a diatribe by an ocean-physics professor, complete with personal insults. In it, the professor doesn't contest the 166,000 avoided deaths. Instead, he falsely claims that I am presenting the 166,000 as the overall mortality impact of climate change, which is absurd: anyone reading my piece understand that I'm talking about the impact of temperature-related mortality.
Perhaps most tellingly, Climate Feedback has asked one of the co-authors of the 166,000 Lancet study (as they also very proudly declare in their text). And this professor, Antonio Gasparrini, does not only not challenge but doesn't even discuss my analysis of the 166,000 avoided deaths.
Climate Feedback not only doesn't present any reasonable argument against the 166,000 avoided deaths. It has actually asked one of the main authors of the study to comment and they have nothing.
In conclusion, Climate Feedback simply has no good arguments against the 166,000 people saved, and yet they pillory my work publicly in an attempt to censor data they deem inconvenient. . That academics play along in this charade of an inquisition dressed up 'fact-check' is despicable.
Rest of Climate Feedback's claim is ludicrously wrong
So, beyond the claim of 166,000, Climate Feedback is alleging that I say the following: "those claiming that climate change is causing heat-related deaths are wrong because they ignore that the population is growing and becoming older."
This is a fabricated quote. I never say this. Climate Feedback has simply made up a false statement, dressing it as a quote of mine, even though I never claimed anything like this. This is incredibly deceptive: it is ludicrous to insist that I should argue that it is wrong to claim "climate change is causing heat-related deaths." I simply do not argue that "climate change is not causing heat-related deaths"
Up above I exactly argued that climate change causes more heat deaths. My graph shows that climate change causes more heat deaths.
And I even point out exactly that the temperature increases cause heat deaths in my New York Post piece:
"As temperatures have increased over the past two decades, that has caused an extra 116,000 heat deaths each year." Sorry, Climate Feedback, but the rest of your claim is straight-out, full-on stupid.
Evaluation of Climate Feedback's review
So Climate Feedback is simply wrong in asserting that I somehow say climate change is not causing heat-related deaths — because I do say that, even in my New York Post article:
Climate Feedback doesn't show anywhere in their main text how the 166,000 avoided deaths are wrong. They even ask one of the main authors of the study, and that professor says nothing.
Conclusion
Climate Feedback's deceptive hit job is long on innuendo and bad arguments (see a few, further examples below). But the proof really is in the pudding.
They make two central arguments. First, that my claim of "Global warming saves 166,000 lives each year" is incorrect. Yet, they never address this in their main text. And while they get information from one of the main authors of the Lancet study that is the basis for the 166,000 lives saved, they get no criticism of the argument.
Second, they assert that I somehow say that it is wrong to claim climate change is causing more heat-related deaths, which is just ludicrous because I make that very point, even in my New York Post article:
Verdict: Climate Feedback is fundamentally wrong in both their two main claims.
Additional point: It really shouldn't be necessary to say, but you can't make a 'fact-check' page, write page after page of diatribe, ignore the first main point and bungle the other main point, and then hope at the end nobody notices, and call my arguments wrong. Or, at least, you shouldn't be able to get away with such nonsense.
Two examples of the inadequate arguments in the rest of Climatefeedback
Lomborg doesn't have a time machine
Climate Feedback asks professor Gasparrini, co-author of the Lancet study above. He doesn't cover anything on the 166,000 deaths avoided. Instead, his text entirely discusses a 2016 WSJ article where I used his 2015-article but he criticizes me for not citing his 2017 article:
The reason I didn't cite his 2017-article is of course that I didn't have access to a time machine when I wrote my article in 2016.
Indeed, I have corresponded with Professor Gasparrini several times later about his 2017-article. And yes, his 2017-study indeed shows that at very high emissions, additional heat deaths will likely outweigh avoided cold deaths towards the end of the century. But his study also shows that all regions see additional heat deaths vastly exceeded by extra avoided cold deaths from the 1990s to the 2010s — the exact point I've made here.
Serious academics take into account population growth and aging
In a refreshing comment, Climate Feedback asks Philip Staddon, Principal Lecturer in Environment and Sustainability from the University of Gloucestershire to chime in. He says, that I'm wrong to criticize the lack of standardization from population growth and aging, because clearly "all serious academic research already takes account of population growth, demographics and ageing":
I, of course, entirely agree with Staddon, that all serious academic research should do that. But the research that I have criticized has exactly not done so, resulting in unsupported claims. So, for instance, in the Facebook post that Climate Feedback discusses, I show how CNN believes that a study shows a 74% increase caused by the climate crisis:
This is based on not adjusting for population and age, and is actually from the press release of the paper (and in table S6 in the paper).
Likewise, Staddon might have noticed that a very high-profile editorial in the world's top medical journals made that very amateurish mistake. They argue that temperature increases over the past 20 years have increased deaths among people 65 and older:
But they cite numbers that are not adjusted for age or population — indeed the world's population of people above age 65 has increased almost as much:
I absolutely agree with Principal Lecturer Philip Staddon on the necessity of making sure that good arguments in the public sphere are adjusted for population and aging before blaming climate. Unfortunately, they often aren't