Did Bernier's party split votes on the right? The answer is nuanced, expert says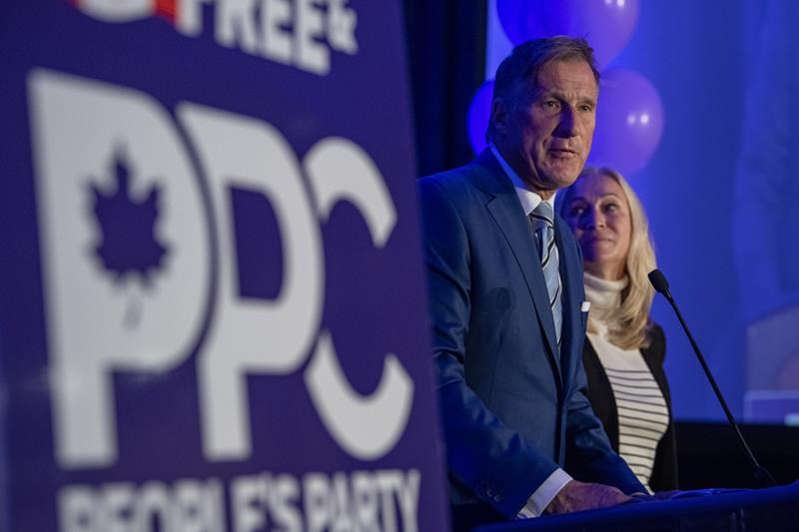 OTTAWA — If Conservative incumbent James Cumming narrowly loses his seat to the Liberals, he might want to blame Brock Crocker.
As of Tuesday afternoon, Cumming was almost 140 votes behind Liberal Randy Boissonnault, who held Edmonton Centre from 2015 until the Conservative flipped it in 2019.
The result might have been different if not for Crocker, the People's Party of Canada candidate who garnered just over 2,000 votes, signifying a potential pocket of support on the right that could have launched Cumming into the lead.
The situation is one that repeated itself in other parts of the country as the maverick movement led by Maxime Bernier picked up votes, but fell short of winning a seat in the House of Commons.
Trevor Tombe, an economics professor at the University of Calgary, took a look at the results and plotted 25 seats where the combined Conservative and PPC vote was greater than the winner's share of the votes.
Among the ridings on the list was Edmonton Centre.
Also on Tombe's list was Aurora-Oak Ridges-Richmond Hill, where Liberal candidate Leah Taylor Roy defeated Conservative incumbent Leona Alleslev, who first won the Toronto-area riding as a Liberal in 2015.
He also flagged Nickel Belt, where Liberal Marc Serre cruised to re-election, and Kitchener-Conestoga, where Conservative Carlene Hawley was a few dozen votes short of Liberal Tim Louis, with some 3,600 votes for PPC candidate Kevin Dupuis.
Tombe estimated that even a small shift of votes to the Conservatives could have meant extra seats for the Tories, although he cautioned against assuming that Conservative candidates would have won if Bernier's party didn't exist.
While Bernier likely picked up votes from supporters disenchanted with his former Conservative colleagues, votes also came from other sources and parties, experts say.
Conrad Winn, an expert on public opinion polling from Ottawa's Carleton University, said some support may come from disenchanted Conservatives, but it could just as easily be more random. He recounted a story of someone who by chance met Bernier at an event and left impressed with the PPC leader.
"Like all parties, it gets support for different kinds of motives," Winn said.
Winn cautioned it is just as difficult to draw a straight line between the Liberals and NDP because of the multiple reasons people support a party, such as age, geography and family history just to cite a few.
Tombe found on election night that the combined total of Liberal and NDP votes could have pushed either into the lead in almost double the 25 ridings that came up in his comparison between Conservative and PPC votes.
Kathy Brock, a professor of policy studies at Queen's University in Kingston, Ont., said Liberals may have lost votes to Bernier from past supporters unhappy with vaccine mandates. She pointed to research by Abacus Data that found a 42-year-old Ontario woman who typically votes Liberal was most likely to be vaccine hesitant.
Complicating matters further is some Tories appear to have voted Liberal because they privately wanted to ensure Prime Minister Justin Trudeau wears any fallout from the handling of the pandemic, Brock said.
Bernier lost his bid on election night to recapture the Quebec seat of Beauce he comfortably held for the Tories before his split from the party following his failed leadership run in 2017. Winning a seat is a key deliverable for his backers if Bernier wants to keep them from migrating away, Brock said.
"I'm struggling to see what he can deliver to them, other than an outlet for anger, but they can do that at a protest rather than belonging to a party," she said.
"People have now seen him in two elections. No seat, no deliverable. Maybe they try some other strategy now, but this is going to be a struggle for Maxime Bernier to try to hold this for two years."
This report by The Canadian Press was first published Sept. 21, 2021.
Jordan Press, The Canadian Press
Mohawk Council of Kahnawake 'repulsed' by politicization of Habs' land acknowledgment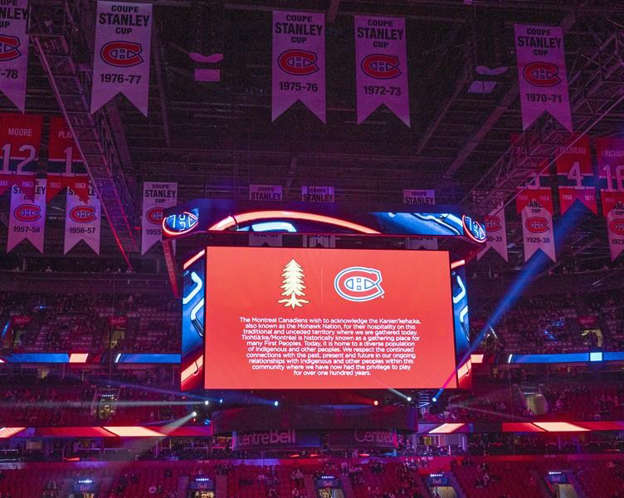 MONTREAL — The Mohawk Council of Kahnawake is blasting the Quebec government for questioning a land acknowledgment by the Montreal Canadiens that refers to the unceded territory of the Mohawk Nation.
The statement, which has been read before the NHL team's home games this season, acknowledges the hospitality of the Mohawk Nation "on this traditional and unceded territory where we are gathered today."
Quebec Indigenous Affairs Minister Ian Lafrenière told reporters on Wednesday the acknowledgment may be an error.
In a statement Thursday, the elected council for the First Nations reserve across the river from Montreal commended the hockey club's gesture as an example of true reconciliation and added it was "repulsed" by the province's attempt to politicize the effort, which it said undermines the Mohawk presence in the Montreal region.
On Wednesday, Lafrenière told reporters that referring to a specific nation may be a mistake as historians differ on which nation was the first to live in Montreal, while adding it was important to recognize that First Nations were the first occupants.
Grand Chief Kahsennenhawe Sky-Deer said in a statement that land is an essential part of Mohawk identity.
"It holds the knowledge of our ancestors, our history and our presence, now and for the future," Sky-Deer said. "Opinionated commentary that challenge and discredit our presence are not only insulting, they are taken as displaced attacks on our existence."
This report by The Canadian Press was first published Oct. 21, 2021.
The Canadian Press
Supreme Court of Canada sides with injured woman in snow-clearing squabble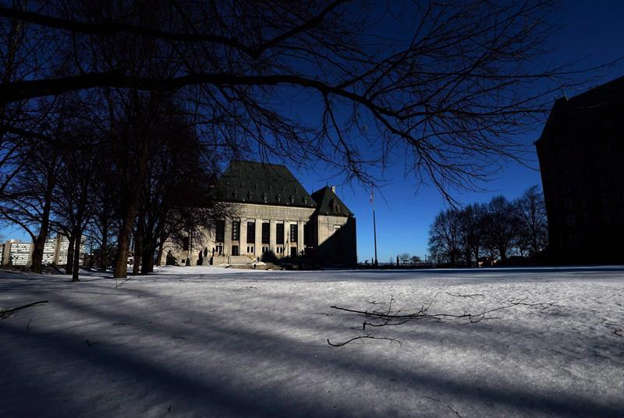 OTTAWA — A woman will get another chance to sue for damages over a leg injury she suffered while climbing through snow piled by a city's plow, the Supreme Court of Canada has ruled.
Taryn Joy Marchi alleged the City of Nelson, B.C., created a hazard when it cleared snow from downtown streets after a storm in early January 2015.
The removal effort left snow piles at the edge of the street along the sidewalk early in the morning of Jan. 5.
Late in the afternoon of Jan. 6, Marchi — then a 28-year-old nurse — parked in an angled spot on the street and, wearing running shoes with a good tread, tried to cross a snow pile to get on to the sidewalk.
Her right foot dropped through the snow and she fell forward, seriously injuring her leg.
Marchi contended the city should have left openings in the snowbank to allow safe passage to the sidewalk.
She pointed to the neighbouring municipalities of Castlegar, Rossland and Penticton in arguing there were preferable ways to clear the streets so as to ensure safe access for pedestrians.
However, the trial judge dismissed her case, saying the city was immune from liability because it made legitimate policy decisions about snow clearing based on the availability of personnel and resources.
In any event, the judge concluded, Marchi assumed the risk of crossing the snow pile and was "the author of her own misfortune."
The B.C. Court of Appeal overturned the decision and ordered a new trial, saying the judge erred in addressing the city's duty of care and the question of Marchi's negligence.
The ruling prompted the City of Nelson to seek a hearing in the Supreme Court.
In a written submission to the high court, the city said its actions amount to "a clear example of a core policy decision" that should be immune from liability.
In her filing with the court, Marchi said city employees made a number of operational decisions that fell below the expected standard of care of a municipality — decisions not required by the written policy.
In its 7-0 ruling Thursday, the Supreme Court said a fresh trial should take place because the city has not proved that its decision on how to clear the snow was "a core policy decision" immune from liability.
While there is no suggestion the city made an irrational or "bad faith decision," the city's core policy defence fails and it owed Ms. Marchi a duty of care, justices Sheilah Martin and Andromache Karakatsanis wrote on behalf of the court.
"The regular principles of negligence law apply in determining whether the City breached the duty of care and, if so, whether it should be liable for Ms. Marchi's damages."
This report by The Canadian Press was first published Oct. 21, 2021.
Jim Bronskill, The Canadian Press