DeSantis eyes 2024 from afar as GOP rivals move toward runs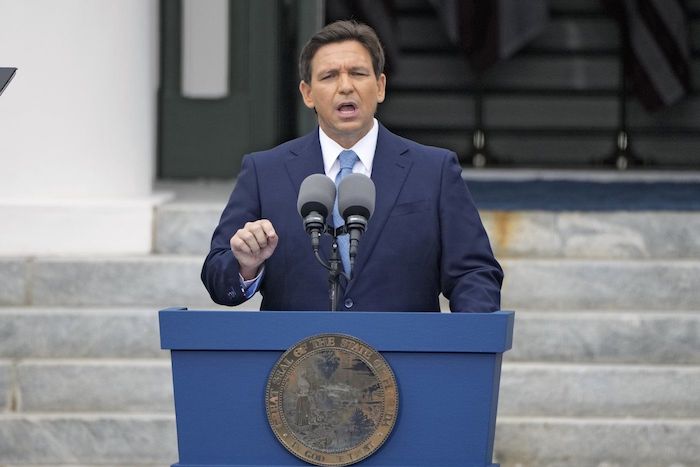 By Steve Peoples, Thomas Beaumont And Anthony Izaguirre in Des Moines
DES MOINES, Iowa (AP) — Florida Gov. Ron DeSantis may be months away from publicly declaring his presidential intentions, but his potential rivals aren't holding back.
No fewer than a half dozen Republicans eyeing the White House have begun actively courting top political operatives in states like New Hampshire and Iowa, which traditionally host the opening presidential primary contests. At the same time, former President Donald Trump, the only announced candidate in the race, is launching regular attacks against DeSantis — and others — while locking down key staff and endorsements in early voting South Carolina.
For now, DeSantis is plowing forward with a fiery "anti-woke" agenda in the legislature before a presidential announcement in late spring or early summer. His team is beginning to hold informal conversations with a handful of prospective campaign staff in key states, according to those involved in the discussions. But compared with would-be rivals, the Florida governor, famous for crafting his own political strategy, appears to be stepping into the 2024 presidential primary season much more deliberately.
"They understand they are in kind of a sweet spot now. They can feel the demand building and they don't really have to show any leg yet," said David Kochel, a veteran Republican operative who has been in touch with DeSantis' team to relay interest from activists. "I just don't think there's any urgency yet to start putting things in place."
For voters, it may seem early in the 2024 presidential election season. But by historical standards, it is not. The GOP's opening presidential primary debates are just six months away, expected in late July or early August when the Republican National Committee holds its summer meeting in Milwaukee.
Already, Trump has been in the race for more than two months. The former president on Saturday released a list of high-profile supporters in South Carolina, including Gov. Henry McMaster and Sen. Lindsay Graham. And on Feb. 15, Nikki Haley, the former U.S. ambassador to the United Nations, is set to launchher own White House bid in South Carolina, followed by immediate appearances in Iowa and New Hampshire.
Haley is among a half dozen Republican prospects in various levels of conversations with political operatives in New Hampshire and Iowa about job openings, according to people involved with the discussions who requested anonymity to discuss internal planning. Beyond Haley, they include former Vice President Mike Pence, former Secretary of State Mike Pompeo, South Carolina Sen. Tim Scott, former Maryland Gov. Larry Hogan and former Arkansas Gov. Asa Hutchinson.
Hogan, a term-limited governor who left office only two weeks ago, talked up his executive experience in multiple New Hampshire radio interviews on Thursday. He told The Associated Press he was launching a multi-day fundraising tour beginning this weekend in DeSantis' Florida.
"There's plenty of room for Trump and DeSantis and me in the same state," Hogan said. "Everybody says it's Donald Trump or Ron DeSantis. But I think it might be somebody that nobody's talking about right now, which is what usually happens. … My argument is the frontrunners almost never win."
Indeed, recent political history is littered with tales of seemingly strong early contenders who ultimately failed. They include the likes of former Wisconsin Gov. Scott Walker, who looked like a frontrunner in 2015 and was forced out of the race before the first voting contest. Former Florida Gov. Jeb Bush then emerged as the strong favorite before being overtaken by Trump.
Veteran Republican strategist Ari Fleischer recalled the 2000 presidential campaign when his then-boss, Texas Gov. George W. Bush, successfully waited until mid-June to enter the Republican presidential primary. In the months before the announcement, Bush aggressively worked behind the scenes to line up donors, staff and endorsements.
For DeSantis to adopt a similar winning playbook, Fleischer said, it's critical to work now to assemble a strong campaign apparatus in private. He likened a successful strategy at this phase to a duck, who appears calm but is paddling hard just below the water's surface.
"So long as (DeSantis) is paddling furiously underwater like a duck, he can afford to wait," Fleischer said. "The amount of work it takes to build a presidential campaign is phenomenal. I don't think people understand what's involved unless they've done it. It's brutal. … And if you don't put the labor into it quietly, privately, it falls apart."
DeSantis' team declined to comment on his 2024 plans publicly, but the Florida governor's allies expect him to enter the race in late June or early July.
In the short-term, he's preparing to promote his upcoming book, "The Courage to be Free," set for release on Feb. 28. And he'll spend much of the coming months stacking up legislative victories in the Florida statehouse, where the Republican supermajority stands ready to deliver a bevy of measures sure to entice the most conservative voters in a GOP presidential primary.
In recent days, DeSantis said he's backing new laws that would ban abortions after 6 weeks of conception, ease restrictions for those wishing to carry concealed firearms and end the state's unanimous jury requirement for death penalty cases. He released a plan to end sales taxes on gas stoves, picking up on a false claim circulating on the right that the Biden administration plans to ban the appliance.
DeSantis is also asking the state legislature for another $12 million to relocate unwanted migrants, signaling a continued focus on illegal immigration after spending millions in Florida taxpayer dollars to fly migrants from Texas to Martha's Vineyard last year.
And he's zeroing in on issues related to race and education. He installed a conservative majority on the board of trustees at a small liberal arts school and has debuted a proposal to block programs on diversity, education and inclusion from state colleges. At the same institutions, he would also ban programs on critical race theory, which centers on the idea that racism is systemic in the nation's institutions, which function to maintain the dominance of white people in society.
In the coming days, DeSantis is expected to declare victory in his battle against Disney, the state's largest employer, which drew the governor's ire after opposing the so-called "Don't Say Gay" law. State lawmakers are expected to meet for a special session as soon as next week to complete a takeover of a self-governing district Disney controls over its properties in Florida, all at DeSantis' request.
As DeSantis focuses on Florida's statehouse, Trump has dramatically escalated his attacks on the man he and his aides see as, by far, his most concerning rival. But as other Republicans prepare to enter the race, Trump is also attacking them.
For example, in a Thursday interview with conservative commentator Hugh Hewitt, Trump described Haley in sexist terms as "overly ambitious," noting that she once vowed not to seek the presidency in 2024 if Trump was also running.
"She's a very ambitious person. She just couldn't stay in her seat," Trump said.
In the same interview, he also criticized DeSantis, claiming he cried while asking for Trump's endorsement during the 2018 governor's race.
"DeSantis got elected because of me. You remember he had nothing. He was dead. He was leaving the race. He came over and he begged me, begged me for an endorsement," Trump said. "He said, 'If you endorse me, I'll win.' And there were tears coming down from his eyes."
DeSantis has largely avoided responding to Trump's digs. And without a campaign apparatus, he doesn't have a rapid response team or surrogate operation designed to engage with 2024-related fire.
But earlier this week, he seemed to be knocking Trump — at least, indirectly — when asked about the former governor's repeated attacks.
"The good thing is, is that the people are able to render a judgment on that whether they re-elect you or not," DeSantis said when asked about Trump, who lost his 2020 reelection.
___ Peoples reported from New York. Izaguirre reported from Tallahassee, Florida. AP writers Jill Colvin in New York and Meg Kinnard in Columbia, South Carolina contributed.
Allow unvaccinated Canadians to cross U.S. border, Poilievre asks President Joe Biden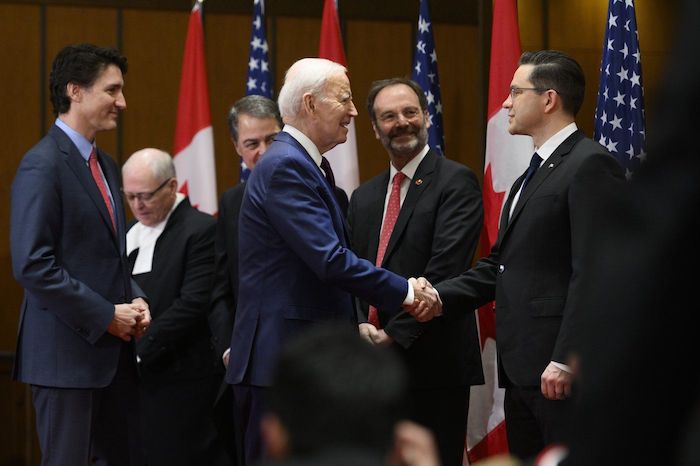 U.S. President Joe Biden shakes hands with Conservative Party of Canada Leader Pierre Poilievre, as Prime Minister Justin Trudeau looks on, during a welcoming ceremony on Parliament Hill in Ottawa, on Friday, March 24, 2023. Conservative Leader Pierre Poilievre says allowing Canadians who are unvaccinated against COVID-19 to cross into the United States was among issues he raised with President Joe Biden. THE CANADIAN PRESS/Justin Tang
By Stephanie Taylor in Ottawa
Conservative Leader Pierre Poilievre said Friday he asked President Joe Biden to remove the U.S. government's requirement that Canadians be vaccinated for COVID-19 before crossing the border.
He told reporters after their meeting that American citizens are no longer required to have their shots and Canada allows unvaccinated Americans to visit.
"There are millions of good, decent, honourable people who, through a personal medical decision, are discriminated against at the border," Poilievre said.
"I encouraged the president to lift those restrictions to allow them freedom of mobility."
Poilievre won the leadership of his party a little more than six months ago by mounting a vocal opposition to COVID-19 health restrictions, including mask and vaccine mandates, but he has since focused his message on cost-of-living issues.
He met with Biden on Parliament Hill Friday during the president's 27-hour visit to the Canadian capital, and later shared a photo of the two online.
Michael Ignatieff was the last Opposition leader to have face time with a U.S president. The former Liberal leader met with former President Barack Obama in 2009. It happened at the airport.
Poilievre said Friday he found Biden wants to be a "friendly" and "decent" neighbour to Canada, and on a personal level, he said he told the president they share Irish heritage.
He said they discussed the need for Canada to bolster its defence systems and "bring fairness" to workers by seeing the U.S. exempt Canada from its Buy American policies.
The Tory leader also said he expressed a need for Biden to axe tariffs on Canadian softwood lumber, arguing that the long-standing dispute saw a brief reprieve under Conservative prime minister Stephen Harper.
"I don't believe that Prime Minister (Justin) Trudeau has pushed and fought on behalf of Canadians," he said.
Before the meeting, Poilievre had shared some unscripted moments with the leader of the free world.
As he stood in a receiving line of Canadian politicians from all parties who were greeting Biden upon his arrival at Parliament Hill, Poilievre introduced himself as the "Leader of His Majesty's Loyal Opposition."
That prompted Biden to question, still shaking Poilievre's hand: "Loyal opposition?"
Poilievre assured him that yes, "we believe that opposition is an act of loyalty in our system."
Biden chuckled, patting Poilievre on the arm.
"We do, too, unfortunately," he said, chuckling.
Later, while addressing the House of Commons, Biden noted that both he and Trudeau appointed cabinets that were half women, making them the first in their respective countries to do so.
Many in the chamber broke out in applause.
Biden noticed that Poilievre and the Opposition Conservatives were not quick to rise, and quipped: "Even if you don't agree, guys, I'd stand up," which Poilievre and others then did.
Asked afterwards about that interaction, Poilievre said only: "We support gender equality for all Canadians."
Poilievre was on the guestlist for a dinner with Biden Friday evening, along with other government ministers, officials and celebrities.
The invitation process came with a dash of partisanship.
Earlier in the day, staff in Poilievre's office were left scratching their heads when they said it had not received an invite from Trudeau's office to attend, and asserted that any suggestion he had refused the invitation was false.
The Prime Minister's Office confirmed it had sent Poilievre notice of the dinner — but the invitation went to a personal email account that notifies senders it is not monitored.
This report by The Canadian Press was first published March 24, 2023.
Trudeau says he accepts MP's choice to leave Liberal caucus amid meddling allegations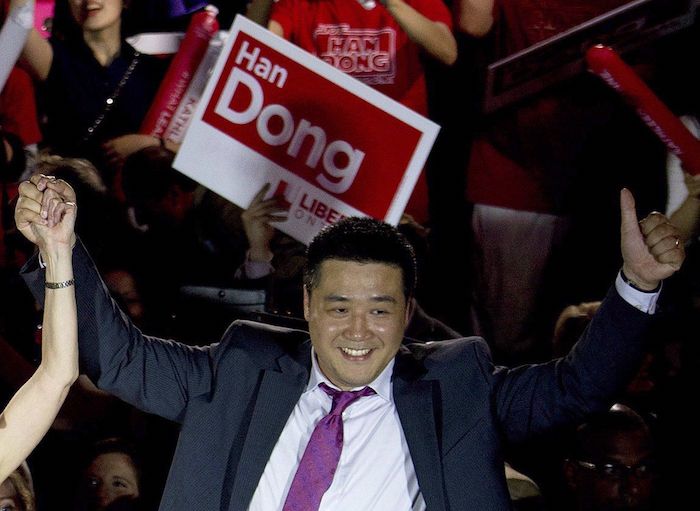 Then-Provincial Liberal candidate Han Dong celebrates with supporters while taking part in a nomination event, in Toronto, Thursday, May 22, 2014. THE CANADIAN PRESS/Nathan Denette
By Stephanie Taylor in Ottawa
Prime Minister Justin Trudeau says he accepts Han Dong's decision to leave the Liberal caucus after an allegation he spoke to a Chinese diplomat about delaying the release of two Canadians.
Trudeau sidestepped a question Friday about whether he believes the allegation, saying only that Canadians should watch Dong's "strong" speech for themselves.
He said at a news conference alongside U.S. President Joe Biden, who was visiting Ottawa, that he fully accepts Dong left the Liberal caucus "to vigorously contest these allegations."
The prime minister also added that he and Biden discussed foreign interference, and said it is "unacceptable," whether from China or from other countries such as Russia and Iran.
Dong, a Toronto MP, announced he would sit as an Independent on Wednesday night, telling the House of Commons that he would defend himself against "absolutely untrue claims" regarding his alleged involvement in Chinese interference.
Global News published a report that night, citing unnamed security sources who alleged that Dong spoke about Michael Spavor and Michael Kovrig, who at that time had been detained in China for just over two years, with a Chinese diplomat in Toronto in February 2021.
The two Canadian men had been detained by China in December 2018, just over a week after the RCMP arrested Huawei executive Meng Wanzhou in Vancouver on a U.S. extradition warrant.
Global News alleged that Dong told China's consul general in Toronto that releasing the men would benefit the Conservatives, but also that showing some "progress" in the case would help the Liberals.
The Canadian Press has not independently verified the allegations.
The MP said he met with the diplomat but disputes any suggestion he urged China to delay releasing Kovrig and Spavor, telling the House of Commons he did nothing to cause them harm.
Kovrig and Spavor were treated as honoured guests when Biden addressed the House of Commons on Friday.
Members of Parliament and others who packed the gallery gave the men no fewer than four standing ovations. It was their first time in public together since returning to Canada in September 2021.
Conservative Leader Pierre Poilievre told reporters it was moving to see Kovrig and Spavor, whom he described as "two courageous men who survived unimaginable hell."
Poilievre added: "I was very heartened that everyone in the chamber gave them such a warm welcome."
The Tory leader declined to weigh in on the allegations against Dong, but repeated his position that holding a public inquiry is the only way to get to the bottom of China's alleged meddling in Canadian affairs.
He noted that all opposition parties agree on that — and pointed out that even Dong himself voted in favour of a motion that called for a public inquiry, the day after he left the Liberal caucus.
"So for his sake and for everybody's sake, and most importantly, for the sake of the truth, the prime minister has to end his cover up and call a full public inquiry," Poilievre said.
Trudeau has not ruled out the possibility of calling a public inquiry, but he has said that any recommendation to do so will have to come from former governor general David Johnston, who was recently appointed to probe the issue as a special rapporteur.
This report by The Canadian Press was first published March 24, 2023.