Democrat hopefuls either declared or considering presidential runs next year
WASHINGTON — California Sen. Kamala Harris announced Monday she intends to seek the Democratic nomination to challenge U.S. President Donald Trump for the White House in 2020. She joins an already crowded field that's widely expected to grow significantly in the coming days and weeks. Some of the names:
DEFINITELY/PROBABLY:
California Sen. Kamala Harris, 54, former state prosecutor and attorney general; critics say she took a hard line in those roles, turning her nose up at sentencing-reform initiatives and wrongful convictions.
New York Sen. Kirsten Gillibrand, 52, former congresswoman; focused on issues of gender and racial equality.
Massachusetts Sen. Elizabeth Warren, 69, former Harvard professor perhaps best known for her ill-advised DNA test to prove Indigenous heritage. A vocal champion of middle-class income equality and women's rights.
New Jersey Sen. Cory Booker, 49, former mayor of Newark, outspoken on criminal-justice reform.
Hawaii Rep. Tulsi Gabbard, 37, veteran of the Army National Guard; assailed for meeting with Syrian president and for anti-gay slurs and advocacy work.
Richard Ojeda, 48, veteran, former Virginia state senator who lost House bid in 2018 midterms.
Julian Castro, 44; former housing secretary under Barack Obama and former mayor of San Antonio, Tex., likely fearing a bid by fellow Texan Beto O'Rourke.
John Delaney, 55, former member of the House of Representatives from Maryland.
John Hickenlooper, 66, former Colorado governor and ex-mayor and brewery owner in Denver.
___
PROBABLY/MAYBE
Joe Biden, 76, former vice-president under Barack Obama and a veteran of presidential campaigning. Widely acknowledged in early polls as the distant front-runner, but observers believe he may still be undecided about running.
Vermont Sen. Bernie Sanders, 77, "democratic socialist" best known for strong views on income inequality and his stouter-than-expected challenge to Hillary Clinton for the 2016 Democratic nomination.
Montana Gov. Steve Bullock, 52, former state attorney general.
Los Angeles Mayor Eric Garcetti, 47, former president of city council.
___
MAYBE/MAYBE NOT
Beto O'Rourke, 46, former Texas congressman whose bid to unseat Ted Cruz in 2018 made him a millennial champion, a viral sensation and a small-dollar fundraising dynamo.
Michael Bloomberg, 76, former New York City mayor, media executive.
Ohio Sen. Sherrod Brown, 66, liberal, economic populist and protectionist.
Washington Gov. Jay Inslee, 67, climate-change champion.
Oregon Sen. Jeff Merkley, 62, former state legislator and housing activist.
Minnesota Sen. Amy Klobuchar, 58, former prosecutor.
Mitch Landrieu, 58, former New Orleans mayor.
Terry McAuliffe, 61, former Virginia governor.
The Canadian Press
HIV spike among B.C. drug users associated with COVID-19 lockdown, research says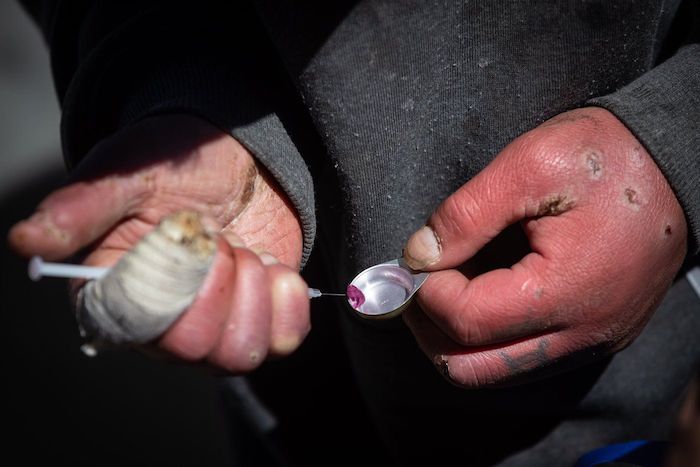 By Brieanna Charlebois in Vancouver
A new study says reduced access to HIV services during early COVID-19 lockdowns in British Columbia was associated with a "sharp increase" in HIV transmission among some drug users.
The study by University of British Columbia researchers says that while reduced social interaction during the March-May 2020 lockdown worked to reduce HIV transmission, that may not have "outweighed" the increase caused by reduced access to services.
The study, published in Lancet Regional Health, found that fewer people started HIV antiretroviral therapy or undertook viral load testing under lockdown, while visits to overdose prevention services and safe consumption sites also decreased.
The overall number of new HIV diagnoses in B.C. continues a decades-long decline.
But Dr. Jeffrey Joy, lead author of the report published on Friday, said he found a "surprising" spike in transmission among some drug users during lockdown.
Joy said transmission rates for such people had previously been fairly stable for about a decade.
"That's because there's been really good penetration of treatment and prevention services into those populations," he said in an interview.
B.C. was a global leader in epidemic monitoring, which means the results are likely applicable elsewhere, Joy said.
"We are uniquely positioned to find these things," he said. "The reason that I thought it was important to do this study and get it out there is (because) it's probably happening everywhere, but other places don't monitor their HIV epidemic in the same way that we do."
Rachel Miller, a co-author of the report, said health authorities need to consider innovative solutions so the measures "put in place to address one health crisis don't inadvertently exacerbate another."
"These services are the front-line defence in the fight against HIV/AIDS. Many of them faced disruptions, closures, capacity limits and other challenges," Miller said in a news release.
"Maintaining access and engagement with HIV services is absolutely essential to preventing regression in epidemic control and unnecessary harm."
The Health Ministry did not immediately respond to requests for comment.
Researchers said the spike among "select groups" could be attributed to a combination of factors, including housing instability and diminished trust, increasing barriers for many people who normally receive HIV services.
British Columbia is set to become the first province in Canada to decriminalize the possession of small amounts of hard drugs in January, after receiving a temporary federal exemption in May.
Joy said this decision, alongside measures like safe supply and safe needle exchanges, will make a difference preventing similar issues in the future.
"The take-home message here is, in times of crisis and public health emergency or other crises, we need to support those really vulnerable populations more, not less," he said.
"Minimally, we need to give them continuity and the access to their services that they depend on. Otherwise, it just leads to problems that can have long, long-term consequences."
This report by The Canadian Press was first published Sept. 24, 2022.
Tragedies unite Humboldt Broncos mom and James Smith Cree Nation artist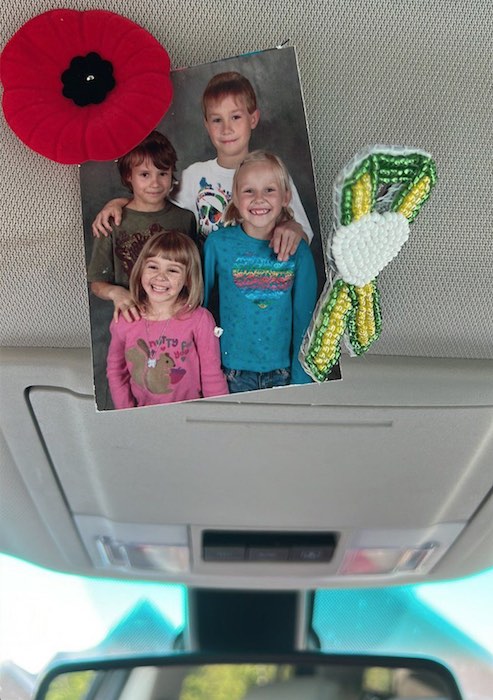 By Mickey Djuric in Regina
Celeste Leray-Leicht received many condolence gifts after the Humboldt Broncos bus crash that claimed the life of her son, but it was a beaded green and yellow ribbon with a white heart that stood out.
Leray-Leicht wore it for years after her son Jacob Leicht died. It now lives on her vehicle's visor, next to a photo of her children when they were little, alongside a poppy.
She always felt a connection to the beaded ribbon because of the heart.
"My son Jacob, he was a Valentine baby, so I'm drawn to hearts," Leray-Leicht said from her home in Humboldt, Sask., east of Saskatoon.
On April 6, 2018, near Tisdale, Sask., 16 people were killed and 13 were injured when an inexperienced truck driver ran a stop sign, crashing into a bus that was taking the Humboldt Broncos junior hockey team to a playoff game.
Leray-Leicht's son played with the Broncos and was 19 when he died in the crash.
She never knew who gifted her the beaded pin, but she found out when she headed out to James Smith Cree Nation, northeast of Saskatoon, to drop off food and other donations earlier this month.
Bernard Constant Community School on the reserve has become a gathering hub after a stabbing rampage on Sept. 4 that killed 10 people, nine of whom were James Smith Cree Nation members. Eighteen others were injured. Both suspects have died.
The school is where funerals and wakes were held, where volunteers continue to cook throughout the day to keep members fed as they recover. It's also where people come to pray.
On Sept. 11, it became the place where two women, dealing with devastating loss, came face to face for the first time.
While in the school's gym, Leray-Leicht met Lissa Bear, who is a member of James Smith Cree Nation, and has been grieving alongside her community.
She's also the Indigenous artist who anonymously gifted her the beaded ribbon that had always reminded Leray-Leicht of Jacob.
To Leray-Leicht's surprise, Bear had approached her saying she had sent her the pin years ago.
"And I said 'I just looked at that pin half an hour ago," Leray-Leicht said. "We were kindred spirits. We instantly hit it off."
Leray-Leicht said it was remarkable to meet Bear, despite the tragedies that unite them.
"I think God is in the details and I don't really believe in coincidences too much. I think we'll become good friends," said Leray-Leicht. "It was just so special to me."
Bear declined to comment, but gave consent to Leray-Leicht to share the story.
Humboldt and James Smith Cree Nation are 125 kilometres apart, but are connected through their grief.
Since the mass stabbing, families from Humboldt have silently attended funerals, donated food and offered support to people in the Indigenous community.
"As adults and leaders in the community, it's our responsibility to try and find as many supports as we can for our youth and for our adults without reliving the trauma over and over again," Leray-Leicht said.
Students in Humboldt wrote messages of hope on hearts for James Smith Cree Nation, something a nearby community did for them in 2018 after the bus crash.
At a vigil in Humboldt on Sept. 14, the hearts were placed in baskets alongside chocolate Hershey hugs, and were given to James Smith Cree Nation Chief Wally Burns. They asked him to pass them along to the youth of his community.
"When asked 'what do you need?' and they say prayers, I can relate," said Leray-Leicht, who helped plan the vigil. "That's all I remember thinking — 'That's what we needed, too.' Prayers to lift us up to survive this devastating loss."
This report by The Canadian Press was first published Sept. 24, 2022.