David McCullough, Pulitzer-winning historian, dies at 89
NEW YORK (AP) — David McCullough, the Pulitzer Prize-winning author whose lovingly crafted narratives on subjects ranging from the Brooklyn Bridge to Presidents John Adams and Harry Truman made him among the most popular and influential historians of his time, has died. He was 89.
McCullough died Sunday in Hingham, Massachusetts, according to his publisher, Simon & Schuster. He died less than two months after his beloved wife, Rosalee.
"David McCullough was a national treasure. His books brought history to life for millions of readers. Through his biographies, he dramatically illustrated the most ennobling parts of the American character," Simon & Schuster CEO Jonathan Karp said in a statement.
A joyous and tireless student of the past, McCullough dedicated himself to sharing his own passion for history with the general public. He saw himself as an everyman blessed with lifelong curiosity and the chance to take on the subjects he cared most about. His fascination with architecture and construction inspired his early works on the Panama Canal and the Brooklyn Bridge, while his admiration for leaders whom he believed were good men drew him to Adams and Truman. In his 70s and 80s, he indulged his affection for Paris with the 2011 release "The Greater Journey" and for aviation with a best-seller on the Wright Brothers that came out in 2015.
Beyond his books, the handsome, white-haired McCullough may have had the most recognizable presence of any historian, his fatherly baritone known to fans of PBS's "The American Experience" and Ken Burns' epic "Civil War" documentary. "Hamilton" author Ron Chernow once called McCullough "both the name and the voice of American history."
McCullough's celebrations of the American past also led to the toughest criticism against him — that affection turned too easily to romanticization. His 2019 book "The Pioneers" was faulted for minimizing the atrocities committed against Native Americans as 19th century settlers moved westward. In earlier works, he was accused him of avoiding the harder truths about Truman, Adams and others and of placing storytelling above analysis.
"McCullough's specific contribution has been to treat large-scale historical biography as yet another genre of spectatorial appreciation, an exercise in character recognition, a reliable source of edification and pleasant uplift," Sean Wilentz wrote in The New Republic in 2001. Interviewed that same year by The Associated Press, McCullough responded to criticism that he was too soft by saying that "some people not only want their leaders to have feet of clay, but to be all clay."
But even peers who found flaws in his work praised his kindness and generosity and acknowledged his talent. And millions of readers, and the smaller circle of award givers, were moved by his stories. For years, from a wireless cottage on the grounds of his house on Martha's Vineyard in Massachusetts, McCullough completed works on a Royal Standard typewriter that changed minds and shaped the marketplace. He helped raise the reputations of Truman and Adams, and he started a wave of best-sellers about the American Revolution, including McCullough's own "1776."
McCullough received the National Book Award for "The Path Between the Seas," about the building of the Panama Canal; and for "Mornings on Horseback," a biography of Theodore Roosevelt; and Pulitzers for "Truman," in 1992, and for "John Adams" in 2002. "The Great Bridge," a lengthy exploration of the Brooklyn Bridge's construction, was ranked No. 48 on the Modern Library's list of the best 100 nonfiction works of the 20th century and is still widely regarded as the definitive text of the great 19th century project. Upon his 80th birthday, his native Pittsburgh renamed the 16th Street Bridge the "David McCullough Bridge."
McCullough also was a favorite in Washington, D.C. He addressed a joint session of Congress in 1989 and, in 2006, received a Presidential Medal of Freedom. Politicians frequently claimed to have read his books, especially his biographies of Truman and Adams. Jimmy Carter cited "The Path Between the Seas″ as a factor in pushing for the 1977 treaties which returned control of the Panama Canal to Panama, and politicians on both sides of the issue cited it during debate. Barack Obama included McCullough among a gathering of scholars who met at the White House soon after he was elected.
The historian was non-partisan for much of his life, but spoke out against Donald Trump in 2016, leading a group of historians that included Burns and Chernow in denouncing the Republican presidential nominee as a "monstrous clown with a monstrous ego." McCullough also had one emphatic cause: education. He worried that Americans knew too little about history and didn't appreciate the sacrifices of the Revolutionary era. He spoke often at campuses and before Congress, once telling a Senate Committee that because of the No Child Left Behind act "history is being put on the back burner or taken off the stove altogether in many or most schools, in favor of math and reading."
McCullough also was active in the preservation of historical regions. He opposed the building of a residential tower near the Brooklyn Bridge and was among the historians and authors in the 1990s who criticized the Walt Disney Company's planned Civil War theme park in a region of northern Virginia of particular historical significance.
"We have so little left that's authentic and real," McCullough said at the time. "To replace what we have with plastic, contrived history, mechanical history is almost sacrilege."
McCullough took on a few rascals in his books, notably the conniving New York politicians involved with the Brooklyn Bridge, but he preferred to write about people he liked, comparing it to the choice of a roommate. Revulsion at the private life of Pablo Picasso drove him to abandon a planned book on the artist, while his biography on Adams was originally supposed to be on Adams and Thomas Jefferson, whose character also proved too flawed.
McCullough, whose father and grandfather founded the McCullough Electric Company, was born in Pittsburgh in 1933. He loved history as a child, recalling lively dinner conversations, portraits of Washington and Lincoln that seemed to hang in every home and the field trip to a nearby site where Washington fought one of his earliest battles. He majored in English at Yale University and met playwright Thornton Wilder, who encouraged the young student to write. McCullough worked at the United States Information Agency, Sports Illustrated and the American Heritage Publishing Company before deciding that he wanted to try a book about an event that took place in his home state in 1889 — the Johnstown Flood, which killed more than 2,000 people and was as much a disaster in its time as Hurricane Katrina was more than a century later.
McCullough researched the book in his spare time, and pleaded in vain with Little, Brown and Company to publish him. He ended up with Simon & Schuster, which released the book in 1968 — for an advance of $5,000 — and remained his publisher for the rest of his career.
"The Johnstown Flood" was successful enough that McCullough worried he would be typecast as an author of failure, "Bad News McCullough." Publishers were asking him to write about the Chicago Fire and the San Francisco earthquake of 1906. So for his next book, "The Great Bridge," he told a story of success. "That I knew little or nothing about civil engineering, that I had never done well in math or physics or had much interest in things mechanical didn't deter me in the least," he later wrote. "I was too excited. There was so much I wanted to know."
McCullough followed with "The Path Between the Seas"; and "Mornings on Horseback," published in 1981 and praised by Gore Vidal as "part of a new and welcome genre: the biographical sketch." "Mornings on Horseback" won the National Book Award, but, Vidal noted, was overshadowed by the release of Edmund Morris' Pulitzer Prize-winning "The Rise of Theodore Roosevelt." It would be the last time a McCullough book received second billing.
He had considered a biography of Franklin Roosevelt, but instead related to Roosevelt's less dynamic, more forthright successor, Harry Truman. McCullough spent the next decade writing the book, living for a time in Truman's hometown, Independence, Missouri, and making a daily routine, as the former president did, of a morning walk.
"Truman," published in 1992, was a million seller that capped and confirmed a long rise in the standing of a man who had left office 40 years earlier with an approval rating under 30% and now was virtually canonized as an honest and tenacious leader. Among the book's fans were presidential hopeful Ross Perot, who bluntly compared himself to Truman, and the first President Bush, who even consulted with McCullough during his unsuccessful bid for re-election.
"John Adams," published in 2001, was just as popular and just as helpful to its subject, with Congress passing legislation later that year to build a monument in honor of the second president. "1776″ came out in 2005, followed by an illustrated edition two years later. An HBO miniseries based on "John Adams," starring Paul Giamatti and Laura Linney, aired in 2008. Tom Hanks was planning a miniseries based on McCullough's book on the Wright brothers.
McCullough had five children and an affinity for happily married politicians such as Truman and Adams that could be traced to his wife, Rosalee Barnes, whom he married in 1954 and who died in June. She was his editor, muse and closest friend. At his home in Martha's Vineyard, McCullough would proudly show visiting reporters a photograph of their first meeting, at a spring dance, the two gazing upon each other.
Hillel Italie, The Associated Press
After the storm: residents of Atlantic Canada and eastern Quebec survey damage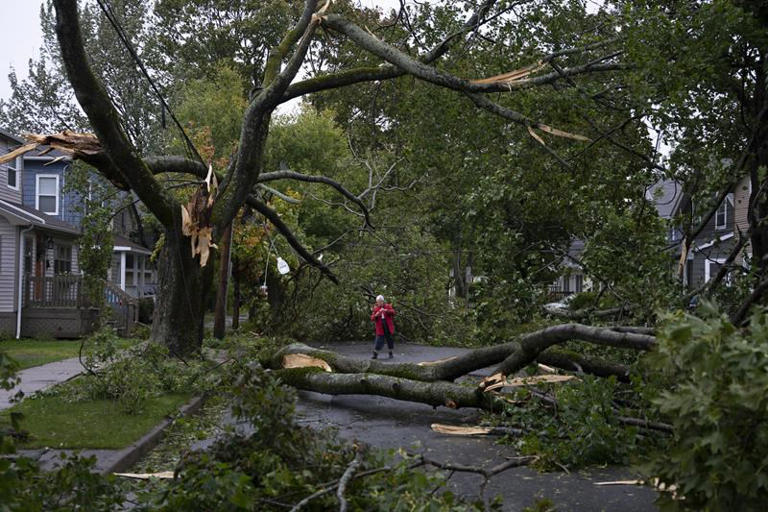 A day after post-tropical storm Fiona left a trail of destruction through Atlantic Canada and eastern Quebec, residents of a coastal town in western Newfoundland continued to pick through wreckage strewn across their community, easily the most damaged area in the region.
Photos posted on Sunday from Port aux Basques show homes and outbuildings smashed or submerged on the shoreline, the result of a record-breaking storm surge that swamped a residential neighbourhood.
Police received reports that two women had been swept into the ocean as their homes collapsed early Saturday. One woman was rescued by local residents, but the status of the second woman remained unclear.
Meanwhile, Nova Scotia Premier Tim Houston was expected to survey some of the hardest hit areas of Cape Breton, where Fiona's wrath left many homes badly damaged.
Despite downed trees and widespread power outages, some Cape Breton residents decided to carry on with milestone events Sunday.
Samantha Murphy, 35, said she was going to proceed with her wedding at a church in downtown Sydney, followed by a reception meal prepared by a caterer with a generator.
Sitting in a hotel lobby with her three bridesmaids, she was wrapping floral arrangements and waiting for her hairdresser to arrive as she contemplated Fiona's unwelcome visit.
"I think it's going to be more romantic with candlelight," she said in an interview. "We're going back to when there was no power. Our family is around and let's celebrate our love."
Murphy said she was determined to proceed with her wedding on Sunday after the COVID-19 pandemic forced her to cancel her previous plans.
On the north shore of Prince Edward Island, another area ravaged by Fiona, lobster buyer Leigh Misener pointed to what was once his office on the Covehead Wharf.
On Sunday morning, it lay upside down about three kilometres away on a front lawn.
"That's our building," Misener said with a laugh. "Stop by anytime."
Despite his wry humour, he said it was heartbreaking to see the destruction. The wharf is now an ugly vision of smashed buildings and upturned soil, as if an earthquake shook the place. Where the buildings once stood now lies a foundation littered with weights used for lobster traps and an anchor sitting in the rubble.
"The whole wharf's gone," Misener said. "Everyone's going to hurt from it."
Judy Profitt, who lives a few kilometres away on Brackley Beach, pointed to the Covehead Bridge and a now absent landmark — a small dune that once stood next to the bridge.
"It's my favorite dune, but it's just been sheared off," Profitt said, her voice breaking with emotion.
"I had taken a picture of that dune. After my husband died, (it was) laser-etched on his tombstone. To look at that dune now, it's just such a sad sight."
In eastern Quebec, officials were heading to the storm-battered island chain of Îles-de-la-Madeleine, where high winds and storm surges caused flooding and road closures.
Provincial Public Security Minister Geneviève Guilbault confirmed that 30 and 40 people were forced to leave their homes, but no one was hurt.
"We're going into recovery mode," she told reporters in Quebec City.
Guilbault said one of two underwater telecommunication cables linking the islands with the mainland — dubbed COGIM 1 — was damaged by Fiona, but she said the other remained intact.
Guilbault said the Quebec government has worked hard to lessen the impact of storms that have worsened with climate change, saying millions of dollars have been invested in slowing coastal erosion.
"As it's an island, the problem is fairly chronic around the island and in eastern Quebec in general," she said.
As for Fiona, the big storm moved into southeastern Quebec on Sunday, with Environment Canada saying it will continue to weaken as it tracks across southeastern Labrador and over the Labrador Sea.
This report by The Canadian Press was first published Sept. 25, 2022.
Michael MacDonald, The Canadian Press
N.W.T. man among finalists in international astronomy photographer contest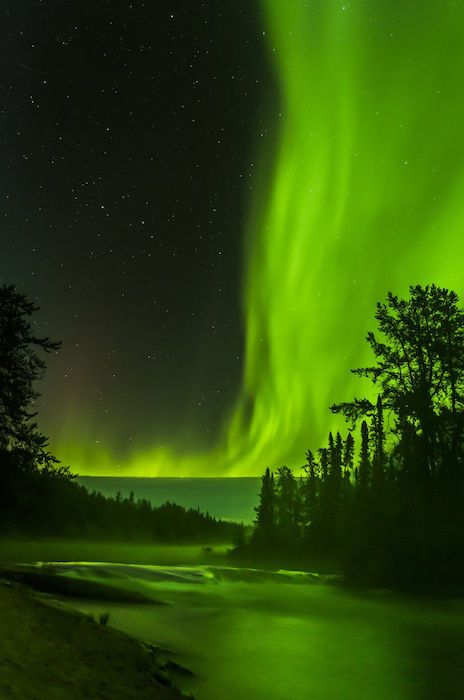 By Emily Blake in Yellowknife
A man from Yellowknife is gaining international recognition for a photo capturing a stunning display of dancing green aurora lights over the Cameron River.
Frank Bailey was the only Canadian among the finalists in the Royal Observatory Greenwich's 2022 Astronomy Photographer of the Year competition. His time-lapse photo taken outside the Northwest Territories capital landed him the runner-up spot in the Aurorae category.
"I was of course thrilled, but also humbled at the news given the quality of the entries this year," he said. "Once the overall standings were made fully public, it sunk in really quickly that this was a significant achievement and shows that I am heading in the right direction with my photography."
The annual competition is the largest of its kind and showcases space and sky photography from astrophotographers around the world. More than 100 winning and shortlisted images from this year's entries are currently on display at the National Maritime Museum in London, featuring planets, galaxies, skyscapes and other celestial bodies.
Gerald Rhemann from Austria was named the overall winner for his photo of Comet C/2021 A1, commonly known as Comet Leonard.
The top spot in the Aurorae category went to Filip Hrebenda for his photo titled "In the Embrace of a Green Lady," showing the lights reflected in a frozen lake above Eystrahorn mountain in Hvalnes, Iceland.
Bailey's photo, titled "Misty Green River," was taken last September using a 15-second exposure. He said the photo was taken looking up the river toward the riffle as mist rose off the water.
Bailey, who has lived in Yellowknife for 18 years, said he first photographed the aurora when he and his wife, Karen, lived in Yukon in the early 1980s.
He said he likes to enter competitions to get feedback on his photography.
"As for future goals, I have always said it would be a good retirement job," he said, noting he and his wife have dabbled with making sellable products such as calendars and producing prints for friends and family.
Another photo Bailey took of the aurora over the Cameron River, which he submitted to the National Wildlife Federation's photo contest in 2020, was selected for use in a holiday card collection.
He said three of his aurora photos received a bronze award from the Epson International Pano Awards in 2021.
This report by The Canadian Press was first published Sept. 24, 2022.