Danielle Smith faces renewed attacks in final Alberta UCP leadership debate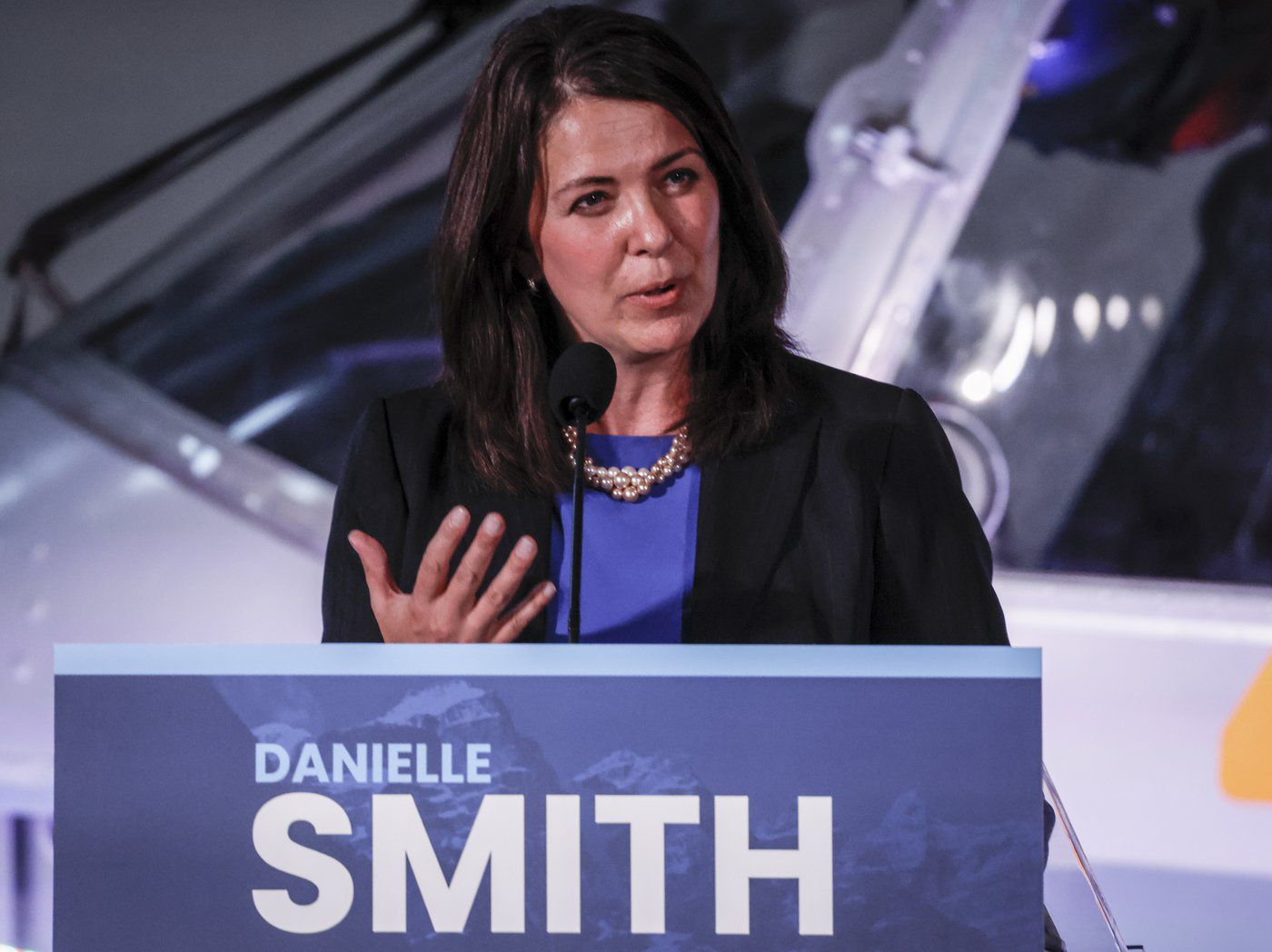 By Dean Bennett in Edmonton
Danielle Smith, the perceived front-runner candidate in the race to replace Jason Kenney as Alberta's United Conservative Party leader and premier, faced renewed attacks on multiple fronts Tuesday in the campaign's final debate.
Smith was criticized for her proposed Alberta sovereignty act and for leading a mass floor crossing to the Progressive Conservatives in late 2014 that nearly decimated her Wildrose party.
Former Kenney finance minister Travis Toews said the floor crossing tarnished both parties with drastic consequences in the 2015 election when they lost to Rachel Notley's NDP.
"Leadership and unity matter," Toews told about 700 members watching the debate at the downtown Citadel Theatre.
"Mere months before the 2015 election, (Smith) walked the floor. I believe it was (the floor crossing and the resulting fractured conservative movement) that ultimately contributed to an NDP government."
Smith was also attacked by multiple candidates for her centrepiece policy plan to pass her proposed Alberta sovereignty act this fall, if she were elected.
The act would grant the province the right to ignore federal laws and court rulings deemed harmful to its interests.
Critics, including legal scholars, say such a bill is not only illegal but will create a constitutional crisis.
Smith has in recent weeks downplayed the act, labelling it a symbolic document to seek rights that provinces such as Quebec are employing. But she has stressed her Alberta will refuse to enforce federal rules particularly in areas such as COVID-19 health restrictions.
Former Kenney cabinet minister Leela Aheer bluntly labelled the act "crap."
"The sovereignty act is an attack on our Canadian and Albertan values. It's an excuse to leave Canada when we should be looking for ways to lead Canada," Aheer said.
Former Kenney cabinet minister Rajan Sawhney urged Smith to wait for the scheduled general election next spring to seek a mandate for such a radical piece of legislation.
"These are the kinds of things that require a mandate from Albertans," Sawhney said.
Smith said she feels she has a mandate from Albertans through public consultations.
Rebecca Schulz, a former Kenney cabinet minister, questioned passing such a controversial bill so soon.
"I think we can't go into the very first legislative session with a bill that other candidates on this stage don't support," Schulz said.
"I don't think that's good for unity."
Smith acknowledged she has taken "bold" positions, but said that is what leaders do.
"Too long conservatives have been leading and governing by opinion poll," Smith said.
She noted other candidates have adopted versions of her sovereignty act in their platforms along with polices on preventing future health restrictions tied to COVID-19.
"Every other candidate on stage has followed my lead," said Smith.
"That's what leadership looks like: you take a bold position, you bring people around, you consult, you get feedback and you modify and then you allow people to disagree."
The other candidates are UCP backbencher Brian Jean and former UCP caucus member Todd Loewen.
Jean stressed that inflation is the biggest issue to be addressed, promising to end royalties on gasoline and reduce transmission and distribution fees on power bills.
Loewen stressed that Alberta needs to ratchet back the spending that has seen debt levels grow by the billions in recent years.
The leadership race is in the home stretch.
There are close to 124,000 party members signed up and eligible to vote. Smith is seen as the front-runner based on how she has been the focus of opposition attacks throughout the campaign.
The deadline to sign up for a party membership to vote was two weeks ago and candidates are now focused on winning support from members as their first or second choice as leader.
The winner will be announced Oct. 6 using a preferential ballot, which means lower-tier choices may come into play if the first-place finisher doesn't capture a majority in the first round of voting.
Ballots are to be mailed out starting Friday and members can vote by mail or in person.
This report by The Canadian Press was first published Aug. 30, 2022.
'Not true': Justice minister denies crying or yelling during doctor confrontation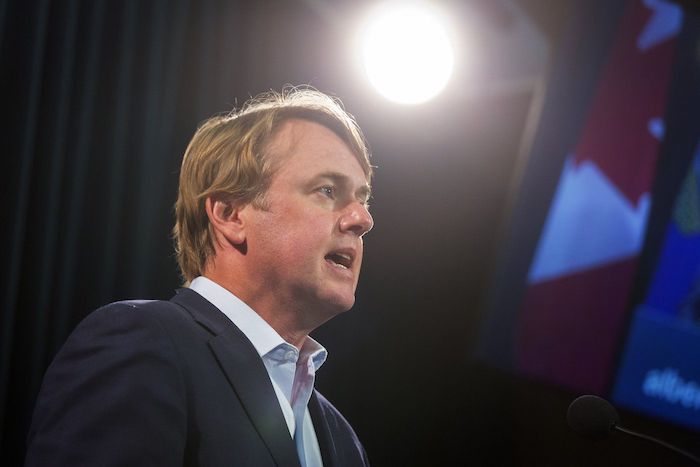 By Bill Graveland in Calgary
Alberta's justice minister said he felt sad and disappointed when he discovered someone he considered to be a friend was behind a social media post targeting him and his wife.
The Law Society of Alberta is in the final day of a hearing into allegations Tyler Shandro violated the profession's code of conduct. The three complaints date back to his time as the provincial health minister early in the COVID-19 pandemic.
Dr. Mukarram Zaidi, who had posted a photo on social media of Shandro with a caption related to privatizing health care, told the hearing the minister and his wife visited his home in March 2020. He said it occurred during fractious negotiations between the government and the Alberta Medical Association over fees.
The photo of Shandro, with a thought bubble caption, said: "So every Albertan that I can kick off health care is another client we can sign up for Vital Partners. We're going to be RICH." Shandro's wife, Andrea, is the co-founder of Vital Partners, a health insurance agency.
Shandro said Thursday his spouse alerted him to the post earlier in the day, when there had been up to a thousand threats made against the couple.
"I recognized the account being someone I considered a friend and who lived around the corner," Shandro said under questioning by his lawyer.
"The irony is that this is a fellow who had often engaged with me to discuss the importance of being careful with words, with online posts and what that could result in."
The doctor testified earlier this week that he went outside of his home to meet Shandro and described the minister as being highly upset as he demanded the doctor remove the post immediately because his family was being subjected to death threats.
"I see Shandro and his wife standing at the sidewalk. He was crying, he was emotionally charged. His wife was holding him," Zaidi said.
"He said: 'You can't do this to us. We're getting death threats.' I think I asked him: 'What do you want me to do?' And he said: 'Delete your post."'
Shandro said he walked over to Zaidi's home by himself and asked the doctors' children to send out their father. He said the conversation was over in a matter of minutes.
"I said: 'Mukarram, why wouldn't you have just asked me if you had questions? We know each other. You know me. You know Andrea. You know this isn't true.' And then I asked him: 'Do you know this conspiracy theory is resulting in Andrea getting death threats?'" Shandro said.
"He said softly: 'What do I do? Do I delete the post?' I specifically did not take him up on that offer. I said: 'Look, you have to decide that for yourself.'"
Shandro's lawyer, Grant Stapon, asked his client what he had to say to Zaidi's description of him crying and yelling while being held by his wife during the discussion.
"It's not true. It isn't true at all. Andrea was not there and if she really was there, it doesn't benefit me to say she wasn't there. If anything, it would be helpful to have her be there to corroborate," Shandro replied.
"I definitely did not yell at him."
Shandro said his wife did show up at the end of the conversation.
"She was emotional. She did have red eyes. She was crying earlier. She said: 'Don't talk to him. He's not interested in us. He's only interested in money.'"
Shandro said at that point they returned home.
Andrea Shandro is expected to testify later Thursday afternoon.
This report by The Canadian Press was first published Jan. 26, 2023.
Alberta considers training doctors for rural practice in smaller centres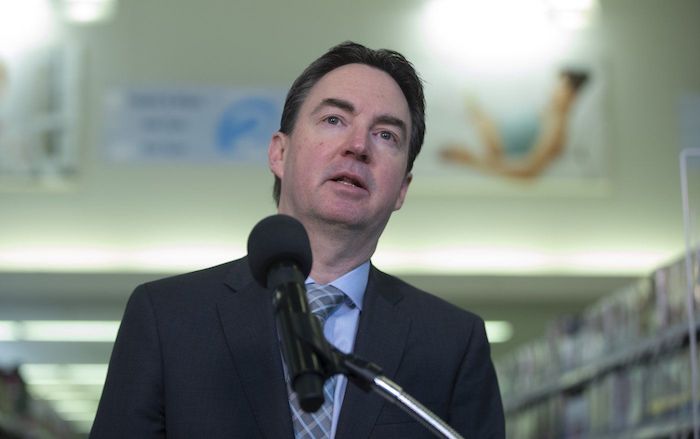 Calgary – Alberta is looking for ways to train doctors in smaller cities in hopes they will be more likely to help relieve a shortage of physicians in rural areas.
Health Minister Jason Copping and Advanced Education Minister Demetrios Nicolaides say the government is providing $1 million to four Alberta post-secondary institutions to look for ways to train doctors in Grande Prairie and Lethbridge.
Alberta has medical schools at universities in Edmonton and Calgary, but Copping says training doctors outside the big cities increases the odds of graduates practising in the province's smaller municipalities.
Todd Anderson of the University of Calgary's medical school says there are a wide variety of options being considered, including stand-alone schools.
The University of Lethbridge and Northwestern Polytechnic in Grande Prairie are also involved in the program.
Anderson says research suggests three-quarters of doctors who train in rural areas end up practising in one as well.
Copping says the project will take six to eight years to show results.
"It's going to take time to set the program up," he said Thursday. "That's a long-term strategy. But if you don't start, you'll never get there."
Meanwhile, rural health care continues to experience staff shortages. On Thursday, the Milk River Health Centre Emergency Department announced it would close until Monday due to a doctor shortage.
Nurses were to remain on-site to provide care for long-term care residents.
Copping said Thursday's announcement was just one part of the government's health-care strategy.
This report by The Canadian Press was first published Jan. 26, 2023.