'Dangerous' to think B.C.'s decriminalization plan will reduce OD deaths: researcher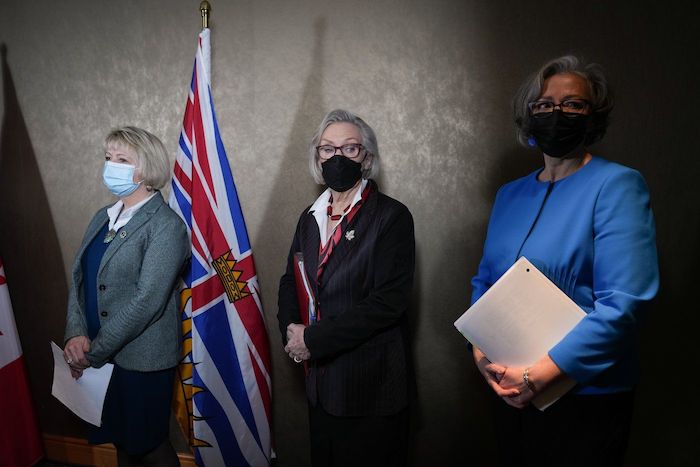 By Camille Bains in Vancouver
Decriminalization of people with small amounts of illegal drugs for their own use has become a reality in British Columbia, but substance users and researchers say the change is expected to make little immediate difference because of a toxic drug supply.
The policy shift came after Health Canada allowed an exemption from federal drug laws so people 18 and over could carry up to 2.5 grams of opioids such as heroin and fentanyl, as well as crack and powdered cocaine, methamphetamine and MDMA.
Users will not be arrested or have their drugs seized by police starting Tuesday in what is a three-year pilot project.
Dean Wilson, who began working as a peer facilitator at the B.C. Centre on Substance Use in 2017 as a heroin user, said decriminalization is a welcome change to prevent drug users' interactions with police.
However, he said it needs to be accompanied with a bold plan to provide more people with a broad range of safer alternatives to toxic street drugs, which profiteers often cut or contaminate with the powerful opioid fentanyl.
"They'll cut their cocaine for five minutes, then they'll cut their fentanyl on the same scale and all of a sudden there's fentanyl on the cocaine. And when somebody who's never done opioids at all gets the one (hit) that had a little bit of fentanyl, they're dead," Wilson said.
A regulated supply of pharmaceutical alternatives should be available through multiple routes, including compassion clubs, to save the lives of people at risk of fatally overdosing, he said.
"There's nothing out there that's safe unless you test your dope every time. And you can't do that if you're an active addict."
Insite, a supervised consumption site that opened in Vancouver in 2003 as North America's first such facility, is among the few places to have a specialized machine that drug users can access to get their substances analyzed for contaminants including fentanyl.
Take-home fentanyl test strips are also available there and at designated sites to allow people to test their drugs within seconds.
Despite such services, over 11,000 people have fatally overdosed in B.C. since 2016, when the province declared a public health emergency.
Those deaths led to the policy to stop criminalizing people who use drugs as a way to reduce stigma so they're more likely to get help for an addiction.
"If people think there's some kind of correlation between the decriminalization of drugs and the decrease of overdoses resulting in deaths, that is not gonna happen," said 64-year-old Wilson, who has been on a methadone treatment program since last May to help reduce his cravings for opioids, which he said he began using at age 13.
Researchers and people who use drugs say the 2.5-gram threshold is too low for those who may be forced to have more contact with sellers on the black market as they try to avoid interactions with police. The province requested the limit be 4.5 grams, while police called for a total of one gram for all the drugs allowed under the exemption.
They say decriminalization requires adequate supports so people get the help they need when they ask for it.
In Portugal, for example, decriminalization includes various harm-reduction and social services as well as treatment.
B.C.'s Mental Health and Addictions Minister Jennifer Whiteside said the province has expanded harm-reduction programs and since 2017, more than 360 new treatment and recovery beds have been opened. A prescription-based safer supply program was beefed up in July 2020, making B.C. "the first province to do so in Canada," she added.
More than two-thirds of officers with the RCMP and municipal departments in B.C. have so far taken training on aspects of decriminalization, which involves handing out so-called resource cards to people who use drugs, Whiteside told a news conference Monday.
They include information on contacting new "substance-use navigators" hired by health authorities specifically to build connections with local service providers and connect people referred by police, Whiteside said.
"Decriminalization is a historic change, but we know it will not solve the toxic drug crisis on its own."
Mike Serr, co-chair of the Canadian Association of Chiefs of Police, said while the group has long advocated for decriminalization, he is concerned that getting more services to people in areas such as northern B.C. will be a "challenge."
"These are things that I'm going to be watching and this is something that the government is going to have to address. That's a very key, critical part of this," said Serr, who is also deputy chief of the police department in Abbotsford, B.C.
Federal Mental Health and Addictions Minister Carolyn Bennett said the plan is to move people away from the criminal justice system to health and social services so such programs will need to be ramped up.
As for safer alternatives, some doctors are still uncomfortable about prescribing them despite guidelines from the College of Physicians and Surgeons of B.C., and its counterpart in Ontario, Bennett told The Canadian Press.
"We were very worried that some of the doctors who are prescribing were being reported to the college by some of their colleagues," she said.
"I am worried about the number of deaths that are from people in the construction, trades or natural resources (sectors). Or even at parties, the fact that somebody can die for having used once. We are going to have to really explore the options and I think that we've been persuaded that just the prescriber model will not stop this tragedy."
Bennett noted that one project in Vancouver, where a small number of drug users are prescribed powdered fentanyl, could be promising as part of an increased, regulated supply for more people.
Decriminalization will be monitored and evaluated, and some changes may be made based on the evidence that emerges during the pilot, Bennett said.
"The evidence we had was that most of the confiscations were well under 2.5 (grams) and so we will continue to monitor this, but we are prepared to adjust in any way to be able to fulfil our promise that this project will remain in the public interest."
Kora DeBeck, a research scientist at the B.C. Centre on Substance Use, said although the cumulative 2.5 grams is low, the fact that substances up to that amount will no longer be seized is a positive step for those who may otherwise borrow drugs or money and put themselves at risk of violence or even endure painful withdrawal symptoms.
"I would describe decriminalization of drug possession as an incredibly progressive, important move and a recognition that criminalization is harmful," she said. "It's responding to what I see as decades of research that shows that prohibition has been a failure and a disaster."
However, the poisoned drug supply is the major problem leading to overdose deaths, said DeBeck, who is also an associate professor in the school of public policy at Simon Fraser University.
"I think it's incredibly dangerous, actually, to think that (decriminalization) will have an impact on overdoses in the immediate term."
This report by The Canadian Press was first published Jan. 31, 2023.
Canadian Press health coverage receives support through a partnership with the Canadian Medical Association. CP is solely responsible for this content.
Canada handles Honduras with ease, advances to CONCACAF Nations League final four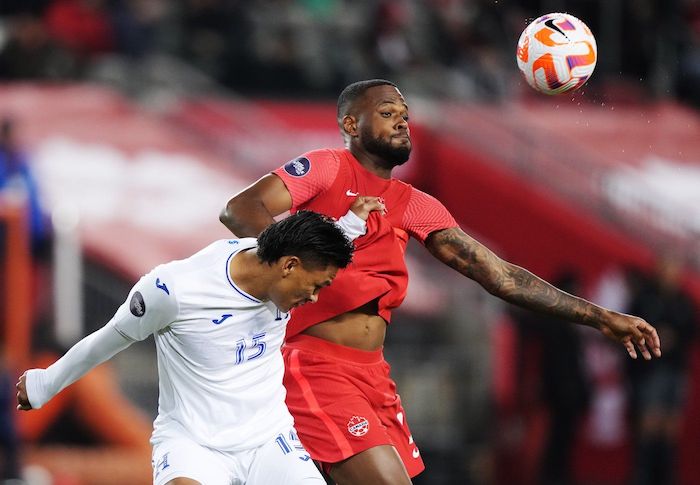 Honduras defender Denil Maldonado (15) and Canada forward Cyle Larin (17) battle for the ball during first half CONCACAF Nations League soccer action in Toronto on Tuesday, March 28, 2023. THE CANADIAN PRESS/Nathan Denette
By Neil Davidson in Toronto
Canada is headed to Las Vegas, in search of the CONCACAF Nations League trophy after a dominant 4-1 win over Honduras on Tuesday.
Cyle Larin scored twice early and Jonathan David and Jonathan Osorio added second-half goals for the 53rd-ranked Canadians, who controlled the game from the get-go. Ismael Kone had a breakout game in the Canadian midfield.
Jorge Benguche scored a consolation goal for No. 81 Honduras.
"Prior to the game we talked about if you want to be part of CONCACAF's elite, you have to be in these final moments," said Canada coach John Herdman. "You've got to get into these big events. It's the first (time) in our history to get to a Nations League final and I think this group believes they can win it. And why not?
"The step they've taken tonight, I think they've shown a level of performance that should give us hope and a lot of belief that we can win that Nations League final."
The CONCACAF Nations League features 41 teams from North and Central America and the Caribbean split into three tiers: League A (12 teams), B (16) and C (13). The four group winners in League A advance to the final four, scheduled for June 15-18 at Allegiant Stadium in Las Vegas.
No. 13 Mexico (2-0-2) finished first in Group A, while the 15th-ranked U.S. (3-0-1) topped Group D. No. 61 Panama (3-0-1) won Group B after edging No. 32 Costa Rica (2-2-0) 1-0 in a later start Tuesday.
Points earned by the group winners factor into the semifinal matchups. The U.S., as the highest-ranked team by virtue of goal difference over Panama, will face Mexico, the lowest-ranked, while No. 2 Panama takes on No. 3 Canada in the semifinals at Allegiant Stadium.
The Canadian men are 4-2-6 all-time against Panama, which won 1-0 the last time the two teams met in March 2022 in Panama City in Canada's final World Cup qualifying game. Canada had already booked its ticket to Qatar by then.
The U.S. and Mexico met in the final of the tournament's inaugural edition in June 2021 with the Americans winning 3-2 after extra time in Denver, thanks to a Christian Pulisic penalty in the 114th minute.
Honduras was third and Costa Rica fourth.
Canada missed out on the final four in the inaugural tournament, finishing runner-up to the U.S. in its group on goal difference.
Canada (3-1-0) came into Tuesday's contest knowing a draw would be enough to win Group C and book its ticket to Sin City Honduras (2-2-0) needed a win.
The drama did not last long, with Canada leading 2-0 after just 12 minutes. Larin could have had a hat trick in the first half had he not sent a 42nd-minute penalty wide.
Honduras had no answer for Canada's multi-pronged attack before a modest crowd of 13,626 on a mild evening at BMO Field.
Canada went ahead in the ninth minute, cutting through the Honduras defence like a hot knife through butter, on a beautiful give-and-go between Osorio and Larin with Larin slotting the ball home through a defender's legs. Alphonso Davies triggered the attack down the left flank.
Larin made it 2-0 in the 12th minute, heading home a perfect Stephen Eustaquio corner after his marker, defender Denil Maldonado, lost his footing. Larin, who has scored five goals in his first eight games for Spain's Real Valladolid, increased his Canada total to 28 goals in 60 appearances.
Another Davies attack set up the penalty late in the first half with the Bayern Munich star beating four defenders. The ball found its way to Kone, who controlled it with his thigh and then hammered a shot from just inside the penalty box that hit Maldonado's arm.
El Salvador referee Ivan Barton immediately pointed to the penalty spot. Larin's ensuing penalty glanced off the outside of the post.
It was Canada's first penalty since Davies' spot kick was saved by Belgium's Thibault Courtois at the World Cup in Qatar.
David is Canada's designated penalty-taker but gave up the ball to Larin so he could try for the hat trick.
David made it 3-0 in the 49th, in the right place at the right time after Tajon Buchanan sliced into the Honduras penalty box at speed. His cross hit a couple of defenders, evading Larin but falling at the feet of David for the Lille striker's 24th goal for Canada in 40 appearances.
Herdman went to his bench in the 61st minute, sending on Hutchinson, Sam Adekugbe, Richie Laryea and Kyle Hiebert. Davies moved up in attack.
It was cap No. 103 for the 40-year-old Hutchinson, adding to his Canadian men's record, and No. 1 for Hiebert, a late call-up from St. Louis City FC after Kamal Miller was ruled out by injury.
Benguchi put Honduras on the board in the 73rd minute, flicking a header backwards off a corner.
Osorio restored the three-goal lead in the 86th minute, taking a perfect pass from Toronto FC teammate Ayo Akinola before bursting through two defenders to beat goalkeeper Luis Lopez.
Hutchinson was granted the honour of leading the Viking Clap with a drum in front of the fans in the south stand. He acknowledged it was a "cool moment" — one that comes near the end of his distinguished career.
"A couple more games," said Hutchinson, an icon both for Canada and his Turkish club side Besiktas.
Herdman and defender/wingback Alistair Johnston were back after sitting out the 2-0 away win Saturday over No. 86 Curaçao through suspension in the wake of being sent off last June in a hot-blooded 2-1 loss in Honduras.
Johnston replaced the suspended Steven Vitoria in the back three while Buchanan, who saw action off the bench against Curaçao after dealing with a minor hamstring issue, moved into the starting 11.
The Canadians improved to 9-12-7 all-time against Honduras, including 6-2-3 on home soil.
Tuesday's game was the first for the Canadian men at BMO Field since the historic 4-0 victory over Jamaica that sealed World Cup qualification on March 27 last year.
The Canadian men are now unbeaten in 16 matches at home (15-0-1) and have won their last eight straight. Their last loss on Canadian soil was 3-0 to Mexico in March 2018 in World Cup qualifying.
Canada has not lost at BMO Field since September 2010 when it was beaten 2-0 by Peru. It has gone 15-0-6 at the lakefront stadium since then, outscoring the opposition 54-6.
Canada blanked Curaçao 4-0 before losing in Honduras to open Nations League play last June. Those matches came amid turmoil in the Canada camp, with players refusing to take part in a planned friendly against Panama over ongoing labour talks.
Curaçao (1-3-0) has been relegated to League B after finishing third in Canada's group.
—
Follow @NeilMDavidson on Twitter
This report by The Canadian Press was first published March 28, 2023.
Budget 2023 gives boost to dental care, green economy while searching for savings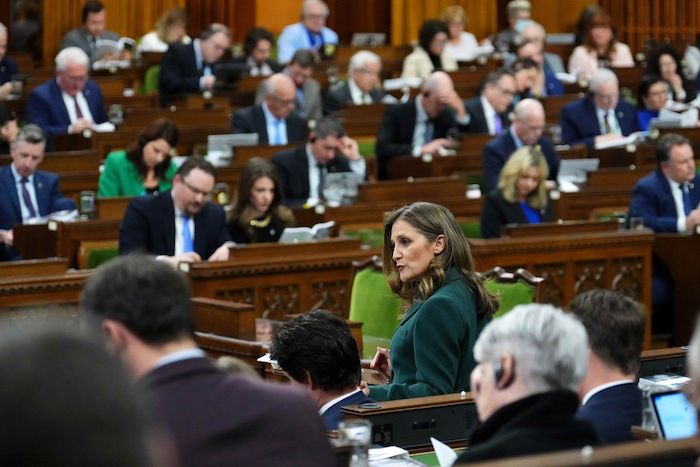 Deputy Prime Minister and Minister of Finance Chrystia Freeland delivers the federal budget in the House of Commons on Parliament Hill in Ottawa, Tuesday, March 28, 2023. THE CANADIAN PRESS/Sean Kilpatrick
By Mia Rabson in Ottawa
Finance Minister Chrystia Freeland's 2023 federal budget promises "transformative investments" in Canada's green economy as the country tries to maintain its place in the global clean tech revolution and realign its supply chains toward allies who won't use energy as a political weapon.
"Together these two great shifts represent the most significant opportunity for Canadian workers in the lifetime of anyone here today," Freeland said Tuesday in the House of Commons.
She is also using the budget to provide another top-up of the GST rebate, styled this time as a grocery rebate, to low-income Canadians who are feeling the pinch of inflation and keep making good on pledges in the confidence-and-supply agreement with the New Democrats.
There are also some measures reacting to political fires that have been burning around the Liberals in recent weeks and months, including some money to combat foreign interference, and to make airport security screening better.
In all the 2023-24 spending plan will cost $490.5 billion, including public debt charges, with $8.3 billion in new program spending. The projected deficit is $40.1 billion, which is greater than the $30.6 billion deficit for this coming fiscal year forecast in November's fiscal update.
Over the next five years the government expects to spend $59.5 billion more than before. Nearly half of that will go to increase health transfers to the provinces and territories and further expand the national dental-care program the Liberals are creating as part of their deal with the NDP.
Dental care is expected to cost more than $13 billion over the next five years, about a $7-billion increase from what the government said it would cost when it was introduced in last year's budget. It is now expected to cost $4.4 billion per year to keep it going beyond that.
Dental care was one of the NDP's top demands from the Liberals when the opposition party entered into a confidence-and-supply agreement in March 2022 to back the minority government on key confidence votes, such as budgets, through to 2025.
"I'm really proud that we were able to force this government to expand dental care," NDP Leader Jagmeet Singh said after the budget was tabled.
Singh said that while he is disappointed the budget lacks new measures to help make housing more affordable, his party will still vote for it. That will give the Liberals enough votes to pass the budget and continue governing.
The budget addresses a number of other NDP asks outlined in the deal, including anti-scab legislation and a new forum to better address the issue of missing and murdered Indigenous women and girls.
Conservative Leader Pierre Poilievre dismissed the budget as a high-spending plan that will drive up the deficit, make inflation worse, and subsidize major multinational companies. His party will not be voting for it, he said.
"Today's budget by the costly coalition of the NDP and Liberals is a full-frontal attack on the paycheques of hard working Canadians," he said.
More than one-third of new spending is wrapped up in Canada's targeted response to keep pace with the United States Inflation Reduction Act, which last year promised to direct US$370 billion at clean technology and electric vehicles over a decade.
Over the next 12 years, Canada expects to spend more than $80 billion on investment tax credits to spur development of clean electricity, hydrogen, carbon capture and storage systems, critical minerals, and the electric-vehicle supply chain.
The budget warns of the ramifications of not investing in the low-carbon economy, with significant hits to the GDP and jobs in the next 30 years, even as it acknowledges the enormous amount of money it's going to take.
"The scale of the required investment is massive," the budget said.
Almost one-third of the investment tax credits will be for clean power, including finally aiming to connect Canada from coast to coast with power lines.
Hidden somewhere in the budget figures is the money Canada has promised that helped lure major auto companies to build battery plants in Ontario, including Volkswagen and Stellantis. The details of those are expected to be made public in the next few weeks.
All of the plans are looking to develop the new industries with supply chains connected to allies like the U.S. and Europe. Freeland said in her speech that this would help to end what Ursula Von Der Leyen, president of the European Commission has called Europe's "dangerous dependencies" on authoritarian economies.
That includes Russia, which has used its oil and gas exports as a political lever in Europe, and China, which is dominating the electric vehicle and battery supply chain sectors.
Not quite one-tenth of the new spending is directed at making life a bit more affordable for some Canadians, including the second GST rebate top-to low-income Canadians up in a year, and increases to grants for post-secondary students.
While inflation is coming down, the budget predicts it will remain above the Bank of Canada's two per cent target until at least the second quarter of 2024. Food prices are a key part of what is keeping it elevated.
"We all know that our most vulnerable friends and neighbours are still feeling the bite of higher prices," Freeland said in her speech.
All the new spending, and a $17-billion increase in the cost of interest on government debt over five years, has eliminated Freeland's hope for a balanced budget on the horizon.
In November, she forecast a $4.5 billion surplus by 2027-28. Tuesday's budget says that year will now log a $14 billion deficit.
She is promising to find $15 billion in savings over five years by scaling back government travel, its use of outside consultants and asking most federal departments to cut their spending three per cent.
Freeland uses positive language to describe Canada's current economic situation, but the budget makes clear the upheaval created by the pandemic means the country is still at risk of seeing its finances take a turn for the worse by the end of this year.
Mostafa Askari, the chief economist at the Institute of Fiscal Studies and Democracy at the University of Ottawa, said his first takeaway from the budget was simple.
"There is a lot of spending," he said.
He is wary of the government being able to find $15 billion in savings, particularly given that the promises are vague, with no specific understanding of what money will not be spent.
"Every government, every budget has had some efficiency game," said Askari. "It's very unlikely they're going to get these savings."
Askari also said there are significant risks of a deeper economic downturn later this year than predicted in the budget, which could upend all of Freeland's economic assumptions, lowering government revenues and making the deficit even bigger.
This report by The Canadian Press was first published March 28, 2023.