CSIS director supported invoking Emergencies Act, inquiry hears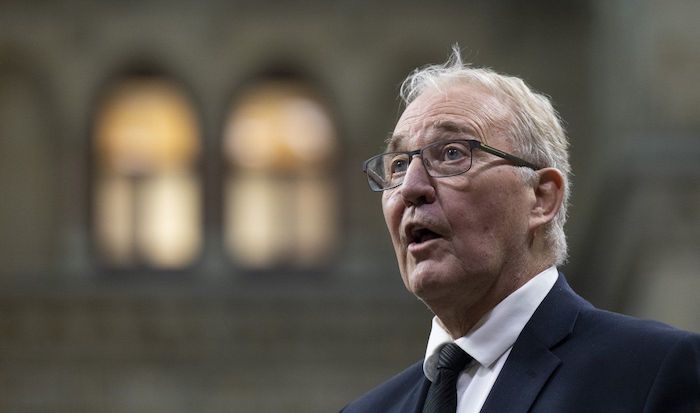 By Laura Osman, Stephanie Taylor and David Fraser in Ottawa
The head of Canada's intelligence service told the prime minister he supported the decision to invoke the Emergencies Act last winter, despite his opinion that protest blockades across the country did not meet the service's strict definition of a threat to Canadian security, a public inquiry heard Monday.
Canadian Security Intelligence Service director David Vigneault's testimony is key to the Public Order Emergency Commission, which is scrutinizing the government's emergency declaration and its invocation of special powers to disperse the protests.
The commission also heard from its first cabinet minister on Monday, with Emergency Preparedness Minister Bill Blair taking the stand and saying the Emergencies Act had been used as a last resort.
The act identifies a public order emergency as a threat to Canada's security, as defined in the Canadian Security Intelligence Service Act.
That definition includes espionage or sabotage of Canada's interests, foreign influence, acts of serious violence against people or property with political, religious or ideological objectives, or the violent overthrow of the Canadian government.
No such threat materialized during the "Freedom Convoy" protests, Vigneault said, though CSIS was investigating some participants in relation to violent extremism.
Still, Vigneault said he was satisfied that a threat to national security had to be interpreted differently in the context of the Emergencies Act after he received advice from the Department of Justice. That advice will not be shared with the public because the government has not waived solicitor-client privilege when it comes to the invocation of the act.
"This I think is the crux of the issue," Vigneault said during the hearing Monday. "In the context of the Emergencies Act there was to be separate interpretation, based on the confines of that act."
The clerk of the Privy Council testified last week that the government took a wider interpretation, including threats to Canada's economic security.
Provincial premiers were likely not informed the threat did not meet the strict threshold defined in the CSIS Act when they were consulted about the potential emergency declaration, Vigneault said, because provinces don't have access to classified CSIS information.
Protesters with hundreds of large trucks and other vehicles arrived in Ottawa at the end of January, blocking city streets in what began as a demonstration against a COVID-19 vaccine requirement for cross-border truck drivers.
The protest quickly expanded to include dissent against all COVID-19 public health restrictions and the Liberal government generally, continuing for nearly a month.
Similar protests developed in cities across the country, and demonstrators blockaded several busy international border crossings.
Prime Minister Justin Trudeau declared a public order emergency on Feb. 14 — the first time the legislation was used since its 1988 inception. He and seven cabinet ministers are scheduled to testify at the inquiry this week, with Trudeau's appearance expected to come last.
Blair, whose portfolio is explicitly focused on emergencies, took the stand Monday afternoon. Convoy organizer Tamara Lich was among a small group of spectators watching his testimony in person.
He said that he believed the Emergencies Act was used as a measure of last resort, telling the commission: "I came to believe we needed to find a remedy."
Blair said he was concerned about the security and integrity of Canada's borders and of its critical infrastructure. "You don't have to blow everything up to render it unusable," he testified. "Rendering it unusable is an attack on critical infrastructure."
Brendan Miller, a lawyer for Lich and other convoy organizers, accused Blair of having planned to use the Emergencies Act early on, a week into the protest.
Miller based the accusation on meeting notes taken by a scribe in the office of the prime minister's chief of staff. The notes shown to the commission contain only the words "Emergencies Act"under the heading: "Blair's current strategy."
Blair said that the notes are from a meeting in which he told colleagues that it would not be appropriate to use the legislation at that time.
Vigneault said he was asked for his opinion before the Emergencies Act was invoked, and told the prime minister he believed it was "required" based on what was happening across the country.
"All of these elements of unpredictability, based on my experience having been around national security issues for quite a few years now, led me to believe that the regular tools were just not enough to address the situation," he said.
The Emergencies Act granted extraordinary powers to governments, banks and police to create no-go zones around critical infrastructure, compel the co-operation of tow-truck companies and freeze the bank accounts of people suspected of being involved in the protest.
Vigneault testified on a public panel Monday morning with the CSIS deputy director of operations and the executive director of the Integrated Terrorism Assessment Centre, a unit housed at the intelligence service.
The inquiry commissioner, Justice Paul Rouleau, has allowed CSIS to share some testimony and evidence privately with the inquiry because details could jeopardize the agency's intelligence operations and national security.
Questions about investigative techniques, CSIS informants and any details about CSIS investigations were off-limits during the public hearing, but might have been asked during a closed-door hearing earlier this month.
CSIS produced five threat assessments of the convoy protest in Ottawa and similar protests that blocked border crossings, but the details of those assessments have been shared privately with the commission and will not be released publicly.
The intelligence service wasn't specifically investigating the growing movement of Canadians opposed to public health measures, CSIS deputy director of operations Michelle Tessier testified Monday. Rather, it was concerned about people with more extreme views using the protest as an opportunity.
"It would be more the individuals who exploit that type of a movement to recruit individuals, to bring them more toward the extreme view of anti-authority ideology, wanting to use serious violence to kill to bring changes," Tessier said.
The agency has seen an increase in "anti-authority" rhetoric, even after concerns about public health restrictions dwindled as the measures were lifted, she said. Threats against elected politicians are also on the rise.
There were early indications that ideologically motivated extremists planned to attend the protest, says Jan. 27 briefing material prepared by CSIS.
The notes, which Vigneault indicated were used to brief Public Safety Minister Marco Mendicino, also make clear the agency was unaware of "any tangible plots or plans of serious violence."
The overall threat level in Canada remained "medium" throughout the protests, CSIS reported to the commission.
This report by The Canadian Press was first published Nov. 21, 2022.
Quebec says only people at risk who haven't had COVID-19 should get booster dose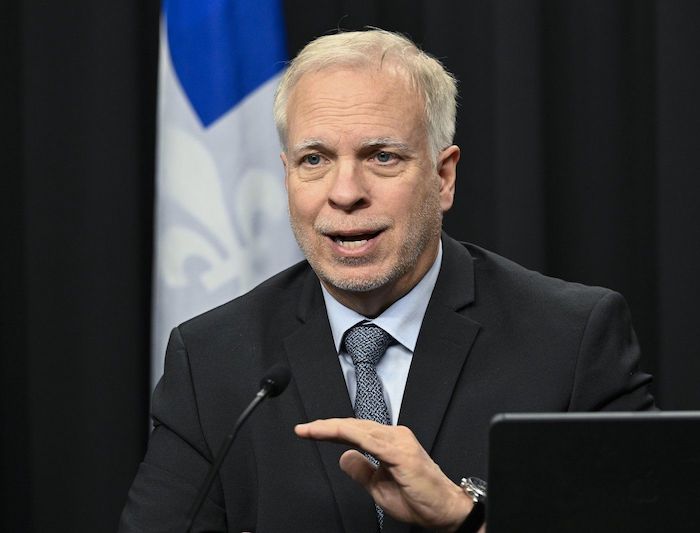 Only people who are considered at risk for severe COVID-19 — and who haven't already been infected — need to get a booster dose, Quebec's public health director said Thursday.
The vast majority of Quebecers have hybrid immunity — protection through vaccination and through a SARS-CoV-2 infection — making regular boosters unnecessary, at least for this winter and spring, Dr. Luc Boileau told reporters.
"People with hybrid immunity … have a very good protection against a severe form of the illness," Boileau said. "And this immunity lasts for a long enough time that we can propose changes."
Those who have been vaccinated but haven't contracted the virus are also protected against severe COVID-19, he said, but their immunity "has a tendency to drop with time."
Quebec's vaccination committee decided to focus the province's immunization policy on preventing hospitalizations and deaths, he said. People who are 60 and older or who have chronic illnesses, health workers, pregnant women and those who live in isolated regions are among the people who should get a booster every six months — but only if they have never caught the virus, Boileau said.
Dr. Caroline Quach-Thanh, chairperson of Quebec immunization committee, said the data shows that people already vaccinated for COVID-19 who have contracted the virus "maintain their protection."
"Adding a dose doesn't add a lot protection for severe (illness)," she said.
Health officials estimate that more than three-quarters of Quebecers under 60 have had COVID-19 over the past three years, while about half of those over 60 have caught the virus.
Boileau said only people who are immunocompromised should continue getting boosters even if they've been infected, "because their immunity could be affected by their condition."
Before Thursday's announcement, boosters were recommended for all people considered at risk of severe COVID-19. Boileau said COVID-19 vaccines will remain available to anyone who wants one. "We won't refuse anyone," he said.
This report by The Canadian Press was first published Feb. 2, 2023.
'The eyes of the world': Trial starts for Calgary pastor charged in border blockade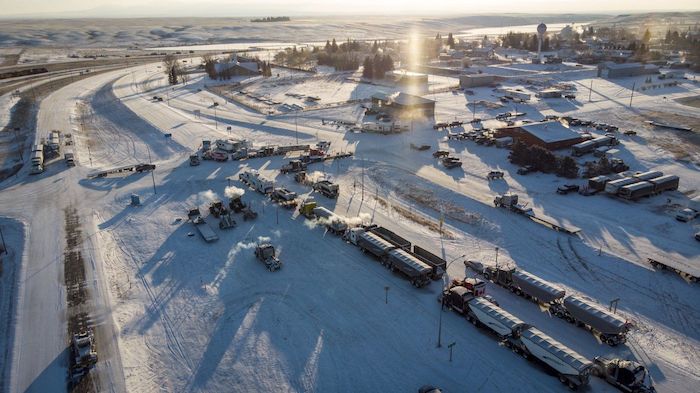 By Bill Graveland in Lethbridge
A court has seen video of a Calgary pastor encouraging truckers to keep blocking the Canada-U.S. border to protest COVID-19 restrictions because the world was watching.
The trial for Artur Pawlowski began Thursday in southern Alberta on charges of breaching a release order and mischief for inciting people to block public property at the border crossing at Coutts, Alta.
He is also charged under the Alberta Critical Infrastructure Defence Act with the wilfully damaging or destroying essential infrastructure.
The blockade that began in late January 2022 paralyzed Alberta's main U.S. border crossing for more than two weeks .
The Crown's case against Pawlowski consists of an agreed statement of facts and the 20-minute video of the speech that the pastor gave to protesters on Feb. 3, 2022.
In it, Pawlowski pleads with truckers to stay the course and not leave the protest, which was aimed at COVID-19 restrictions and vaccine mandates.
Pawlowski visited the group at Smuggler's Saloon, a location that became their headquarters. At the time, protesters were considering whether to leave Coutts for Edmonton to demonstrate in front of the legislature.
"I believe that the eyes of the world are fixed on this place right here. That's right — this little pitiful piece of land," Pawlowski told a cheering crowd in the video played for provincial court Judge Gordon Krinke in Lethbridge, Alta.
"The eyes of the world are fixed right here on you guys. You are the heroes. Don't you dare go breaking the line.
"For the first time in two years, you have the power. You pack your stuff, you go to Edmonton and you will be lost."
The pastor also told the crowd there weren't enough police or a big enough army to deal with the protesters. He was arrested days later.
Pawlowski was greeted by about 300 supporters outside court Thursday before trial. Some held Canadian flags and signs reading "Free Pastor Pawlowski."
Pawlowski told the group he had no regrets.
"I told the people this is a peaceful uprising. No guns. No swords. I stand by what I said a year ago," he said outside of court.
"I am proud that I stood with the people that simply stood for their God and state. Our rights do not belong to the politicians or bureaucrats or even judges or Crown prosecutors. They belong to us, the people."
Prosecutor Steve Johnston said the court must determine whether Pawlowski is guilty because he was a party to the events, and the Crown argues that he was.
The defence said it would not be calling witnesses in the trial, and closing arguments were expected Thursday afternoon.
This report by The Canadian Press was first published Feb. 2, 2023