COVID-19 swinging a wrecking ball through the arts community
Jesse Roads has a lot of experience playing in front of crowds. Performing live is his life, and his livelihood. In 22 years he's seen it all, until now. For the first and only time in his career, Roads finds himself at home, unable to play or book a single gig! A couple of days into his own self-isolation, Roads sat down to tell Canadians what he and many thousands of artists are going through. Here's his powerful letter.
From Jesse Roads
First of all, are you ok? Are your family and loved ones looked after? With love and positivity as much as possible? I hope so much that all of the above is true for each and every one of you 💜
I'm Just your average Canadian touring musician, who doesn't technically exist.
I've been quiet on all of this for some time now. Digesting day by day. Realizing this is for real. Regardless of the theories, conspiracy, agendas and any other possible thought process on the circumstances, this situation, this commonality we all now find ourselves in and yet out of our control. This is real. This is our "new normal."
Yes, of course my upcoming shows are cancelled. Indefinitely. What does that mean? I have no idea. I'm so confused. Yet clearer than ever as to what's important. For my family. For myself. What's confusing is how, how in the hell can I pull this off? It's ALWAYS been hustle day in day out. ALWAYS. I guess it's also always been there if you work hard enough. If you swallow your pride and make it happen. It's always been available to those of us who respect the art of making it happen. Living show to show. Supporting a family and in my case a rather large family. Is it absolutely crazy to live like that? Do you have to "sell your soul" for the best gigs on the circuit? Do you have to miss your kids birthdays, anniversaries, funerals, weddings and every other imaginable important occasion and significant moment that most people wouldn't miss for the world? Must you sacrifice relationships and even risk being abandoned by almost every single person you let in close, regardless of the nature of why? Do you know every single time you stand in front of a microphone that everyone else is making money off of you whilst you struggle to make it through your 3rd 60 minute set of the night, of 6 nights in a row? Do you realize that almost your entire financial resources will always be a choice of Peter & Paul? Do you know that absolutely every single thing you create will be judged with or without your consent? And do you choose to do it every night smiling and giving everything you've got TIL there is literally nothing left relishing the absolute knowing that it was honestly your best, every time. YES. YES. YES. 1000 times YES.
See… the thing is I've never been an "online" thing. If you will. Yes. I am sincerely grateful for the few thousands of you that do follow me online, literally all over the world. So damn grateful. The online world of existence for me, for my music is recent tho. I love it. So much. That said it didn't really start for me here. Most clubs I play I've played for years. Literally 20+ years. What comes with that is forming relationships that progress year after year. Meeting locals. Meeting owners. Meeting fans! So much comes from that. In fact I built my entire career on the back of my live show. That's all there was when I started. Online was not even a thought. Something clicked tho. Even if it wasn't a mouse. Lol see what I did there? (Ok Jesse enough of the dad jokes) I made it a mission to make performing live the best possible outcome I could. Which to be honest early on lol it was not that good. If you know me, you know I've never wavered. Never. I walk on stage and play every single show as if it were my last. Believe me, ive been on stage many times even recently feeling like it would be my last. Maybe I'll write on that later. I've just never been able to not pull out all the stops. I don't care if literally the only people in the room are the staff (let's be honest with each other without the staff at these clubs we are nothing) I will still rip every string off of my guitar and give them something to remember. Why? Cause that's who I am. I want anyone in the room to walk away from my show whether it's the regular 200/300 ppl a night or an off night of 10. I want them walking away saying "What the hell was that. How is that even a thing?? DID YOU SEE THAT!?!? Because if everything else in my world is on the line for that, then I better make it count on a next level kinda way. EVERY TIME. I'll honestly say it's worked. It's amazing to see what level people are willing connect on when it comes to live music.
Over the years I've shared the stage with some of the best friends and family a guy could ever imagine. Unbelievable to try and even recollect how many amazing times on stage I've been blessed with. I want that to be clear. I've always respected and looked up to every person that joins me on stage. In one form or another (lol most of the time I express this too much as I'm a very heart on my sleeve person) and if I've never said that to the many of you, then I say it now. Thank you. You've all helped shape me in an extraordinary way. I'm so absolutely grateful for each of you. Thank you.
So what next? Well… all of our kids are off school, myself with a pre existing heart condition, my step son with asthma are at an extremely high risk when getting sick. My fiancé works on the frontline at an emergency women's shelter and some of our kiddos are them cray cray teenagers that think they know everything (lol sorry buds) so there's that…
I'm very thankful that our Canadian government is rolling out help to those who do and don't qualify. That is some serious financial aid. Is it perfect? Probably not. Not even close. But it's a start. A huge start. I'm saying this knowing I don't qualify regardless. It does fill my heart with some positivity that our government is actually doing "something." The big six are deferring mortgage payments which is bloody amazing. I'm a renter tho lol. I don't know if my landlord will pass it on or not, he is a very nice guy and has thus far shown nothing but genuine intent. Grocery stores are banding together to maintain supply and fair prices for all of us. This is beautiful. Our chief medical staff and all leaders seem to be actually working together. Also beautiful.
How do I navigate this then? I just don't know. My mental health has always been a rough ride, anxiety, depression, loneliness and weight. Surprising right? I'm the calm guy. The nice guy. Polite guy. Well mannered caring attentive loving do anything for my circle guy. But yes up top it's not always easy to hold it together. I get by every day because of my fiancé, our kiddos, and the rest of my circle. I should point out that music is the epicentre of all of it tho. ALL OF IT.
So… I'll do this. I'll create. I'll love. I'll give love. I'll choose positivity (without losing sight of how important this situation is). I'll cook. Lord will I ever cook (keep an eye out for that). I'll play vids with my kids. I'll read. I'll write. I'll plan. I'll laugh. I'll just continue to be me. I'll help wherever I can. I'll hope and pray that I can turn a fraction of my live show energy into something you guys want online. In whatever form I can. I promise I'll try my best. I don't know what it looks like yet. I'm not sure if it's Facebook Live or IG or TikTok I just don't know yet. I promise it will be something. I won't stop giving my everything. That I'm sure of.
I want to say there are so many people that I consider family whom are absolutely going to be devastated by this crisis. It's unbelievably sad on so many complex levels. So so so many affected. From clubs to staff to owners to patrons to bands and comedians, agents, managers, and so many more. I'm so sorry we all have to go through this. My thoughts are with you all. Please, if you've made it this far through the read, you know who you all are, reach out to me. If you need to chat, vent, joke or cry. Please reach out. I'll do my best to be available. I am thankful and grateful for you all. So very much.
It's ok if you didn't make it to the end, lol if you know me you know I'll talk forever. I don't honestly know how I'll hassle this time to get my family through. I'll need help. Somehow. From somewhere. Groceries etc. That part is true. I can admit that. I'm gonna leave my email address here with ZERO EXPECTATIONS from anyone to send anything. That said if you find it in your heart that you may be able to send well wishes, monies, jokes, recipes or any other possible positivity in this dark time, myself and my family thanks you. From the bottom of our hearts. Anyone who does send monies will receive exclusive content. Created specifically for said sender. My email is:
Thank you. I know I'm not the only one in this position. I understand this. Please only send monies if it is not leaving you and or your loved ones without.
I'm excited to make a bigger splash online. Below is a link to my music, at the very least it would mean the world to me if you had some spare time for a listen and a follow.
Spotify:
https://open.spotify.com/artist/1qpilwOAm1tJ35Ia27tmvD…
Lastly I'll leave you with this.
Peace & Love. That's what we need right now. With purpose. On purpose.
The Red Deer Arts Council is sharing its current exhibition online!
The Negation of Reality in Roald Dahl's Literary Classic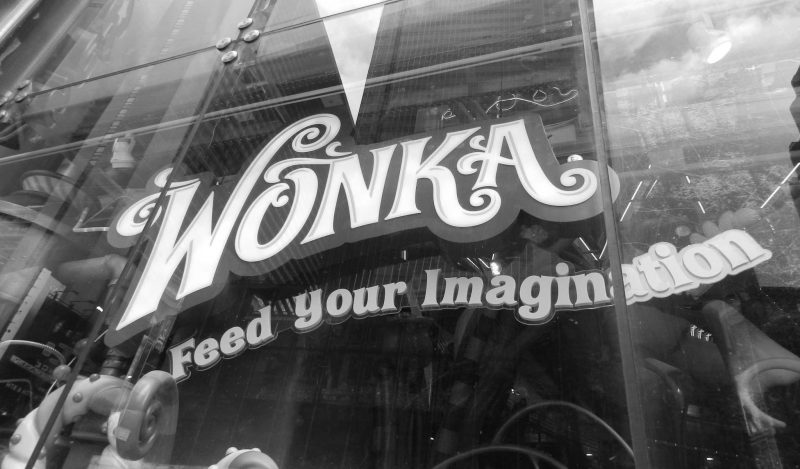 BY
THORSTEINN SIGLAUGSSON
Last weekend it was reported how books by the popular children's book author, Roald Dahl, are now being republished after significant changes to the texts. According to The Guardian, the changes are only about removing "offensive language" from his books. The Roald Dahl Story Company says the changes are minor and only about making the text more accessible and "inclusive" to modern readers.
Gerald Posner covered the issue on February 19th, citing a few examples of changes, which are certainly not minor; entire paragraphs are removed or altered beyond recognition. There are hundreds of changes, Posner says, agreeing with writer Salman Rushdie who has called these changes "absurd censorship."
Nick Dixon has published a short piece on the matter in the Daily Skeptic, pointing out how some of the changes make Dahl's text lifeless and flat and how all humour is carefully removed. Example from Matilda: "Your daughter Vanessa, judging by what she's learnt this term, has no hearing organs at all" becomes "Judging by what your daughter Vanessa has learnt this term, this fact alone is more interesting than anything I have taught in the classroom."
In other cases, the meaning simply disappears: "It nearly killed Ashton as well. Half the skin came away from his scalp" becomes "It didn't do Ashton much good." Some of the changes are outright absurdly silly, considering when the original text was written. One example Dixon takes: "Even if she is working as a cashier in a supermarket or typing letters for a businessman" becomes "Even if she is working as a top scientist or running a business."
"Mother" becomes "parent," "man" becomes "person," and "men" become "people." "We eat little boys and girls" becomes "We eat little children." Boys and girls have no right to exist anymore, no more than mothers or fathers; biological sex is prohibited. But the censors, sarcastically called Inclusive Minds, don't seem to be bothered by the practice of eating children.
References to authors currently banned for unfashionable beliefs are removed or changed. Joseph Conrad becomes Jane Austen. Rudyard Kipling becomes John Steinbeck.
Nothing is mild enough to escape the watchful eyes of the censors, Dixon says, noting how "Shut up, you nut!" becomes "Ssshhh!" and "turning white" becomes "turning quite pale." To the "inclusive," "white" is a forbidden word of course.
Suzanne Nossel, president of the American branch of the PEN writers' organization, expresses her dismay in an interview with the Washington Post. "Literature is meant to be surprising and provocative," Nossel says, explaining how attempts at purging texts of words that might offend someone "dilute the power of storytelling."
Roald Dahl is by no means uncontroversial. But his stories are the actual stories he wrote. The watered down and sanitised texts of the censors are simply no longer the author's stories.
Or, as Posner concludes: "Words matter. The problem is that the Dahl sensitivity censorship sets a template for other hugely successful author franchises. Readers should know that the words they read are no longer the words the author wrote."
The destruction of Roald Dahl's books is yet another sign of the all-pervasive negation of reality we now face. We see this negation all around us, in literature, history, politics, economics, even in the sciences. Objective reality gives way to subjective experience, emotions, or preferences in place of what is true.
It gives way, in fact, to radical subjectivism, which might just be the logical, yet contradictory conclusion of the victorious march of individualism in the West over the past few decades. It gives way, until all our common points of reference are gone, until our common sense has all but disappeared; until, atomised, lonely, incapable of meaningful communication, we no longer share a society. What takes its place will surely be no fairy tale.
And what better example of this negation of reality than the Guardian's headline, whereby the total destruction of the work of a beloved author becomes "removing offensive language" in a few places?
Republished from the author's Substack
Visitors can see famed Florence baptistry's mosaics up close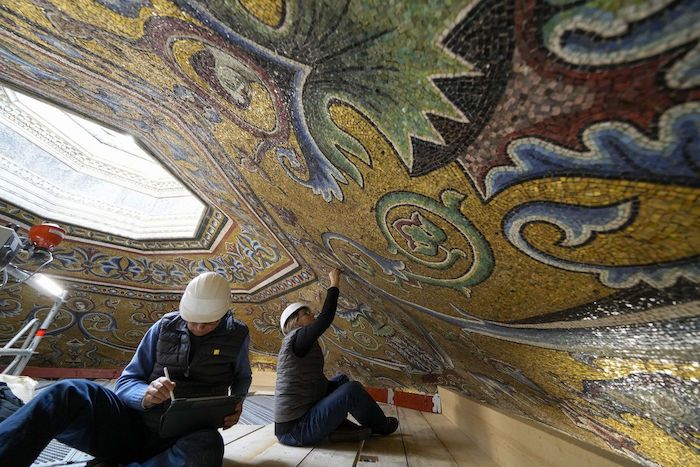 By Francesco Sportelli in Florence
FLORENCE, Italy (AP) — Visitors to one of Florence's most iconic monuments — the Baptistry of San Giovanni, opposite the city's Duomo — are getting a once-in-a-lifetime chance to see its ceiling mosaics up close thanks to an innovative approach to a planned restoration effort.
Rather than limit the public's access during the six-year cleaning of the vault, officials built a scaffolding platform for the art restorers that will also allow small numbers of visitors to see the ceiling mosaics at eye level.
"We had to turn this occasion into an opportunity to make it even more accessible and usable by the public through special routes that would bring visitors into direct contact with the mosaics," Samuele Caciagli, the architect in charge of the restoration site, said.
In an interview with The Associated Press, Caciagli called the new scaffolding tour of the baptistry vault "a unique opportunity that is unlikely to be repeated in the coming decades."
The scaffolding platform sprouts like a mushroom from the floor of the baptistry and reaches a height of 32 meters (105 feet) from the ground. Visits are set to start Feb. 24 and must be reserved in advance.
The octagonal-shaped baptistry is one of the most visible monuments of Florence. Its exterior features an alternating geometric pattern of white Carrara and green Prato marble and three great bronze doors depicting biblical scenes.
Inside, however, are spectacular mosaic scenes of The Last Judgment and John the Baptist dating from the 13th century and created using some 10 million pieces of stone and glass over 1,000 square meters of dome and wall.
The six-year restoration project is the first in over a century. It initially involves conducting studies on the current state of the mosaics to determine what needs to be done. The expected work includes addressing any water damage to the mortar , removing decades of grime and reaffixing the stones to prevent them from detaching.
"(This first phase) is a bit like the diagnosis of a patient: a whole series of diagnostic investigations are carried out to understand what pathologies of degradation are present on the mosaic material but also on the whole attachment package that holds this mosaic material to the structure behind it," Beatrice Agostini, who is in charge of the restoration work, said.
The Baptistry of San Giovanni and its mosaics have undergone previous restorations over the centuries, many of them inefficient or even damaging to the structure. During one botched effort in 1819, an entire section of mosaics detached. Persistent water damage from roof leaks did not get resolved until 2014-2015.
Roberto Nardi, director of the Archaeological Conservation Center, the private company managing the restoration, said the planned work wouldn't introduce any material that is foreign to the original types of stone and mortar used centuries ago.
"It is a mix of science, technology, experience and tradition," he said.
The origins of the baptistry are something of a mystery. Some believe it was once a pagan temple, though the current structure dates from the 4th or 5th centuries.