Community to meet to discuss proposed feedlot near fragile Alberta recreational lake
Cottage owners and farmers who say a proposed feedlot threatens the water quality of a popular lake are to gather this weekend to discuss how they can keep making their case to the regulatory body that will rule on the project.
"We've had a lot of interest, not just from the lake community, but also the farm community," said Jeannette Hall, who is organizing the meeting in Westerose, Alta., near Pigeon Lake, where a feedlot owner has applied to expand his operation by 4,000 head of cattle.
Pigeon Lake is unusual in that it's fed by run-off, not streams or rivers, and is drained by a single creek. That makes the lake highly vulnerable to algal blooms fed by nutrients washing into its waters.
The lake's roughly 5,000 inhabitants have spent millions upgrading wastewater systems to improve the lake's water quality. They fear the feedlot proposed by G&S Cattle Ltd. would undo that work.
The feedlot would be within a few kilometres of the shore on land that slopes down into it.
Pigeon Lake is already "supercharged" with nutrients from decades of residential growth as well as the region's natural geology, said Jay White, a consulting biologist who's studied the lake for years. Those nutrients don't go away, he said.
"Once it gets in your lake there's no place for it to go."
While White said there are ways to keep manure from contaminating lake water, he doesn't see enough of them in the proposal now before the Natural Resources Conservation Board.
"This application is treating this site like any other feedlot site in Alberta," he said. "We're not seeing anything over and above the guidelines."
Greg Thalen, owner of G&S Cattle, has declined interview requests on his plans.
Many have concerns about public consultation, said Opposition New Democrat environment critic Marlin Schmidt, who was door-knocking in Pigeon Lake this week.
"Everybody found out about the project indirectly," he said.
Notice was posted in a small rural weekly newspaper that few saw, with a public feedback period of less than a month.
More than 300 statements of concern were registered, including from three First Nations. The County of Wetaskiwin asked for an environmental impact assessment.
Environment Minister Jason Nixon has said the public consultation has been adequate.
But Schmidt said many he spoke with fear their concerns won't be taken seriously.
"People were not feeling hopeful that their statements of concern would be considered, (that) if the government wants this to go forward there's not much people can do to stop it."
Schmidt said his party wants to look at changing legislation governing industrial agriculture. He said public consultation could be both lengthened and include more people, with better standards for locating developments.
"People are really upset about this proposal," he said.
Hall said the meeting will share information on the environmental risks of the proposal and how the regulatory process works. She said the concerns aren't only from cottage owners.
"So many people feel this is an attack on farming. That's not what it is at all."
The community meeting is set for Saturday at 7 p.m. at the Lakedell Ag Centre in Westerose.
This report by The Canadian Press was first published May 20, 2022.
— Follow Bob Weber on Twitter at @row1960
Bob Weber, The Canadian Press
Calgary Stampede receives $10M from federal government to aid recovery from pandemic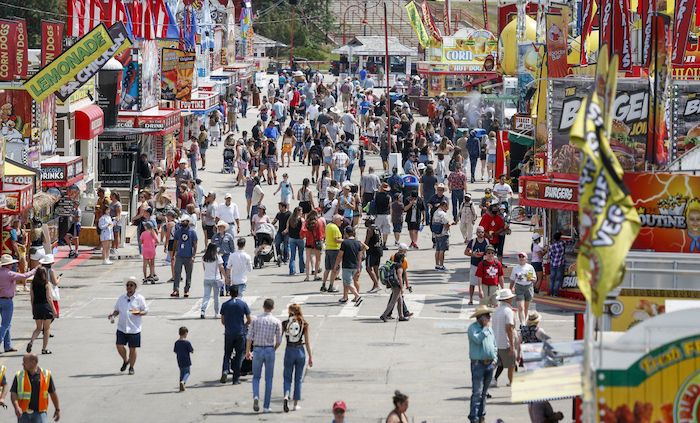 Calgary – The Calgary Stampede has received more than $10 million from the federal government to help it bounce back after last year's event was scaled down due to the COVID-19 pandemic.
A report to the city this week showed the Stampede had an operating loss of $8.3 million in 2021.
Last year's Stampede ran at half capacity because of COVID-19 public health measures and was cancelled all-together the year before.
Daniel Vandal, the federal minister for Prairies Economic Development Canada, says the money aims to support a full-scale Stampede to deliver the "authentic western experience" this year.
He says it would also help to reignite Alberta's visitor economy.
The 2022 Stampede is set to run from July 8 to 17.
"Festivals large and small were hard hit during the pandemic," Vandal said in a news release. "They are events where families and friends come together and take in the exciting atmosphere.
"The tourism industry is facing a strong comeback providing quality jobs across the country, showcasing stunning landscapes and offering exciting experiences right here in Alberta."
The federal government also provided about $1.8 million for four other tourism projects in southern Alberta: Charmed Resorts, Cochrane Tourism Association, Heritage Park and Tourism Calgary.
This report by The Canadian Press was first published June 30, 2022.
Canopy Growth to exchange C$255.4M in notes for shares and a bit of cash
SMITHS FALLS, Ont. — Canopy Growth Corp. has signed a deal to exchange C$255.4 million of its debt for shares and a little bit of cash.
Under the agreement with a limited number of noteholders, the cannabis company will acquire the 4.25 per cent unsecured convertible senior notes due in 2023 for about C$252.8 million in shares plus approximately C$3 million in cash for accrued and unpaid interest.
The price used to value the shares will be the volume-weighted average trading price on the Nasdaq Global Select Market for the 10 consecutive trading days beginning Thursday, subject to a floor price of US$2.50 and a maximum of US$3.50 per share.
Constellation Brands Inc., through its wholly-owned subsidiary Greenstar Canada Investment Limited Partnership, has agreed to swap half of the C$200 million in notes it holds under the deal.
The company, which is already Canopy's largest shareholder, will receive a minimum of 21.9 million Canopy shares based on the floor price and a maximum of 30.7 million shares.
Constellation currently holds nearly 142.3 million Canopy shares, representing a 35.3 per cent stake in the company.,
This report by The Canadian Press was first published June 30, 2022.
Companies in this story: (TSX:WEED)
The Canadian Press