Cleanse The Sport: These Men Need To Be Fired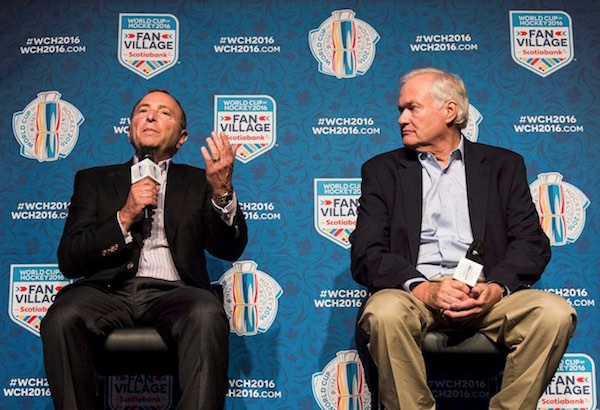 @Rwesthead Pointed out to Gary Bettman that while Blackhawks fined $2M for abuse coverup, Arizona Coyotes lost draft picks over improperly working out a prospect and that NJ Devils were fined $3M for a salary cap violation. Bettman: "Different context, different facts." Even now he thinks this is a fair statement.
There's an old Turkish idiom that says "The fish rots from the head". It's now a catch phrase to describe how an organization or state fails. Leadership, the head of the fish, is the source of the rot.
If that axiom is true then either NHL commissioner Gary Bettman or NHLPA executive director Don Fehr— or both— need to be shown the door. Nothing better exposes the organizational failure of these two executives than their treatment of the Kyle Beach sexual assault case that spilled out this week.
It took a sexual assault victim exposing his identity on nationwide TV eleven years after the event to shame them into finally admitting their complicity in his pain. Yeah, that bad. If you need background on the case, here's what we wrote in June and July . In short, the Chicago Blackhawks, NHL and NHLPA saw Beach's claim that a Chicago team official has sexually assaulted him as a distraction during the 2010 Stanley Cup run. So they buried it.
Inconveniently, people in their organization had urged them to do the right thing. "Blackhawks coach, Paul Vincent, told news outlets he told team executives, including team President John McDonough and general manager Stan Bowman, to report the allegations to Chicago police, but his request was rejected. Vincent reportedly says he will be happy to testify in court on behalf of the complainant…
(The alleged assailant Brad) Aldrich left the organization with a letter of recommendation and was later convicted in 2013 in Michigan of fourth-degree criminal sexual conduct involving a student. He is now on that state's registry of sex offenders."
What did the NHL and NHLPA do since 2010? When they saw that their omertá had worked in sidelining Beach's complaints they moved on. While Beach suffered silently as his career crumbled. And while his assailant went on to attack again in Michigan. Worse, in December of 2020, the Blackhawks rewarded Bowman, making him president of hockey operations after they had earlier fired McDonough in April 2020.
Blackhawks team spokesman Adam Rogowin blithely said the team was confident it would "be absolved of any wrongdoing." Picking up on the theme, a number of 2010 Blackhawks played the Sergeant Schultz "I know nothing" card about the story. A few of their teammates did break ranks. But not the team leaders. They let sleeping dogs lie while the collected their Stanley Cup rings.
As we noted in June: "What is most remarkable about the story is that it has been a poorly kept secret throughout the NHL since the time. Players and managers reportedly knew about it. Presumably the NHL's investigative arm, hyped in the wake of the (Graham) James episode, would have been made aware. If they were not, why not if everyone in the league knew of it?"
That's where the case sat until two diligent reporters, Katie Strang of The Athletic and Rick Westhead of TSN, re-opened the file this year. Beach revealed he was the John Doe victim in a tearful TSN interview. It went off like a bomb. The week ended with both the league and union admitting guilt for their neglect while begging Beach's forgiveness.
Tellingly they had no excuse for what happened. The "absolved of any wrongdoing" was now "sincere regret", what can we do to make up for this? As if.
Don Fehr said in a press release "There is no doubt that the system failed to support him in his time of need, and we are part of that system… the grave nature of this incident should have resulted in further action on our part. The fact that it did not was a serious failure. I am truly sorry, and I am committed to making changes to ensure it does not happen again."
Will Fehr even get to make those chances? The NHLPA has a conference where his future will be on the table after the terrible failure of the NHL/NHLPA player assistance program. It's hard to see him make an argument that he deserves a chance when the team reps ask him what he did to protect one of their brethren.
For Bettman, the commissioner who overstayed his welcome will likely be safe unless a group of the owners grow a conscience and fire him. But in most corporations his personal effects would be in a cardboard box and he would be escorted from the premises for allowing this stain on his business. Or else he'd take the initiative and resign in shame for failing his employees.
Sadly, the hockey media culture remains the same one we encountered in the 1990s when, along with Carl Brewer, Sue Foster and Russ Conway, we exposed the corruption between the league and NHL Players Association director Alan Eagleson on a range of subjects from player pensions to collective bargaining to Canada Cup fraud.
That story had largely lain dormant for a generation despite the repeated calls by Brewer for investigations into the cozy relationship between the league and Eagleson. Media with NHL sponsorships or broadcast deals would rather have eaten glass than reported what they saw.
Thanks to the digging of Conway, Foster and CBC Toronto the truth emerged in the mid 1990s. Eagleson was convicted of fraud and NHL president John Ziegler was replaced by Bettman. A familiar pattern then ensued. When the facts became too hard to deny the negligent media put on the hair shirt, condemning corruption and vowing to never allow its negligence to happen again.
Now ask Kyle Beach how well they did on their promise.
Bruce Dowbiggin @dowbboy is the editor of Not The Public Broadcaster (http://www.notthepublicbroadcaster.com). The best-selling author of Cap In Hand has been nominated for the BBN Business Book award of 2020 for Personal Account with Tony Comper. A two-time winner of the Gemini Award as Canada's top television sports broadcaster, he's also a regular contributor to Sirius XM Canada Talks Ch. 167. His new book with his son Evan is called InExact Science: The Six Most Compelling Draft Years In NHL History is now available on http://brucedowbigginbooks.ca/book-personalaccount.aspx
Force Play: The Vaccines And The Damage Done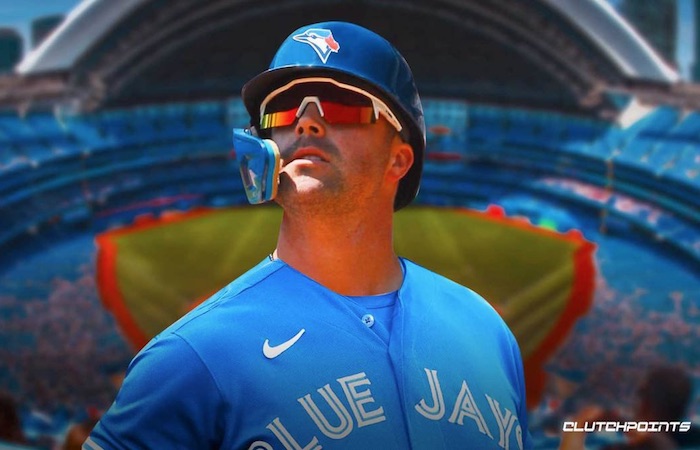 Sign up today for Not The Public Broadcaster newsletters. Hot takes/ cool slants on sports and current affairs. Have the latest columns delivered to your mail box. Tell your friends to join, too. Always provocative, always independent. https://share.hsforms.com/16edbhhC3TTKg6jAaRyP7rActsj5
Warning: This article could contain Covid-19 heresy. Readers are asked to take precautions. The Whit Merrifield crisis is over. The Toronto Blue Jays latest infield acquisition from Kansas City got a COVID-19 vaccine and can now play in his new team's home games. Provided he doesn't get COVID-19 all the same. Or have a freak heart problem. But we digress.
Canada has not allowed dozens of unvaccinated MLB players to play against the Blue Jays at Rogers Centre— including Merrifield when the Royals visited in July. (Similar bans affected unvaxed NBA and NHL players entering Canada.) But Merrifield wanted to play in the MLB postseason, so he relented to Trudeau's pressure and took the shot.
Merrifield's stubbornness mirrors how pig-headed Canada has been in employing its standard— vaccines uber alles— that clearly has little remaining basis in The Science®, if it ever did. Newly released documents obtained by former NY Times reporter Bari Weiss show that "in the days leading up to the implementation of the (Canadian) travel mandate, transportation officials were frantically looking for a rationale for it. They came up short."
Further, "no one in the 'COVID Recovery unit', which was responsible for enacting the policy, had any training in epidemiology or public health… instead, the director-general has a degree in literature." The real decision, said a member of the unit, came from above. "A senior official in the prime minister's Cabinet or possibly the prime minister himself had ordered COVID Recovery to impose the travel mandate… I'm not at liberty to disclose anything that is subject to cabinet confidence."
It's the same in the U.S. Food and Drug Administration documents newly obtained show the agency knew almost nothing about how well mRNA boosters might work when it okayed them. Or why travel lockdowns work. As we reported here in "Revise, Hide, Resubmit" White House Task Force member Deborah Birx simply lied to the the president about having evidence to prolong lockdowns. "We had to make these (moves) palatable to the administration by avoiding the obvious appearance of a full Italian lockdown… We were playing a game of chess in which the success of each move was predicated on the one before it."
Dilbert cartoonist/ social media star Scott Adams sums up the confusion of ordinary folks."Regarding vaccinations, people I don't trust say they have access to data I am not allowed to see, and because of that I should be concerned about the risks."
Not that it mattered in Whit Merrifield's case. It could have been 2020 as far as Health Canada is concerned. Even as we learn that multiple vaccinations do not prevent re-infection (POTUS Joe Biden is five shots in and sick again) or that the scientific evidence for vaccine efficacy was always missing, Justin Trudeau still stands like a Stalinist wall against revising earlier bans on the un-vaxxed.
What are the odds he'll revisit his Convoy-inducing policies? He only just relented on allowing Canadians to fly domestically without a vaccine. The PM himself goes maskless in Costa Rica, begging the question why he adheres to a liberal standard on holiday while the plebs— and baseball players— back home must obey his diktats on Covid prevention.
The Science®, people!! No jab, no journey to Canada's Blunderland. And No Talking!!
Maybe not. The vaccines have short-term benefits of six or eight weeks. After that Health Canada and the CDC claim they lessen the impact of the virus— but millions still get sick or die. That's nothing like the powers Health Canada and Trudeau attributed to them when rushing them into the market. Increasing evidence shows that the vax cures for Covid-19 and its variants might be worse than the virus. Millions getting the virus a second, third or fifth time belies those assurances. Or the threats of expulsion that accompanied them.
Estimates now suggest as many as 40,000 certified deaths worldwide may have resulted from "vaccine injuries". Meanwhile, five surveys of the American public, totalling over 2,500 people, show that while 4.4 percent of respondents reported that someone in their household had died from COVID-19; 8.9 percent said someone had died as a result of Covid vaccination.
What's going on here? Researcher/ author Alex Berenson notes that funeral giant Service Corporation is showing excess deaths persisting into year three of the pandemic. But not from Covid-19. "Smoking and obesity take decades to kill, and drinking usually takes a decade or more," says Berenson, who was banned from Twitter for Wrong Think. "Overdoses are way up and traffic accidents are higher too, but not nearly enough to account for the overall rise in deaths.
"Gee, I wonder what could be leading to all the excess non-Covid deaths we've suddenly seen in the last 12 months, not just in the United States but all over Western Europe and Australia too? Something definitely changed near the end of 2020, I just wish I could remember what…"
Lincoln National Insurance has reported a 63 percent increase in the rate of death claims for their customers. "The only new thing that's happened in 2021," says Baylor University cardiologist Dr. Peter McCullough, "is the Covid vaccine." The one that Trudeau insists you get or lose your job or liberty to travel.
Berenson notes another head scratcher. "The poor countries that avoided the mRNA shots have largely put Covid behind them, while wealthy countries navigate their fifth or sixth or seventh waves. (India: lots of people, no mRNA vaccines, no boosters, no second boosters, no super-special Omicron boosters, not so much Covid!)"
The previous antidote for believers in The Science® was banning or censoring this research. "California's Medical Board, has been extorting MDs not to speak out against actual COVID misinformation by labeling what we say as misinformation and threatening licenses to practice," says Dr. Jay Bhattacharya. "Docs just sued the medical board. Read the suit. Brilliant!"
The establishment in the person of globe-trotting/ no-masking Trudeau is making a bet on many levels that it can bluff through its agenda. It is testing social will. The results may prove bracing to those like Trudeau who presume authority for themselves as a right of his class.
Bruce Dowbiggin @dowbboy is the editor of Not The Public Broadcaster (http://www.notthepublicbroadcaster.com). A two-time winner of the Gemini Award as Canada's top television sports broadcaster, he's a regular contributor to Sirius XM Canada Talks Ch. 167. Inexact Science: The Six Most Compelling Draft YearsIn NHL History, , his new book with his son Evan, was voted the eighth best professional hockey book by bookauthority.org . His 2004 book Money Players was voted seventh best, and is available via http://brucedowbigginbooks.ca/book-personalaccount.aspx
The Cooler: Harper Attempts To Pacify CPC Over Poilievre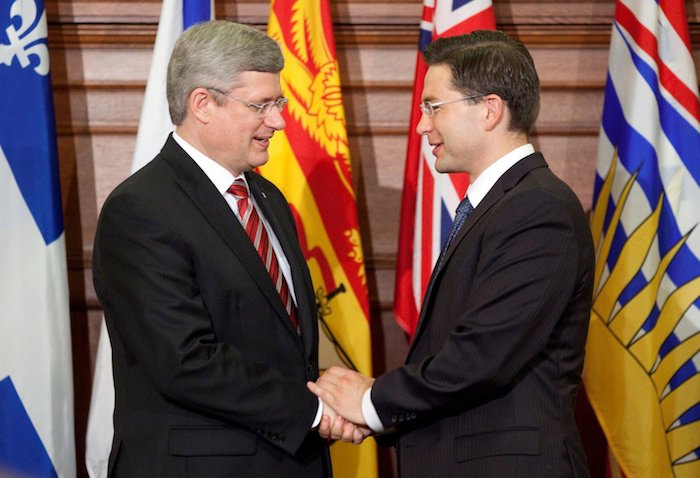 As demons go, Stephen Harper always left something to be desired. While the media and his political opponents painted a picture of a diabolical schemer bent of hoarding power, Harper mostly bored ordinary Canadians. For all the strenuous efforts of newsrooms and chat rooms tapping him as Trump, The Harp lacked a certain je ne sais quoi when it came to ruthless maniacs.
So the sudden re-appearance last month of Canada's previous PM to throw his support to Pierre Poilievre in the Conservative Party leadership race took on a sinister tone with the usual suspects. Harper's brand of lukewarm western populism was taken out for another thrashing. CBC typically quoted a Dutch political scientist Hans Mudde as saying, "Populism presents a Manichean outlook, in which there are only friends and foes." Etc.
In truth it is likely Harper emerged from the business of making money to bless Poilievre's massive lead in the CPC leadership for several reasons. The most obvious is that he recognizes the inevitability of Poilievre's win and wishes to deny the media an electoral horse race orgy till September.
But mostly it is to signify that despite the Toronto Star and CBC's histrionic protests, Poilievre will be a populist more in Harper's own image than that of Donald Trump. He only appears radical to the pearl clutchers of urban Toronto.
You can understand why the Family Compact is agitated by Poilievre. With their Golden Boy Justin Trudeau imploding and Poilievre talking about removing the Bank Of Canada governor and stripping CBC of funding, this threatens to get out of their control. Not even the RCMP can bail out Justin now. Harper's benediction is meant to still that radicalism in the mind of Tory voters.
But as we wrote on May 22, 2022, Poilievre himself is unafraid to thrash about in the Trumpian waters. He's rejecting further debates, walling himself off from the Trudeau-funded media. "Poilievre has channelled the voters' disgust with Trudeau and the Ottawa status quo epitomized by the Trucker Convoy. That disgust includes the grandees of his own party who foisted Scheer and O'Toole on the nation .
Their 2022 candidate is the well-worn place holder Jean Charest, failed Conservative and tainted Liberal premier of Québec from 2003 to 2012. Charest's policy chest sounds like a throwback to the days when language battles and Québec sovereignty were the burning issues. He's pro-choice, and he knocks PP for supporting the Truckers.
In the (first) debate, Poilievre did not spare Charest. "Now, Mr. Charest learned about the trucker convoy on CBC like other Liberals… He believes I should be cancelled from this leadership race, and disqualified, his words, because I don't share his Liberal viewpoint."
"That is the kind of cancel culture and censorship that you would expect from Justin Trudeau, but instead we're getting it from this liberal on this stage." He then slammed Charest on his Quebec Liberal party's alleged acceptance of illegal donations during his time as Québec premier. And his ties to Huawei. "The average trucker has more integrity in his pinky finger than you had in your entire scandal-plagued Liberal cabinet,"
It was red meat for frustrated Conservatives who finally see a champion in the manner of Florida governor Ron DeSantis, a tiger who won't back up in the face of Andrew Coyne huffing and puffing about nasty truckers. It resounds with Conservatives who refuse to accommodate themselves to a Liberal reality.
Naturally this brought out the Conservatives version of Charlie the Tuna. They want Tories with good taste, not Tories who taste good. They're appropriating all the Donald Trump derangement beloved by Canadian pack Media.
"Yesterday's debate was embarrassing for our party," said CPC leadership candidate Scott Aitchison. "The fighting, yelling and screaming. The partisan cheap shots at fellow Conservatives. We will never win another election if this is how we talk to each other and Canadians."
Yeah. Because all the "fighting, yelling and screaming" is why Canadians refused to vote for Scheer and O'Toole. Erstwhile Ontario leader Patrick Brown, who took a powder in the debate, also played the Stop Shouting card. "After watching the debate, I can't help but wonder: how can any of these candidates expect to unite our party and expand our Conservative coalition if they're already adopting a scorched-earth approach?"
Reform Party founder Preston Manning also demurred. "Stay away from the personal attacks that only poison the party well and reinforce the public's negative perception of party politics."
Have these people noticed that, while the CPC plays rock/paper/scissors, the Liberals are waging drone war on them? Like Republicans— who talk tough and then support Democrats sending g $40 B in untraceable money to Ukraine— the CPC has a credibility problem.
They want to win the government. To do so they need to penetrate southern Ontario and urban areas of Montreal and the Lower Mainland B.C. The leaders of the party— prompted by the Hill press corps— insist that you can beat Trudeau by using a feather duster on him.
Poilievre— a bilingual Alberta product who represents an Ottawa riding— dares to disagree. (He says he would fire the Bank of Canada governor if elected prime minister). He's willing to go over the heads of the CBC chattering class and Liberals pollsters who offer unwanted advice such as: "Conservatives must ask themselves if they are falling victim to the ease of stoking and selling the politics of anger," says pollster Tim Powers.
The outcome of a Poilievre leadership may be another schism between Reform elements and establishment Ottawa TV panel figures. But Poilievre's attitude in the face of Trump phobia will remain much like the irascible John Diefenbaker who blew out of the West in 1957, defying the status quo, to win the PMO twice. In the face of blowback from those quivering at Liberal omnipotency Dief opined, "You can't stand up for Canada with a banana for a backbone."
Bruce Dowbiggin @dowbboy is the editor of Not The Public Broadcaster (http://www.notthepublicbroadcaster.com). A two-time winner of the Gemini Award as Canada's top television sports broadcaster, he's a regular contributor to Sirius XM Canada Talks Ch. 167. Inexact Science: The Six Most Compelling Draft YearsIn NHL History, , his new book with his son Evan, was voted the eighth best professional hockey book of by bookauthority.org . His 2004 book Money Players was voted seventh best, and is available via http://brucedowbigginbooks.ca/book-personalaccount.aspx