China's Xi to meet Putin as Beijing seeks bolder global role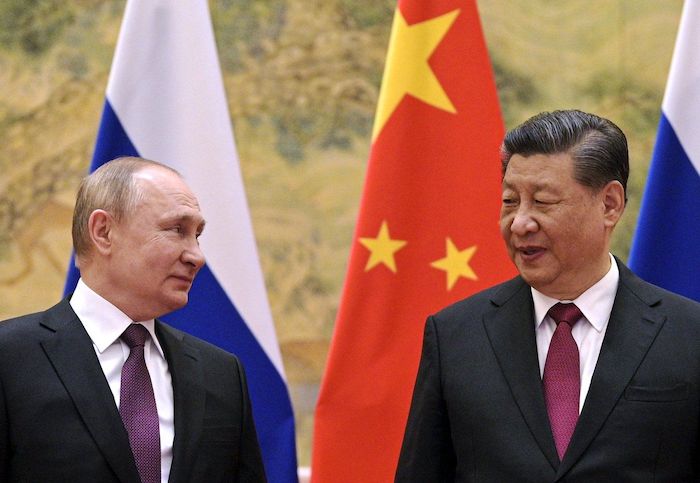 Chinese President Xi Jinping, right, and Russian President Vladimir Putin talk to each other during their meeting in Beijing, China on Feb. 4, 2022. China says President Xi will visit Russia from Monday, March 20, to Wednesday, March 22, 2023, in an apparent show of support for Russian President Putin amid sharpening east-west tensions over the conflict in Ukraine. (Alexei Druzhinin, Sputnik, Kremlin Pool Photo via AP, File)
By Karl Ritter in Kyiv
KYIV, Ukraine (AP) — Chinese President Xi Jinping plans to visit Moscow next week, a major boost for Russian President Vladimir Putin amid sharpening East-West tensions over the war in Ukraine and the latest sign of Beijing's emboldened diplomatic ambitions.
Western leaders have tried to isolate Putin over the conflict, now in its 13th month. Xi's trip, announced Friday, is a diplomatic shot in the arm to the Russian leader at a time when his troops are bogged down in a battle of attrition, focused now on Ukraine's eastern Donbas region.
The U.S. on Friday said it would oppose any effort by China at the meeting to propose a ceasefire in Ukraine as the "ratification of Russian conquest."
White House National Security Council spokesman John Kirby encouraged Xi to reach out to Ukrainian President Volodymyr Zelenskyy to get his country's perspective on the war and to avoid any "one-sided" proposals.
China has sought to project itself as neutral in the conflict, even while it has refused to condemn Moscow's aggression and declared last year that it had a "no-limits" friendship with Russia. Beijing has denounced Western sanctions against Moscow, and accused NATO and the United States of provoking Putin's military action.
Throughout the conflict, China has said the sovereignty and territorial integrity of all countries should be respected. It remains unclear, however, whether it sympathizes with Moscow's claims to seized Ukrainian territory.
Xi's visit would mark his first meeting with Putin since September, when they met on the sidelines of a regional summit in Samarkand, Ubekistan. Before that, Putin attended the opening of the 2022 Beijing Winter Games and met with Xi shortly before sending troops into Ukraine.
Kremlin spokesman Dmitry Peskov said Friday that Putin and Xi would have a one-on-one meeting over an informal dinner Monday. Broader talks involving officials from both countries are scheduled for Tuesday.
Putin's foreign policy adviser, Yuri Ushakov, suggested the talks could yield new approaches to the fighting in Ukraine.
"I'm sure that our leader and the Chinese leader will exchange their assessments of the situation in the context of the development of the conflict in Ukraine," Ushakov said. "We shall see what ideas will emerge after that."
A spokesman for Prime Minister Rishi Sunak said Britain would welcome any genuine effort by China aimed at "restoring sovereignty to Ukraine." Kyiv says that is non-negotiable in any attempt at ending the war.
"Any peace deal which is not predicated on Ukraine's sovereignty and self-determination is not a peace deal at all," Sunak's spokesman Jamie Davies said.
On Thursday, Chinese Foreign Minister Qin Gang reached out to his Ukrainian counterpart, Dmytro Kuleba, telling him that Beijing was concerned about the war spinning out of control and urging talks on a political solution with Moscow.
China has "always upheld an objective and fair stance on the Ukraine issue, has committed itself to promoting peace and advancing negotiations and calls on the international community to create conditions for peace talks," Qin said.
Kuleba later tweeted that he and Qin "discussed the significance of the principle of territorial integrity." Ukraine has listed Russia's withdrawal from the occupied areas as the main condition for peace.
"I underscored the importance of (Zelenskyy's)'s peace formula for ending the aggression and restoring just peace in Ukraine," wrote Kuleba, who spoke the same day with U.S. Secretary of State Antony Blinken.
China last month called for a Ukraine cease-fire and peace talks between Kyiv and Moscow. Zelenskyy cautiously welcomed Beijing's involvement but the overture appeared to go no further.
China has its own territorial issues with Taiwan, which it claims as its own territory to be brought under its control by force if necessary.
Beijing's apparent deeper dive into Ukraine issues follows its success last week in brokering talks between Iran and its chief Middle Eastern rival, Saudi Arabia. Those two countries agreed to restore their diplomatic ties after years of tensions.
The agreement cast China in a leading role in Middle Eastern politics, a part previously reserved for longtime global heavyweights like the U.S.
On the back of that, Xi called for China to play a bigger role in managing global affairs.
Washington has marshaled Western military and diplomatic efforts against Putin, but the Russian leader has showed no signs of softening his belligerent stance.
In Washington on Friday, Kirby told reporters, "A ceasefire now is, again, effectively the ratification of Russian conquest." It would, he added, "in effect recognize Russia's gains and its attempt to conquer its neighbor's territory by force, allowing Russian troops to continue to occupy sovereign Ukrainian territory."
He warned that Russia could use a ceasefire to regroup "so that they can restart attacks on Ukraine at a time of their choosing."
The destruction of a U.S. drone over the Black Sea on Tuesday following an encounter with Russian fighter jets further escalated U.S.-Russia tensions, although it also prompted the first conversations between the countries' defense and military chiefs since October.
Putin invited Xi to visit Russia during a video conference call the two held in late December. The visit, Putin said, could "demonstrate to the whole world the strength of the Russian-Chinese ties" and "become the main political event of the year in bilateral relations."
Chinese Ministry of Foreign Affairs spokesperson Wang Wenbin said Friday that Xi "will have an in-depth exchange of views with President Putin on bilateral relations and major international and regional issues of common concern…."
"Currently, the world is entering a new period of turbulence and reform with the accelerated evolution of changes of the century. As permanent members of the U.N. Security Council and important major countries, the significance and impact of the China-Russia relations go far beyond the bilateral sphere," he added.
The Kremlin said in a statement that Xi and Putin will exchange views "in the context of deepening Russian-Chinese cooperation in the international arena," and would sign "important bilateral documents."
___
Follow AP's coverage of the war in Ukraine: https://apnews.com/hub/russia-ukraine-war
Collapse of major dam in southern Ukraine triggers emergency as Moscow and Kyiv blame each other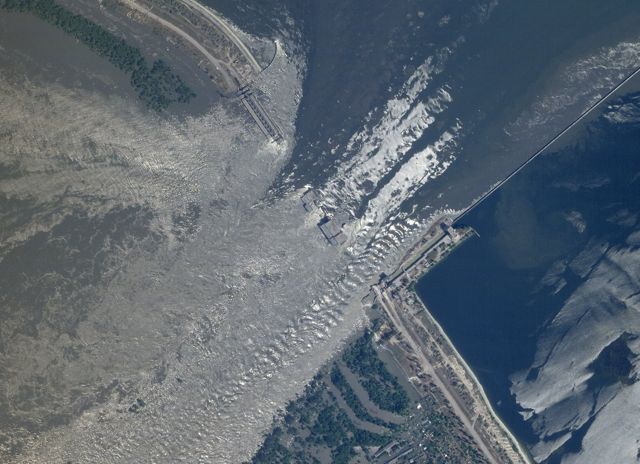 By Vasilisa Stepanenko And Susie Blann in Kherson
KHERSON, Ukraine (AP) — A major dam in southern Ukraine collapsed Tuesday, triggering floods, endangering crops in the country's breadbasket and threatening drinking water supplies as both sides in the war scrambled to evacuate residents and blamed each other for the destruction.
Ukraine accused Russian forces of blowing up the Kakhovka dam and hydroelectric power station on the Dnieper River in an area that Moscow has controlled for over a year, while Russian officials blamed Ukrainian bombardment in the contested area. It was not possible to verify the claims.
The environmental and social consequences quickly became clear as homes, streets and businesses flooded downstream and emergency crews began evacuations; officials monitored cooling systems at the Zaporizhzhia Nuclear Power Plant; and authorities expressed concern about supplies of drinking water to the south in Crimea, which Russia illegally annexed in 2014.
In the downstream city of Kherson, a woman who gave her name only as Tetyana waded through thigh-deep water to reach her flooded house and rescue her dogs. They were standing on any dry surface they could find but one pregnant dog was missing. "It's a nightmare," she kept repeating, declining to give her full name.
Both Russian and Ukrainian authorities brought in trains and buses for residents. About 22,000 people live in areas at risk of flooding in Russian-controlled areas, while 16,000 live in the most critical zone in Ukrainian-held territory, according to official tallies. Neither side reported any deaths or injuries.
A satellite photo Tuesday morning by Planet Labs PBC analyzed by The Associated Press showed a large portion of the dam's wall, more than 600 meters (over 1,900 feet), missing.
The dam break added a stunning new dimension to Russia's war, now in its 16th month. Ukrainian forces were widely seen to be moving forward with a long-anticipated counteroffensive in patches along more than 1,000 kilometers (621 miles) of front line in the east and south.
It was not immediately clear whether either side benefits from the dam's collapse, since both Russian-controlled and Ukrainian-held lands are at risk. The damage could also hinder Ukraine's counteroffensive in the south and distract its government, while Russia depends on the dam to supply water to Crimea.
Although Kyiv officials claimed Russia blew it up to hinder the counteroffensive, observers note that crossing the broad Dnieper would be extremely challenging for the Ukrainian military. Other sectors of the front line are more likely avenues of attack, analysts say.
Even so, Nigel Gould-Davies, a senior fellow for Russia and Eurasia at the International Institute for Strategic Studies, said the alleged Russian destruction of the dam "betrays a lack of confidence, a profoundly defensive measure, the lack of confidence in Russia's longer-term prospects" in the war.
Experts have previously said the dam was in disrepair, which could also have led to the breach. David Helms, a retired American scientist who has monitored the reservoir since the war began, said in an email that it wasn't clear if the damage was deliberate or simple neglect from Russian forces occupying the facility.
But Helms also noted a Russian history of attacking dams.
Underscoring the global repercussions, wheat prices jumped 3% after the collapse. It's unclear whether the surge in wheat prices was due to a real threat of floodwaters destroying crops. Ukraine and Russia are key global suppliers of wheat, barley, sunflower oil and other food to Africa, the Middle East and parts of Asia.
Authorities, experts and residents have expressed concern for months about water flowing through — and over — the Kakhovka dam. After heavy rains and snow melt last month, water levels rose beyond normal, flooding nearby villages. Satellite images showed water washing over damaged sluice gates.
Amid official outrage, Ukrainian President Volodymyr Zelenskyy convened an urgent meeting of the National Security Council. He alleged Russian forces set off a blast inside the dam structure at 2:50 a.m. (2350 GMT Monday, 7:50 p.m. EDT Monday) and said about 80 settlements were in danger. Zelenskyy said in October that Russia had mined the dam and power plant.
But Kremlin spokesman Dmitry Peskov called it "a deliberate act of sabotage by the Ukrainian side … aimed at cutting water supplies to Crimea."
White House officials were trying to assess potential impacts of the dam collapse and were looking to see what humanitarian assistance can be provided to Ukrainians who are being displaced, according to a U.S. official who spoke on condition of anonymity and was not authorized to comment publicly.
Both sides warned of a looming environmental disaster. Ukraine's Presidential Office said some 150 metric tons of oil escaped from the dam machinery and that another 300 metric tons could still leak out.
Andriy Yermak, the head of Ukraine's President's Office, posted video showing the flooded streets of Russian-occupied Nova Kakhovka, a city in the Kherson region where about 45,000 people lived before the war.
Ukraine's Interior Ministry urged residents of 10 villages on the Dnieper's right bank and parts of the city of Kherson to gather essential documents and pets, turn off appliances, and leave, while cautioning against possible disinformation.
The Russian-installed mayor of occupied Nova Kakhovka, Vladimir Leontyev, said it was being evacuated as water poured in.
Ukraine's nuclear operator Energoatom said via Telegram that the damage to the dam "could have negative consequences" for the Zaporizhzhia Nuclear Power Plant, which is Europe's biggest, but wrote that for now the situation is "controllable."
The U.N.'s International Atomic Energy Agency said there was "no immediate risk to the safety of the plant," which has been shut down for months but still needs water for its cooling system. It said that IAEA staff on site have been told the dam level is falling by 5 centimeters (2 inches) an hour. At that rate, the supply from the reservoir should last a few days, it said.
The plant also has alternative sources of water, including a large cooling pond than can provide water "for some months," the statement said.
Ukrainian authorities have previously warned that the dam's failure could unleash 18 million cubic meters (4.8 billion gallons) of water and flood Kherson and dozens of other areas where thousands live.
The World Data Center for Geoinformatics and Sustainable Development, a Ukrainian nongovernmental organization, estimated that nearly 100 villages and towns would be flooded. It also reckoned that the water level would start dropping only after 5-7 days.
A total collapse in the dam would wash away much of the broad river's left bank, according to the Ukraine War Environmental Consequences Working Group, an organization of environmental activists and experts documenting the war's environmental effects.
Mykhailo Podolyak, a senior adviser to Zelenskyy, said that "a global ecological disaster is playing out now, online, and thousands of animals and ecosystems will be destroyed in the next few hours."
Video posted online showed floodwaters inundating a long roadway; another showed a beaver scurrying for high ground.
The incident also drew international condemnation, including from German Chancellor Olaf Scholz and NATO Secretary-General Jens Stoltenberg, who said the "outrageous act … demonstrates once again the brutality of Russia's war in Ukraine."
Ukraine controls five of the six dams along the Dnieper, which runs from its northern border with Belarus down to the Black Sea and is crucial for the country's drinking water and power supply.
Ukraine's state hydro power generating company said the dam's power station "cannot be restored." Ukrhydroenergo also claimed Russia blew up the station from inside the engine room.
Ukraine and Russia have previously accused each other of attacking the dam.
___
Blann reported from Kyiv. Associated Press writer Danica Kirka in London contributed.
Europe OKs plan to tally cost of Moscow's war in Ukraine with eye toward future reparations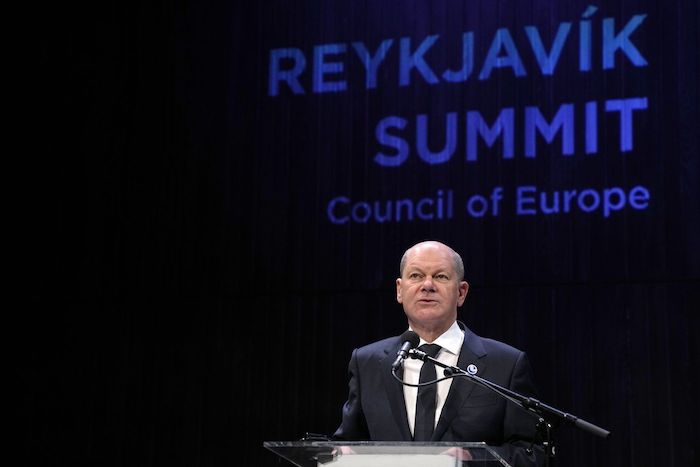 Germany's Chancellor Olaf Scholz speaks during a media conference at the Council of Europe summit in Reykjavik, Iceland, Wednesday, May 17, 2023. Leaders from across Europe were wrapping a two-day summit on Wednesday, putting the final touches on a system to establish the damage Russia is causing during the war in Ukraine, in the hopes it can be forced to compensate victims and help rebuild the nation once the conflict is over. (AP Photo/Alastair Grant)
By Molly Quell in Reykjavik
REYKJAVIK, Iceland (AP) — More than 40 nations agreed Wednesday to set up a system to tally the damage Russia has inflicted on Ukraine in the hope of getting reparations, adding to the international legal challenges the Kremlin is facing.
The register of damages, which will allow Ukrainian victims of war to catalog the harm they have suffered, found a plethora of support among the 46-nation Council of Europe summit in Iceland. Participants also discussed the details of a potential future tribunal where Russia would face charges for waging war.
"This Reykjavik summit shows clearly that Putin has failed with his calculations – he wanted to divide Europe and has achieved the opposite," said German Chancellor Olaf Scholz. "We stand closer together in Europe than ever before."
While leaders were at the waterside venue on the far-flung island nation for two days, the United Nations' top court announced it would hold hearings next month in a case between Russia and Ukraine. Kyiv claims Moscow is discriminating against minority groups in occupied Crimea and is financing terrorism in the region.
But even if Ukraine prevails at The Hague-based International Court of Justice, a ruling wouldn't make whole the millions of Ukrainians whose homes and lives have been torn apart by the conflict.
In theory, victims might have better luck at the Council of Europe's own court, the European Court of Human Rights, where Moscow is facing thousands of complaints of human rights violations, including three brought by Ukraine. The Strasbourg-based court can order countries to pony up restitution, but Russia's neighbor Georgia has been yet unable to collect for damages inflicted by Moscow when it invaded in 2008.
However, Russia was expelled from the council last year, in the wake of the full-scale invasion of Ukraine. And as long ago as 2015, it passed a law allowing it to overrule judgements from the ECHR.
Neither the court, nor the council, now has any channel of communication with the Russian authorities.
The damages register is seen as a first step toward justice in Ukraine. "Accountability is one of the topics that is of crucial importance," Marija Pejcinovic Buric, Secretary General of the Council of Europe, told the AP in an interview.
Compiling a comprehensive register of the destruction may be a first step: it's unclear what else might follow. The Council of Europe has made it clear that it will not assess the credibility of any claims, nor will it fund reparations payments. Those decisions will be left for other potential future institutions to determine.
Little wonder that Ukrainian President Volodymyr Zelenskyy, addressing the summit from Kyiv, reiterated his country's wish for such a court specifically for the prosecution of Russian aggression. In addition to military aid, another conference topic, he said his country needed "100% of justice, as there will be no reliable peace without justice."
While international institutions may be bogged down in overcoming legal hurdles to accountability, a group of squatters in Amsterdam has cut through the red tape – and the locks of the $3.5 million Amsterdam home belonging to one of Russia's sanctioned oligarchs.
A court in the Dutch city ruled on Wednesday that an anarchist group, who took over the Russian tech billionaire Arkady Volozh's house in October, could remain in the five-story, 19th-century mansion so long as they didn't annoy the neighbors.