China vows crackdown on 'hostile forces' as public tests Xi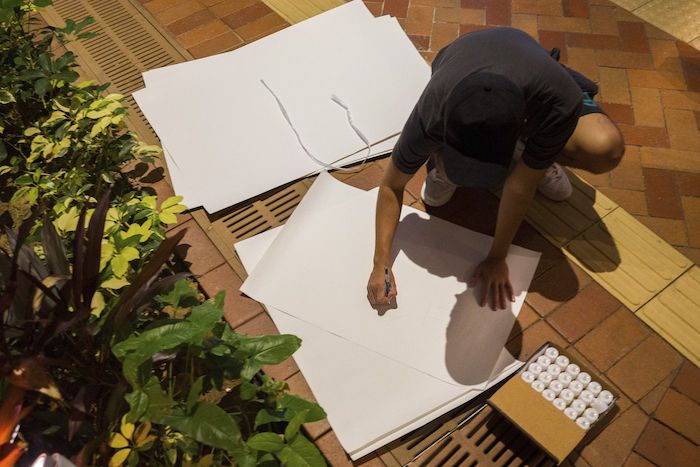 BEIJING (AP) — China's ruling Communist Party has vowed to "resolutely crack down on infiltration and sabotage activities by hostile forces," following the largest street demonstrations in decades staged by citizens fed up with strict anti-virus restrictions.
The statement from the Central Political and Legal Affairs Commission released late Tuesday comes amid a massive show of force by security services to deter a reoccurrence of the protests that broke out over the weekend in Beijing, Shanghai, Guangzhou and several other cities.
While it did not directly address the protests, the statement serves as a reminder of the party's determination to enforce its rule.
Hundreds of SUVs, vans and armored vehicles with flashing lights were parked along city streets Wednesday while police and paramilitary forces conducted random ID checks and searched people's mobile phones for photos, banned apps or other potential evidence that they had taken part in the demonstrations.
The number of people who have been detained at the demonstrations and in follow-up police actions is not known.
The commission's statement, issued after an expanded session Monday presided over by its head Chen Wenqing, a member of the party's 24-member Politburo, said the meeting aimed to review the outcomes of October's 20th party congress.
At that event, Xi granted himself a third five-year term as secretary general, potentially making him China's leader for life, while stacking key bodies with loyalists and eliminating opposing voices.
"The meeting emphasized that political and legal organs must take effective measures to … resolutely safeguard national security and social stability," the statement said.
"We must resolutely crack down on infiltration and sabotage activities by hostile forces in accordance with the law, resolutely crack down on illegal and criminal acts that disrupt social order and effectively maintain overall social stability," it said.
Yet, less than a month after seemingly ensuring his political future and unrivaled dominance, Xi, who has signaled he favors regime stability above all, is facing his biggest public challenge yet.
He and the party have yet to directly address the unrest, which spread to college campuses and the semi-autonomous southern city of Hong Kong, as well as sparking sympathy protests abroad.
Most protesters focused their ire on the "zero-COVID" policy that has placed millions under lockdown and quarantine, limiting their access to food and medicine while ravaging the economy and severely restricting travel. Many mocked the government's ever-changing line of reasoning, as well as claims that "hostile outside foreign forces" were stirring the wave of anger.
Yet bolder voices called for greater freedom and democracy and for Xi, China's most powerful leader in decades, as well as the party he leads, to step down — speech considered subversive and punishable with lengthy prison terms. Some held up blank pieces of white paper to demonstrate their lack of free speech rights.
The weekend protests were sparked by anger over the deaths of at least 10 people in a fire on Nov. 24 in China's far west that prompted angry questions online about whether firefighters or victims trying to escape were blocked by anti-virus controls.
Authorities eased some controls and announced a new push to vaccinate vulnerable groups after the demonstrations, but maintained they would stick to the "zero-COVID" strategy.
The party had already promised last month to reduce disruptions, but a spike in infections swiftly prompted party cadres under intense pressure to tighten controls in an effort to prevent outbreaks. The National Health Commission on Wednesday reported 37,612 cases detected over the previous 24 hours, while the death toll remained unchanged at 5,233.
Beijing's Tsinghua University, where students protested over the weekend, and other schools in the capital and the southern province of Guangdong sent students home in an apparent attempt to defuse tensions. Chinese leaders are wary of universities, which have been hotbeds of activism including the Tiananmen protests.
Police appeared to be trying to keep their crackdown out of sight, possibly to avoid encouraging others by drawing attention to the scale of the protests. Videos and posts on Chinese social media about protests were deleted by the party's vast online censorship apparatus.
"Zero-COVID" has helped keep case numbers lower than those of the United States and other major countries, but global health experts including the head of the World Health Organization increasingly say it is unsustainable. China dismissed the remarks as irresponsible.
Beijing needs to make its approach "very targeted" to reduce economic disruption, the head of the International Monetary Fund told The Associated Press in an interview Tuesday.
"We see the importance of moving away from massive lockdowns," said IMF Managing Director Kristalina Georgieva in Berlin. "So that targeting allows to contain the spread of COVID without significant economic costs."
Economists and health experts, however, warn that Beijing can't relax controls that keep most travelers out of China until tens of millions of older people are vaccinated. They say that means "zero-COVID" might not end for as much as another year.
On Wednesday, U.S. Ambassador to China Nicholas Burns said restrictions were, among other things, making it impossible for U.S. diplomats to meet with American prisoners being held in China, as is mandated by international treaty. Because of a lack of commercial airline routes into the country, the Embassy has to use monthly charter flights to move its personnel in and out.
"COVID is really dominating every aspect of life" in China, he said in an online discussion with the Chicago Council on Global Affairs.
On the protests, Burns said the embassy was observing their progress and the government's response, but said, "We believe the Chinese people have a right to protest peacefully."
"They have a right to make their views known. They have a right to be heard. That's a fundamental right around the world. It should be. And that right should not be hindered with, and it shouldn't be interfered with," he said.
Burns also referenced instances of Chinese police harassing and detaining foreign reporters covering the protests.
"We support freedom of the press as well as freedom of speech," he said.
Preston Manning stepping away from National Citizen's Inquiry to focus on the Alberta Public Health review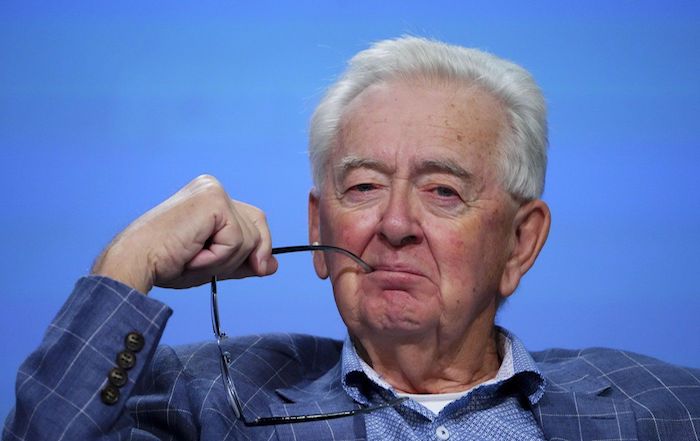 From the National Citizen's Inquiry
The National Citizen's Inquiry (NCI) – a citizen-led inquiry into Canada's response to COVID-19 – is finalizing plans to hold hearings across the country. With two of five commissioners now in place, the inquiry has booked its first two events – in Atlantic Canada and Central Canada.
Across the country, we are seeing more and more clear signals that Canadians are not only ready to ask the hard questions about how our governments reacted to this pandemic, but also require the answers.
Nation-wide concern
Another Liberal minister has said the quiet part out loud. Former Finance Minister Bill Morneau joined his one-time colleagues Joel Lightbound, Nathaniel Erskine-Smith, Marcus Powlowski, John McKay and Yves Robillard in expressing dismay that the Trudeau Liberals used vaccine mandates as a political wedge issue, an approach that "stigmatizes and divides people" as Lightbound put it.
In fact, after two years of vaccine distribution, the state broadcaster this week also published one of its first articles chronicling widespread vaccine injuries. The article acknowledged that those suffering from adverse effects also deal with "silence" and "stigma" as a result of the overly politicized tone set by Ottawa.
In Ontario, 164 former health care workers rallied to let the public know that, while the provincial health care system buckles under immense pressure and nurses are shipped in from other parts of Canada, there are hundreds of workers that were terminated because of vaccination mandates – and to the surprise of most – they are still not permitted to resume their careers.
In Alberta, Premier Danielle Smith has commissioned a Public Health Emergencies Governance Review Panel which will "review the legislation that guided Alberta's response to COVID-19 and recommend changes to improve the handling of future public health emergencies for Albertans."
NCI Spokesperson
On that note, Preston Manning will be stepping away from his role as spokesperson for the NCI to chair the Alberta review. The NCI welcomes this positive initiative by Premier Smith and believes the people of Alberta will be well-served by the appointment of Mr. Manning as Chair. Taking over for Manning is acclaimed investigative journalist Trish Wood. Wood worked for 10 years on CBC's Emmy Award-winning Fifth Estate before exposing the heartbreaking stories of Iraq War veterans in What Was Asked of Us and later pioneering the modern renaissance of true-crime storytelling. This experience has allowed her to hone the kind of unapologetic critical thinking and investigative skills that she will bring to bear in this role.

Hearing Details
Plans for the Inquiry's in-person hearings – supplemented by virtual participation – are now being finalized. The first hearings will be in Atlantic Canada e.g. Truro/Nova Scotia, March 16,17,18 and Montreal/Quebec, 22, 23, and 24 of March.
Additionally, the Inquiry has appointed its first two commissioners. They are Bernard Massie and Ken Drysdale.
Invitations will soon be sent to government officials at all levels across the country. These individuals will be invited to provide their perspectives and reflect on the decisions that were made.
Invitations are also extended to experts in the areas of economics; health care; mental and physical wellbeing; constitutional expertise; learning; and any other area significantly affected by pandemic response at any level. The Inquiry is also welcoming non-experts with personal stories that will help illuminate any unarticulated and overlooked shortcomings in the government responses. As demonstrated in the article reference above, there are many Canadians who feel silenced and stigmatized.
Take the example of Christian and Margarita
Immigrants from Mexico, they chose to start a life and a family here in Canada. Christian holds a PhD and was a lecturer at a prominent Canadian university. His wife was a program manager for a regional health authority.
After soberly considering their risk profile against the available data, as well as suspecting that the mRNA vaccination was incompatible with aspects of their faith, they chose to wait.
And in their situation, we see the unfortunate cascading effects of these poorly considered policies, developed in bureaucratic silos.
Christian and his wife – who worked from home, incidentally – were both put on indefinite administrative leave by their employers. Both streams of household income effectively removed.
And because of the Federal government's policies, they were also deemed ineligible for any employment insurance.
Being immigrants, they also did not have family around them. In fact, their main community connections were from a church they attended. Unfortunately, they were also no longer allowed to attend worship services because of the imposition of the vaccine passport program by the provincial government.
At the time this happened, Christian and Margarita were also living on an island. Federal travel mandates left them effectively stranded.
In the span of a month, these highly skilled individuals – who had made Canada their new home – lost all income; were disqualified from any social assistance; lost their primary community support system; and could not even get on a plane to leave.
Now Christian and Margarita are in the process of returning to Mexico, where they have more confidence that the government will leave them in peace.
It is stories like this that will not be heard at an internal meeting between government officials and senior bureaucrats. It is stories like this that demand a citizen's inquiry.
About the National Citizen's Inquiry
NCI is a citizen-led and citizen-funded initiative that is completely independent from government. In early 2023, the NCI will hear from Canadians and experts and investigate governments' COVID-19 policies in a fair and impartial manner. The NCI's purpose is to listen, to learn, and to recommend. What went right? What went wrong? How can Canadians and our governments better react to national crises in the future in a manner that balances the interests of all members of our society?
WHO decides the COVID-19 global emergency isn't over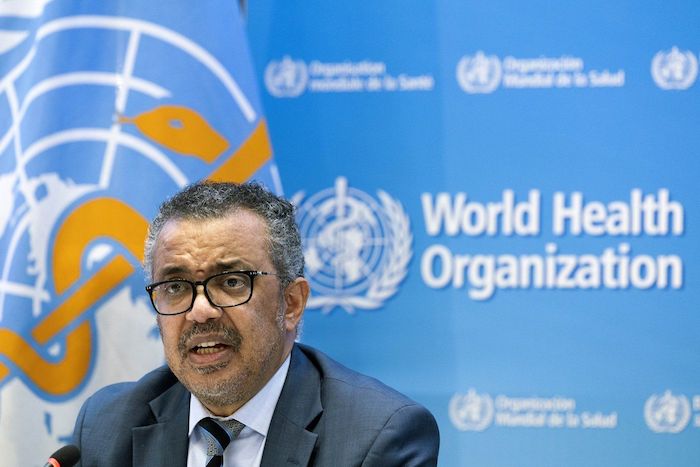 The World Health Organization decided Monday not to declare an end to the COVID-19 global public health emergency.
Tedros Adhanom Ghebreyesus, the director-general of the international body, said Monday "there is no doubt that we're in a far better situation now" than a year ago, when the highly transmissible Omicron variant was at its peak.
But Tedros warned that in the last eight weeks, at least 170,000 people have died around the world in connection with the SARS-CoV-2 virus. He called for at-risk groups to be fully vaccinated, an increase in testing and early use of antivirals, an expansion of lab networks, and a fight against "misinformation" about the pandemic.
"We remain hopeful that in the coming year, the world will transition to a new phase in which we reduce hospitalizations and deaths to the lowest possible level," he said.
What would it mean if the WHO had decided to lift that designation?
By declaring a global emergency, the WHO essentially sounded the alarm on a serious worldwide health risk that required international co-operation.
It triggered a legally binding response among WHO member countries, including Canada, and allowed the organization to make temporary recommendations to those countries to prevent or deal with the threat.
Over the last few years those recommendations have included quarantining infected people and their close contacts and border testing and closures.
The formal designation was made on Jan. 30, 2020, when 99 per cent of confirmed COVID-19 cases were still restricted to China.
Even if that designation is lifted, it doesn't mean the pandemic is over or that the threat has ended.
Why was the WHO considering it now?
Monday marks three years to the day since Tedros first declared the then little-understood coronavirus a global health emergency.
Since then, a committee of global experts has met every three months to offer advice on whether the pandemic still meets that definition.
"As we enter the fourth year of the pandemic, we are certainly in a much better position now than we were a year ago when the Omicron wave was at its peak and more than 70 thousand deaths were being reported to WHO each week," Tedros told the committee Friday.
At the previous meeting in October, he said weekly reported COVID-19 deaths had nearly reached their lowest levels since the beginning of the pandemic.
On Friday though, Tedros appeared to caution the committee against being too optimistic.
He said the number of weekly deaths had been rising since early December, particularly since public health restrictions were lifted in China.
"In total, over the past eight weeks, more than 170,000 deaths have been reported. The actual number is certainly much higher," he said.
He also reminded the experts the pandemic response remains "hobbled" in countries without COVID-19 vaccines and therapeutics.
Even in countries with such tools at their disposal, public trust in those life-saving medicines has been undermined by disinformation campaigns, health systems remain overwhelmed because of staff shortages, and COVID-19 surveillance efforts have been massively scaled down.
What will Canada do differently once the WHO declares the emergency over?
Nothing much. At a press conference Friday, Canada's chief public health officer Dr. Theresa Tam said no matter what the WHO decided, Canada would continue to track cases, serious illnesses and deaths, as well as roll out vaccination campaigns.
Cases, hospitalizations and deaths associated with the virus spiked noticeably over Christmas and in early January, Tam said, but all now appear to be trending down.
"We mustn't, I think, let go of the gains that we've had in the last several years," she said.
"I think whatever the decision is made by the director-general of WHO, I think we just need to keep going with what we're doing now."
Whose decision was it not to end the emergency?
The final call was ultimately up to Tedros, but he was informed by the advice of the emergency committee.
The group, first struck in 2020 when the threat of COVID-19 first came to light, voted Friday on whether or not to maintain the formal emergency designation.
When will the pandemic finally be over?
It's still difficult to say because COVID-19 is still spreading rampantly around the world.
The WHO declared COVID-19 a pandemic a month and a half after designating it a global emergency, and at the time Tedros took pains to explain the two classifications are not one and the same.
"Describing the situation as a pandemic does not change WHO's assessment of the threat posed by this virus. It doesn't change what WHO is doing, and it doesn't change what countries should do," Tedros said on March 11, 2020.
Last fall he declared the end of the pandemic was "in sight," but it is difficult to say when it will fully come into view.
This report by The Canadian Press was first published Jan. 30, 2023.
— With files from The Associated Press.