Children lost in shooting were 'feisty,' a 'shining light'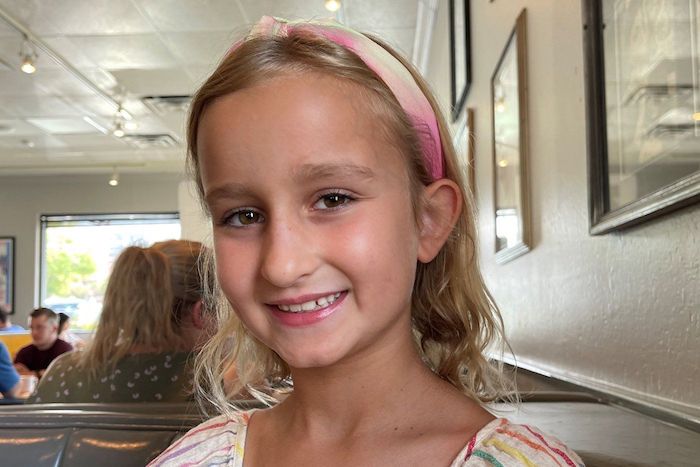 This undated photo shows Evelyn Dieckhaus a student at The Covenant School in Nashville, Tenn. Dieckhaus was one of six people killed on Monday, March 27, 2023, in the shooting at the school. (AP Photo)
By Adrian Sainz, Kristin M. Hall, Holly Meyer And Ben Finley in Nashville
NASHVILLE (AP) — Details from the rich, full lives of the three adults killed Monday at a Nashville elementary school have emerged quickly in the aftermath, but information on the three 9-year-old children — whose lives ended tragically young — has been slower to publicly surface from a community buried in grief.
The children slain at The Covenant School were Hallie Scruggs, described by an aunt as "always on the go"; Evelyn Dieckhaus, her family's "shining light"; and William Kinney, whose family has said little publicly so far.
A woman who identified herself as Hallie's aunt, Kara Scruggs Arnold, wrote on Facebook that Hallie was "incredibly smart, feisty enough to keep up with her 3 brothers and my 4 boys."
Hallie had a "love for life that kept her smiling and running and jumping and playing and always on the go," Arnold added in her post.
Hallie's father Chad Scruggs is the lead pastor of Covenant Presbyterian Church, which is associated with The Covenant School. The private Christian school has about 200 students from preschool through sixth grade, as well as roughly 50 staff members, according to its website.
Evelyn was described as the Dieckhaus family's "shining light" on a GoFundMe page that has been set up for them. But her family, too, was reluctant to talk about her or the enormity of their loss.
The adults who were killed were Katherine Koonce, 60, the head of the school, Mike Hill, 61, a custodian, and Cynthia Peak, 61, a substitute teacher.
In a video statement released Tuesday evening, Tennessee Gov. Bill Lee said Peak was supposed to have dinner with his wife, Maria, after filling in as a substitute teacher at Covenant.
"Maria woke up this morning without one of her best friends," Lee said, adding that Peak, Koonce and his wife had once taught together and "have been family friends for decades."
Sandra McCalla, a former administrator at the high school Peak attended in Shreveport, Louisiana, said Peak served as the statistician at girls' basketball games and track meets before graduating in 1979.
"She was busy in the background making good things happen," said McCalla, who served as the principal of Captain Shreve High School for 30 years.
Chuck Owen, who knew Peak from childhood, said Peak's father was a well-known doctor in Leesville, Louisiana, where the family lived before moving to Shreveport.
He said, "everyone knew her, knew her family" and that she was "just a sweet person from a sweet family."
Owen added that Peak was a devout follower of God, and it did not surprise him that she was working at a Christian school.
"She told me that she got saved in college and that God's love changed her life," he said.
Nashville songwriter Natalie Hemby posted on Instagram that Peak "taught me how to swim. Keep my head above water… which is what we're all trying to do right now."
Peak's family issued a statement saying their "hearts are broken," and called Peak "a pillar of the community, and a teacher beloved by all her students."
"She never wavered in her faith and we know she is wrapped in the arms of Jesus," the statement said.
Koonce, the head of The Covenant School, was a woman of deep faith who saw educating kids as her mission.
"It's what God called her to do," close friend Jackie Bailey said.
"We're in such shock," Bailey added. "I was looking around my house, and every piece of cross stitch that I have on the wall, she did – she gave to me."
One of them said: "A friend loveth at all times."
"That's Proverb 17:17," Bailey said. "That's the kind of person she was. She loved at all times."
Bailey added: "If there was any trouble in that school, she would run to it, not from it. She was trying to protect those kids … That's just what I believe."
Koonce's family said in a statement Wednesday that she "gave her life to protect the students she loved."
"We are devastated by our loss but depending on our God for comfort and healing," the family said. "It is our privilege to honor Katherine's legacy and to celebrate her remarkable spirit."
Before Koonce took the top role with Covenant, Anna Caudill, a former art teacher, worked with her for almost a decade at Christ Presbyterian Academy, another Christian school in the area connected to a Presbyterian Church in America congregation.
"She was an absolute dynamo and one of the smartest women I'll ever know," said Caudill, recalling how Koonce excelled at her day job while parenting her children, pursuing her masters and then her PhD, and writing a book.
Caudill, who grew up in several male-led Christian denominations, said Koonce was the first woman in such a setting to encourage her to keep learning and pursuing her life goals.
"She wasn't Wonder Woman, but I never saw the two in the same place," Caudill said.
Friends of Hill, the custodian, said they believed he would have died protecting the school's children.
Pastor Tim Dunavant, of the Hartsville First United Methodist Church, said in a Facebook post that he hired Hill to work at Covenant more than a decade ago.
"I don't know the details yet. But I have a feeling, when it all comes out, Mike's sacrifice saved lives," Dunavant wrote.
Hill's family issued a statement saying, "We pray for the Covenant School and are so grateful that Michael was beloved by the faculty and students who filled him with joy for 14 years. He was a father of seven children … and 14 grandchildren. He liked to cook and spend time with family."
Another pastor, Jim Bachmann, said Hill was "one of those people you cannot not like" and that he made a point of learning the names of all the students and talking to them.
Bachmann was the founding pastor of Covenant Presbyterian Church, which runs the school, and is the current pastor of Stephens Valley Church, where Hill was a member and sometimes served as a greeter.
On those occasions, Hill would "dress up like he was going to meet the president of the United States," Bachmann said. He added, "Everybody loved Mike, and he loved them back."
___
Associated Press reporters Travis Loller in Nashville and Beatrice Dupuy in New York contributed to this story. Sainz reported from Memphis. Finley reported from Norfolk, Virginia.
US cities hope crime strategies keep homicide numbers dropping and prevent summer surge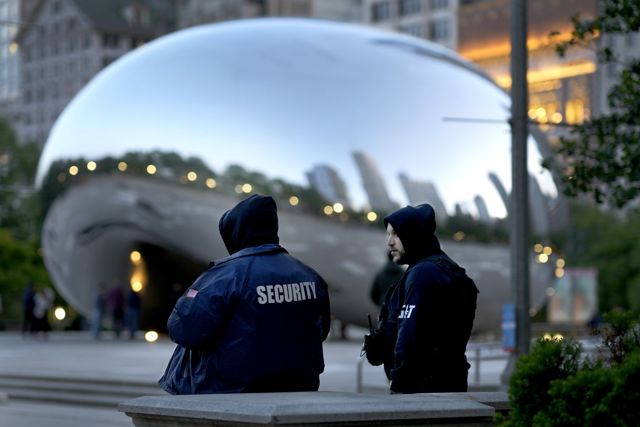 CHICAGO (AP) — An expected bump in violent crime this summer has mayors and police officials around the U.S. rolling out familiar strategies of making officers more visible and engaging with community groups, in some cases leaning on civilians to enforce curfews and keep the peace.
Chicago is among the U.S. cities under scrutiny following a mayoral race that focused on public safety in response to demands for change. Violence often surges during summer months, so this holiday weekend will undoubtedly ramp up pressure on Mayor Brandon Johnson's new administration to deliver short-term improvement along with the long-term strategies that the former union organizer advocated while campaigning to lead the nation's third-largest city.
"It's going to take all of us, not just the police, not just city government, to ensure that our communities can live and thrive in peace and safety," Johnson said at a lakefront press conference promoting the city's Memorial Day weekend strategy.
Most large U.S. cities are reporting fewer homicides this year, according to data collected by the Council on Criminal Justice, which created a Crime Trends Working Group this spring in hopes of providing more real-time information on crime.
The shift is a tentative reprieve following those spikes that began in 2020 and began to come down last year. The totals remain far higher than pre-pandemic reports and are "cause for serious concern but not for panic," said Thomas Abt, founding director of the Center for the Study and Practice of Violence Reduction at the University of Maryland.
"Where cities are seeing success, they're generally investing in a balanced approach that includes policing but … also supports community-based approaches," Abt said. "They have recognized the need for enforcement but also emphasize prevention and intervention."
Officials in Cleveland; Newark, New Jersey; and Philadelphia have announced summer plans to make officers more of a visible presence in locations where violent crimes have happened, while also promoting community efforts to prevent violence and provide alternative activities.
In Baltimore, city officials — not police officers — will enforce curfews on teenagers starting Friday and continuing through Labor Day weekend. The controversial policy has long been on the books but rarely enforced.
"We are going back to the old days," Baltimore Mayor Brandon Scott said in announcing the summer enforcement, after two teens were wounded as hundreds gathered on a Sunday night in the city's popular Inner Harbor district.
That shooting in April, which unfolded while officers were trying to break up a fight at the scene, added to a significant spike in youth violence, which has persisted even as overall shootings and homicides trend downward in Baltimore.
According to Scott's plan, non-law enforcement staff will approach children and teens violating the curfew policy on weekend and holiday nights. First, they'll encourage kids to go home, but if that doesn't work, the children will be brought to a youth engagement center that provides a supervised environment where they can hang out.
In Detroit, federal prosecutors are expanding efforts to help local police this summer by taking armed carjacking cases and business robberies in high-crime areas, in addition to certain gun crimes. Federal convictions typically bring longer sentences.
"The most dangerous people will be prosecuted immediately in federal court," U.S. Attorney Dawn Ison said Wednesday.
Following a half-dozen shootings — including one fatality — in the downtown Detroit area over one weekend in April, Police Chief James White instituted a crowd control strategy including increased police presence. Curfews for minors also will be enforced.
In Chicago, mayors face annual pressure to demonstrate a proactive approach to violent crime ahead of Memorial Day, the traditional kickoff to warm weather and summer events where crowds gather.
Johnson promised to move away from a policing-first strategy as he took office at the start of May, but he's also distanced himself from calls to cut money for policing. He chose a retired department veteran as interim police chief.
Federal data shows that Chicago's homicide rate remains lower than other Midwestern cities such as St. Louis and Detroit, with 211 killings reported so far this year, lower than the same period in 2022 and 2021.
Johnson's holiday weekend strategy includes making officers a visible presence, and even having them check bags at crowded beaches, parks and events. Police rushed to Chicago's North Avenue Beach on Friday afternoon after a report of gunshots following a large fight. The department said one juvenile was in custody but didn't provide more information. No injuries were reported.
Philanthropic and business groups have donated to anti-violence groups organizing events aimed at young people. And the state of Illinois has authorized a team of 30 "peacekeepers" — not police — who have training and experience in deescalating conflict, to roam Chicago aiming to prevent outbreaks of violence.
Community groups with similar strategies have operated for years across Chicago, focusing on specific neighborhoods or blocks with a history of violence. State officials said their team would be mobile and able to respond anywhere, including downtown, where large gatherings of teens during a warm April weekend ended with several shootings and other violence.
Norman Livingston Kerr led a Chicago anti-violence organization before he became assistant deputy mayor for public safety under Johnson's predecessor, Lori Lightfoot. He now consults with cities and nonprofits to develop anti-violence strategies that rely on deescalation or intervention. He's encouraged by signs that the city and state are committing long-term resources to efforts such as the peacekeepers program.
"This violence intervention work, it can take time for people to see it work and believe in it," Kerr said. "I'm not going to dwell on the fact it took years to happen; I'm going to say this is a new day."
Johnson has promised to give a variety of community organizations a larger role in his administration's public safety strategy and devoted much of Thursday's city presentation to promoting plans for basketball tournaments, neighborhood barbecues and karaoke contests.
Tamar Manasseh, founder of Mothers/Men Against Senseless Killings, said her organization has worked to prevent crime around a South Side intersection for nearly 10 years using "positive loitering." This weekend is no exception, with a neighborhood barbecue and other activities planned.
"We built a community center, our pop-up community center, in a vacant lot," Manasseh said. "And since then we've seen crime drop astronomically. And we feel like that can happen anywhere."
___
Associated Press writers Lea Skene in Baltimore and Corey Williams and Ed White in Detroit contributed to this report.
B.C.'s 'Paper Bag Rapist' again denied parole at online hearing from Alberta prison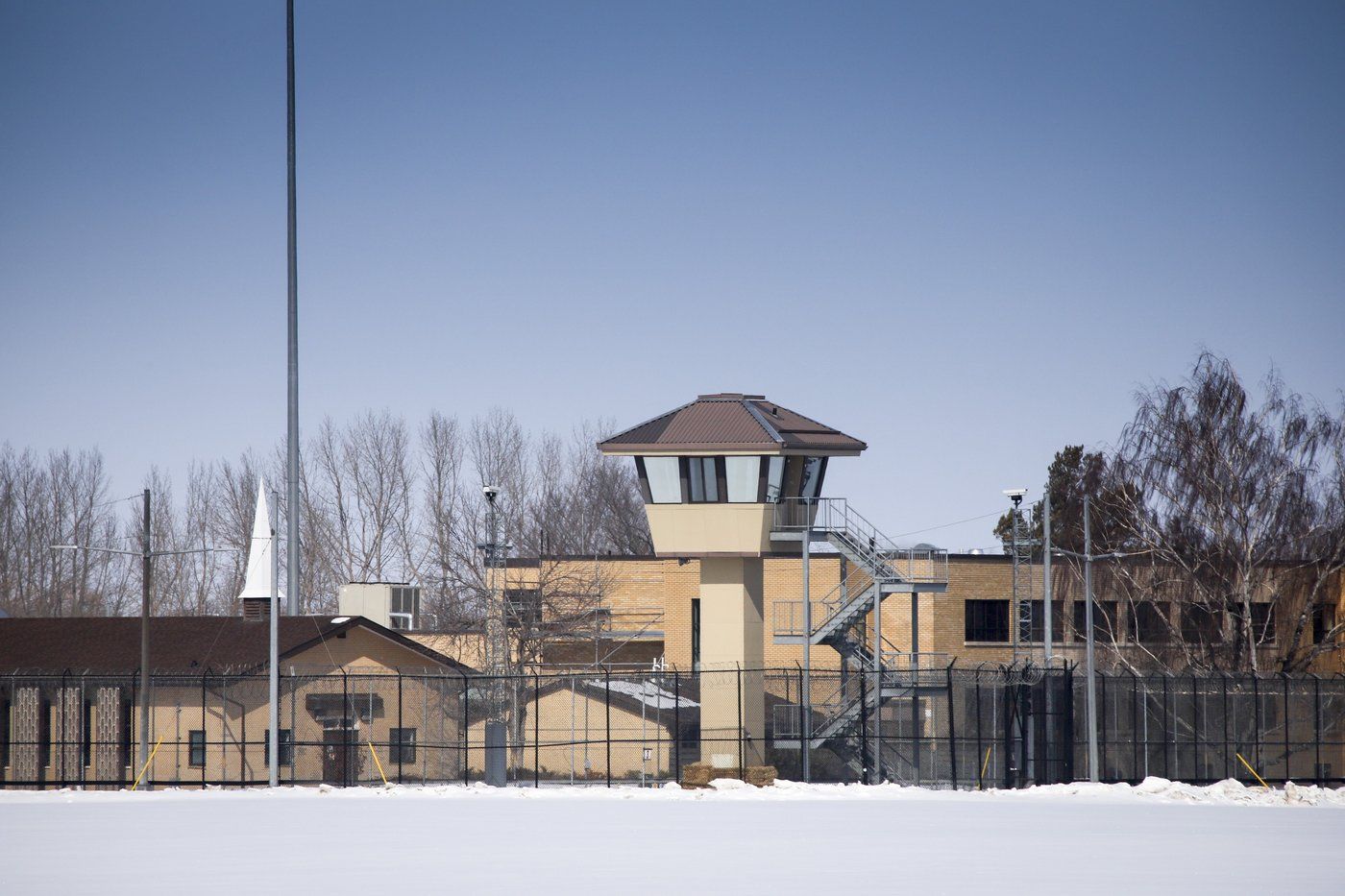 The Bowden Institution facility is shown near Bowden, Alta., on March 19, 2020. THE CANADIAN PRESS/Jeff McIntosh
Bowden
A man who was once known as the "Paper Bag Rapist" has again been denied parole after a hearing from an Alberta prison.
John Horace Oughton, 74, was convicted in 1987 of two counts of rape, six counts of indecent assault and six counts of sexual assault with a weapon in British Columbia.
He was tagged with the disturbing name because he made his victims wear a bag over their head or wore one himself to mask his identity.
Oughton appeared Friday at the online parole board hearing from the federal medium-security Bowden Institution, where he's serving an indeterminate sentence as a dangerous offender.
He was denied day parole and full parole by the two-person board.
"There's been some lowering of your risk, likely due to your mobility issues and your age," board member Janelle Jackiw said Friday as she delivered the decision.
She said, however, Oughton has not participated in high-intensity sex offender programming and has no release plan.
"There hasn't been significant change since the last hearing to this hearing," she said. "Overall, your risk is assessed as being unmanageable."
Oughton, who was in a wheelchair, said during the hour-long hearing that he's dying of heart disease and is also mentally ill.
"I suffer from a cognitive impairment," he told the board. "When I'm not treated, I start to imagine things that aren't real."
The parole board has previously said it's believed Oughton had between 30 and 140 victims, but he said Friday he believes there are a lot of mistakes in his file.
"I cannot defend anything I did," he said, adding he believes he made up some of those victims. He also suggested that there were no weapons and no disguises during his crimes.
Oughton added that he's been involved in a restorative justice program during his time in prison and met with some of his victims.
"I apologized to each and every one of them," he said.
"When they left, they knew it was not a normal person who committed these crimes against them. It was a person who was mentally ill."
Earlier parole board documents said that Oughton's 14 sex-related offences on women and children took place in B.C.'s Lower Mainland between 1985 and 1987.
This report by The Canadian Press was first published May 26, 2023.