Change to B.C. drug decriminalization policy prohibits use near playgrounds, parks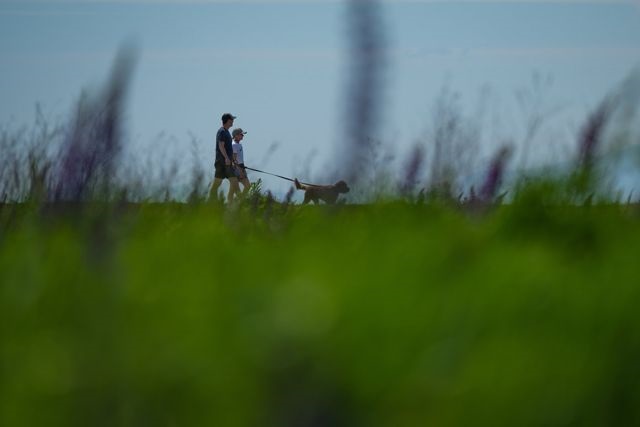 People are framed by wildflowers while walking a dog on a pathway at Garry Point Park, in Richmond, B.C., on Thursday, May 18, 2023. The B.C. government says its drug decriminalization policy has been amended to stop people from using illegal substances near playgrounds and parks.THE CANADIAN PRESS/Darryl Dyck
Vancouver
The British Columbia government says its drug decriminalization policy has been amended to stop people from using illegal substances near playgrounds and parks.
The Ministry of Mental Health and Addictions says in a statement that the federal government approved the changes to its drug decriminalization policy.
The federal government gave the province an exemption from the law in May last year to allow for the removal of criminal penalties for people caught with a small amount of illicit drugs for personal use.
The new changes mean illegal drug possession within 15 metres of playgrounds, waterparks and skate parks will be prohibited as of Sept. 18, although possession was already prohibited on school grounds and in child-care facilities.
The provincial government says the amendments mean police can again enforce federal drug laws if people are found with illegal drugs near "child-focused spaces."
Victoria Mayor Marianne Alto says in the statement that while decriminalization is one part of the response to the toxic drug crisis, it's important to take steps that specifically protect children.
Vancouver Mayor Ken Sim says the city had asked the provincial government to get Health Canada to make the change.
"This is a positive step forward in helping to find balance for our communities, including families, seniors, children, and our most vulnerable residents," he said in a statement issued Thursday.
This report by The Canadian Press was first published Sept. 14, 2023.
Ontario reviewing supervised consumption sites after Toronto shooting death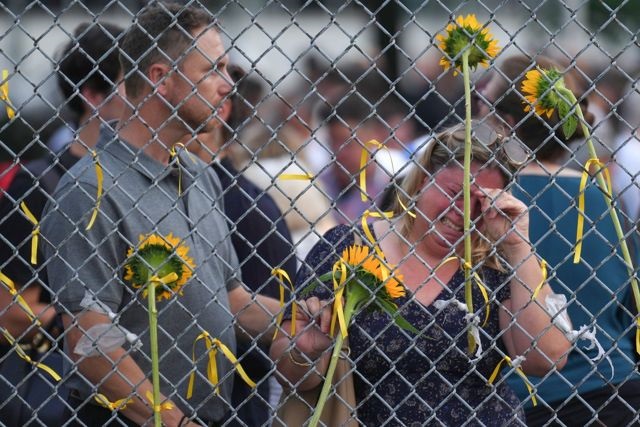 A woman weeps as mourners tie yellow ribbons and flowers to a fence following public vigil for Karolina Huebner-Makurat, in Toronto, Monday, July 17, 2023. Ontario says it has launched a "critical incident review" of the province's supervised consumption sites after a woman was killed by a stray bullet in Toronto's east end last month. THE CANADIAN PRESS/Chris Young
Toronto
Ontario says it has launched a "critical incident review" of the province's supervised consumption sites after a woman was killed by a stray bullet in Toronto's east end last month.
Hannah Jensen, a spokesperson for Health Minister Sylvia Jones, says all sites are expected to comply with strict requirements and the review will start with the South Riverdale Community Health Centre near the scene of Karolina Huebner-Makurat's death.
Police have said the 44-year-old mother of two was walking in the Leslieville neighbourhood on July 7 when she was hit by a stray bullet after a physical altercation between three men resulted in shots being fired.
Three people are facing charges in her death, including 23-year-old SRCHC community worker Khalila Zara Mohammed who is charged with being an accessory after the fact and obstructing justice.
Twenty-year-old Ahmed Mustafa Ibrahim was also arrested and charged this week with manslaughter and robbery, while 32-year-old Damian Hudson was arrested last month and charged with second-degree murder.
None of the charges have been proven in court and Toronto police say they are still looking for a third suspect involved in the shooting.
This report by The Canadian Press was first published Aug. 17, 2023.
B.C. officials push back against safe supply critics and their 'polarizing rhetoric'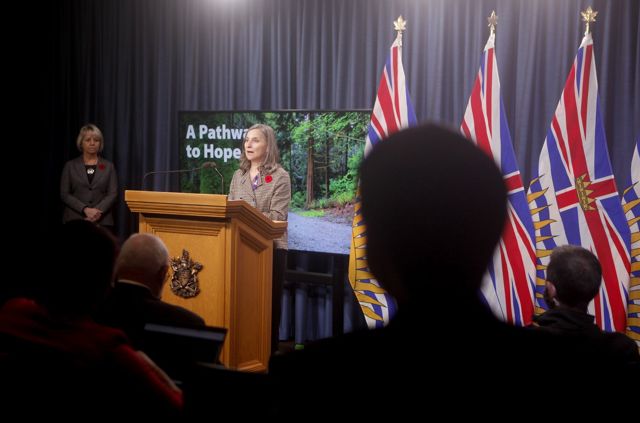 Provincial health officer Dr. Bonnie Henry looks on as chief coroner Lisa Lapointe discusses details about the province's application for decriminalization in the next step to reduce toxic drug deaths during a news conference in the press gallery at the legislature in Victoria, Monday, Nov. 1, 2021. THE CANADIAN PRESS/Chad Hipolito
Victoria
British Columbia officials have sought to rebut claims that drugs prescribed through the province's safe supply program aimed at curbing overdoses are being re-sold to young people, helping fuel the deadly drug toxicity crisis.
B.C.'s representative for children and youth, Jennifer Charlesworth, said her office reviews injury and death reports involving young people and she hasn't seen any sign that youth are either using drugs "diverted" from the safe supply program, or that they are suffering overdoses from such drugs.
Instead, she said "polarizing rhetoric" on the issue was causing harm.
"Safe supply is an alternative to the poison that is available on the street, and I'll repeat, for emphasis, what I said earlier: there's no indication from our data that diverted safe supply is causing overdoses for children and youth," she said.
"Is it possible that diversion will be an issue in the future? Anything is possible within this highly complex and fast-evolving crisis we are all in."
Her remarks came after Opposition Leader Pierre Poilievre recently told the House of Commons that federal and B.C. government policies are worsening the overdose crisis because prescription hydromorphone "gets sold to kids" by those taking part in the program, with the profits used to buy stronger substances, such as fentanyl.
B.C.'s chief coroner, Lisa Lapointe — who joined Charlesworth and provincial health officer Dr. Bonnie Henry at a news conference on Monday — said toxicology tests show hydromorphone hasn't been present in any significant number of deaths.
Officials are "closely monitoring, continually, for any and all trends that may impact public safety" as a result of the safe supply program, she said.
Henry said monitoring has not detected an increase in opioid overdoses involving children, or new diagnoses of opioid use disorder.
She said the amount of hydromorphone being prescribed through the safe supply program is very small, and the drug has been available in large quantities through other routes for a long time.
Even if all of the hydromorphone prescribed as safe supply made its way to the street, "it would be a very, very tiny percentage of what is out there," she said.
Asked to comment, a spokesman for Poilievre shared links to recent media stories, saying they "directly challenge" the "allegations" made by the B.C. officials.
The three officials expressed concern over the "polarization" of safe supply and other harm-reduction measures.
Charlesworth told the news conference they were "standing together, saying fear-based, polarizing rhetoric that is not evidence-informed is causing harm."
Lapointe said it was not a response to any one person or media report, but they've been concerned about "increasingly polarized rhetoric that is not informed by evidence."
She said recent "divisive" language and rhetoric surrounding people who use drugs drives them further underground, and that includes children and youth.
"If they're using drugs, they will not come forward, or your relatives or your neighbours, and that is the most harmful thing we can do," she said.
Asked about safeguards to ensure prescribed drugs are not being resold, Lapointe said drug trafficking remains a crime.
Officials are "dealing with a lot of anecdotal information and allegations," she said.
Henry said officials can't change policies based on "individual stories or anecdotes."
"We need to have the data behind it."
Still, Henry said she wanted the public to know that officials take concerning reports from clinicians, media and others seriously, and they investigate accordingly.
"We are not just doing this without having robust monitoring and evaluation."
Henry said it may be time to re-evaluate the safe supply program to ensure it's meeting people's needs as the province emerges from the COVID-19 pandemic, which has contributed to increases in drug toxicity and overdose deaths.
She said she's heard from some clinicians that hydromorphone isn't always meeting patients' needs, and may be used to acquire other substances.
"What we're also hearing from people who use drugs is that sometimes they use (hydromorphone) as a commodity for friends, for others, who don't have access."
Officials will review early evidence from the program to consider any adjustments over the coming weeks and months, Henry said.
More than 12,400 people have died from overdoses since the B.C. government declared a health emergency in 2016.
Lapointe said it's estimated that more than 100,000 people in B.C. have an opioid use disorder, a number that does not include people who use illicit opioids occasionally, or those who regularly or irregularly use stimulants.
"All of those tens of thousands of people are currently at risk of death or serious harm. A substantial, co-ordinated, comprehensive response is required."
— By Brenna Owen in Vancouver
This report by The Canadian Press was first published June 5, 2023.