Canadian economic growth lags expectations in Q2; July estimate points to contraction
Ottawa – Economists expect the Bank of Canada to move forward with another aggressive interest rate hike next week after the release of data showing the economy remained in relatively good shape during the second quarter of the year.
The Canadian economy grew at an annual rate of 3.3 per cent in the second quarter, Statistics Canada said Wednesday in its latest report on real gross domestic product.
For comparison, the economy grew by an annual rate of 3.1 per cent in the first quarter.
While the 3.3 per cent figure falls short of the agency's preliminary estimate of 4.6 per cent, BMO chief economist Douglas Porter said in a typical year, it would be considered above-average growth.
Tu Nguyen, an economist with accounting and consultancy firm RSM Canada, said there were few surprises in the GDP data when it's broken down into its components.
"We see pretty much what we had expected, which is strong business investment, a lot of spending by households on services, which again, it's not surprising as pandemic restrictions dropped," said Nguyen. "And on the flip side, we saw the housing sector not doing very well, which has been happening since the first interest rate hike that happened in March."
According to the federal agency, real GDP grew by 0.8 per cent in the second quarter, marking the fourth consecutive quarter of growth.
Statistics Canada also released its monthly report, which finds real GDP grew by 0.1 per cent in June after staying flat in May.
Porter said the latest GDP data is a "mixed bag" given some sectors showed weakness while others were in good shape.
"I think it just shows how …volatile this economy is. And, you know, it doesn't lend itself to easy characterizations," Porter said.
Wednesday's report said businesses ramped up their investments in inventories, which served as the major contributor to growth. Businesses also increased their investments in engineering structures and machinery and equipment.
Meanwhile, household spending on semi-durable goods increased, with the rise driven by an increase in spending on clothing and footwear as more people headed back to the office.
At the same time, housing investment declined in the second quarter along with household spending on durable goods.
The Bank of Canada has called the Canadian economy "overheated" and has been combating high inflation with a series of interest rate hikes.
The central bank is hoping higher borrowing rates will slow down economic activity and bring inflation back to its target of two per cent.
With the annual inflation rate reaching 7.6 per cent in July, the Bank of Canada is expected to announce another supersized interest rate hike Sept. 7.
Nguyen said the consensus among central bankers around the world has been that inflation is broad-based, meaning prices are rising quickly across the economy, and therefore requires forceful action on their parts.
"I don't see the Bank of Canada deviate from that strategy moving forward. And I expect them to raise interest rates at every single meeting for the rest of the year," Nguyen said.
BMO is forecasting the central bank to raise its key interest rate by three-quarters of a percentage point next week, but Porter said he wouldn't be surprised if it opted for a more aggressive rate hike.
"I think in some ways, the bank once wants to keep the market on its toes a bit. And I think it also wants to show that it's planning on being very tough on inflation," Porter said.
Meanwhile, an early reading for July points to a contraction of 0.1 per cent as economists widely expect an economic slowdown ahead.
How much Canadians feel the slowdown will depend on their individual circumstances, Porter said, including what sector they're employed in and whether they're a borrower or saver.
Additionally, the Statistics Canada report showed wages were up two per cent in the second quarter, with Ontario and Alberta contributing the most to the national increase. Statistics Canada said the Atlantic provinces' wage growth for the quarter were almost double the national rate.
While disposable income rose for households, their savings rate declined from 9.5 per cent in the first quarter to 6.2 per cent, largely due to inflation. However, the savings rate remains well above pre-pandemic levels, which was 2.7 per cent at the end of 2019. While the report provides the aggregate savings rate, Statistics Canada noted that savings rates tend to be higher among those in higher income brackets.
"Although these estimates suggest ongoing resiliency in household net savings, inflationary pressures on consumption and trends in employee compensation will likely be key determinants of future outcomes," the agency said in its report.
This report by The Canadian Press was first published Aug. 31, 2022.
Stretched thin, parents have swath of options to save for children's education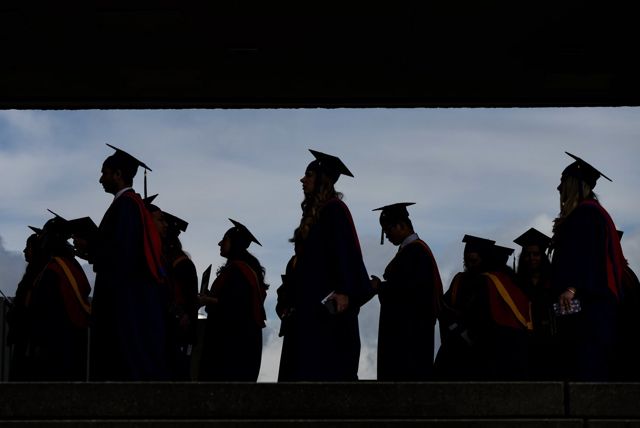 The rising cost of living has ramped up pressure on parents, who say it's tougher than ever to save for their children's post-secondary education, a new survey found. Graduates are silhouetted as they line up for a convocation ceremony at Simon Fraser University, in Burnaby, B.C., on Friday, May 6, 2022. THE CANADIAN PRESS/Darryl Dyck
By Christopher Reynolds in Montreal
Parents are finding it tougher than ever to save for their children's post-secondary education as the rising cost of living ramps up financial pressures.
But the mainstays of post-secondary saving — RESPs, especially — remain key tools, as do clear goals and plenty of planning.
Julie Petrera, a senior strategist for client needs at Edward Jones, said the first step is getting a handle on cost estimates, which can range from thousands to hundreds of thousands of dollars, depending on the type and length of schooling and whether the child is leaving home.
Other considerations include whether family members, such as a grandparent or the child themself, will contribute and where education ranks on parents' list of savings priorities.
"Are they paying for post-secondary education and saving for their own retirement and funding other expenses, like renovations and vacations?" Petrera asked.
According to an online survey of 1,000 parents with at least one child under 18 by Embark, a company specializing in education savings, some 73 per cent of parents said saving for college and university has been harder recently.
The survey also found just over half of respondents said they would go into debt to pay for their child's education.
The Registered Education Savings Plan (RESP) offers a tax-deferred investment account that has been used by millions. More than 481,000 students withdrew funds from an RESP in 2021, according to Employment and Social Development Canada.
Ottawa matches 20 per cent on the first $2,500 put toward an RESP each year, via the Canada Education Savings Grant (CESG), for a total of $500 per year, with higher rates available to lower income families. The lifetime maximum grant amount is capped at $7,200, while total contributions to RESP accounts are limited to $50,000 per beneficiary.
Low income families may also be eligible for the Canadian Learning Bond, which does not require RESP contributions.
RESP beneficiaries in British Columbia may be eligible for an additional one‑time $1,200 grant, while those in Quebec can enjoy a refundable tax credit with a lifetime maximum of $3,600.
"The RESP is great. It is designed to help with affordability," Petrera said. "But on the flip side there are some restrictions on these plans … on who can withdraw the funds, when they can withdraw them and why."
RESPs can comprise a major part of a family's education funding, but should not be viewed as a "standalone" plan, Petrera said. Non-registered investment accounts offer a supplementary option.
"There are no grants associated, they are fully taxable, but they have no restrictions. You can put money in up to any amount and withdraw at any time for any reason," she said.
A tax-free savings account provides another vehicle. Students themselves can't open one until they reach 18, but parents or grandparents can use their accounts to help save.
"My advice on that would be to work with an adviser or work with a professional that understands the pros and cons and the ins and outs of all of these plans to determine what is the best mix to maximize what the client's objective is," Petrera said.
Automatic contributions toward a plan are a simple, effective way to build a nest egg.
"We think that if each pair can make 50 bucks a month (per person) of contributions, they'll get $37,000 by the time their kids hit 18 and go to post-secondary school," Embark CEO Andrew Lo said.
He stressed that parents should educate themselves about education. One in three polled by the company did "not know enough to even guess" how much post-secondary schooling costs.
Erika Shaker, director of the national office of the Canadian Centre for Policy Alternatives, said costs are going up and everything's getting more expensive.
She pointed to a shift in education funding from Ottawa a couple decades ago that prompted most provinces to download more of the cost onto students or, in the case of Quebec, "two-tiering" the price between in-province and out-of-province pupils.
The labyrinth of funding programs and rules sometimes acts as more of a barrier than a relief, she added.
"Student assistance programs are a patchwork, they're messy, they're opaque. They're actually quite difficult to navigate and they can change midway through a degree," Shaker said.
"We have gone to a user-pay model that disproportionately impacts — negatively — students who have to borrow, unfortunately, to pay for post-secondary education."
This report by The Canadian Press was first published June 8, 2023.
Trudeau shows no interest in compromising with Meta, Google over online news bill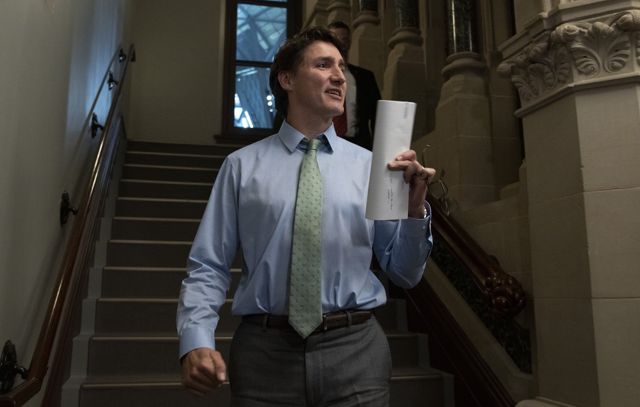 Prime Minister Justin Trudeau speaks briefly with reporters as he makes his way to a cabinet meeting, Wednesday, June 7, 2023 in Ottawa. Prime Minister Justin Trudeau is showing no interest in compromising with Meta and Google over their online news bill that would make tech giants pay for journalism created by others that helps those companies generate revenue. THE CANADIAN PRESS/Adrian Wyld
By Mickey Djuric in Ottawa
Prime Minister Justin Trudeau is showing no interest in compromising with Meta and Google over a Liberal bill that would make them pay for Canadian journalism that helps the companies generate revenue.
Trudeau said Wednesday that Meta and Google's bullying tactics will not work with his government, which he says is ensuring those companies do not weaken Canada's democracy by threatening its domestic media industry.
Meta announced last week it will test blocking access to some news for a small percentage of Canadian users of Instagram and Facebook.
The company says it is prepared to permanently end access to news content in Canada if Parliament passes Bill C-18, which would require tech giants to pay publishers for linking to or otherwise repurposing news content.
Google ran a similar test earlier this year, restricting access to news on its search engine for less than four per cent of its Canadian users. It says it is looking for a compromise with the Liberal government.
"The fact that these internet giants would rather cut off Canadians' access to local news than pay their fair share is a real problem, and now they're resorting to bullying tactics to try and get their way. It's not going to work," Trudeau said at a news conference.
"We will continue to make sure that these incredibly profitable corporations contribute to strengthening our democracy, not weakening it."
Big publishers have told a Senate committee currently studying the bill that they could lose millions of dollars should their content be blocked by Google and Meta.
The online news bill already passed in the House of Commons and could be approved by the Senate as early as this month.
If it becomes law, both companies would be required to enter into agreements with news publishers to pay them for news content that appears on their sites if it helps the tech giants generate money.
Both companies have argued that news doesn't generate much revenue for their companies, and are considering ending local news on their platforms altogether.
Meta says news makes up about three per cent of the content that's on Facebook feeds, and Google says less than two per cent of searches have to do with news, because people care more about recipes than articles.
Still, each company has proposed amendments in the Senate, including changes to the section of the bill that deals with arbitration and tweaks that would create more certainty around which publishers they would have to enter into agreements with.
For example, Google says that as the bill is currently written, it would have to enter into agreements with community and campus broadcasters, even if they do not produce news content and have no obligation to adhere to a codes of ethics.
Spokesperson Shay Purdy said in a statement Wednesday that the company has come to the table with "reasonable and pragmatic solutions" that would increase the company's investment in Canadian news.
"We're very concerned about the path we're on and we're doing everything we can to engage constructively and avoid a negative outcome for Canadians."
Heritage Minister Pablo Rodriguez has said that the bill is already balanced, and that Meta and Google have his phone number if they want to talk.
Rodriguez was expected to appear before a Senate committee on Wednesday evening.
Meta did not immediately respond to a request for comment about the prime minister's remarks.
This report by The Canadian Press was first published June 7, 2023.
———