Canadian Afghan advisers take government to court over alleged discrimination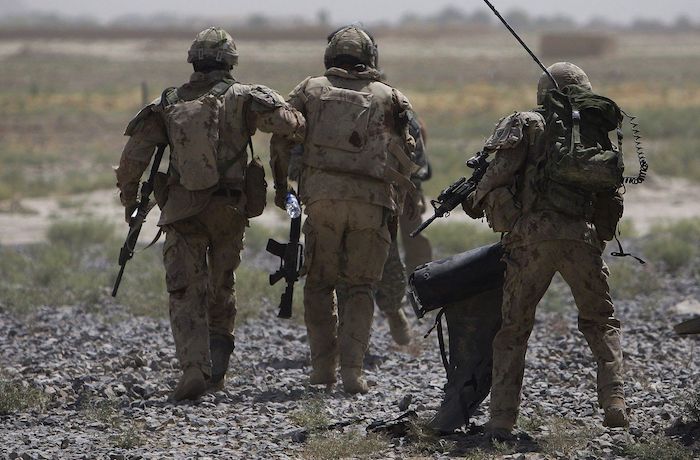 Canadian soldiers help a comrade get on a helicopter after he was injured in an IED blast during a patrol outside Salavat, in the Panjwayi district, southwest of Kandahar, Afghanistan, Monday, June 7, 2010. Two Canadians who served the military in Afghanistan are suing the federal government over allegations of discrimination when it comes to rescuing their family members from the Taliban. THE CANADIAN PRESS/AP/Anja Niedringhaus
By Laura Osman in Ottawa
Canadians who served the military in Afghanistan are suing the federal government for failing to rescue their family members from the Taliban, and alleging the government has been discriminatory in the way it treats Afghans compared to Ukrainians.
The federal government recently created a program to ensure the families of Canadians who served as language and cultural advisers in Afghanistan are brought to safety.
But the criteria are so restrictive that the program doesn't apply to some family members who were threatened because of their connection to Canada's military efforts before the Taliban takeover in August 2021.
The government has also capped the number of principal applicants at 380.
Two of the advisers filed a Federal Court application alleging the government provided "superior immigration benefits" to Ukrainians fleeing the Russian invasion of their country beginning in 2022, compared to those provided to Afghans hoping to escape the Taliban takeover in 2021.
"We're looking for the Ukrainian policy to be extended to anyone who needs it. Not just the Ukrainians, but anyone in a similar circumstance of persecution by war or severe human-rights abuses," said Nicholas Pope, one of the lawyers representing the advisers.
The advisers and their lawyers also want the government to admit that the vastly different approaches to the two crises violates the Charter of Rights and Freedoms.
Shortly after the Russian invasion of Ukraine in February 2022, Canada launched a special program that made an unlimited number of Ukrainian nationals and their families eligible to work or study in Canada while they seek refuge for up to three years.
The families of the advisers, however, are still trapped in Afghanistan and neighbouring countries.
The sister of one of the advisers, who is only identified in the lawsuit as John Doe 1 because of the risk to this family, isn't eligible to come to Canada because she left Afghanistan for Turkey prior to July 22, 2021.
The lawsuit says she has no legal status in Turkey and cannot work, her children cannot go to school and they risk deportation back to Afghanistan.
The same adviser's stepbrother in Afghanistan doesn't qualify because stepbrothers aren't considered family under the policy.
"The Taliban doesn't care. They don't say, 'Oh, you're a stepbrother, not a brother, so we'll leave you alone,'" Pope said.
The family of another adviser, identified in the court filing as John Doe 2, faces similar barriers. In the case of his sister in Afghanistan, the lawsuit says, she would have to leave three of their daughters behind because they are too old to be considered dependants.
The federal government hasn't yet responded to the court filing,and the immigration minister didn't immediately respond to a request for comment.
In a statement earlier this month, the immigration department said it has tailored its approaches as the difficult situation has evolved in Afghanistan..
The Canadian government recruited some 45 Canadian citizens with Afghan heritage to serve as language and cultural advisers during the mission in Afghanistan. They were granted top-secret security clearance and risked their lives to serve alongside soldiers.
Some of their family members were threatened by the Taliban because of their connections to the Canadian military.
"That's the part of it that disgusts me, that the 45 (language and cultural advisors) took enormous risks," said Amir Attaran, a University of Ottawa professor and lawyer.
"What's the Trudeau government done? Kicked them to the curb."
Attaran represented four other language and cultural advisers who served in Afghanistan in human-rights complaints against the government last year on similar grounds.
"This is obviously discrimination," he said in an interview Tuesday.
"You cannot single out a single nationality for special treatment. That clearly violates the Canadian Human Rights Act and, I believe, also the Charter of Rights and Freedoms."
All four advisers have now settled their complaints, he said.
Though he said he can't reveal the details of those settlements, he characterized the negotiations with the immigration department as "extremely slow-moving and, until quite recently, in outright bad faith."
Attaran said he's not entirely happy with that outcome, because the families of many of the other advisers are still in danger.
This report by The Canadian Press was first published May 30, 2023.
Air Force awards a start-up company $235 million to build an example of a sleek new plane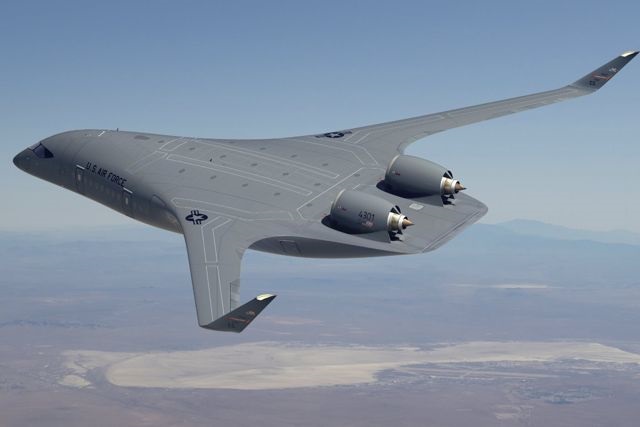 This image provided by the U.S. Air Force shows a rendering of a blended-wing body prototype aircraft. The Air Force has promised $235 million to help start-up manufacturer JetZero build a jet with a blended-wing body that officials say could provide greater range and efficiency for military tankers and cargo planes and perhaps eventually be used to carry airline passengers. JetZero and the Air Force, which announced the award Wednesday, Aug. 16, 2023, say they hope that the full-size demonstrator plane will be ready to fly in 2027. (U.S. Air Force via AP)
By David Koenig
The U.S. Air Force will invest $235 million to help a start-up manufacturer build a jet with a blended-wing body that officials say could provide greater range and efficiency for military tankers and cargo planes and perhaps eventually be used to carry airline passengers.
JetZero and the Air Force, which announced the award Wednesday, say they hope that the full-size demonstrator plane will be ready to fly in 2027.
Most large airplanes are tubes with wings and a tail section attached. Blended-wing planes are designed with the body and wings being one piece. The result is a sleek, futuristic-looking aircraft with less aerodynamic drag than a conventional plane of the same size.
JetZero officials argue that traditional planes are running out of ways to improve fuel efficiency, and, with fuel prices likely to rise, an entirely new design is needed to reduce fuel consumption and emissions.
The Air Force, the Pentagon's Defense Innovation Unit and NASA are working on the project. JetZero has a partner in defense contractor Northrop Grumman.
The idea of a blended-wing body is not new. Boeing built and tested reduced-scale samples of its X-48. Lockheed Martin has tested a Hybrid Wing Body design in wind tunnels. The Air Force said technology advancements in materials and manufacturing have made the production of larger-scale demonstrators possible.
At a briefing Wednesday, officials said the JetZero demonstrator could determine whether a blended-wing body could be used in future refueling tankers and cargo planes for the Air Force. They said passenger and cargo airlines could also benefit if the design adds seating or cargo space and reduces fuel costs.
"The commercial industry is thirsty for solutions that aren't so thirsty for fuel," said Tom O'Leary, the CEO and co-founder of JetZero, which is based in Los Angeles.
O'Leary acknowledged that the Air Force award will not be enough to cover the development and production of even a single full-scale prototype, but he gave few details on the company's funding.
"While our total funding is not public, we will be having private investment and partners contributing to that," he said.
NATO chief appears likely to stay on as allies struggle to find a replacement for him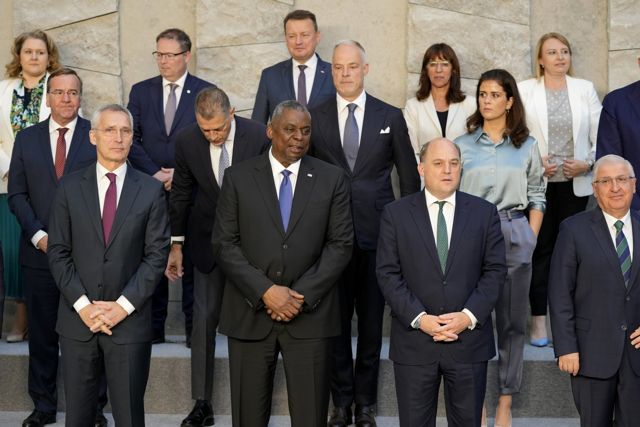 NATO Secretary-General Jens Stoltenberg seems increasingly likely to have his term at the helm of the world's biggest security organization extended yet again, as members struggle to agree on another candidate to replace him.
Stoltenberg, a former Norwegian prime minister, has been NATO's top civilian official since 2014. His term was due to expire last year but was extended for a second time to keep a steady hand at the helm after Russia's full-scale invasion of Ukraine in February 2022.
President Joe Biden and his NATO counterparts are due to choose a successor when they meet for a summit in Vilnius, Lithuania, on July 11-12. No candidate has been proposed publicly, and leaders usually decide by consensus on who should be appointed.
Stoltenberg held talks with Biden in Washington on Tuesday. According to a U.S. official familiar with the leaders' conversations, Biden made clear that he thinks highly of some the possible candidates whose names have been privately floated to succeed him.
The official said, however, Biden conveyed to the NATO secretary-general that it's "becoming increasingly evident that there's not going to be consensus" among NATO allies on picking a new leader, said the official, who spoke on condition of anonymity to discuss the private conversation.
Biden made it clear to Stoltenberg that he would welcome him sticking around longer — particularly with no end in sight to the war in Ukraine and challenges to get Sweden approved as a member of the 31-nation alliance.
"The president thinks Stoltenberg has done a remarkable job over the past year and a half leading the alliance during Russia's invasion," the official said. "He's also quite comfortable with Stoltenberg hanging on. He thinks he's been a very effective leader."
The official stopped short of saying that Biden asked Stoltenberg outright to stay on as NATO chief.
Asked repeatedly Friday about his future at the helm, Stoltenberg said: "I have nothing more to say about this. I have stated again and again that I don't seek an extension. I have no other plans than to end my work here, when my tenure ends this fall."
The U.S. official also said that Biden had spoken highly of Danish Prime Minister Mette Frederiksen. NATO is keen to name a woman to the top post, and Denmark's prime minister was thought to be a favorite after a meeting with Biden earlier this month.
But in a televised interview on Thursday, Frederiksen said: "No, I am not on my way to NATO." She did say that she would back Stoltenberg if he was willing to extend his mandate.
German Defense Minister Boris Pistorius also made clear that he would back an extension for Stoltenberg if that became necessary.
"If we don't agree on a candidate for successor, NATO won't be able to go without a secretary-general, and of course I am for an extension — particularly as I appreciate our cooperation," he told reporters.
Norwegian media said Friday that Biden has encouraged Stoltenberg to stay on.
Norwegian public broadcaster NRK said it "had learned" that Biden's message to Stoltenberg "was not to be misunderstood: Jens Stoltenberg must remain as Secretary General of NATO for a while longer."
The president of the European Commission, Ursula von der Leyen, has also ruled out her candidacy. Other possible names that were floated are Dutch Prime Minister Mark Rutte and U.K. Defense Secretary Ben Wallace.
___
Madhani reported from Washington. Associated Press writers Jan M. Olsen in Copenhagen, Denmark. and Geir Moulson in Berlin contributed to this report.